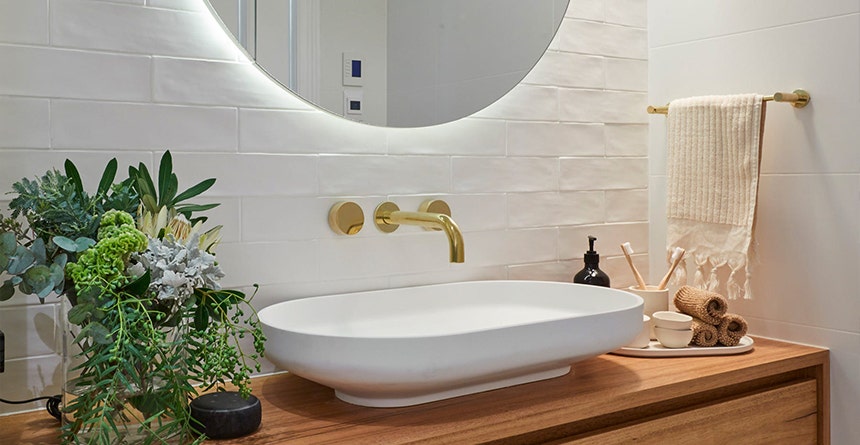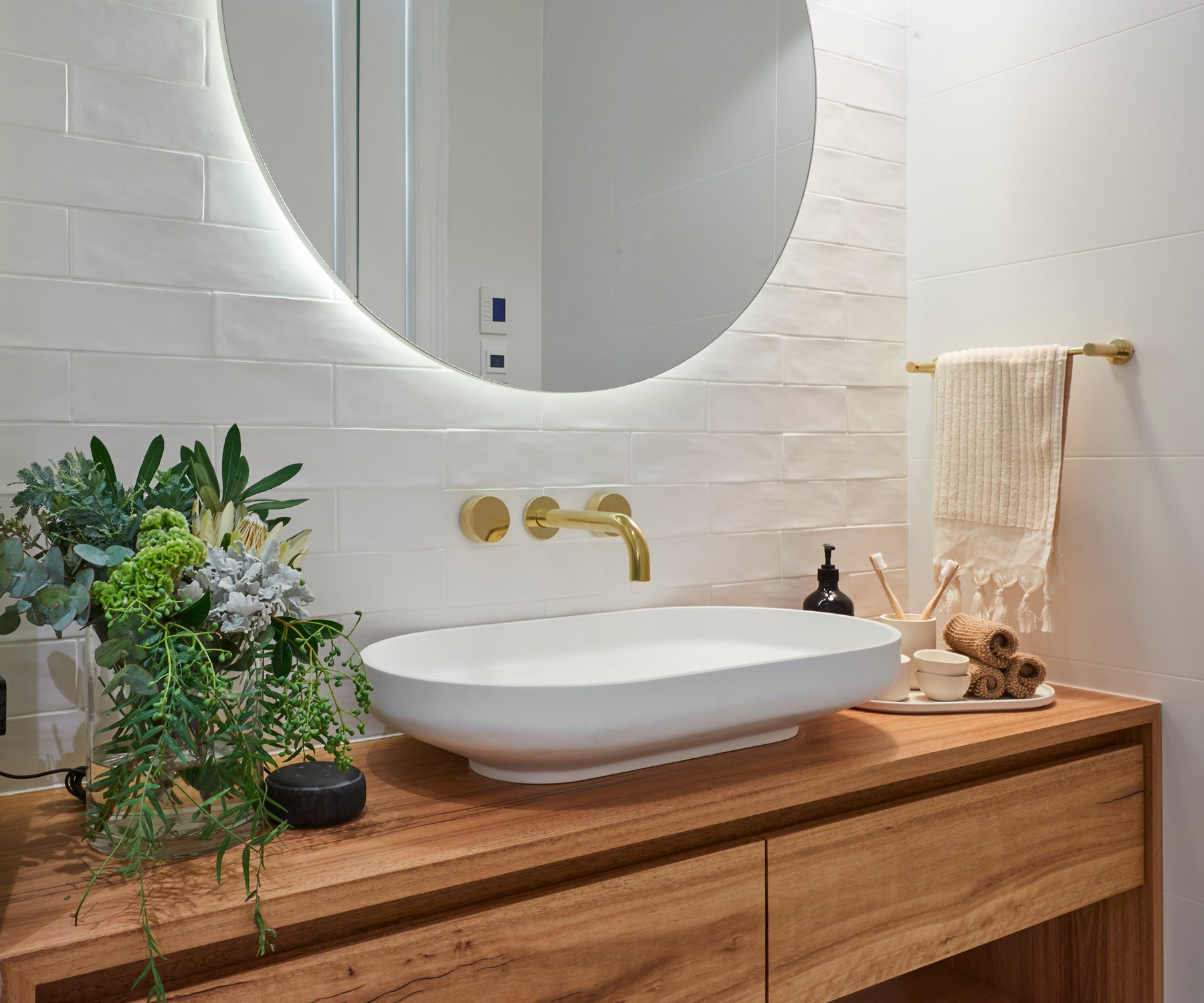 Styling 101
Bring Your Dream Bathroom To Life
The winning formula for a dream bathroom makeover is revealed!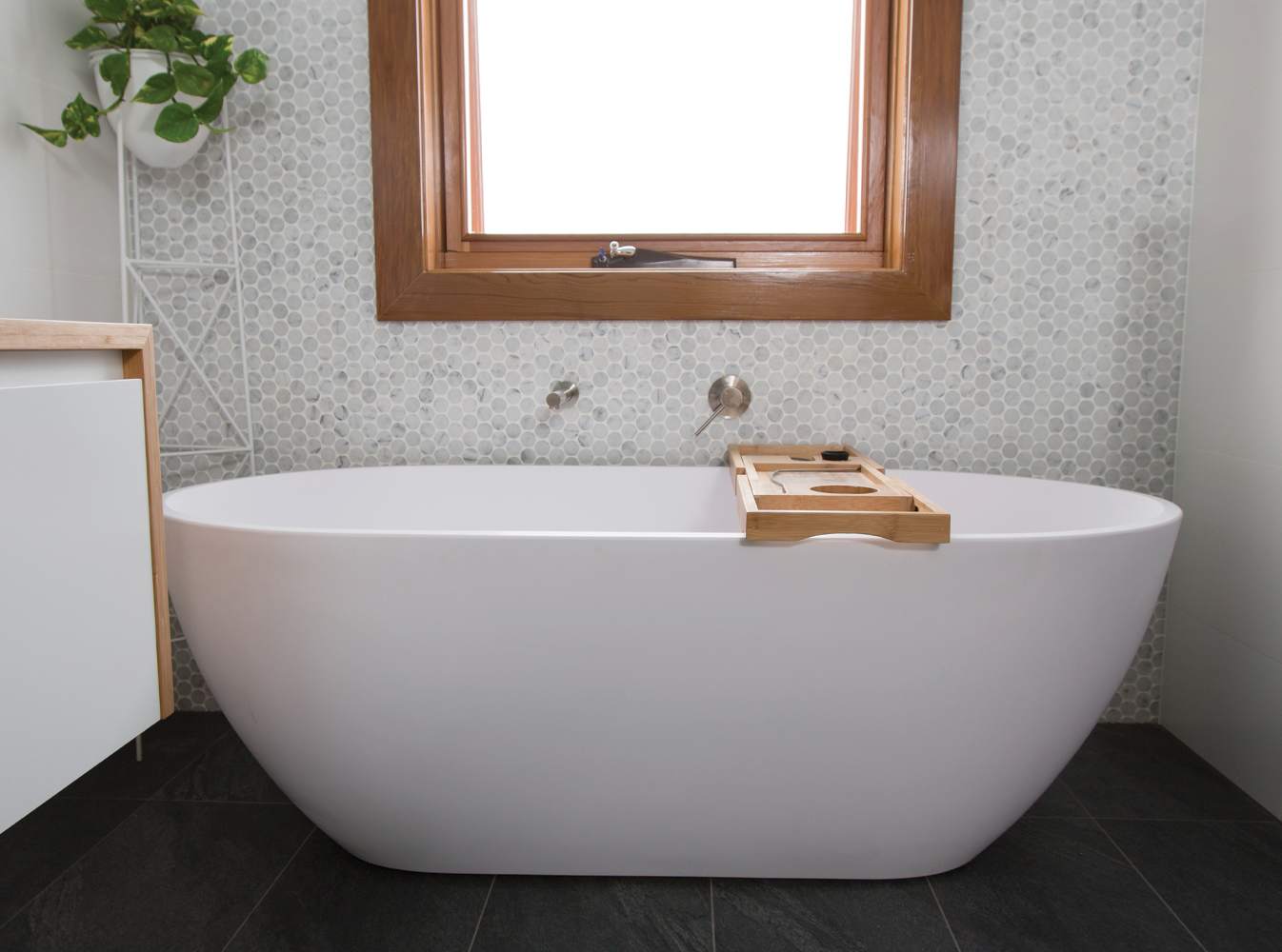 Space For Royalty
Free-standing baths are taking over the trending designers' landscape and they come in a wide choice of shapes, sizes and even colours! Free-standing bathtubs work not only as a luxurious space to relax but are a sculptural design feature that brings striking looks to your bathroom. Our Suttor 1700 Free Standing Bath showcases sleek lines and pronounced corners which will have your reputation as the King or Queen of modern bathroom design set in stone – or should we say tile.
A Polished Look
Polished Porcelain in a bathroom is a staple look - and for good reasons too - but the world of tiles has so much more on offer so don't be afraid of taking the road less travelled. A great modern take on the cosy country feel is Wood Essence timber look tiles – giving the room a warmth that previously only timber could give but with all the benefits of tiles. Make a feature wall or surround the base of your bath with these beauties and you'll be wondering how you ever thought of designing a bathroom without them.
Understand The Space
Play around with the layout! Bathroom floor plans have stayed pretty much the same over the years but the truly eye-popping spaces break away from the norms. Being different doesn't mean you're sacrificing practicality either, a step away from tradition can be as simple as elevating your bathtub, or perhaps creating a textured backdrop and making a feature out of what were once everyday staples. The Watchband Light Marone Honed Mosaic tile is an understated tile that will create an impact or for the quirkier amongst us, there are some incredible selections like the Andy Glass Insert which will really make a statement.
Bring In Personality
Add some colour to the room to really make it yours, bathrooms are often decked out in neutral colours but this isn't a hotel this is your space! Lashings of red, yellow, blue or whatever your choice in colour maybe can add a real touch of character to your ensuite bathroom while still maintaining a chic and beautiful room.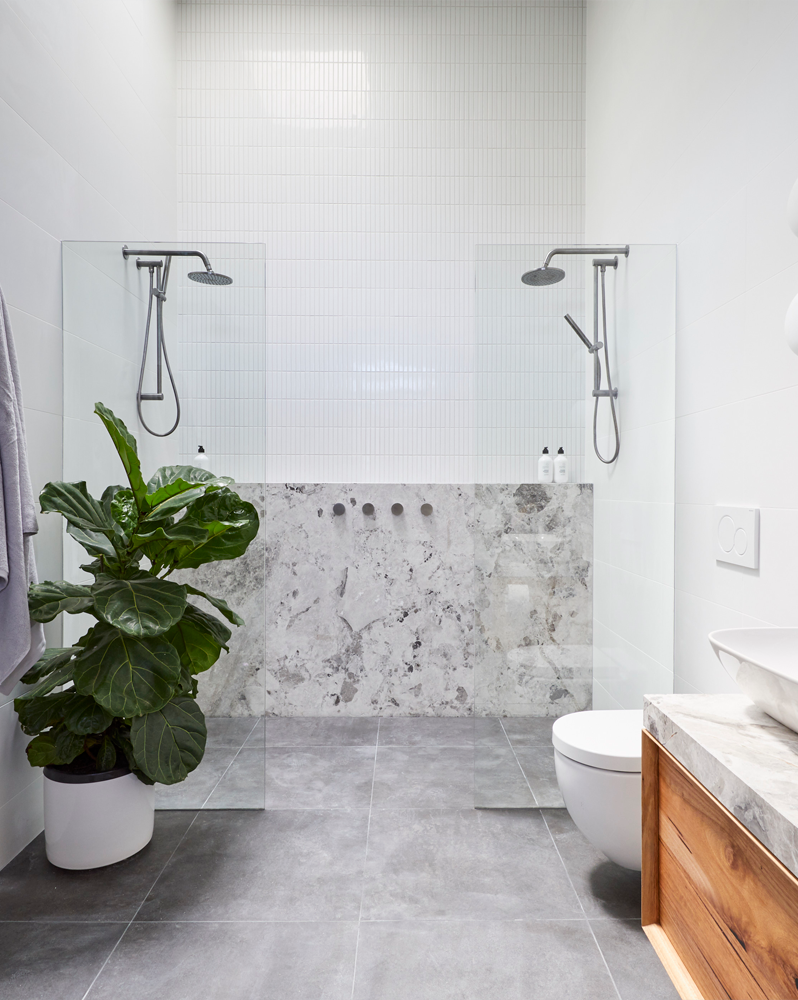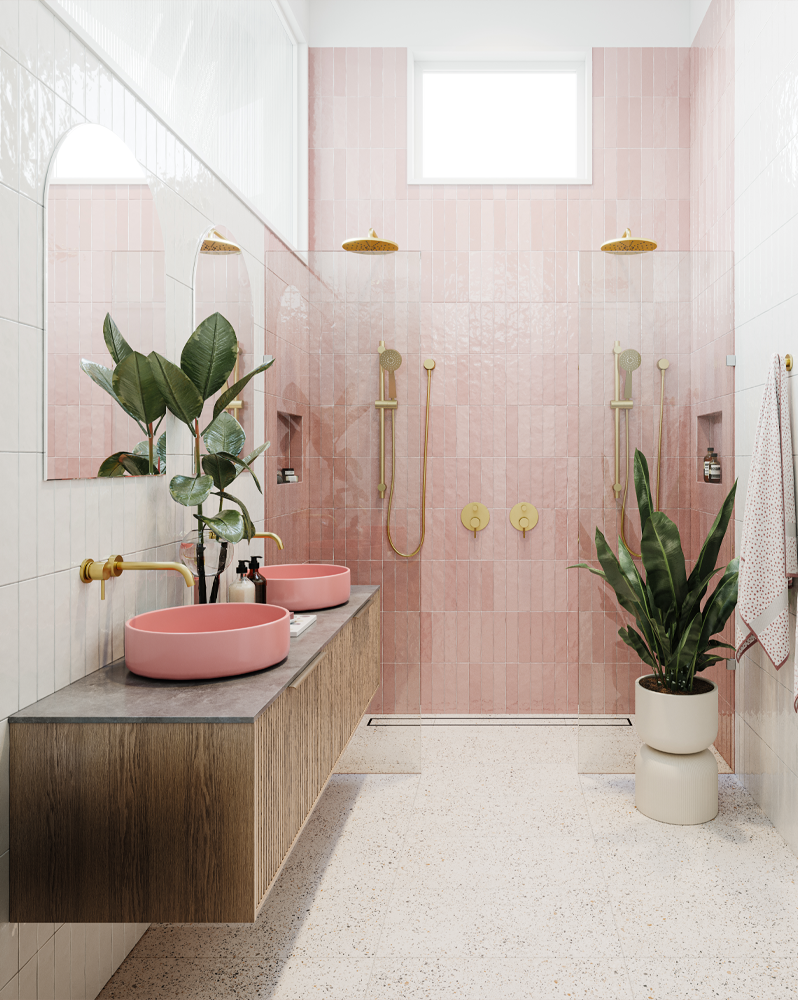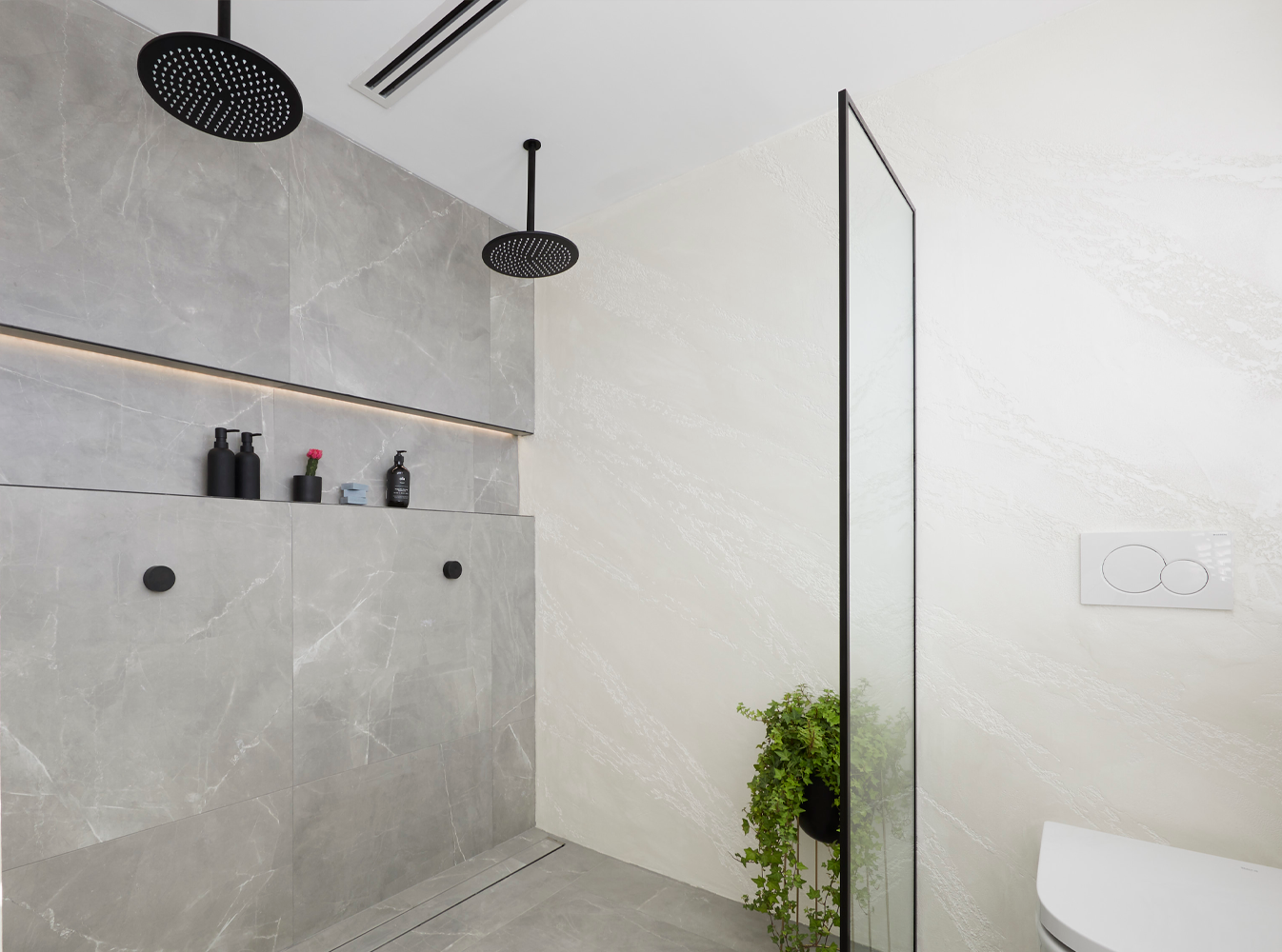 Tiling Height
A floor to ceiling tiling choice can really make your bathroom the distinct enclave you've been seeking and your choices are wider than you think! Don't be trapped in thinking you need to be sticking to one size tile to don your walls. Choose a section of your room and you can make your choice of mosaic tiles, hexagons, tiny rectangles, stunning diamonds and more to create a floor to ceiling feature that really draws the eye and brings the room together.
Furnishings And Fittings
Dual showerheads, shower rooms, cascading waterfalls and jets of water from the walls - the shower is where the space really becomes a luxury bathroom. A piping hot soak at the end of a long day can't be beaten, so an amazing shower really is what dream rooms are made of. If you have some extra space to play with you can make your shower space a room in itself – the only issue might be working up the will to leave!
Taps and bathroom fittings come in so many stunning designs and colours so you'll never be short on choices for the perfect look for your room. Elegant gold tapware is a beautiful touch to a federation bathroom but a sleek slimline basin outlet or mixer tap will finish a more modern look– these smaller touches are what cement a room in their style and create the perfect aesthetic which will soothe your senses.
Vanity Style
Vanities are essentially the workbench of your bathroom. Plucking, priming, and preening all take place here so best it's a space you love both aesthetically and functionally. Floating vanities have taken the design world by storm and create a look that is refined and minimalistic by removing the visual clutter. Not all vanities have to be floating to be stylish though!
Everyone wants the dream bathroom but what makes a bathroom your dream is all your personal touches. Mix and match and have a play around – our Scan and Play feature in-store can even help you with that – and you will have a space that will blow people's minds! But mostly be innovative! Have a play around with shapes and colours, what has always been done isn't necessarily what is best and to achieve your dream bathroom that packs a punch sometimes it pays to listen to your gut!