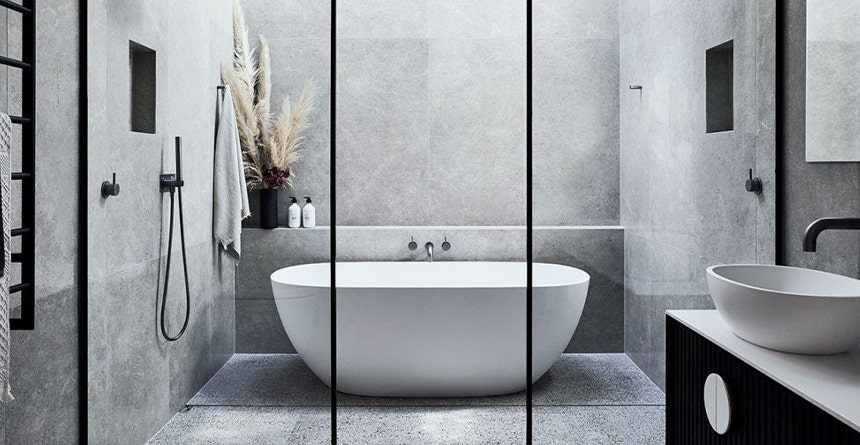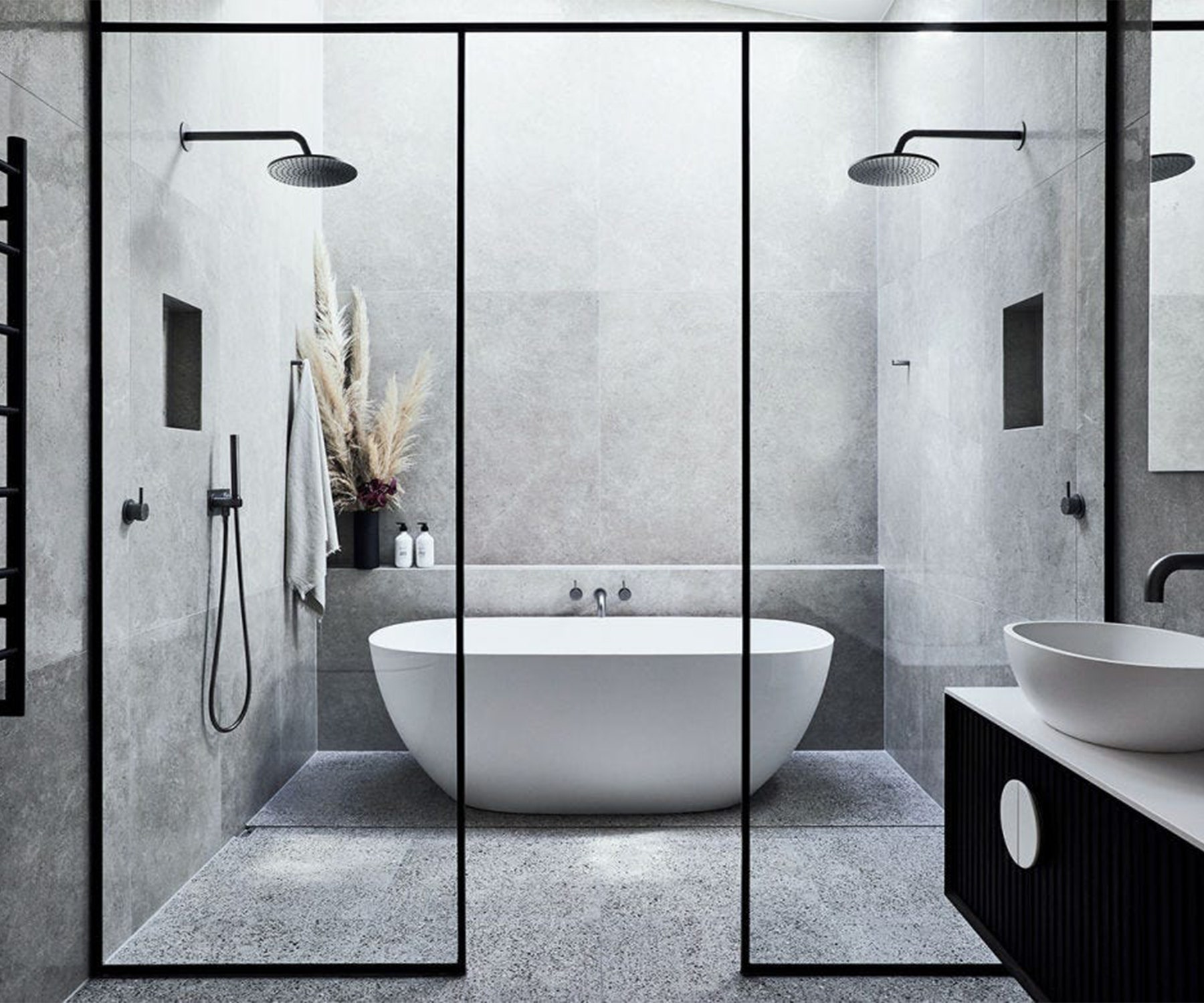 Styles We Love
Modern Bathroom Ideas We Know Will Inspire You To Create
Modern bathrooms exude simplicity to create tranquil retreats from the busy world. Minimalist style and modern bathroom design go hand in hand. When creating a modern bathroom, it's all about finding a well-curated set of cohesive and high-quality features that harmonise into a space.
Minimalist style and modern bathroom design go hand in hand. When creating a modern bathroom, it's all about finding a well-curated set of cohesive and high-quality features that harmonise into a space.
Paying close attention to surfaces, finishes and the quality of each element is key, as is examining how well they fit into the whole style.
Keep reading for plenty of modern bathroom ideas to inspire you for your bathroom renovation.
Bright and White
You can never go wrong with the use of crisp whites in a bathroom. It makes the most of the light you get, and there's no fresher, cleaner palette for a modern bathroom. Adding in a marble tile to your scheme helps soften it while keeping a luxe look.
Choose a Floating Vanity
With a completely clean, minimal look, a wall hung vanity enhances the lines of a modern bathroom and keeps the floor space uncluttered – ideal for smaller bathrooms too.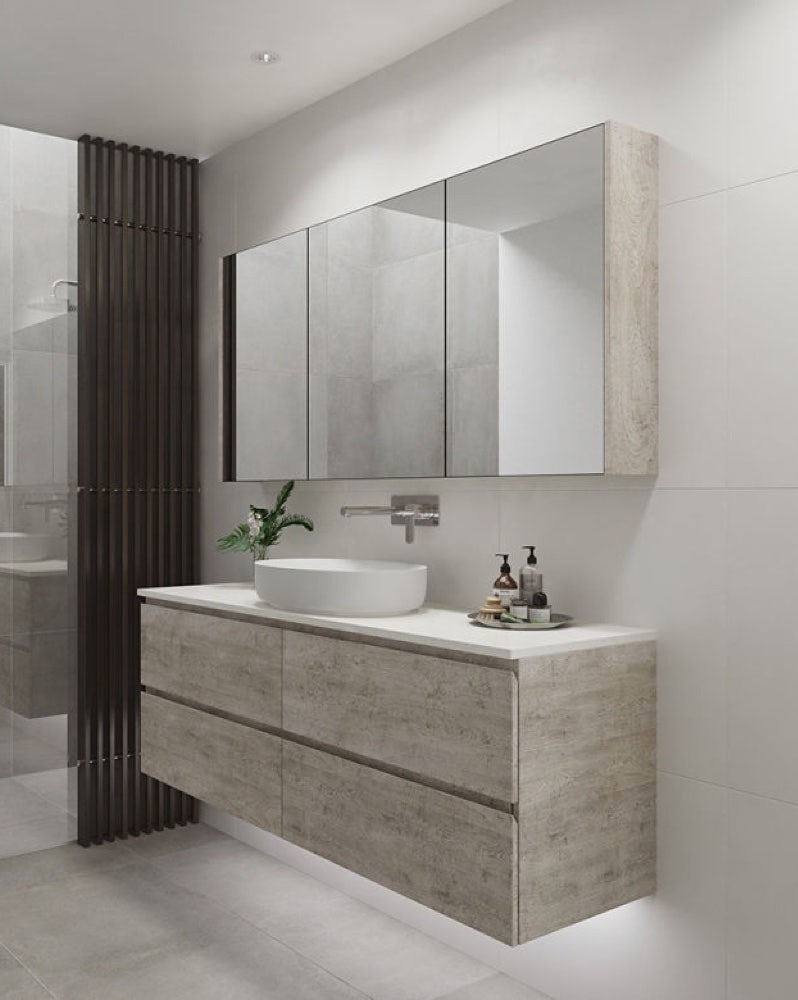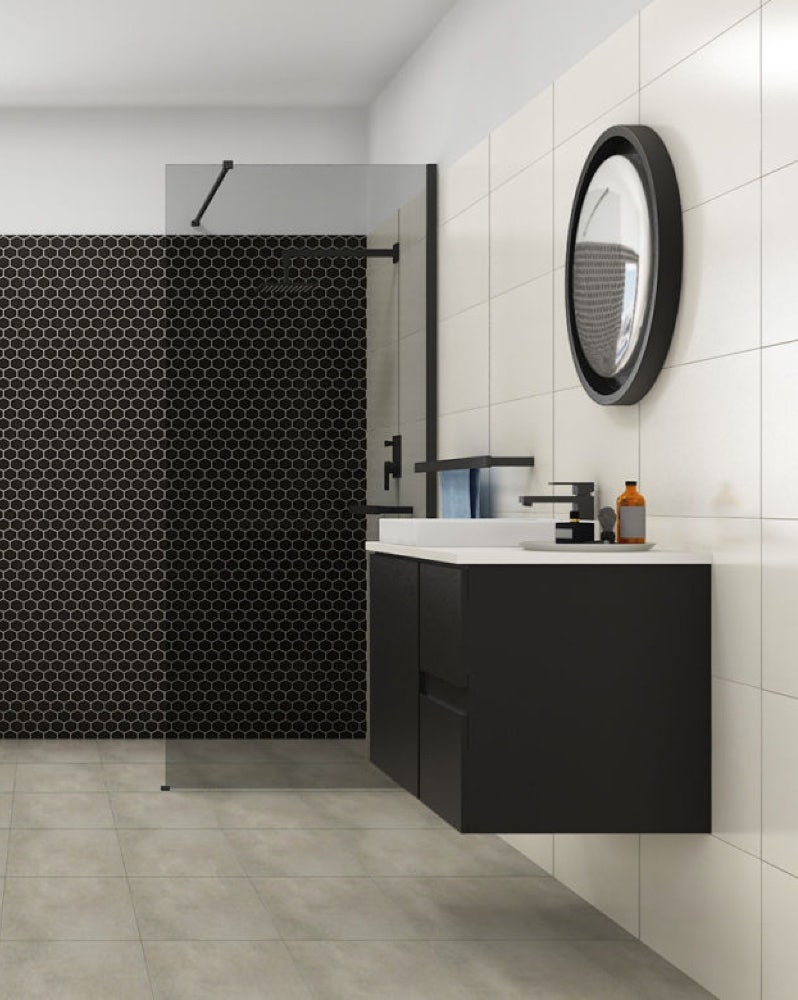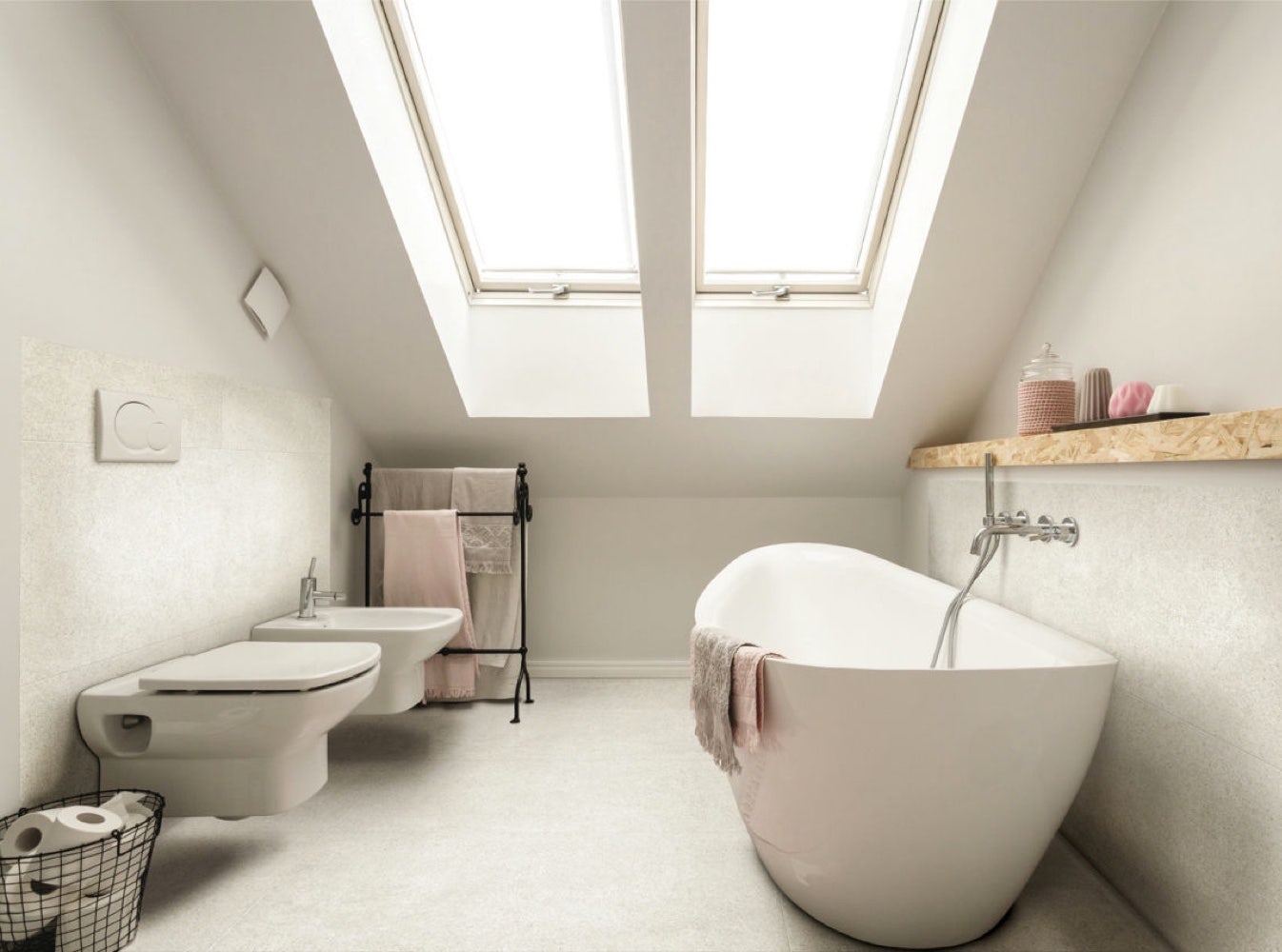 Maintain a Sense of Proportion
From the biggest bathrooms to the smallest, your modern style will cohere best when you consider the scale and placement of each element to maintain a sense of balance and proportion.
Or Create Space

There's enough clutter and chaos in our world already. Why not create an open, soothing space where you have room to rest and reset? In this large bathroom from The Block a completely frameless glass shower screen at the side of the room lets the eye take in the full space.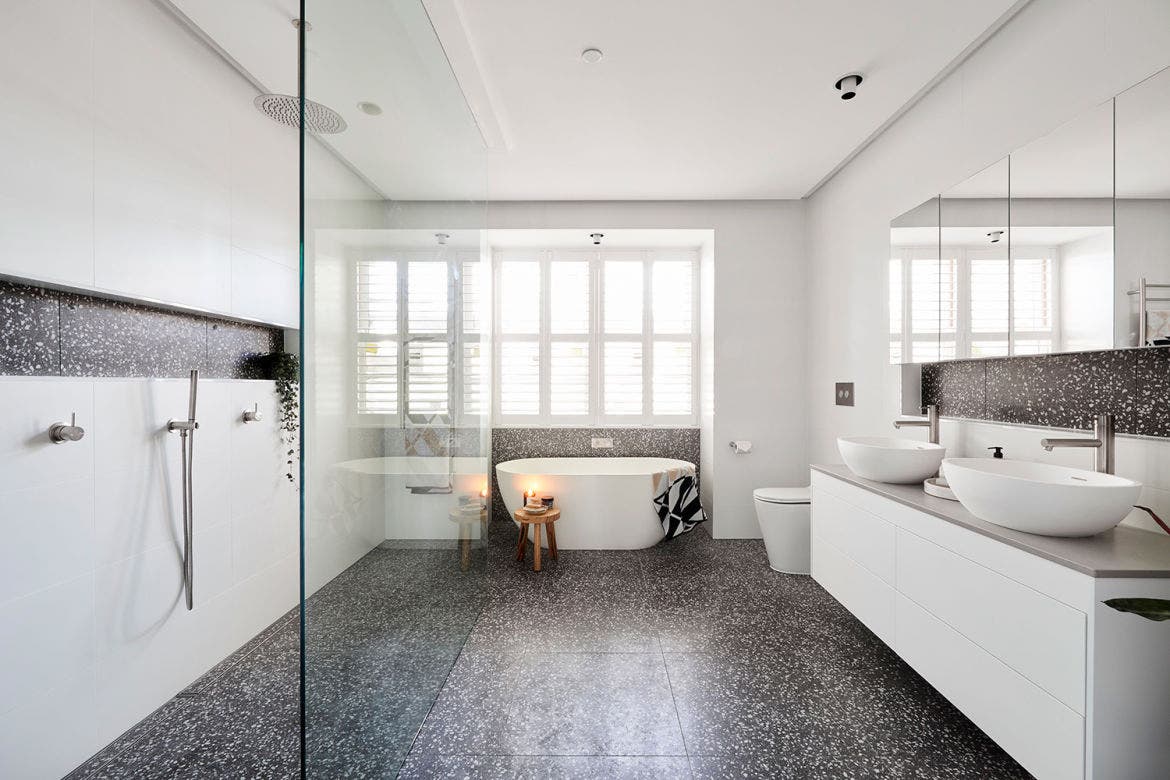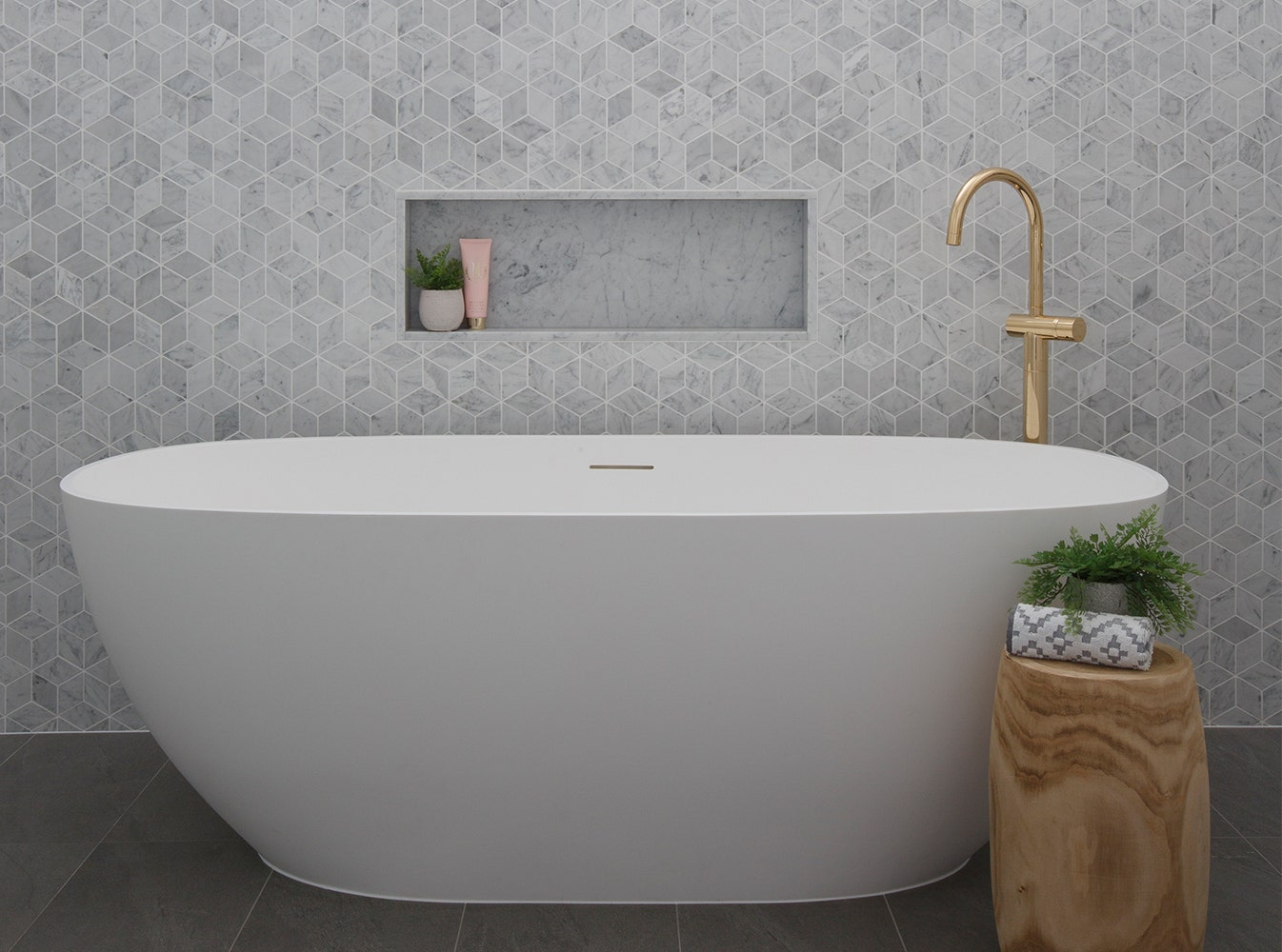 Get Flexible with a Freestanding Bath
A freestanding bath creates a strong focal point that can help tie a bathroom together, but it also gives you more flexibility to choose where you want that focal point to be. Pair a freestanding bath with a tower bath mixer for even more freedom.
Statement Materials

From gold tapware to marble to a natural stone bath like this one, use incredible or unusual materials to create a real statement and introduce some surprising textures into your bathroom.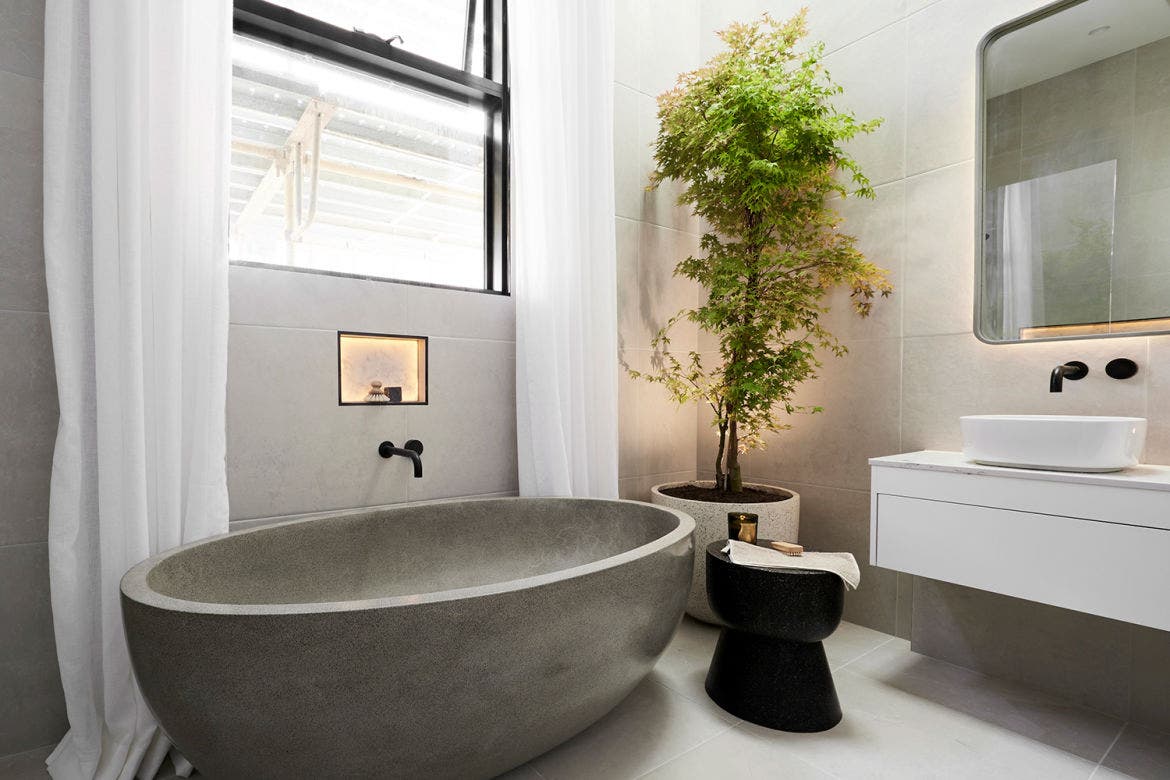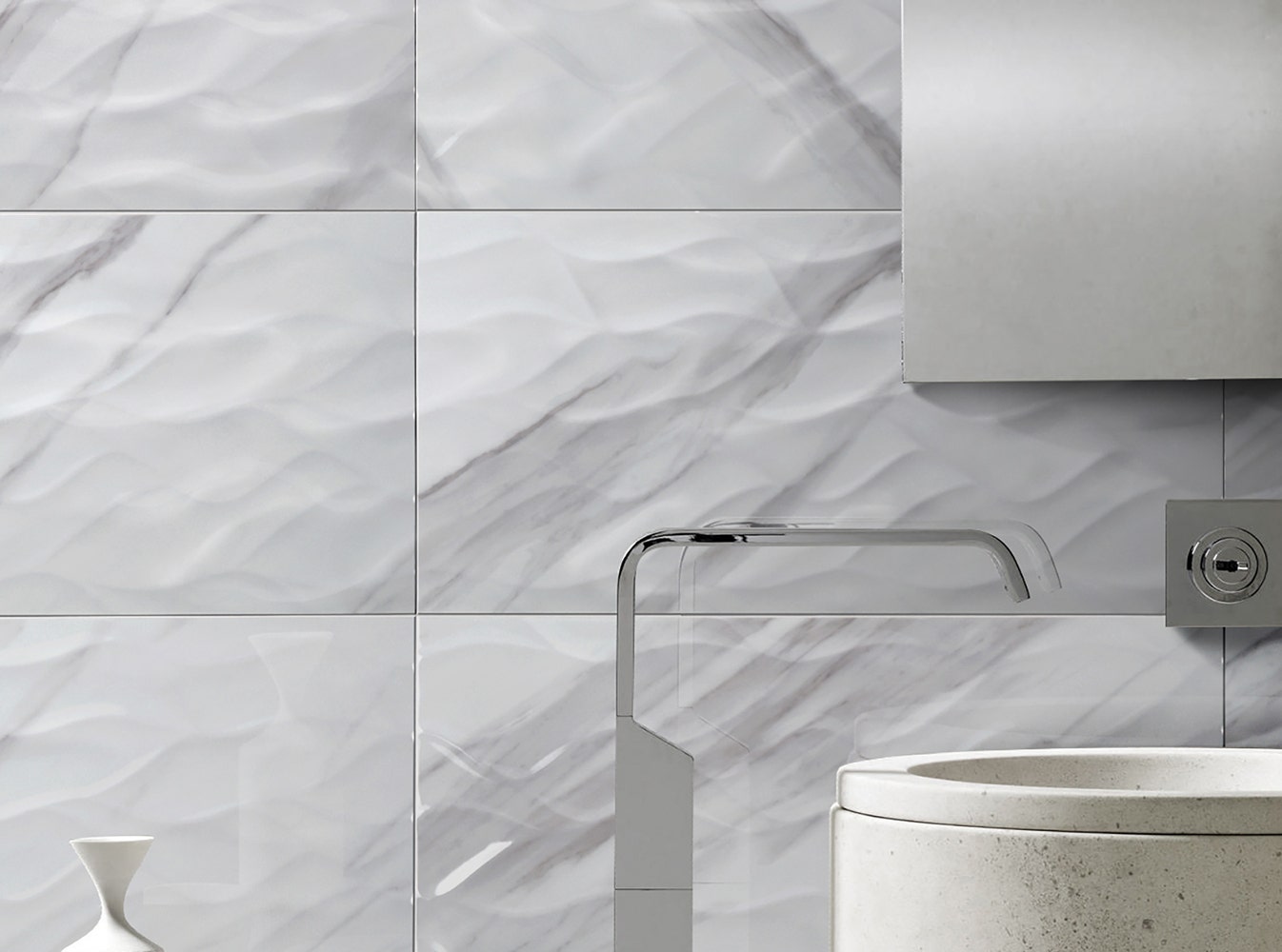 Enter the Third Dimension
Add structure with three-dimensional feature tiles to add a whole new dimension to your modern bathroom. 3D tiles in strong neutrals like black and white or even stone emulations are on trend.
Go Ultra Luxe

Large format slabs in stunning stone finishes like Onyx White are the ultimate in luxury bathroom design. When the bathroom is designed with a minimalist sensibility that accentuates these tiles, the result is definitely modern.
Fit Your Tapware to the Theme

Black and white is a staple of the modern style, which is why selecting matt black taps and bathroom accessories is such a good idea. This all-inclusive modern bathroom package has been designed to flow seamlessly from the tiles to the tub, taps, vanity and even toilet.
Be Bold

There's no reason you can't be bold with a modern bathroom. Sticking to a neutral palette, create a deep black marble feature wall or create a single point of stark contrast with a flash of colour to create a strong focal point that fits in with your theme.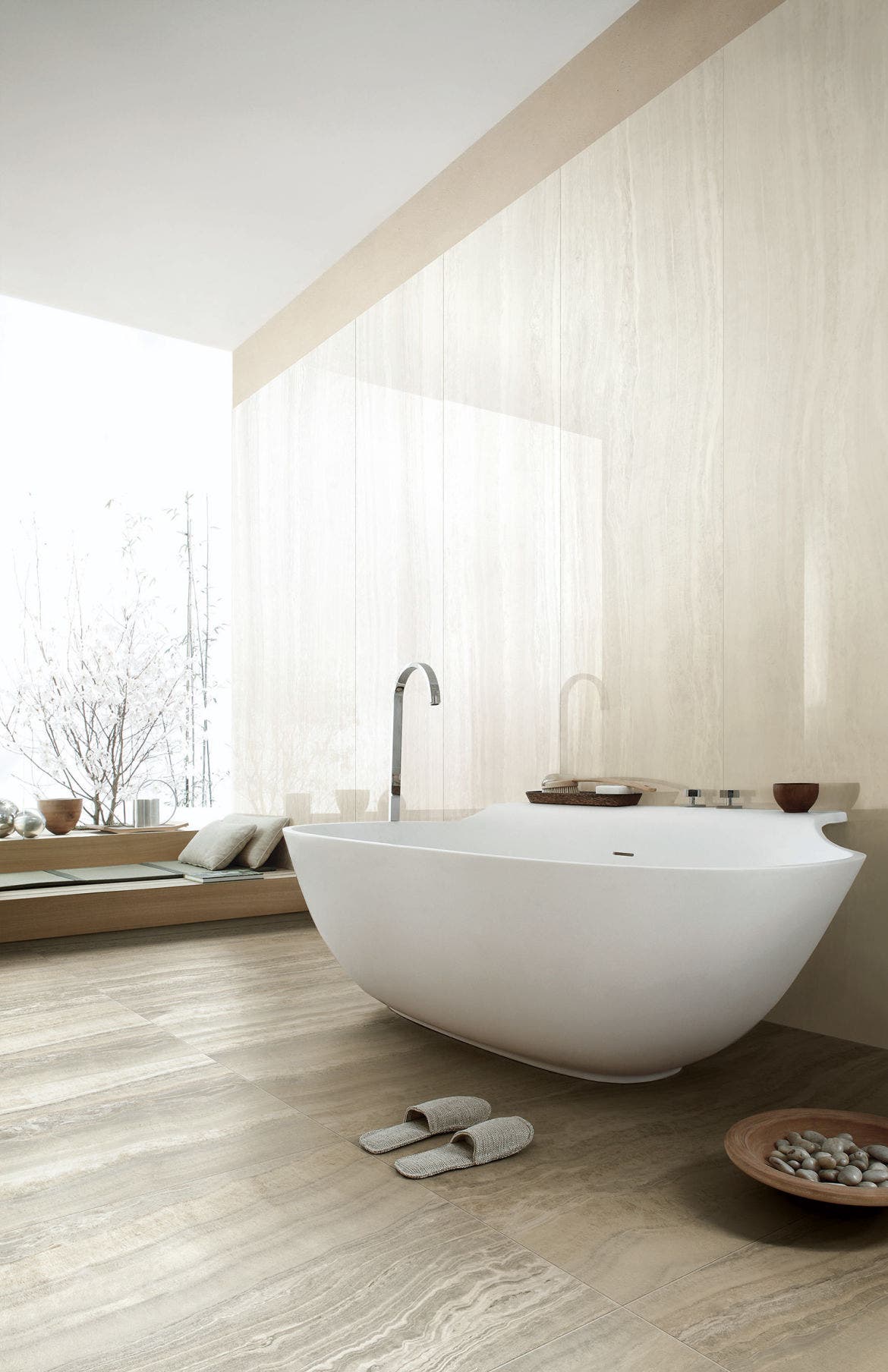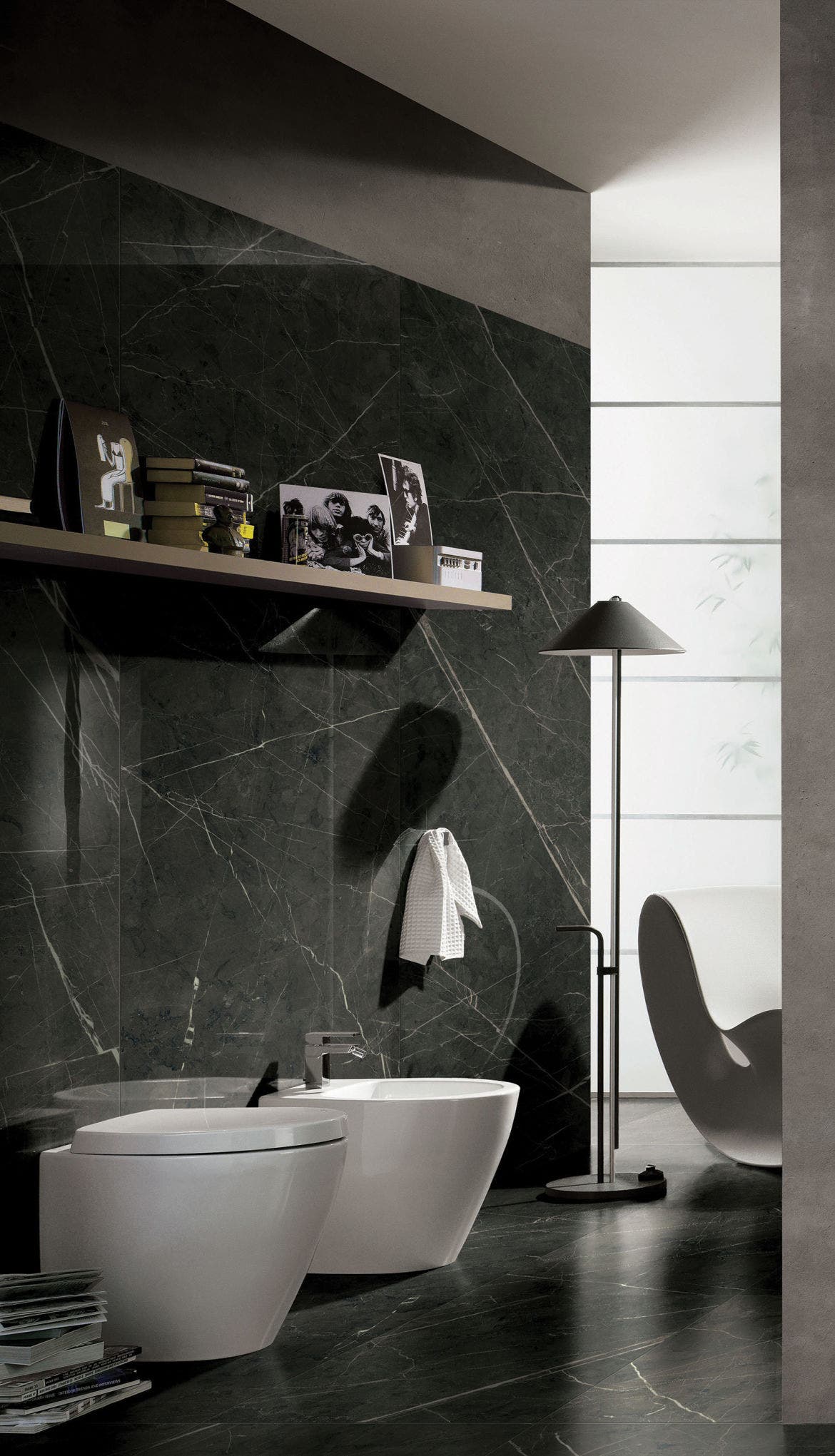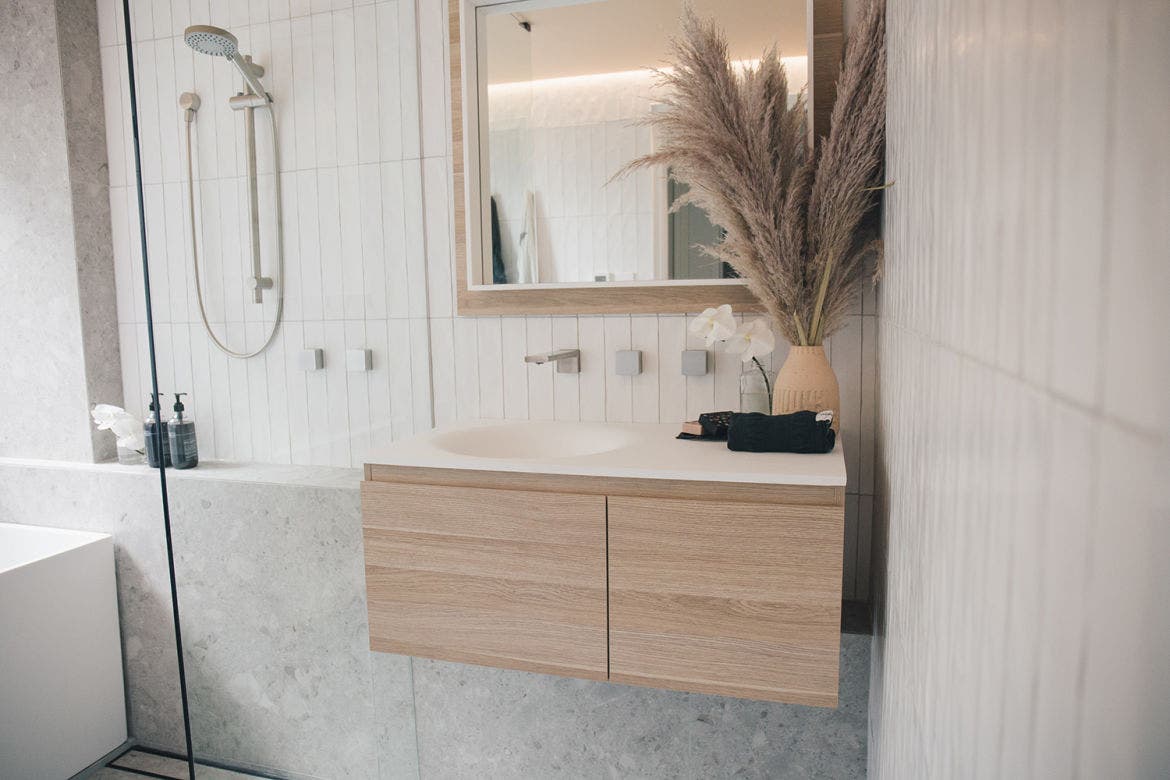 Create Subtle Contrasts in Texture
A great way to get some variety and tactile interest into a cohesive modern bathroom is by using texture as your point of contrast. This small bathroom by brand ambassadors Simon & Shannon teams a terrazzo look tile, a handmade look tile, timber vanity and brushed metal tapware.
Embrace the Wood Look

The natural grain of timber adds something special to a well-designed modern bathroom. From timber look tiles to vanities, shaving cabinets and shelving, there's plenty of opportunities to add a little wood to your bathroom.
Bring the Bling

A small flash of gold can go a long way. Not only are metallics trending in bathrooms, they make the perfect feature against the simple neutral palette that works best in most modern bathrooms.
Find Freedom in Structure

Don't shy away from the forms and structures that make up your modern bathroom – embrace them by choosing elements that bring them out, like these bold black shower frames used by Alisa & Lysandra.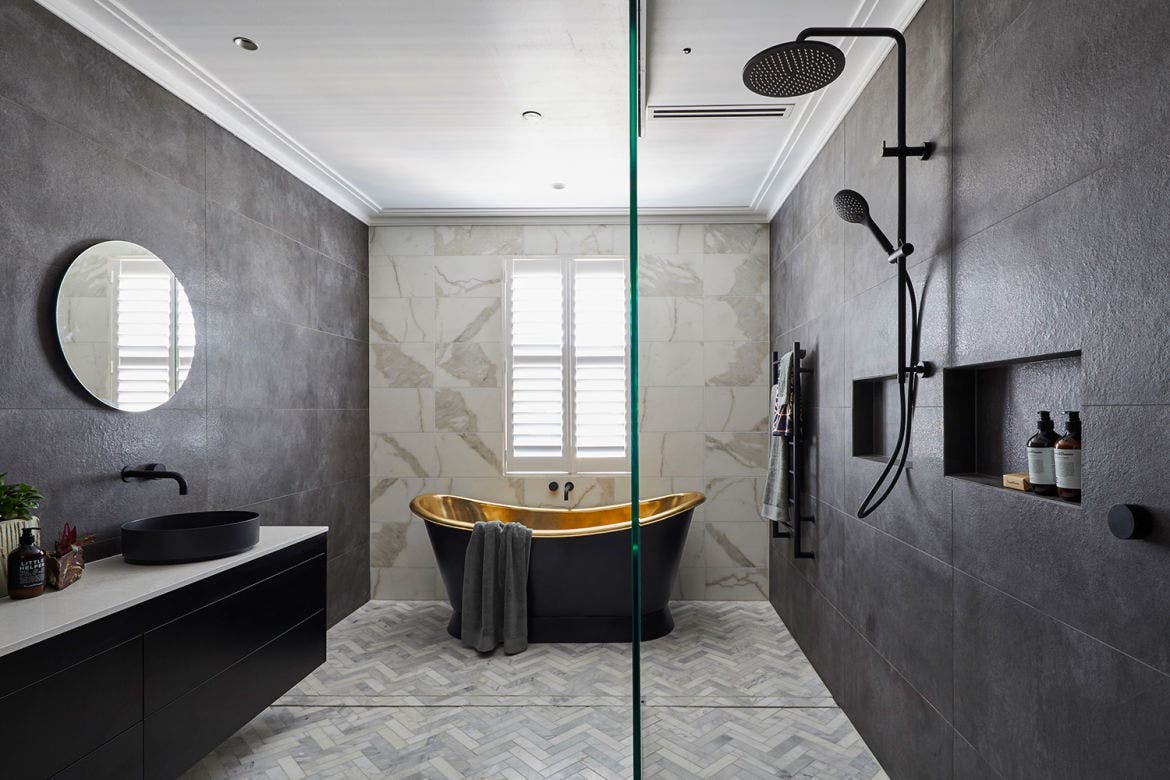 Create Synergies
Look for opportunities to tie different elements of your bathroom together. This modern bathroom designed by Alisa & Lysandra harmonise their arched mirrors, tapware and basin's legs through a synergistic choice of metal.