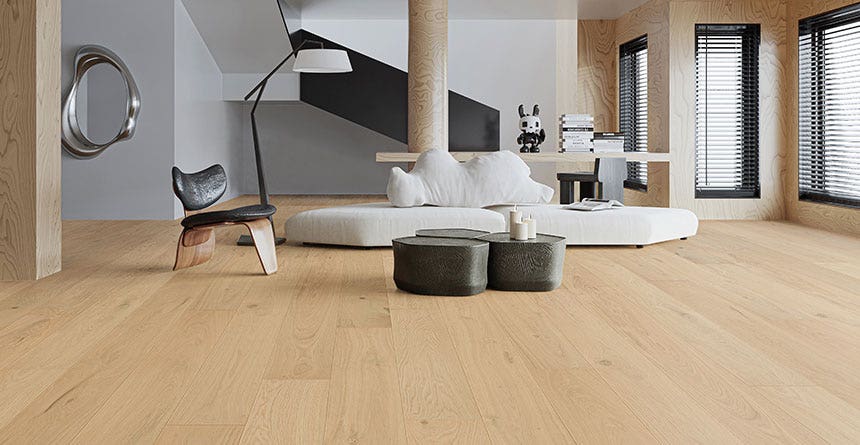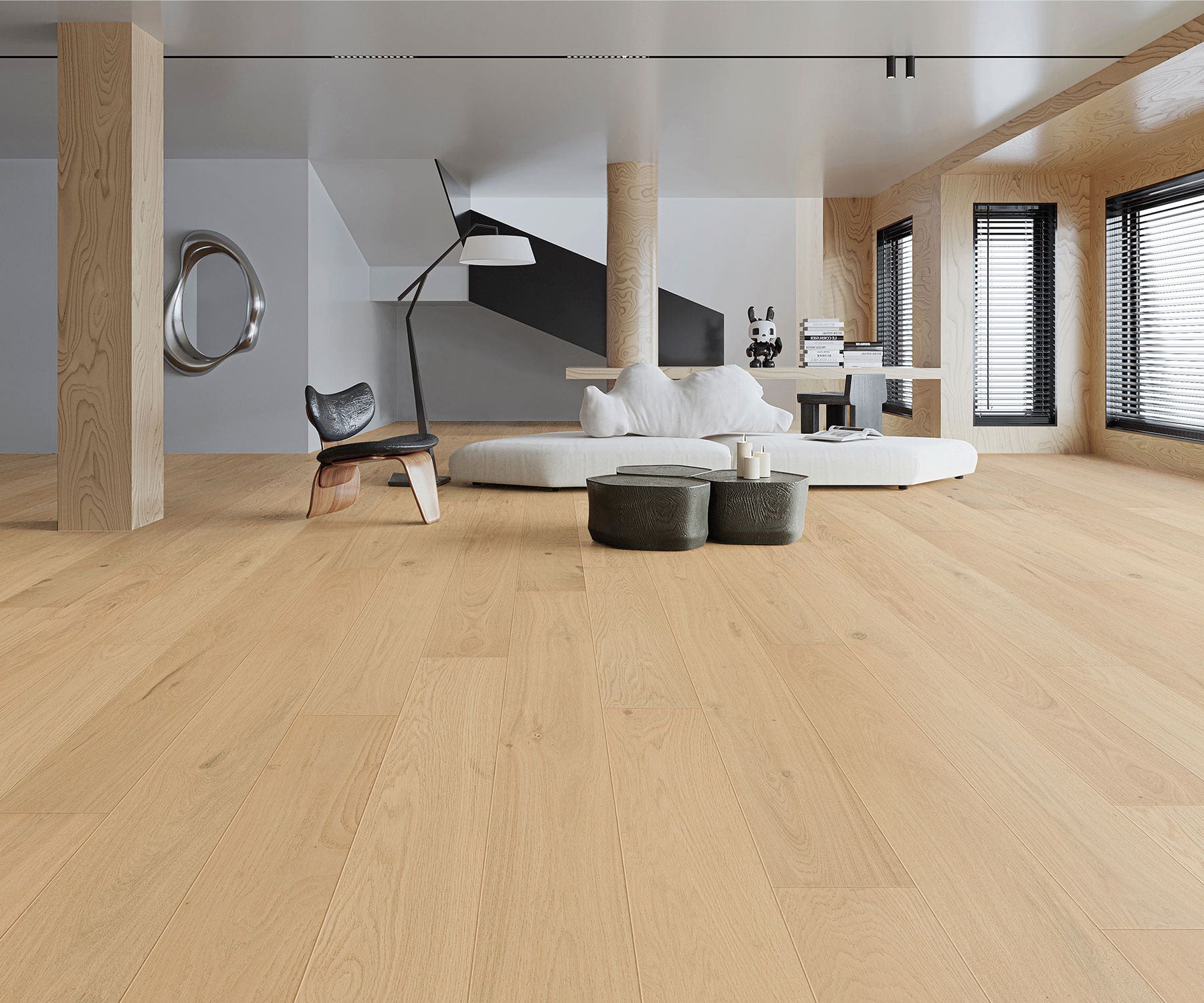 Product Highlights
Ultimate Guide To Engineered Timber Flooring
Welcome to the ultimate guide for engineered timber flooring!
If you're in the market for new flooring, you've likely come across engineered timber flooring as an option. And for good reason - engineered timber flooring offers the beauty and warmth of natural wood with added durability and stability. Plus, it's easy to install and maintain.
So, let's dive into everything you need to know about engineered timber flooring!
Firstly, what is engineered timber flooring?
Essentially, it's a type of flooring that is made up of layers of hardwood, showcasing a layer of natural timber veneer. This timber layer can come in a range of species, like our gorgeous French Oak. The layers of wood are bonded together, creating a stable and durable plank that can withstand the wear and tear of daily life.
---
Now, onto the benefits of engineered timber flooring.
One of the main advantages is its stability.
Traditional hardwood flooring can expand and contract with changes in temperature and humidity, causing issues like warping and cupping. But because engineered timber flooring is made up of multiple layers, it is more stable and less prone to these issues.
Another benefit of the engineered timber flooring is its durability.
The top layer of hardwood veneer provides the same warmth and beauty as traditional hardwood flooring and has added protection against scratches and wear with a multi-layered coating. It can also be refinished multiple times, meaning it can last for decades with proper care.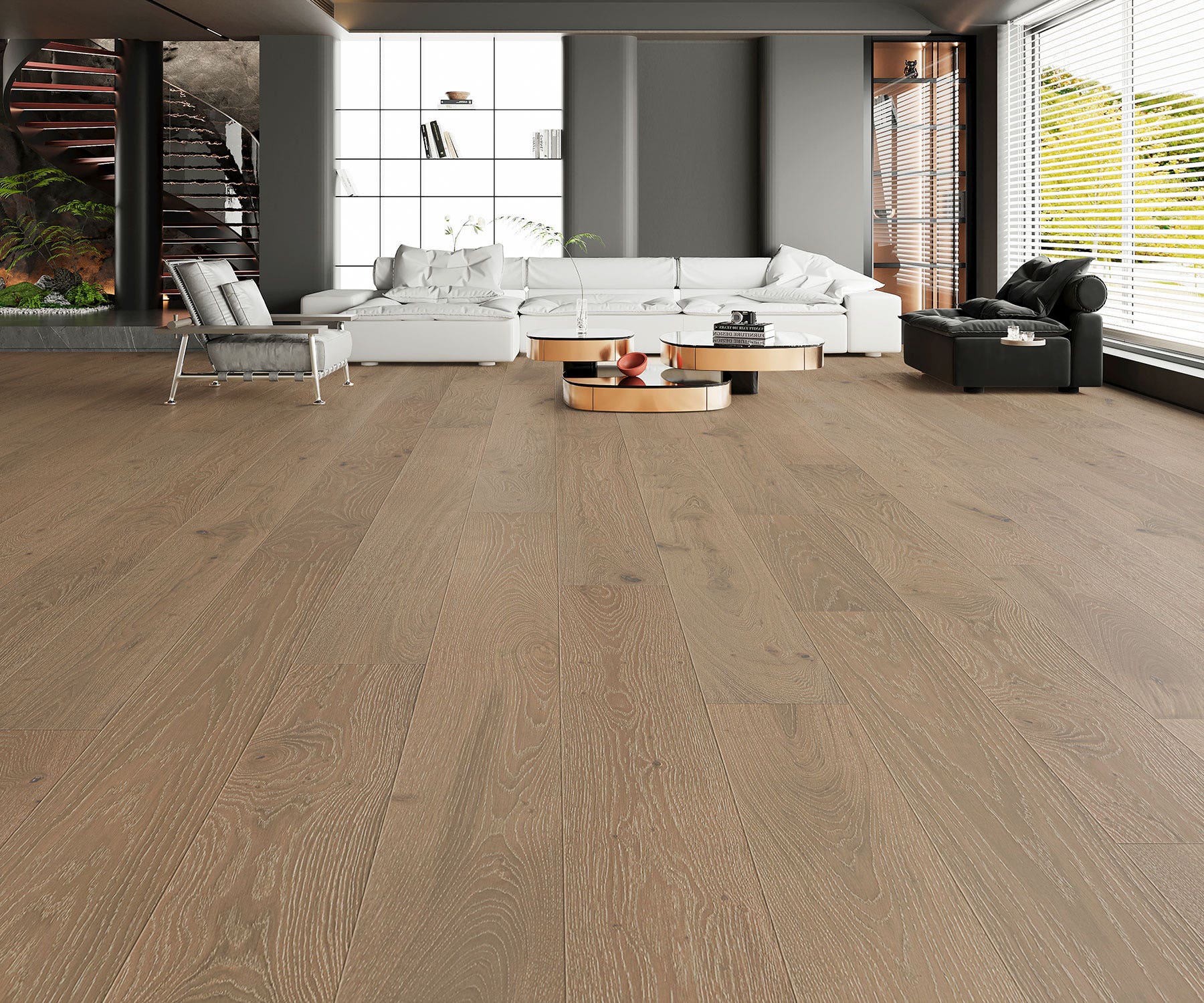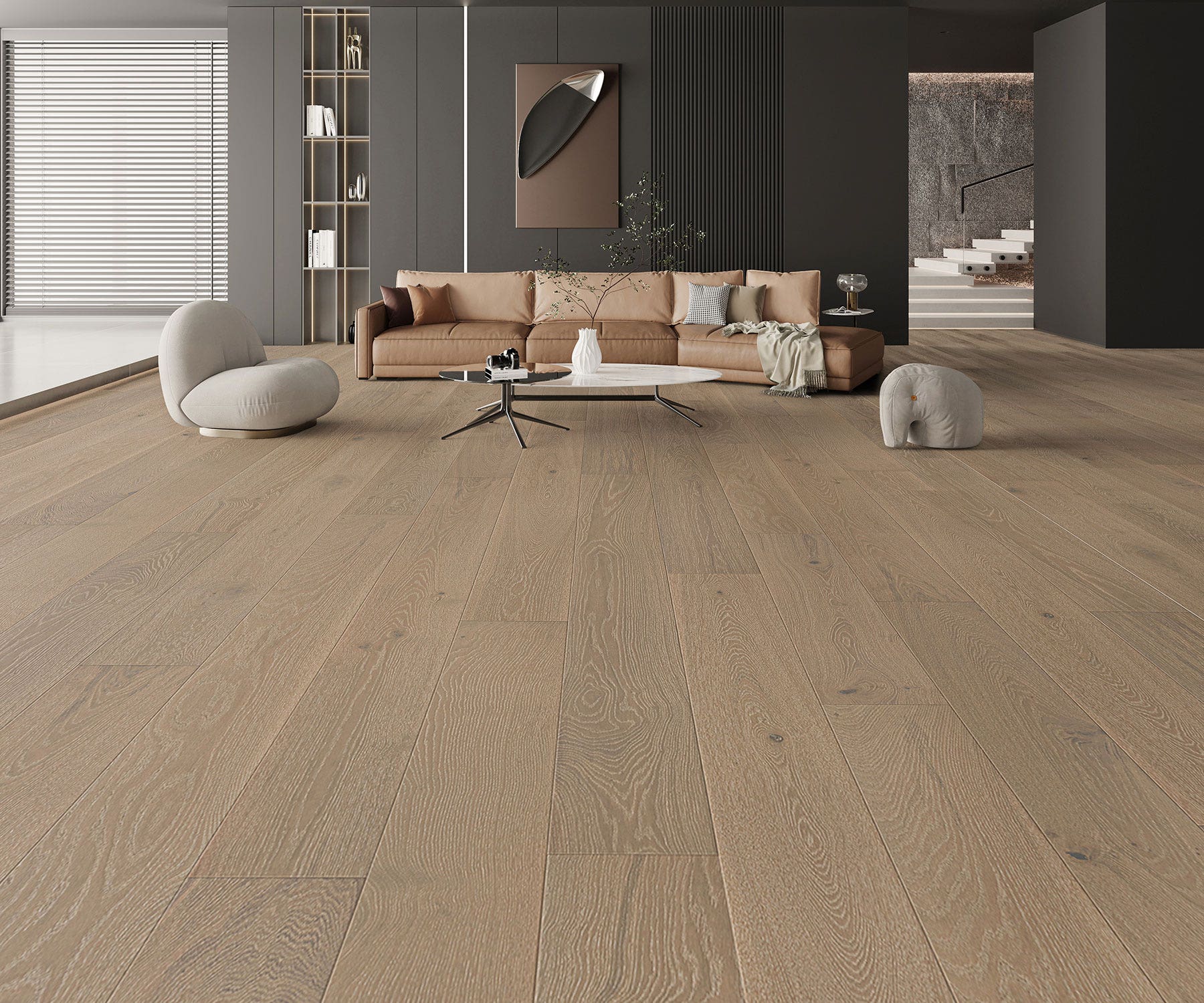 Installation is also a breeze with engineered timber flooring.

It can be installed using a few methods, including glue-down, and floating, depending on the subfloor and personal preference. And because it comes in pre-finished planks, there is no need for sanding or staining on site like with hardwood timber planks, saving time and mess. After acclimatisation to its new home, it could be installed within a day, easily. We always recommend a professional when it comes to installing Engineered Timber as great care, attention and consideration must be given to the job.
But what about style?
Our Natured Engineered timber planks come in a range of colours, specifically chosen for their ability to be timeless no matter what style home you have. Whether you want a classic oak in a natural finish or a darkened timber for dramatic contrast, there is an engineered timber flooring option for you. Plus, because it is made up of real wood, each plank has its own unique character and grain pattern.
Engineered timber flooring greatly simplifies the maintenance process.
Regular sweeping or vacuuming and the occasional damp mop are all that is needed to keep it looking beautiful. It can handle accidental spills without damage, just a quick wipe-over with a soft cloth.
Finally, let's talk about the cost.
While engineered timber flooring can be more expensive than other flooring options like laminate or vinyl, it is still way more affordable than traditional hardwood flooring. This is definitely the floor for you to achieve an authentic timber floor at the best price point. And because it can last for decades with proper care, it is the long-term investment in your home that you will absolutely love.
For more detail on cleaning your chosen hard flooring material:
Experience the Future of Engineered Timber Features: Unveiling Our Latest Release
Time-honoured timber meets modern technology in our Natured range. Made from layers of real FSC-certified timbers our engineered flooring is pet and asthma friendly. A great affordable alternative to hardwood floors with a durable protective layer offering fantastic scratch resistance while being comfortable underfoot.
1. Multi-Layer Protective Coating
Luxury Engineered Oak Flooring offers 7 coats of Treffert UV lacquer. Treffert is a 100% polyurethane water-based top coat for the treatment of timber floors subjected to heavy wear. Treffert is a clear non-yellowing coating that enhances the look and feel of oak flooring.
2. French Oak Veneer
A 2mm French Oak veneer with Forest Stewardship Council (FSC) certification to provide a guarantee that it has been sourced from sustainable and responsibly managed forests.
3. Hardwood Core Layer
Hardwood multi-layer plywood core for superior strength and stability.
4. Tongue & Groove Profile
The tongue and groove profile allows for various types of installation options from floated to direct stick-down.
5. Allergy, Asthma, Family & Pet Friendly
All adhesives used are 100% formaldehyde free and environmentally friendly. The boric treatment makes the planks odour-free, mould-resistant, insect-resistant and fungi-resistant. Made to the highest ethical standards and are fully certified to ensure a healthy and environmentally friendly home.
So, there you have it - the ultimate guide to engineered timber flooring! With its stability, durability, versatility, and easy maintenance, it's no wonder it's a popular choice for homeowners. Whether you're renovating your current home or building a new one, engineered timber flooring will always be a beautiful choice, and a classic forever.
Engineered Timber Hard Flooring Collection Brochure
Made from layers of real Forest Stewardship Council (FSC) certified timbers, sourced from sustainable and responsibly managed forests.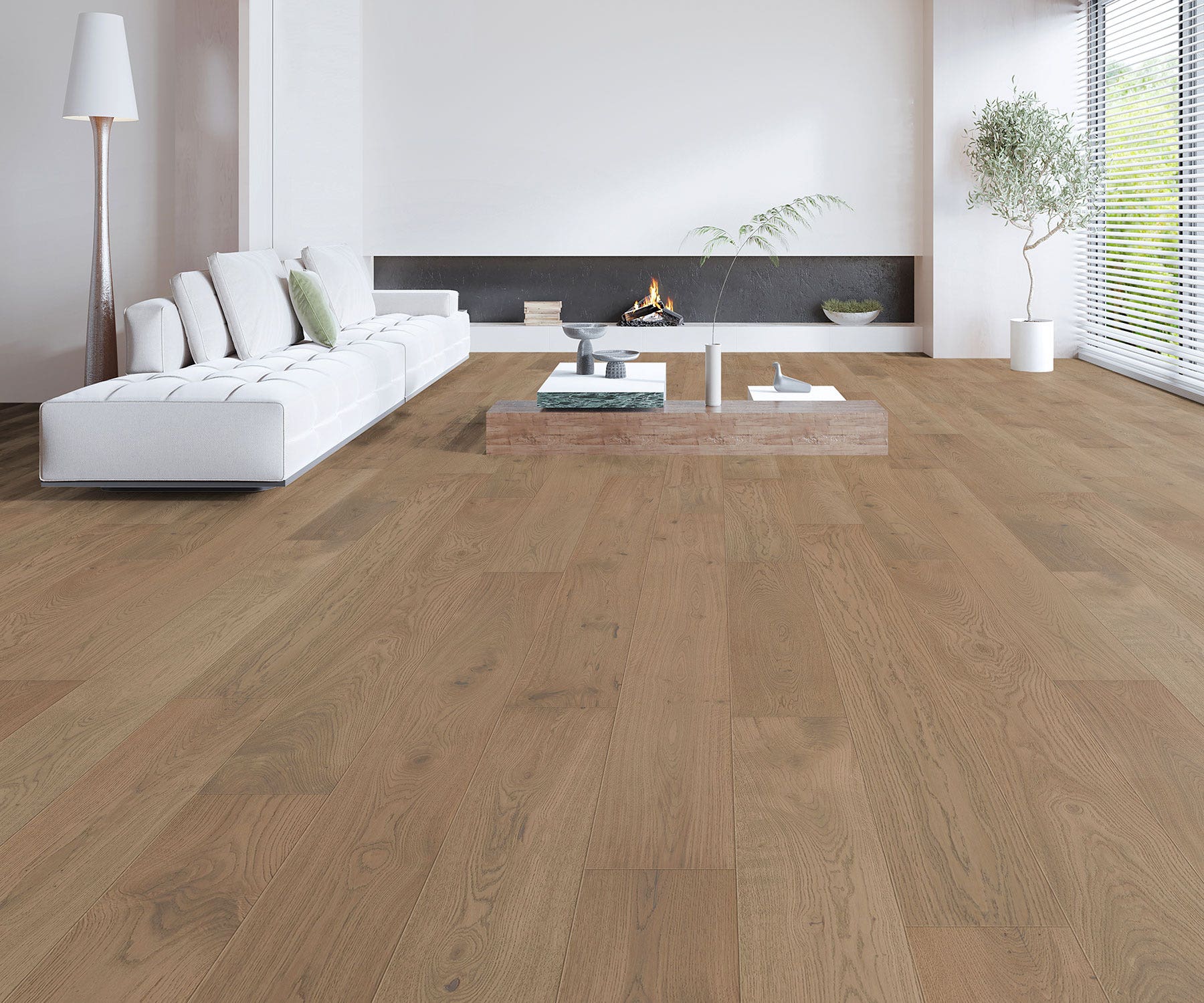 Engineered Timber Flooring FAQs
Engineered timber flooring is a popular choice because it offers the beauty and warmth of traditional hardwood floors, with added durability and stability. In this section, we'll answer some common questions about engineered timber flooring to help you make an informed decision about whether it's the right choice for you.
What is engineered timber flooring?

Timber flooring is bringing nature inside the home, and celebrates all it's unique looks and beauty. Ethically grown and cut trees are transformed into timber planks that become one of the most popular types of flooring today. The most common types of timber floors that people choose are; solid timber/hardwood flooring, engineered timber flooring and bamboo flooring.

Solid timber floors are incredibly beautiful when milled and sanded to the highest quality. Engineered timber has multiple layers to strengthen and protect. Bamboo flooring is made of strands of bamboo that have been glued together to make a durable floor.

Is engineered timber flooring durable?

Timber flooring is durable and hard-wearing. It does need some regular maintenance and care to keep it looking gorgeous. Engineered timber flooring has an innovative top layer that provides protection and a sturdy wear layer for high-traffic areas in your home.

Is engineered timber flooring easy to clean and maintain?

We want to see your engineered timber flooring have a long happy and healthy life. Firstly, check that your room has no direct sunlight hitting your timber flooring throughout the day. It does come with a certain amount of UV protection, but you'll also need to use curtains or blinds, just like you or I putting on a hat to go out into the sunshine.

Super-hot days aren't a favourite of most people, and your timber floor doesn't like too much heat either. Keeping the room temperature, as a rule of thumb, between 15-25 degrees Celsius and also humidity 35-50% which is ideal for all of us.

Prepare to move back into your space after your timber flooring installation by putting floor protector pads under furniture legs or castors. And buy some quality door mats for your entry doors to reduce the dirt coming into your home.

Your pets now need regular manicures and pedicures to keep those cute little paws padding over the floor instead of scratching. And you'll need to put those stilettos away to avoid little dents too.

It is super easy to get a cleaning routine happening for engineered timber flooring.

A daily zip over the floor with your stick vacuum, or soft bristle broom.

A quick wipe-over with a soft cloth when there are liquid spills

A weekly mop with a damp mop (it can't be a wet mop or a steam mop!) and a low alkaline cleaner. The BONA floor care products are awesome, highly recommend them! Don't use harsh chemicals, your gorgeous floor won't like that.

A light rub with a soft cloth to remove any scuff marks you might find.

Can engineered timber flooring be refinished?

Yes, your engineered timber flooring can be refinished many times over. This is a job for the professionals because if sanding is needed, it needs to be super light to remove just the top urethane coating, leaving the French Oak layer untouched. You don't want to change the colour of your floor by removing the original staining colour.

A recoating lacquer such as Treffet lacquer will need to be applied to complete the refinishing.

Where can timber flooring be installed?

Where wouldn't you want to install timber flooring?

Here are the places we love:

Living room where nature meets comfort. An elegant choice to sit next to while relaxing on your lounge.

Bedroom: is so good for controlling dust for asthma and allergy sufferers to prevent allergens that build up in carpet.

Hallways: Long lineal planks directing you through to the rest of your home. Engineered timber flooring has a wear rating to withstand the test of time.

Kitchens: despite the occasional splash from a spill or dishwashing, timber planks are ideal for kitchens leading into living or dining areas to keep a consistent and cohesive look around your home.

Study: a simple replacement of caster wheels in your office chair and protective pads on your furniture then you're good to go.
Find Your Engineered Timber Flooring In-Store
Put on your shopping shoes and hit up those stores that have the goods. Engineered Timber flooring is avialable in selected Beamounts stores, so it's time to get floored and take your home décor game to the next level!
Victoria
Ascot Vale

Ballarat

Blackburn

Dandenong

Ferntree Gully

Frankston

Geelong

Hoppers Crossing

Lilydale

Mentone

Mildura

Mornington

Narre Warren

Oakleigh

Preston

Ringwood

Shepparton

South Morang

Swan Hill

Traralgon

Warragul

Warrnambool

Wodonga

Malvern

Dandenong South
New South Wales
Erina

Gregory Hills

Lewisham

Marsden Park

Mittagong

North Manly

Nowra

Orange

Padstow

Penrith

Prospect

Rutherford

Tamworth

Thornleigh

Tuggerah

Tura Beach

Tweed Heads

Warners Bay

West Ryde

Wetherill Park

Wollongong

Fyshwick

Mitchell
South Australia
Adelaide

Beverley

Edwardstown

Gawler Park

Gepps Cross

Morphett Vale

Mount Barker

Mount Gambier

Murray Bridge

Paradise

Port Lincoln

Port Pirie

Victor Harbor

Marleston

Whyalla

Norwood
Queensland
Airlie Beach

Bokarina

Browns Plains

Bundaberg

Bundall

Cairns Central

Cairns South

Capalaba

Enoggera

Hervey Bay

Ingham

Ipswich

Labrador

Mackay

Rockhampton

Springwood

Strathpine

Sumner Park

Toowoomba

Townsville

Virginia

Woolloongabba

Yeppoon

Manunda Cairns

Mount Isa