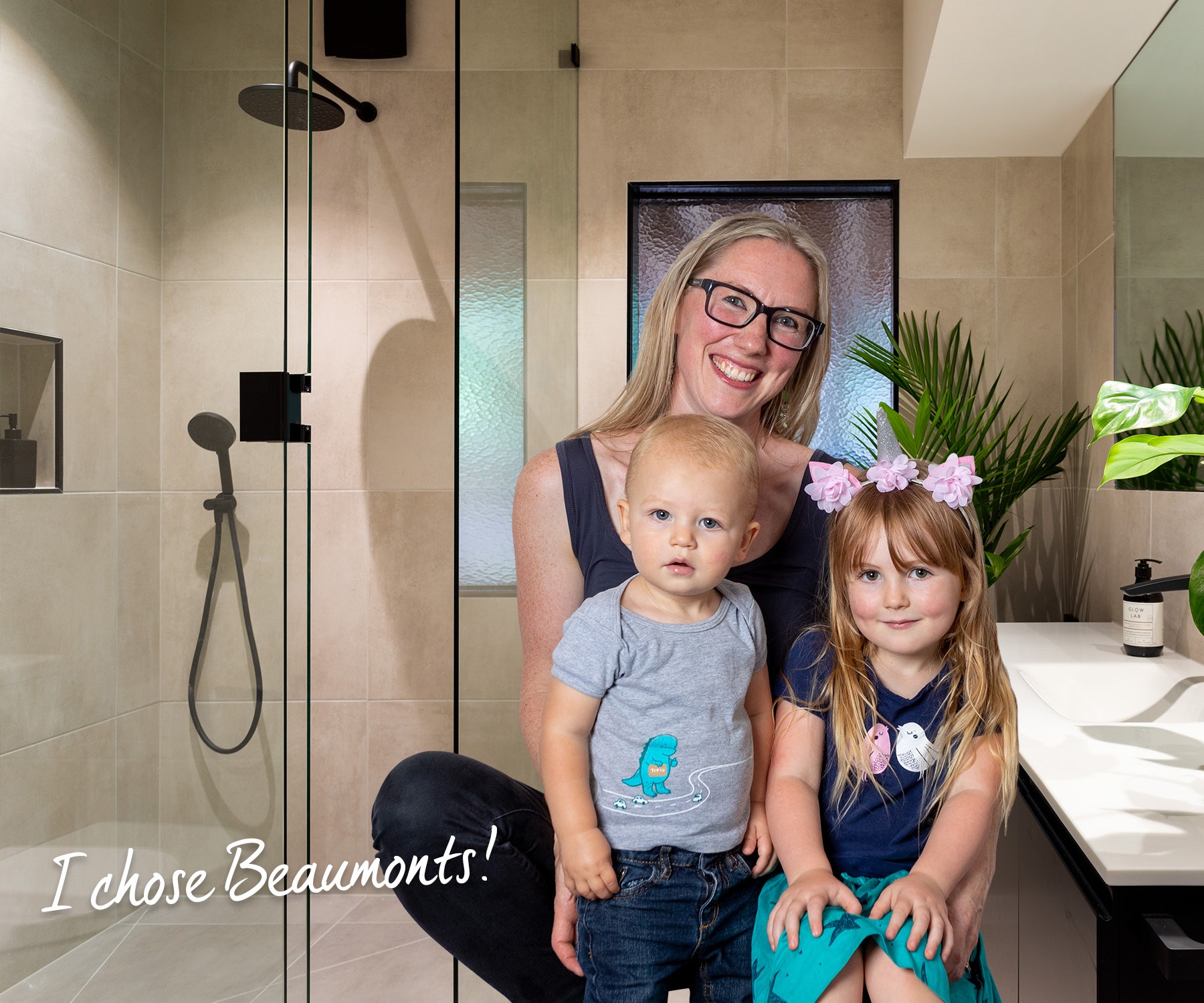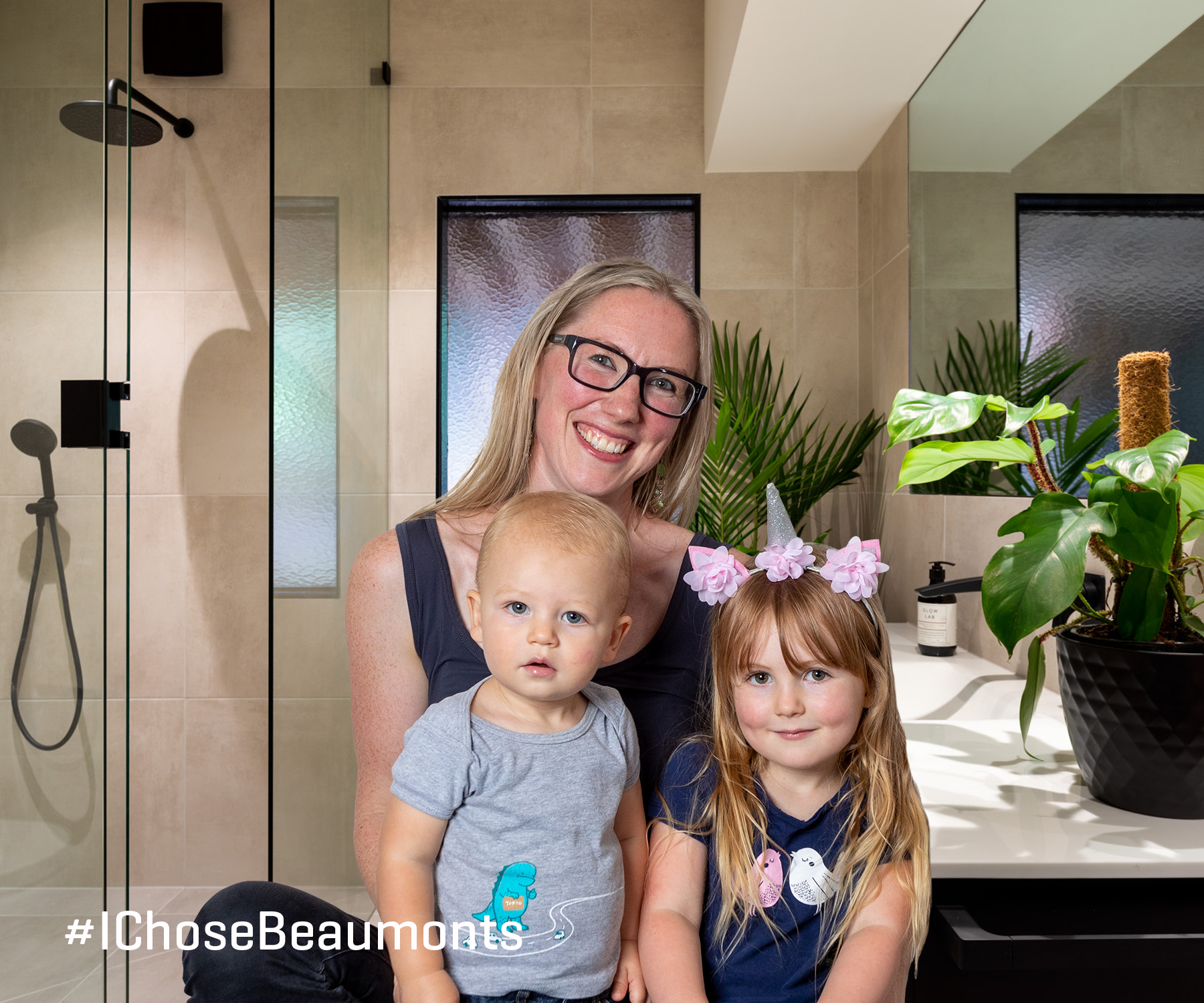 Why Choose Beaumonts?
Our Customers Tell Their Renovation Stories
We understand that not everyone is a renovation expert, but when supported by the experts, you can create your very own dream space. See our customer's real-life renovations and their stories of why they chose Beaumonts for their dream renovations.
Cherie Barber Chose Beaumonts for some gorgeous splashback tiles!
The Space Invaders team; Peter Walsh, Cherie Barber and Lucas Callaghan came to the rescue to help Carolyn, husband Lee, and their two autistic daughters, Ellacoco and Zahra reclaim their cluttered space.
---
Before
There's barely room to prepare food or sort clean from dirty dishes in this before photo. One thing that was missing in this kitchen was more preparation space and storage. Even though the family was given more storage they still reduced the amount of stuff they owned by 76 per cent. This means the things they keep will be easier to find, organise and use.
After
The outdated splash-back tiles were replaced with contemporary and calming Green Gloss Concave Fan Mosaic tiles. Cherie did encounter a renovation drama though when the backing board came off with the old tiles. They were racing against the clock to get a new board in while the tiler was still on site after tiling the patio. Luckily, it was sorted in the nick of time!
---
Harry & Tash Chose Beaumonts Again For a Special Renovation
The Block's first-ever father and daughter renovation duo came back to choose Beaumonts for a beautiful bathroom transformation for a special person.
We first met the father-daughter duo on The Block 2020. Harry and Tash were tasked with renovating a home in 1920s styling. The duo admits that their styling on The Block 2020 wasn't completely personal to them. Building to satisfy the judges whilst also sticking to the era and keeping buyers in mind skewed their styling and the duo are excited to have finished The Block and start new renovation projects.
Their first renovation project since The Block is a special one. Harry & Tash chose Beaumonts to renovate Harry's Mum's bathroom. From a space that was unfunctional, old and poorly lit into a functional, light and stylish space.
---
Brenton Chose Beaumonts To Surprise His Wife!
Some people receive surprise flowers from their loved ones, but how about a surprise porch reno? Now that's OUR kind of surprise! Brenton from Queensland surprised his wife, Shannon with this beautiful DIY porch reno using our Templar Herald Charcoal & Templar Charcoal 300x300 tiles. We loved this transformation as much as their three pups; Ollie, Doug & Gizmo and crowned them our June 2020 #ichosebeaumonts winners.
"We shopped everywhere for the right tiles and right price and kept coming back to Beaumont for their range and knowledge. Bev at Wagga Wagga Beaumonts is the true tile goddess! She helped with our selections for the style and age of our forever home".
- Shannon & Brenton -
---
Hannah Chose Beaumont For A Complete Bathroom Renovation

Busy mum to a young family, Hannah from New South Wales chose Tuggerah Beaumonts.
"We chose Beaumonts because they took the time to price match other quotes...which with a family and tight budget was so important. Apart from price, patience and customer service, the quality of each product was outstanding and having a one-stop-shop for everything was just the icing on the cake".
- Hannah -
Hannah won in our April 2020 entries with her choices... Agrestic White Satin 300x75 wall tiles, Debris White 597x297 floor tiles, as well as our bathroomware; Sanremo shaving cabinet, Goulburn fixed shower panel, Vivid Slimline bath & basin wall outlets, Vivid twin combo shower, Vivid slimline plus wall top assemblies, Radii robe hook, towel rail, & hand towel holder, Alpin corner bath, and Nevada plus vanity.
---
Featured Products
---
Wall Tile: Agrestic White Satin
---
Floor Tile: Debris White
---
Sanremo Shaving Cabinet
---
Goulburn Fixed Shower Panel
---
Phoenix Pop Up Waste
---
Vivid Slimline Wall Bath Outlet
---
Vivid Twin Combo Shower
---
Vivid Slimline Wall Basin Outlet
---
Vivid Slimline Plus Wall Top Assemblies
---
Radii Round Robe Hook
---
Radii Round Towel Rail
---
Hannah's renovation was a family affair including the help from a special little helper!
Kate & Ben Chose Beaumonts After Seeing Us On The Block
First-time renovators, Kate and Ben from Queensland chose Beaumonts Labrador for their expertise and on-trend tiles after watching The Block choose Beaumonts.
"As it was our first time, we wanted someone we could talk to in person who would guide us through the process… We would not have considered underfloor heating until the consultant explained how easy and affordable this is, and we love that we decided to put this in (it's our little luxury!) We wanted to create a moody mountain retreat with our new ensuite and Beaumonts helped us achieve this perfectly."
- Kate & Ben -
Kate and Ben chose Woodlands Honey 150x900 to create a feature wall in the shower and Eclipse Night 300x600 to bring moodiness into their ensuite.
Featured tiles: 1201744 Belga Taupe & 1201863 Begla Ivory
Jo Chose Beaumonts Oakleigh
Jo from Victoria chose Beaumonts to bring luxury into her and her family's every day.
"I was recommended Beaumont Tiles by a few friends so I decided to drop into Oakleigh Beaumonts & see what the possibilities might be. I met Kathy and within minutes knew that I would end up planning everything with her. Kathy was incredible throughout the whole process and gave me such spot-on advice about everything from tiles, toilets, taps & fittings to baths. She made it SO MUCH fun and spoke my language. After that first drop-in, I knew that Beaumonts would be able to provide everything for the project and I loved having a one-stop-shop."
- Jo -
Jo chose Aussie made Belga Grey & Taupe 600x600 and Phoenix vanities, Vivid shower arm, rose, and hand shower in black, Harmon bath outlet, luna toilet, keeto bath gloss toilet roll holder, hand towel rail, and double towel rail. Rush wall outlet & shower wall mixer.
---
Daniel & Carolyn Chose Beaumonts For Their Slab Splashback.
Daniel & Carolyn from Queensland chose Beaumonts to turn their splashback into a work of art with our slabs!
"We started our tile selection during COVID restrictions so decided to take advantage of Beaumonts' online consultation. Our consultant was wonderful at taking us through the design process and showed us early on the option of slab tiles as that additional "wow" factor. With a few options to consider, we visited our nearby showroom and kept on coming back to the impressive Grand Atlantis Gold 3000x1000 as the option for us".
- Daniel & Carolyn -
Like Daniel & Carolyn tell us why you Chose Beaumonts and you could win back the price of your tiles - check out the details here.
You can start your own renovation journey with Beaumonts today, either online or in-store, why not BOOK YOUR FREE CONSULTATION and get started, we're here to help!
Chantel Mila & Robbie Chose Beaumonts For Their Bathroom Retreat.
Chantel Mila & Robbie from Victoria chose Beaumonts to create calming, zen retreat-like spaces for their family to unwind.
"When we bought our house, we knew the vision we wanted to create with the bathrooms. We wanted a zen retreat-like space for ourselves and a calming space for our excitable toddlers to unwind. We chose Beaumont Tiles as we wanted to build our dream bathrooms with quality tiles, fittings and fixtures. Beaumont Tiles was a one-stop-shop for us and had everything we needed from our tiles to our vanities!"
- Chantel Mila & Robbie -
Chantel Mila & Robbie chose Beaumont Tiles Mentone for their tiles and bathroomware; Expan White Satin 300x600 wall tiles, Icon Dove 447x896 floor and wall tiles, and Icon Dove Stack Mosaic to create a feature wall behind the bath. The couple also chose our Jaya bath, Goulburn fixed shower panel, Nevada plus vanity, Shaving cabinet, Empire toilet, Studio 1 heated towel rail, Rome rail shower, and Elbrus; wall mixer set, basin mixer, wall mixer, and toilet roll holder.
Tracy Chose Beaumonts Because Of Her Sister's Recommendation.
Tracy from Victoria chose Beaumonts for reliability! Tracy went into Beaumont Tiles Blackburn with some Instagram inspirational photos. From there the team were able to help Tracy realise her dream and supply everything she needed for her renovation and source the same batched tiles to get her renovation completed. We loved Tracy's entry so much that we awarded her our September #ichosebeaumonts 2020 winner.
Tracy chose Beaumonts because "It was on the recommendation of my sister who had such a great experience with the Blackburn store that I went there and they were wonderful. No storyboards for me, like many renovators, my Instagram account had folders of inspiration, including bathroom and kitchen, and I was able to find all that I wanted from Beaumont – the team were also fantastic ensuring they could supply the same batched tiles etc. and finding me the extra tiles required when there were none in the country."
Tracy chose Majorca Flower Black 200x200 for the feature wall and floor and Nostalgia White Satin 300x75 for the remaining walls
---
Tracy Chose Beaumonts Because Of Our Online Assistants!
Tracy from Victoria small ensuite got the Beaumont touch.
"The quality of your tiles are way above my expectations. My ensuite is extremely small and it was tricky to pick the right tiles which will help open up space and not be boring. The combination of these 3 different tiles helps to bring life and character to this bathroom. Shopping for tiles online is never easy. However, your online assistants have been fantastic. I would like to thank you for making my renovation journey a lot more enjoyable and for delivering such amazing quality products and customer service."
Tracy chose Aussie made Belga grey 300x600 for the floor and feature wall as well as Vast White Satin 300x600 for the remaining walls and added a pop of colour to her niches with Boheme Multicolour.
---
Dennis Chose Beaumonts For His Outdoor Area
Dennis chose Beaumonts to bring life to his outdoor areas and create a space that the whole family can enjoy.
Dennis said "The Stone Wall Bengal Blend Lightweight tile has really brought our front Portico to life. From what was a simple portico to now the standout feature of our whole street, everyone that walks past you can clearly see takes a second look. We couldn't be happier with how this has come up. Before...our Alfresco area was dull and boring, now it is an area the whole family has been enjoying – it's almost become another room of the house we can use 24/7 - allowing the kids an area to be able to play outside (even if it's raining) and us parents the ability to entertain in style or relax in a nice cool, calm space."
"We were going to shop around but Angela from Beaumonts Modbury helped us to determine exactly what we were after and what would work best for our spaces and our family – we looked no further and we couldn't be happier with the amazing results." - Dennis
Dennis chose Stone Wall Bengal Blend Lightweight 125x400 for the portico and Belga Grey Textured 600x600 for the alfresco area.
You can start your own renovation journey with Beaumonts today, either online or in-store, why not BOOK YOUR FREE CONSULTATION and get started, we're here to help!
---
Emily Chose Beaumonts For Our Amazing Service
Emily and her partner from Queensland purchased their first home, a 1960's original house with plans to renovate throughout to put their own touch on the house and make it their home.
Emily chose Beaumonts because "When looking for tiles, we did what we had to do and went to a number of different tile stores for quotes and advice. No other place helped us out as much as Beaumont Tiles Virginia. The staff are amazing, you can tell that they are truly passionate about what they do and always went over and beyond for us! There is no way we would ever go anywhere else to purchase tiles. The quality of the tiles are amazing, and the prices are affordable. WE LOVE YOU BEAUMONT ❤️"
Emily and her partner chose Ales light grey for the floor and wall, Manhattan White Bevel Gloss for the walls and Carrara Bianco Herringbone mosaic for their feature wall and shower niche.
You can start your own renovation journey with Beaumonts today, either online or in-store, why not BOOK YOUR FREE CONSULTATION and get started, we're here to help!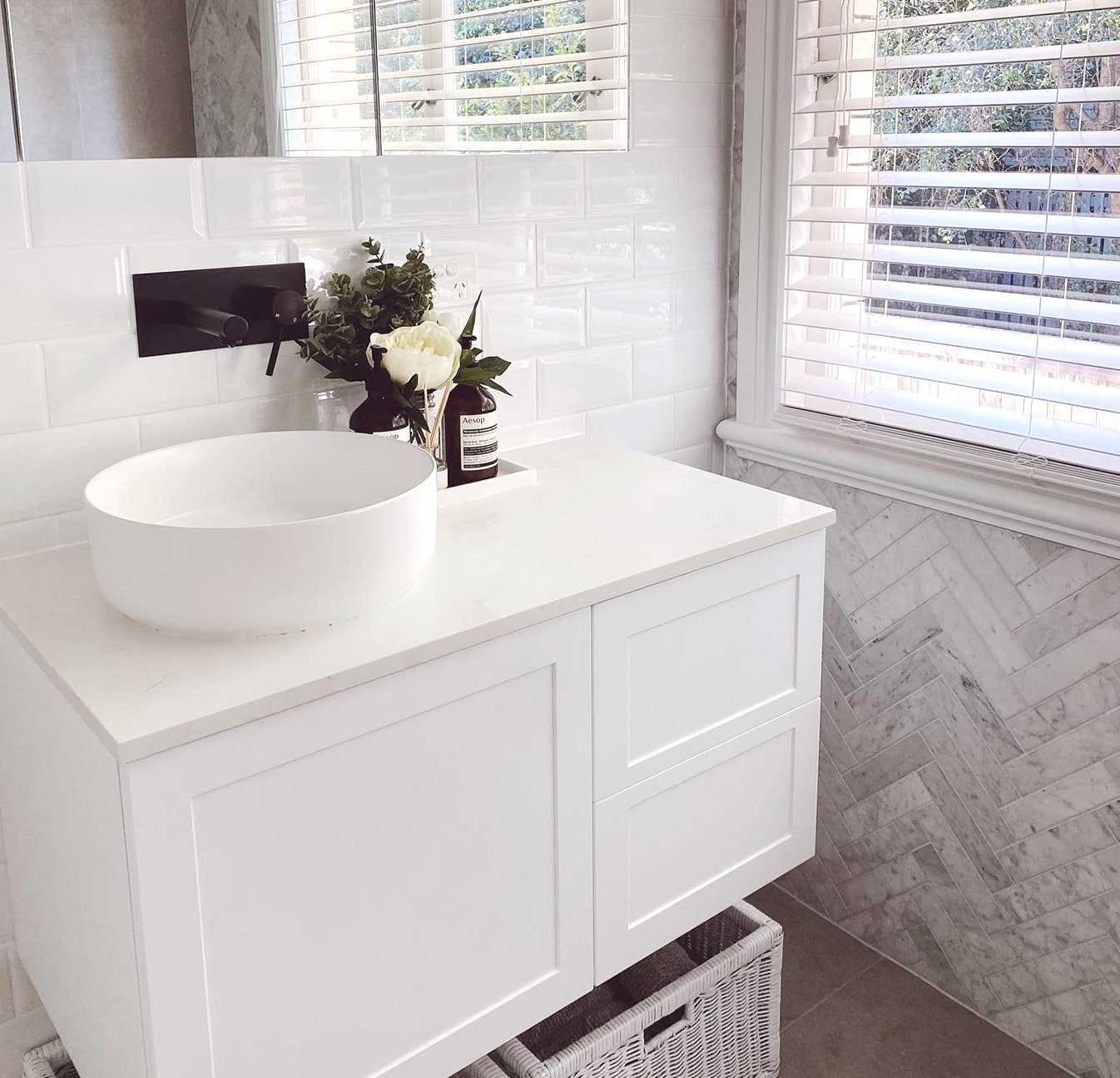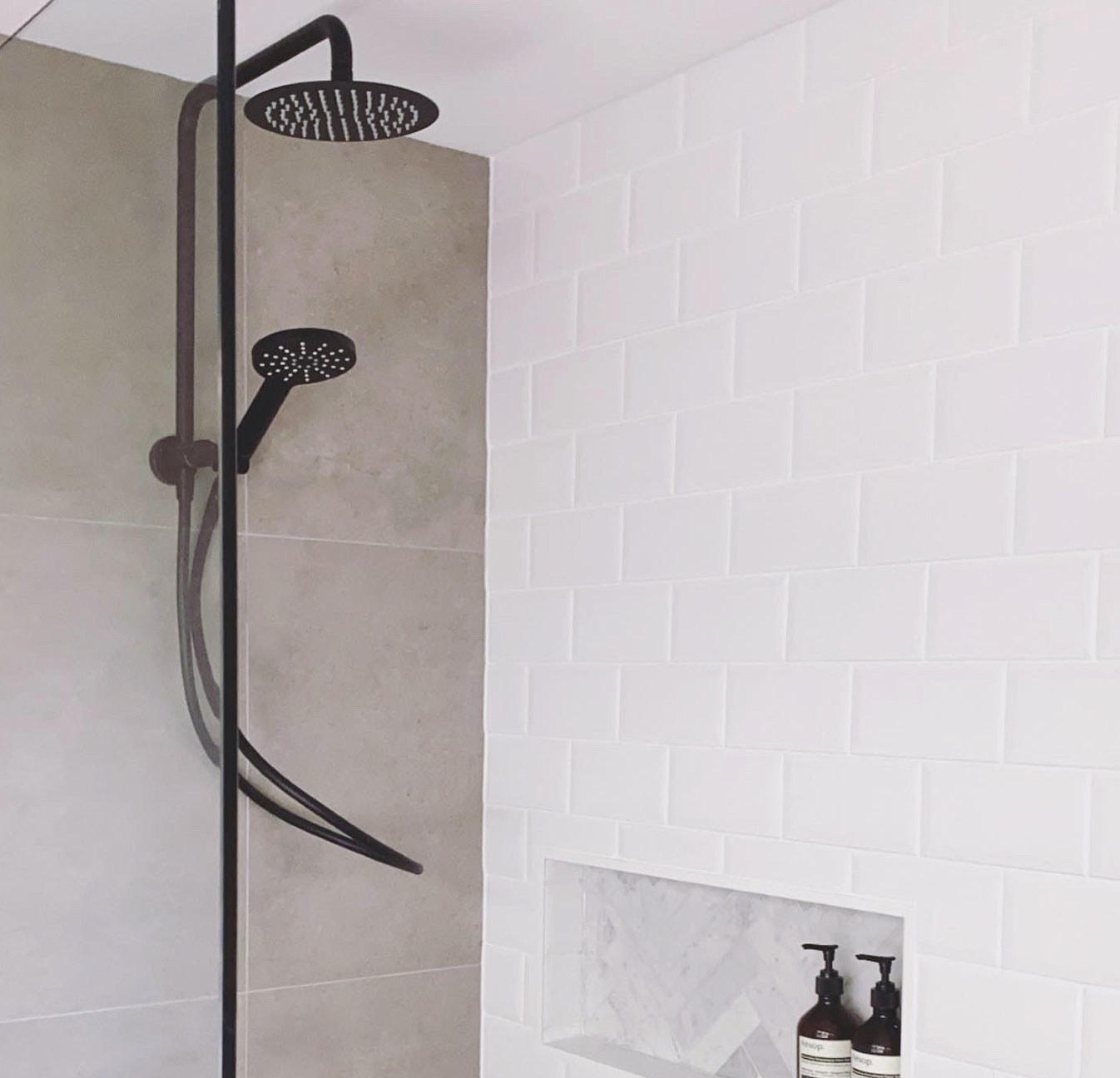 Kristy-Ann Chose Beaumonts Outdoor Tiles For Her Deck & Loves It!
Kristy-Ann from Queensland chose Beaumonts Woolloongabba for a deck renovation that would require less maintenance than her timber deck.
After realising how much time and effort she was spending each year on sanding and staining her deck, Kristy-Ann decided that she would transform the deck with the use of tiles and regain time to relax and enjoy her outdoor area without the painstaking maintenance.
Kristy-Ann said "No more sanding and painting the deck every year or so. The tiles have given my deck a fresh new look and require a lot less maintenance."
Kristy-Ann chose our Maximo Grey Textured 300x600 to bring a fresh new look to her deck and the added benefits of tiles; low maintenance and durability.
You can start your own renovation journey with Beaumonts today, either online or in-store, why not BOOK YOUR FREE CONSULTATION and get started, we're here to help!
---
Rebekah Chose Beaumonts For Her Spectacular Dream Ensuite!
Rebekah from Queensland chose Browns Plains Beaumonts to create a spectacular ensuite that's different to the usual.
Rebekah said "I'm in love! We are so super happy with the tiles we chose from Beaumonts. They look even better than we pictured they would! The tiles have come up an absolute treat! We wanted something different from the usual bathroom, and something spectacular, and Beaumont's certainly delivered the goods that other tile shops couldn't. I didn't consider going anywhere else...as soon as I saw the BT basic light grey and Tribeca brick tiles I was sold and instantly knew I wasn't going anywhere else."
Rebekah chose Tribeca Multicolour Brick 250x60 for her feature wall and Beaumont Basic Grey for the floor and remaining walls.