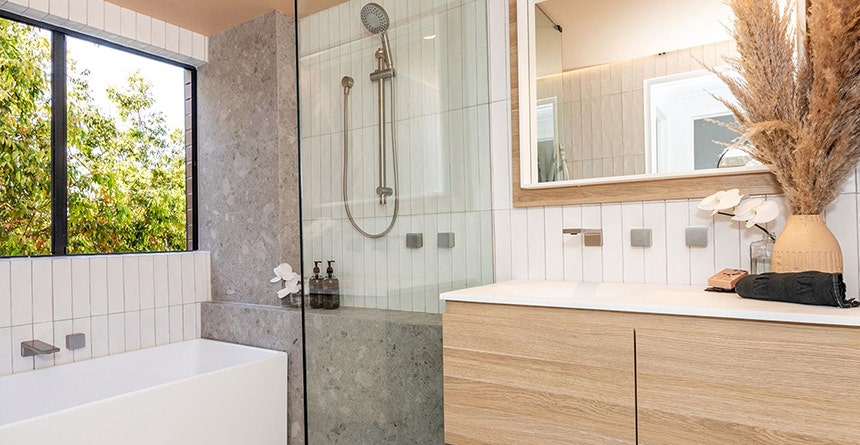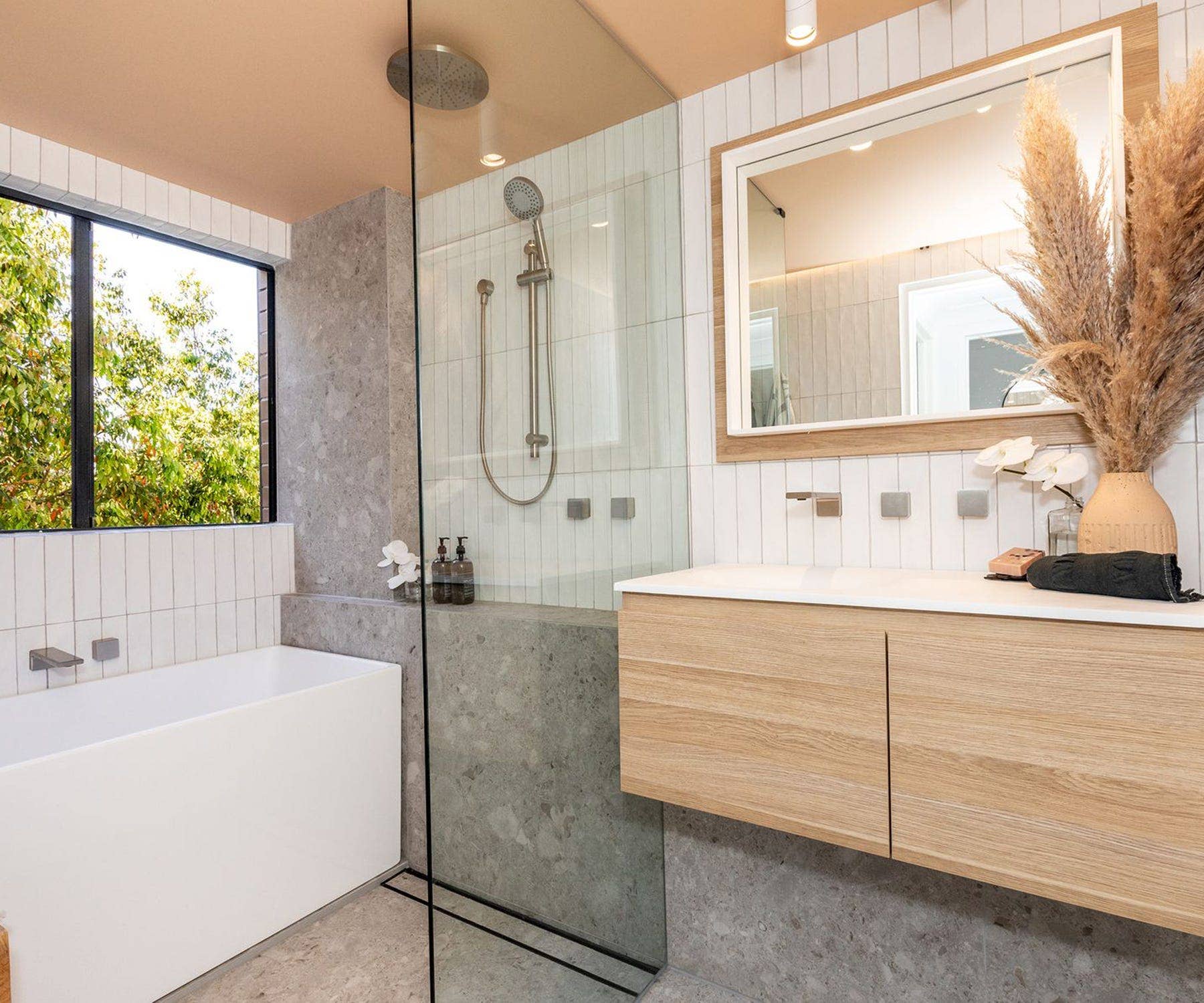 Styles We Love
Big Ideas For Small Bathrooms
Maximise the space of a small bathroom with clever planning, storage solutions and beautiful tiles.
Renovating a bathroom can be a daunting process in itself, but when you're lacking the luxury of space, the renovation can feel impossible and leave you clueless with where to even begin.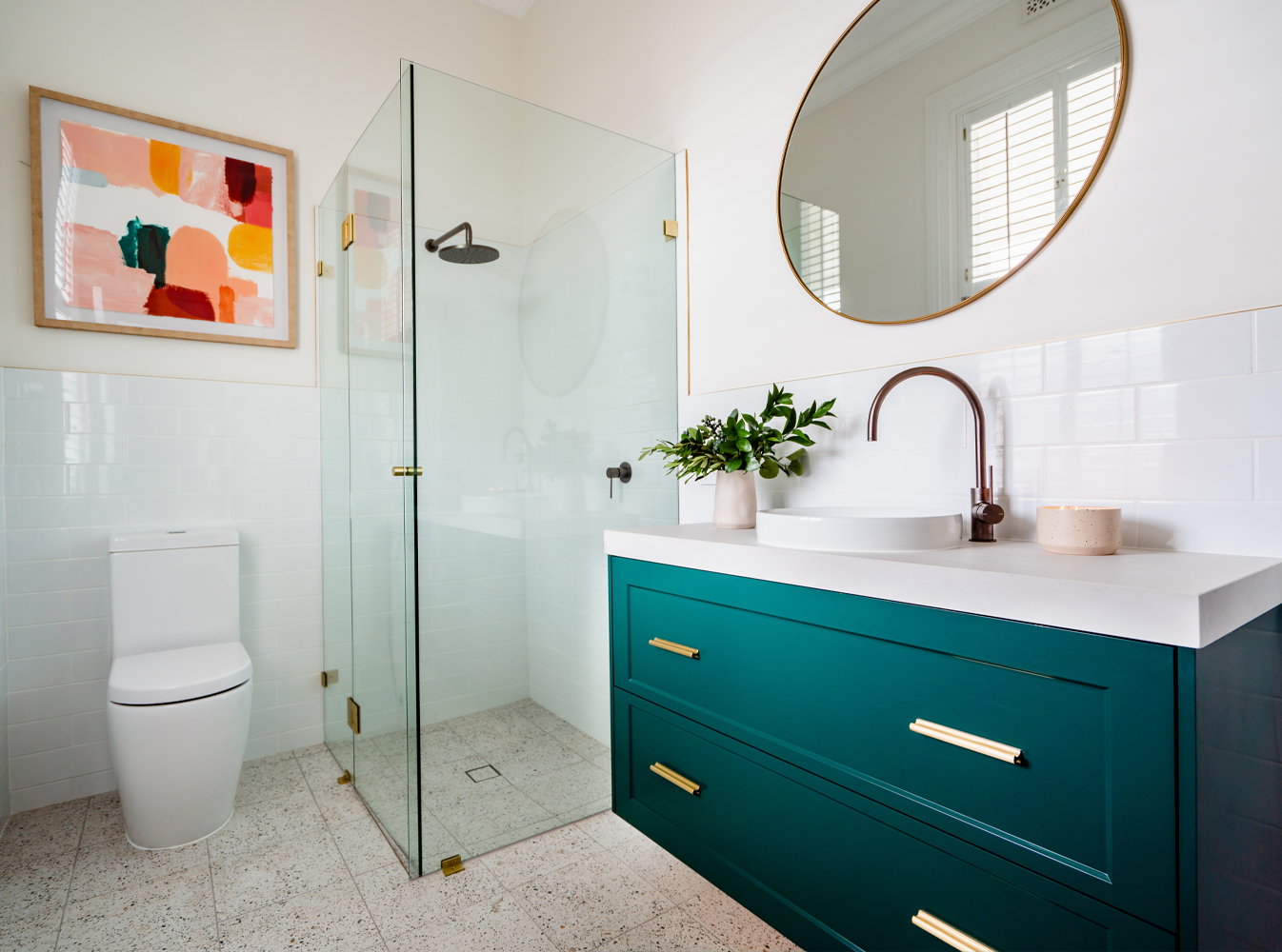 Layout
When it comes to small bathrooms, layout is everything. Maximize the zones within your space and map out your layout on paper, or even with masking tape in a different room. Go through all of the elements of the room and get a feel for how the space will work. Walk through the layout and consider the space required for stepping out of the shower, opening the shower screen, opening cupboard doors, and getting dressed. Don't forget to account for your existing plumbing, doors, openings, and windows when planning your layout to simplify the process and maximize natural lighting.
Style
Style is personal and fun, but when working with a small bathroom, aim to keep the colour palette light so the space feels open.
Also work with natural patterns so the room doesn't feel too busy.
Use accessories and bathroomware as your outlet for showcasing your style and personality. Small bathrooms can be fun too!
A good way to introduce some colour to the space is to with tapware. Start with a mixer set and customize the handle colour to suit your style. Zimi offers multiple styles and colours to suit everyone!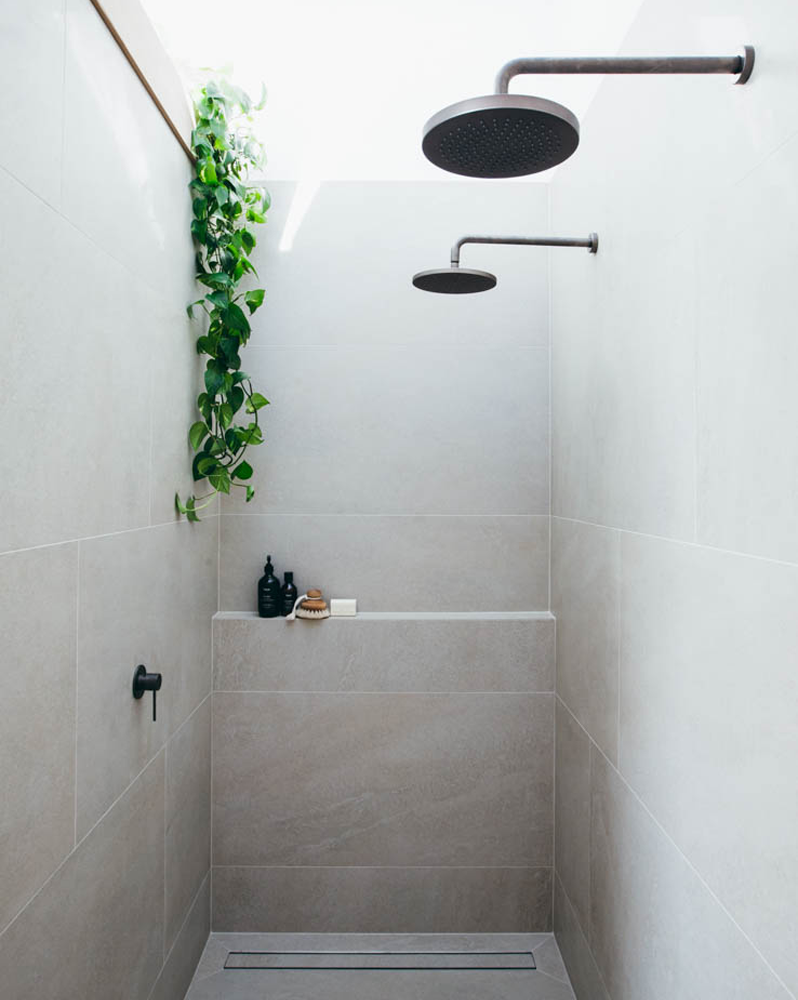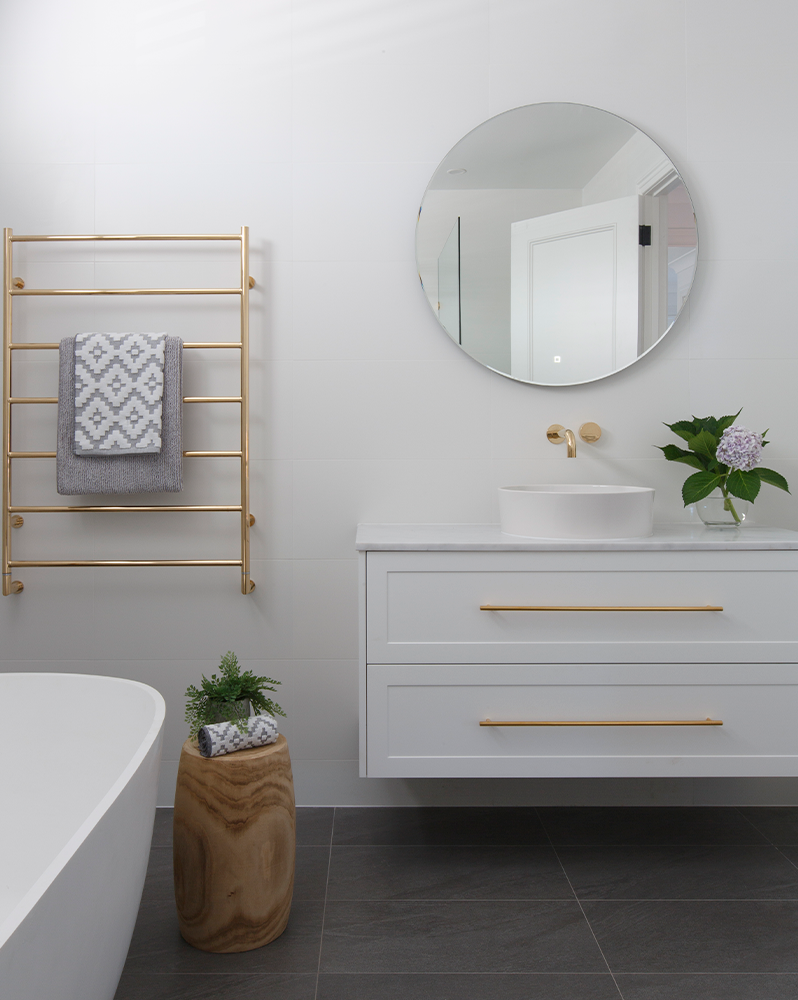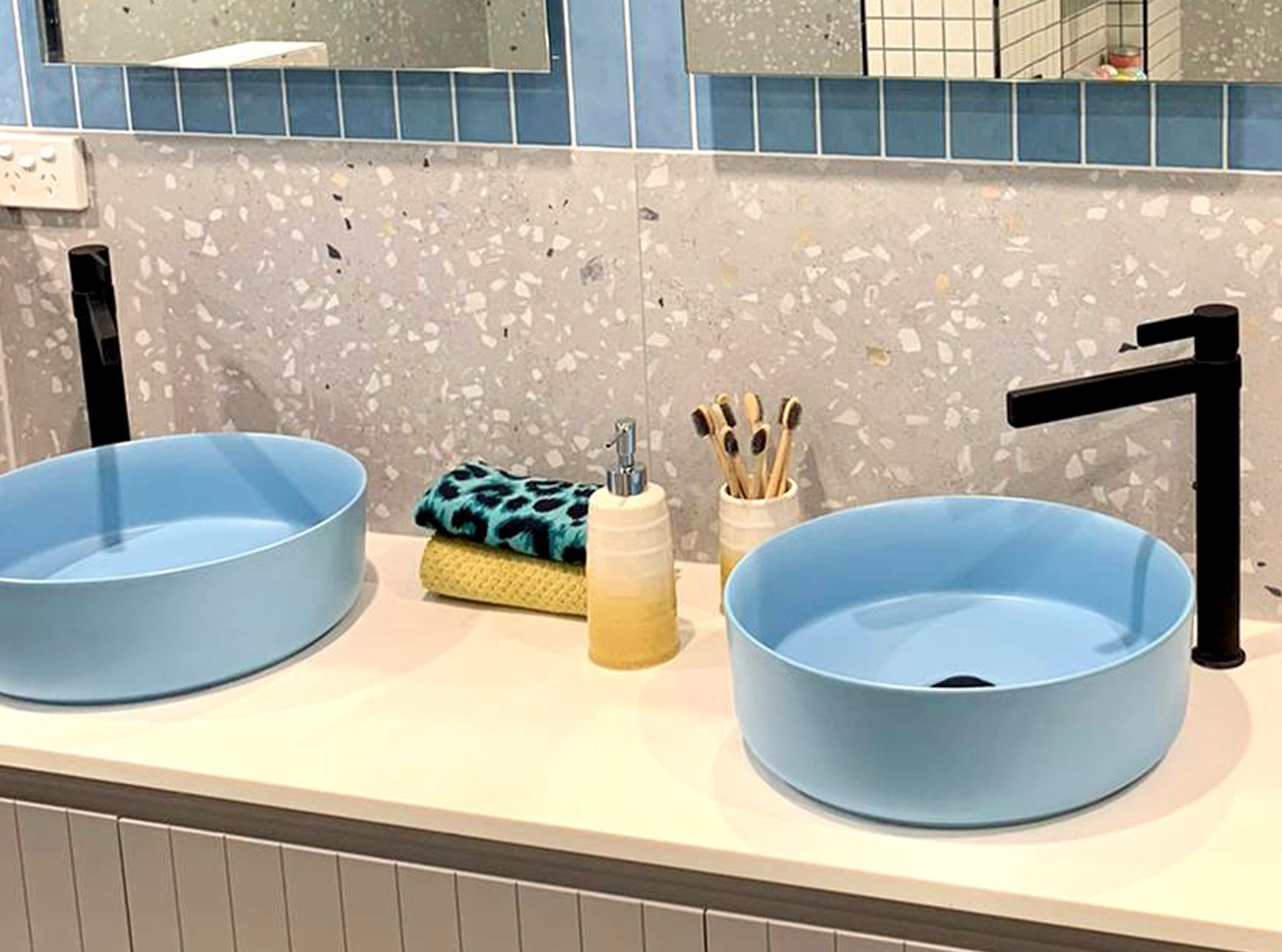 Colour
Another way to add a pop of colour to your tiny bathroom with these on trend basins.
From black to pink, there's a colour for every style and personality!
There are plenty of great vanity choices for small bathrooms too. There's the Alpine, McLaren, Shoal, the Fingal, and many more. Each style usually comes in a few different options, so you can really customize your space.
Storage
Storage is a significant element in bathrooms, but, to ensure practicality in a small bathroom, storage should be limited to essentials for everyday use and move everything else to other areas in the house.
Use nib walls or our hidden Invisicab for shower storage, a shaving cabinet with face-level storage, and a floating vanity to give the illusion of space.
We have a huge range of bathroom storage options of different sizes, shapes, colours and finishes.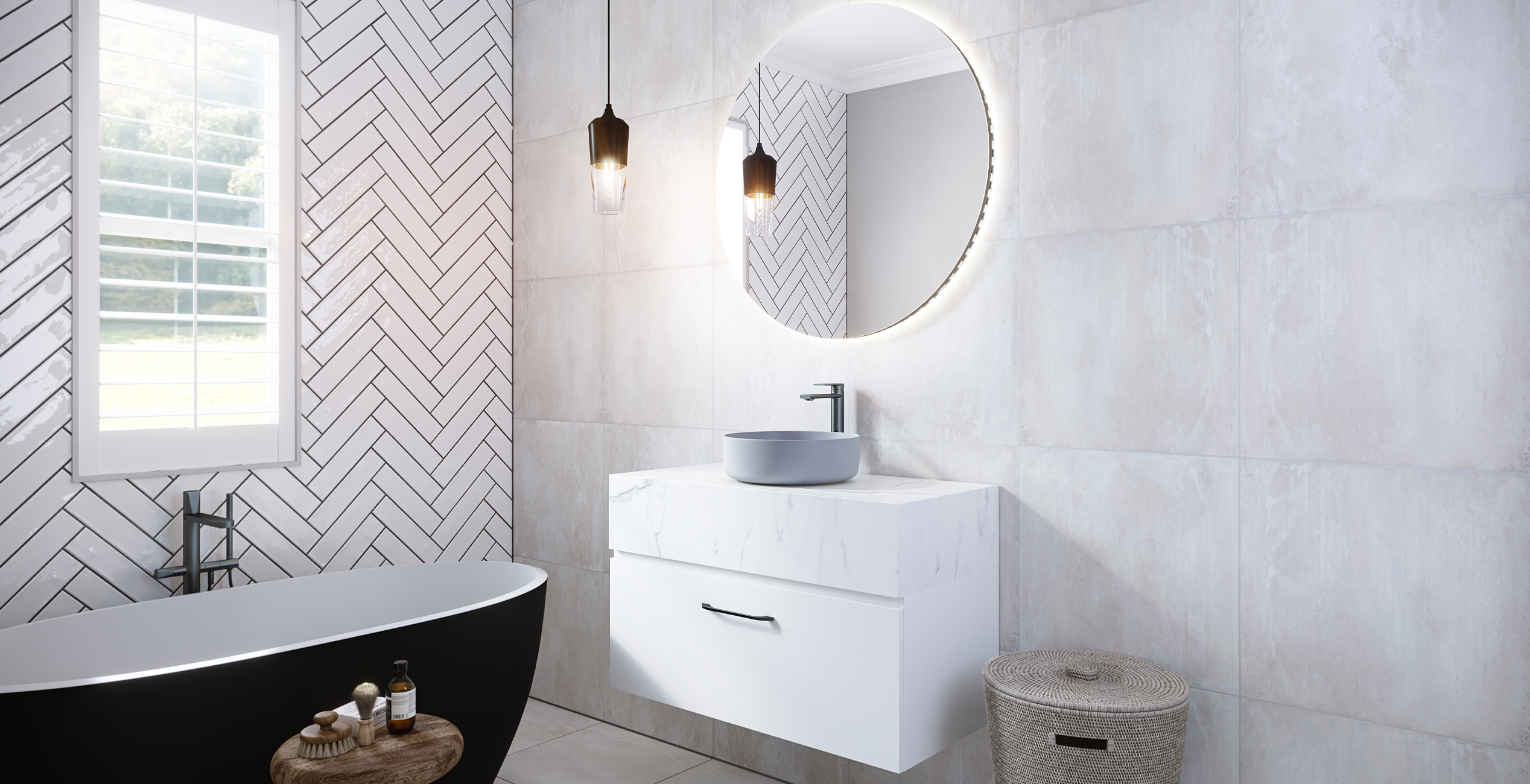 Tiles
Tiles are obviously the number 1 choice for bathrooms, but besides their practicality and beauty, you can use tiles to help give the illusion of space.
For example, tiling to the ceiling helps to make the room feel open and spacious whilst laying wall tiles vertically can make the room feel taller.
Another hot tip is using one tile on both the walls and floors to give the room an open and spacious feeling.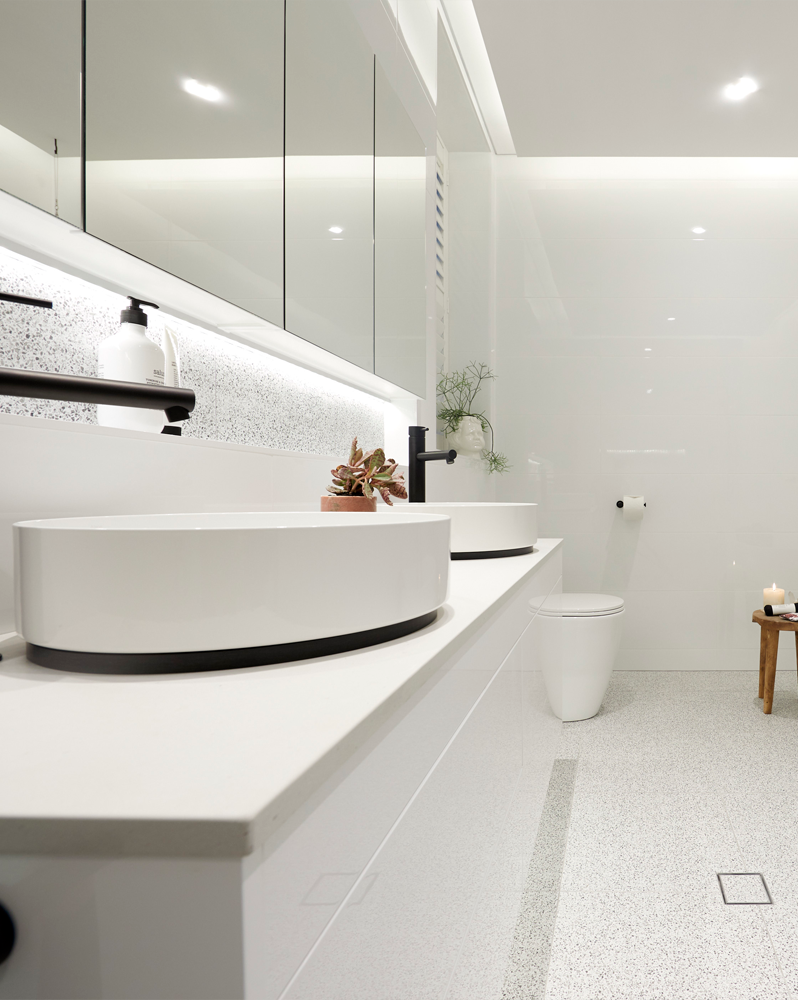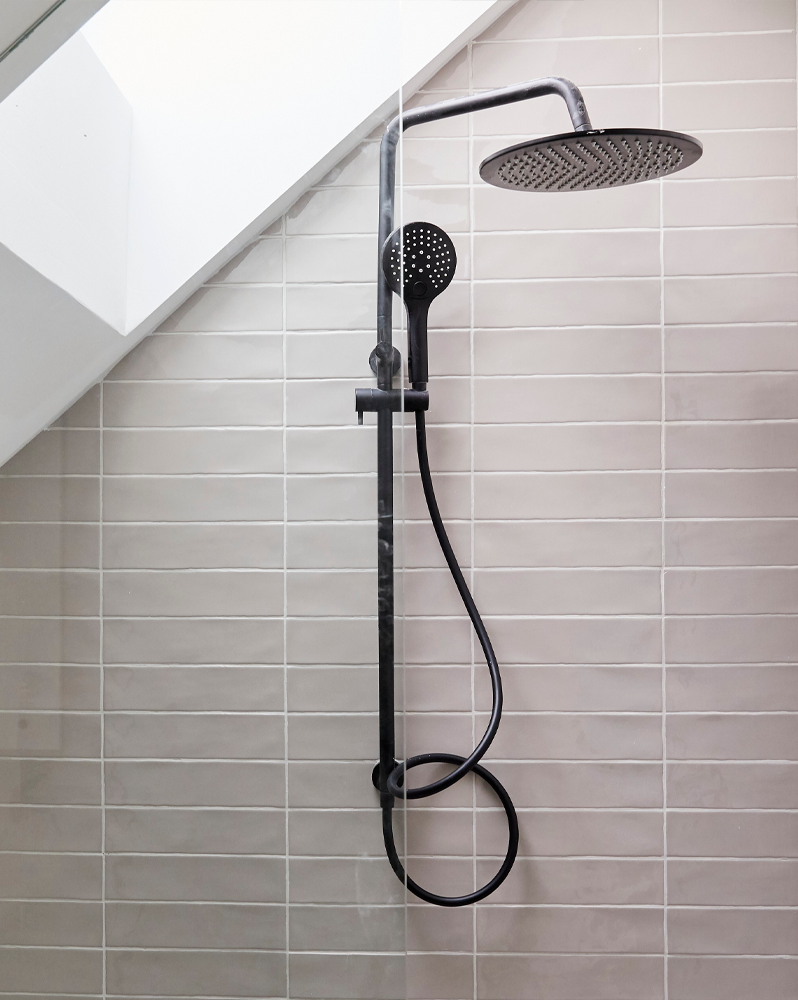 Lighting
You've worked hard to ensure your layout is perfect, the colour palette is light and fresh, and your tiles are laid in a way to give the illusion of space, but don't stop there! An often-overlooked element is the lighting. Small bathrooms need correct lighting to help open the space. Choose functional, low profile lighting like downlights or strip lighting. If you're lucky enough, also consider installing a sky light – bathrooms love natural lighting.
Make Good Choices
Consider whether you really need a bath or whether a shower will be succinct. If a bath is required then opt for depth over length and an above-bath shower to maximise space.
If you decide to just have a shower, choose a luxurious showerhead to still get that spa feeling in your bathroom. Some great shower choices for that luxe feel are the Suttor Combo, the Lexi Twin, the Rubicon Square Combo Shower, or the Sofia All-In-One.
Towel rails consume a lot of space and can be easily swapped for space-saving towel hooks.
Be smart with your accessories. It's easy to get carried away when decorating a new space but make smart choices to not clutter the small space and instead use everyday items to decorate like a smart soap dispenser and add a pop of greenery on the windowsill.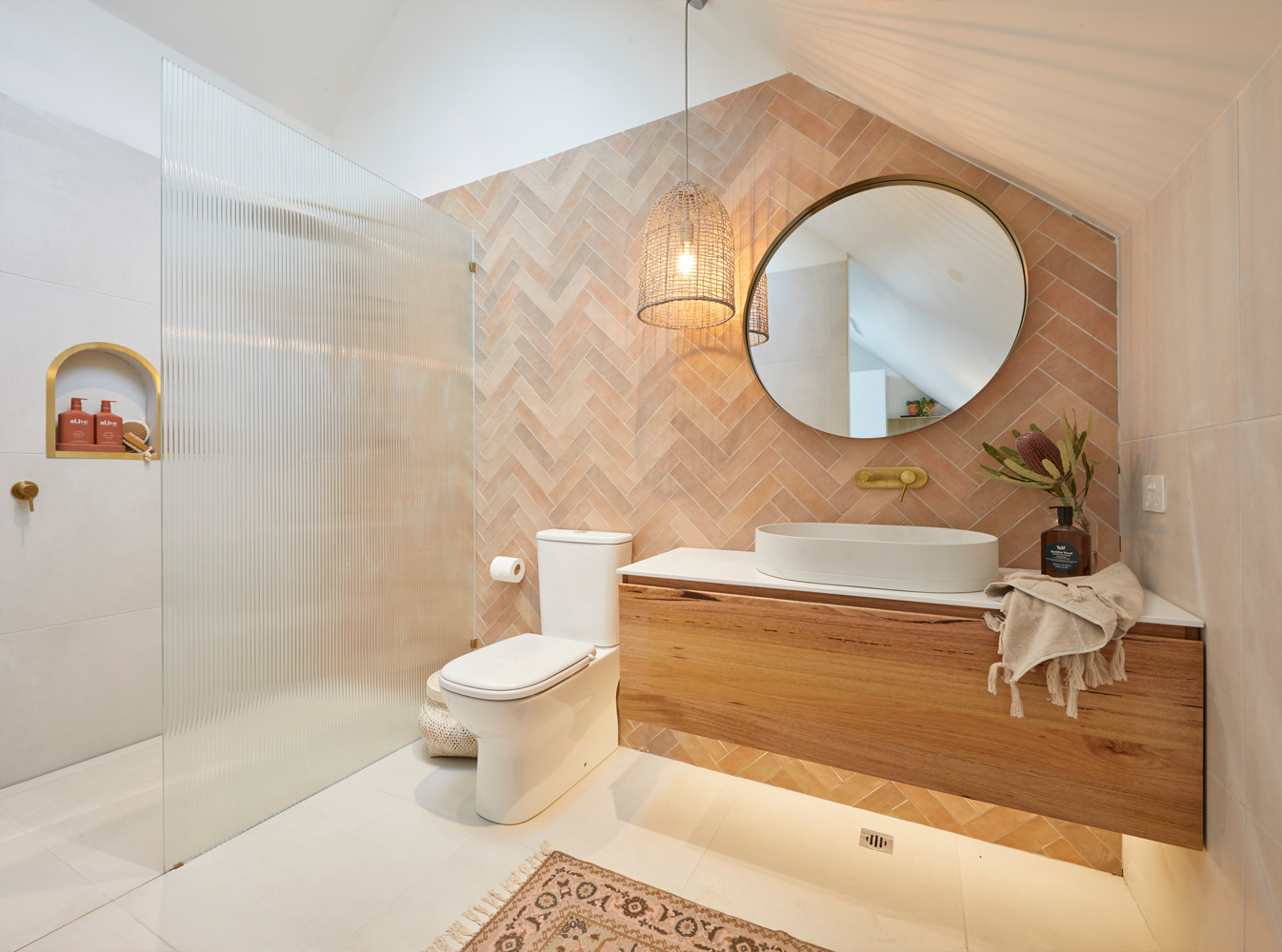 Bathroom renovations made easy with our exclusive Complete Bathroom Packages...
House Rules 2019 Lisa & Andy Pink - Scandinavian Live a Little
Smart storage and an above bath shower make this design well-suited for a small bathroom that still features a bath.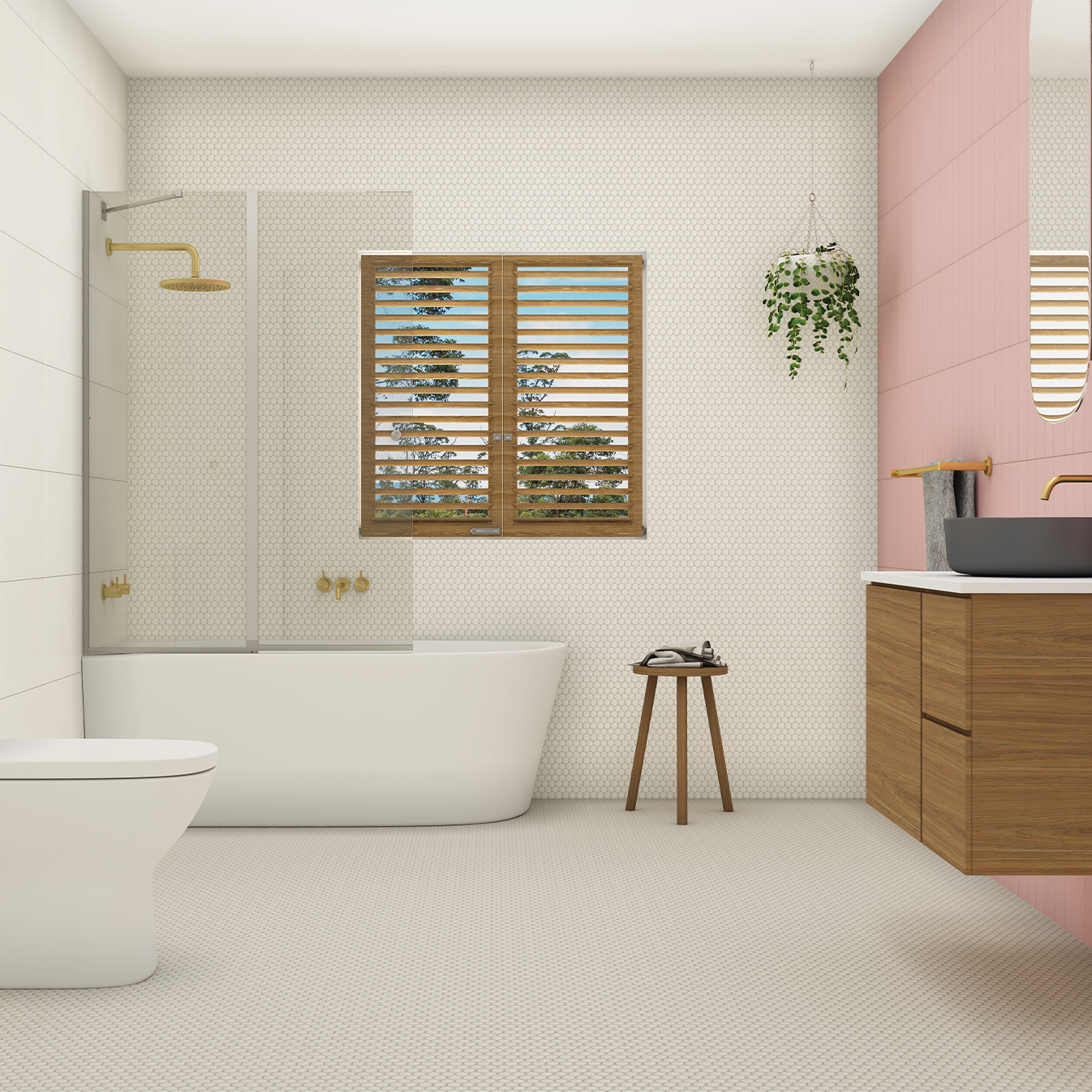 The Block 2019 Andy & Deb Ensuite - Coastal Live a Little
The light colour palette and compact bathroomware make this package perfect for a small bathroom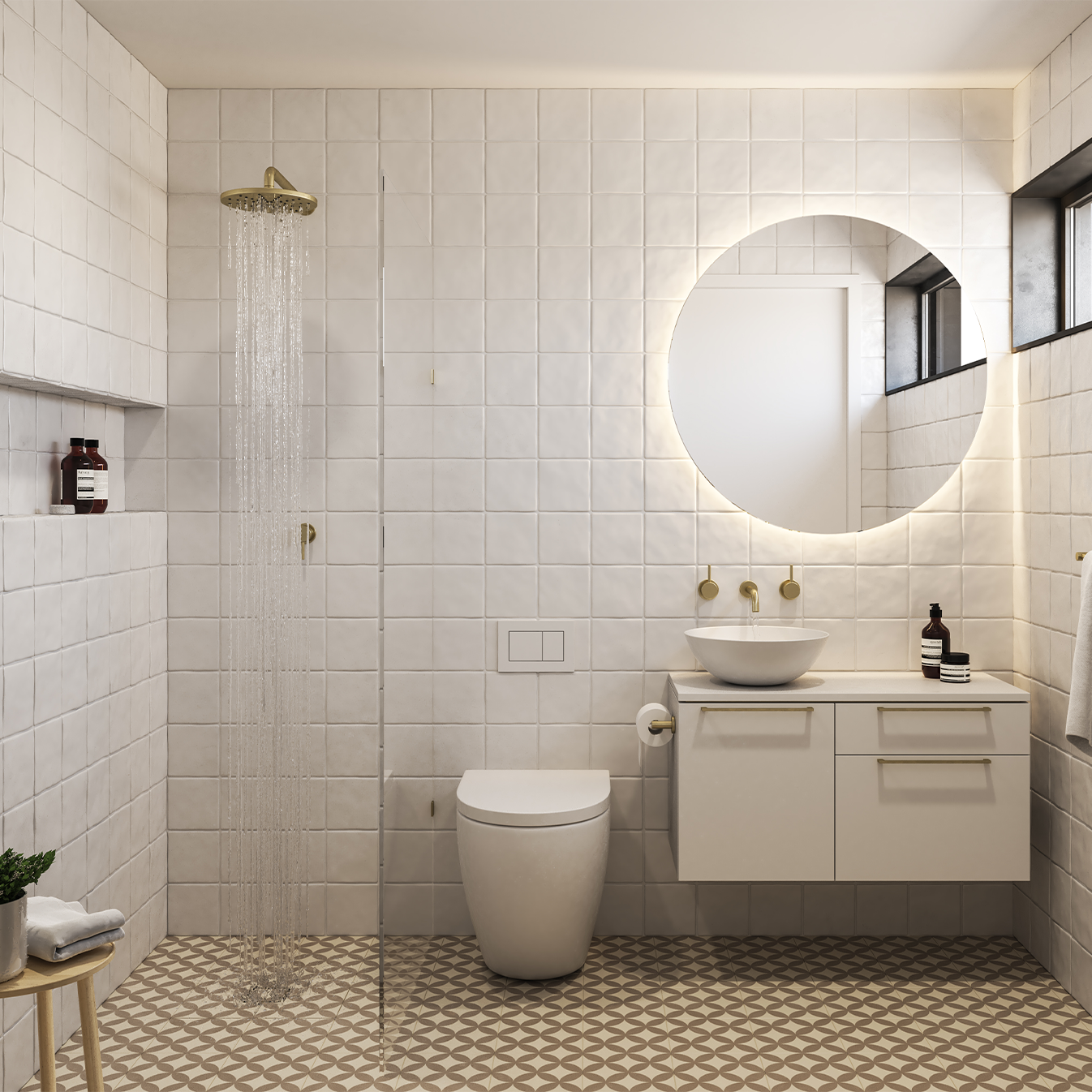 Contemporary Live a Little Atmosphere Package
Handy and adequate storage plus a sleek toilet, luxurious coloured bathroomware and stunning tile choices make this Complete Bathroom Package a perfect choice for a small bathroom.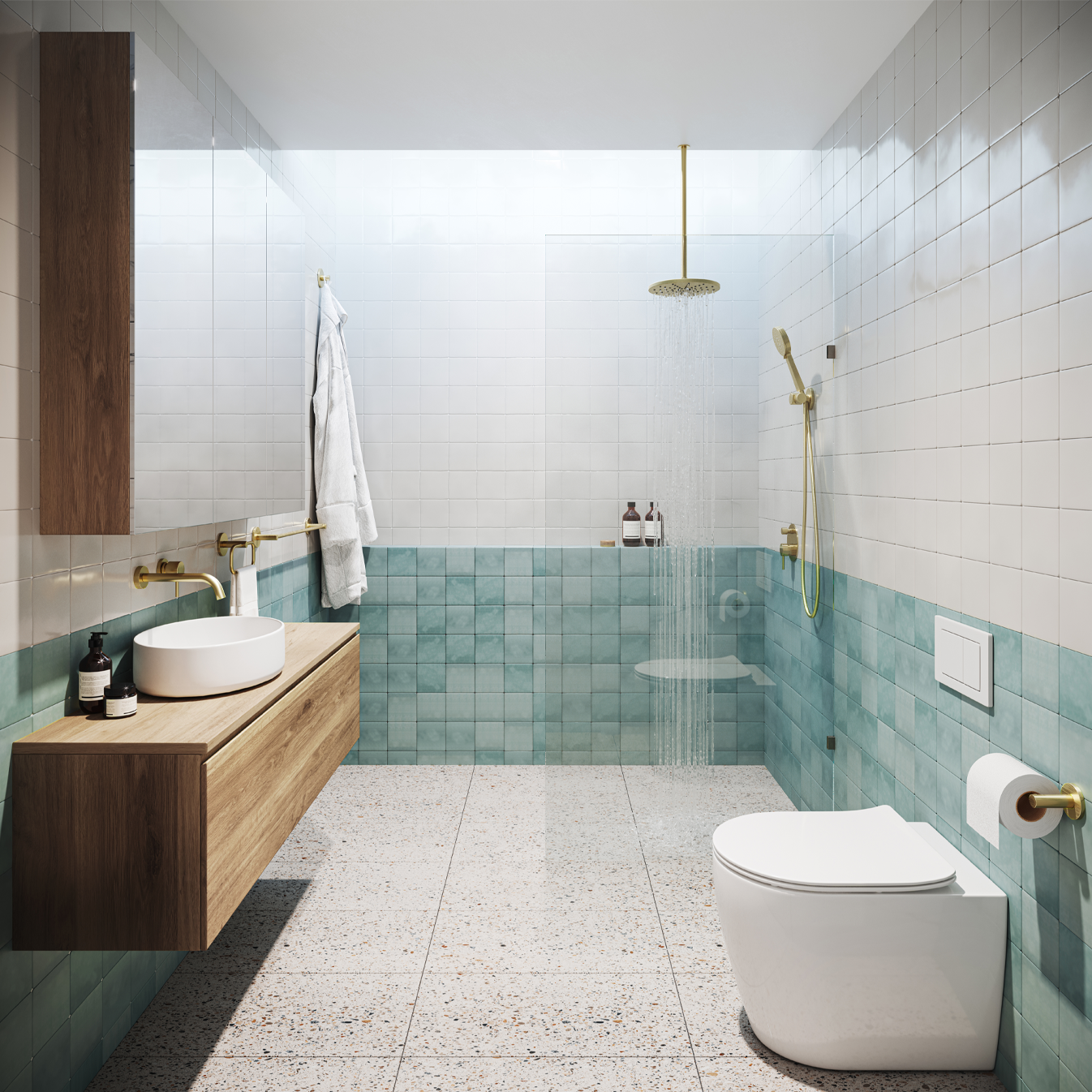 Mediterranean Live a Little Package
The light colour palette and compact bathroomware make this package perfect for a small bathroom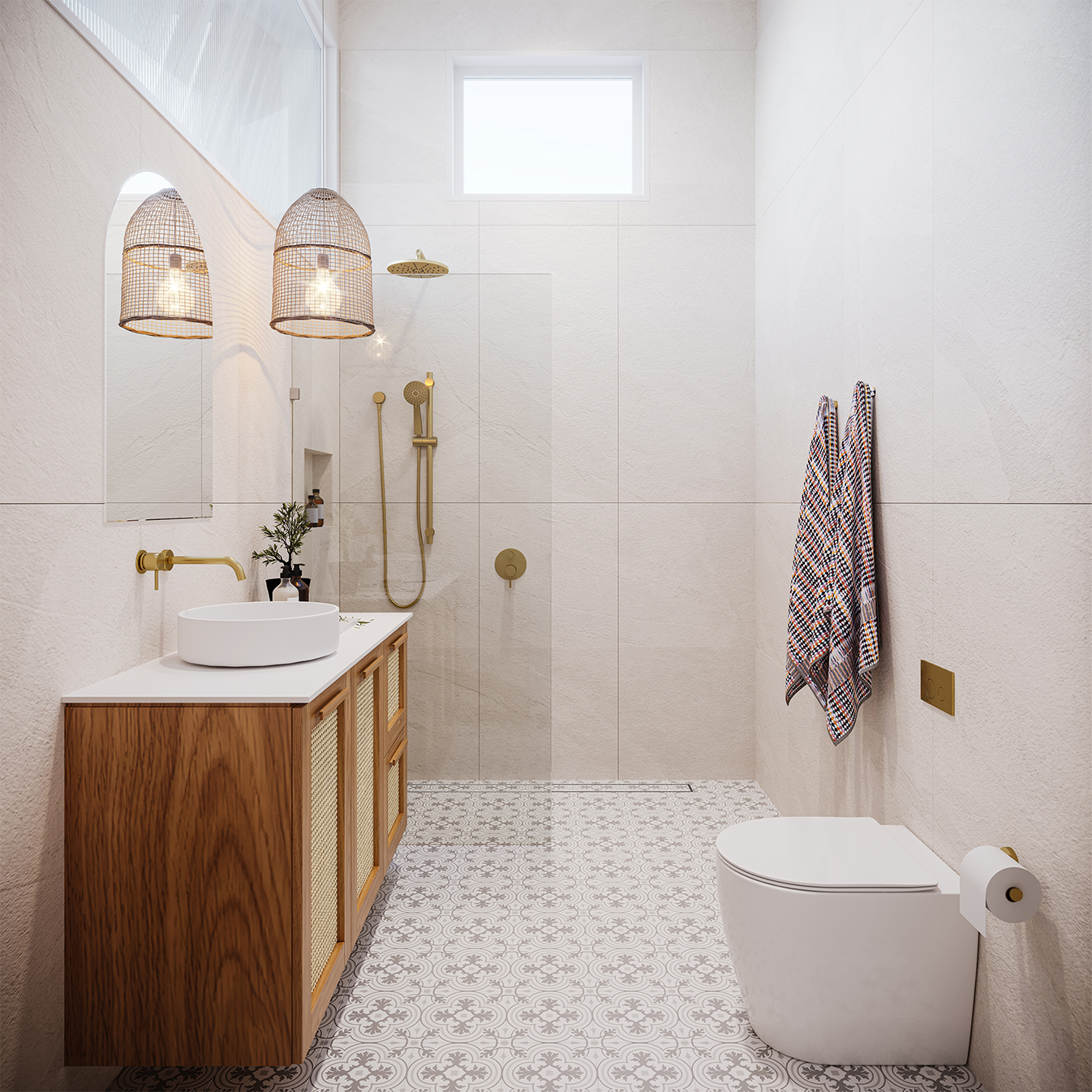 Hot tips for planning a small bathroom with Shannon & Simon!