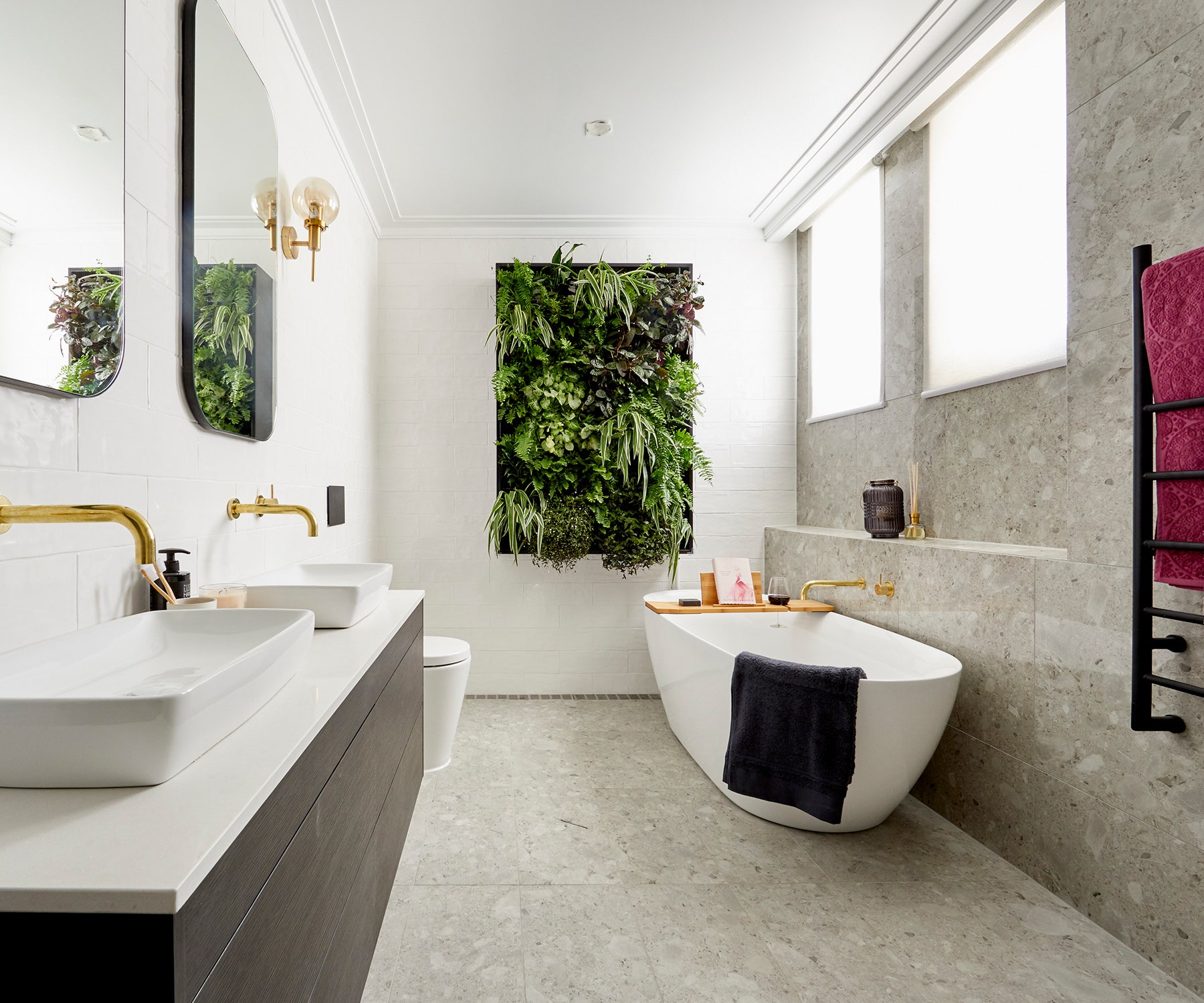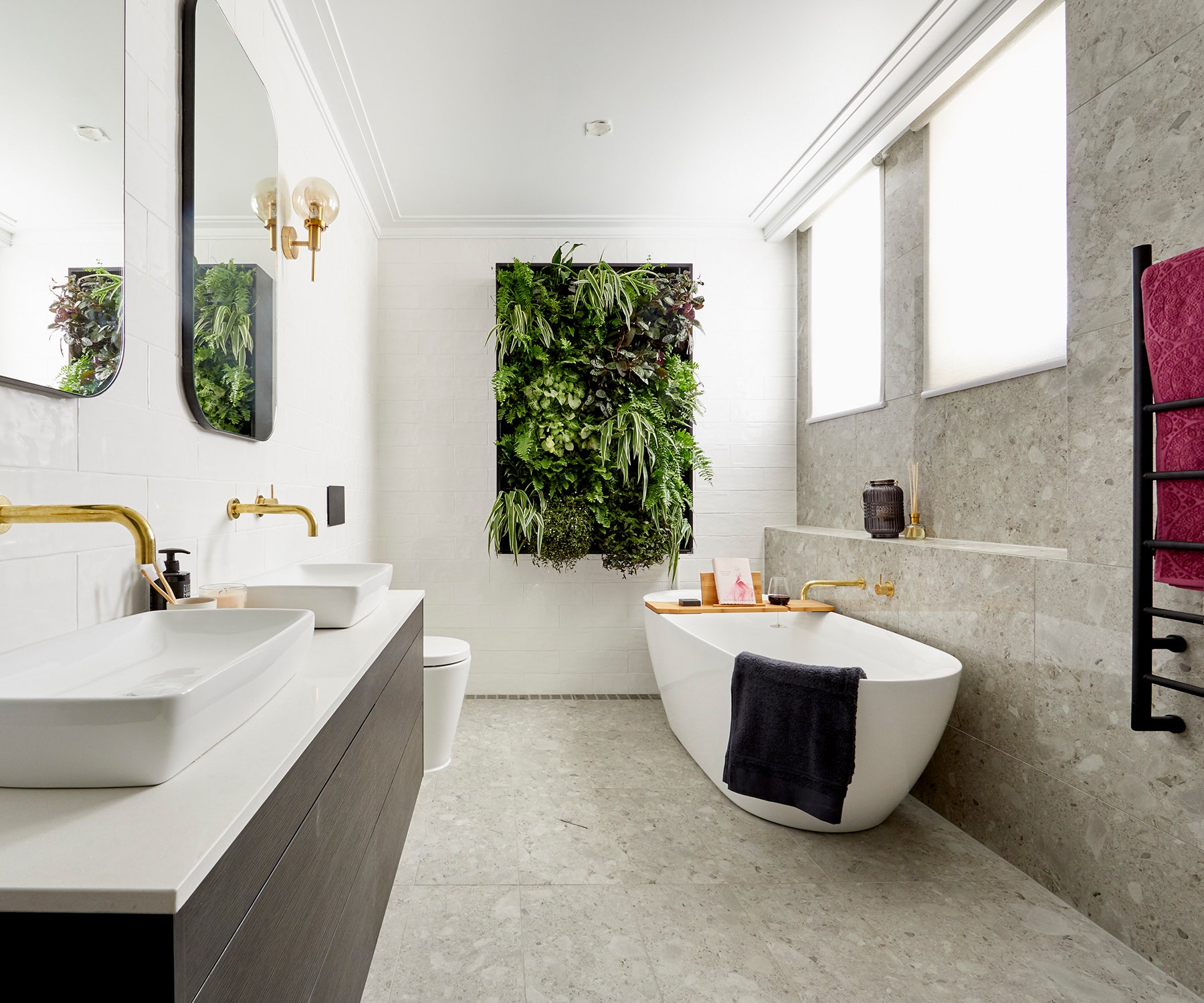 All About Tiles
The Benefits Of Tiles
Ceramic tiles are one of the most practical materials ever made and have proven their durability and beauty over thousands of years. That's just one of the many reasons to choose tiles, read below for even more reasons to love and choose tiles for every area in your home.
So Many Great Reasons To Choose Tiles.
Tiles are:
Click on any topic below and we'll take you directly to our tips. Come back to this index at any time if you need more information.
Our Hot Tip: Did you know our first-grade tiles come with a lifetime guarantee? You can trust that when you choose Beaumonts, you're choosing a quality product, guaranteed.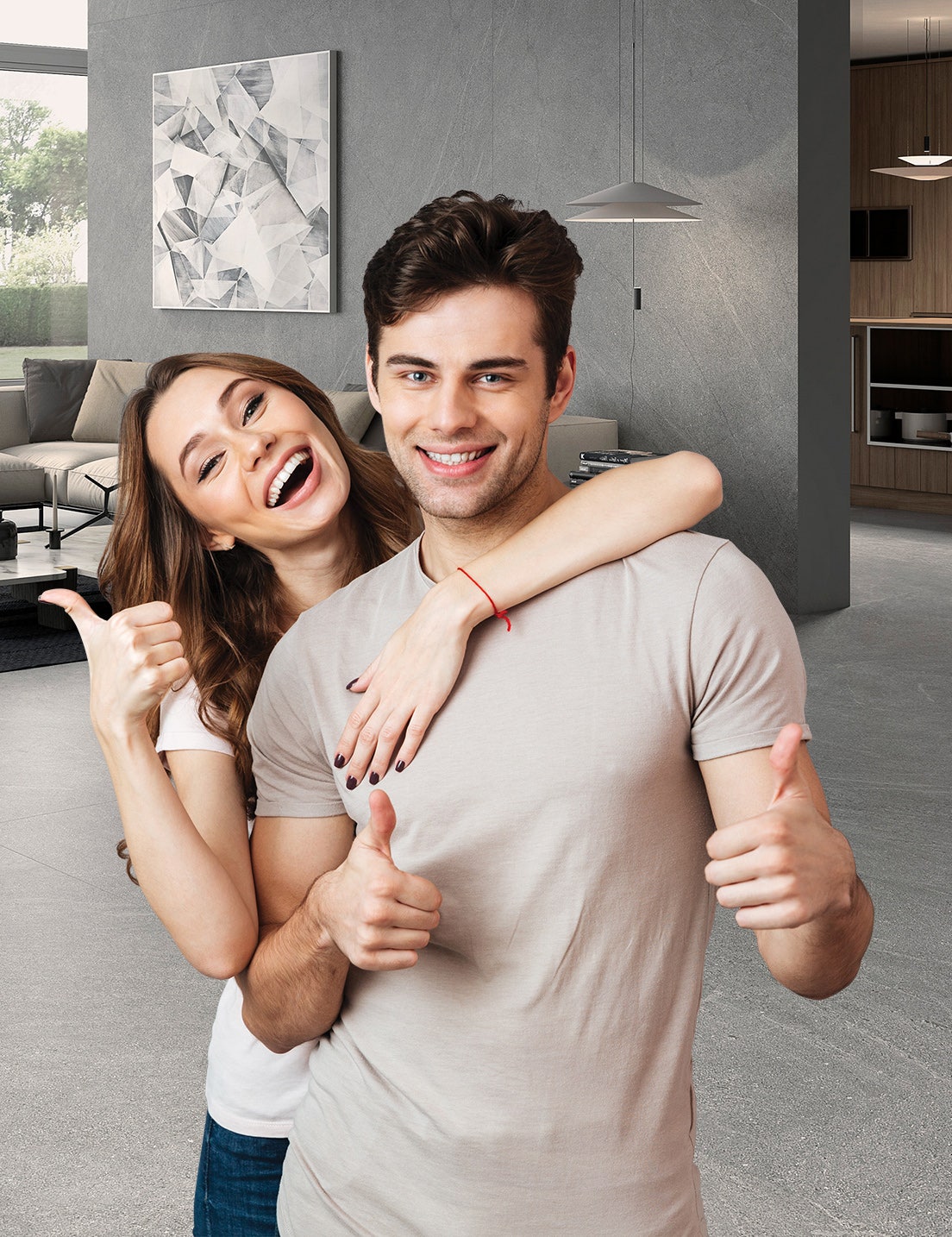 Hygienic & Allergy Free
Tiles are nothing to sneeze at - in fact, they're one of the best flooring options for people with allergies or Asthma. With around 20% of the Australian population having at least one allergy, tiles are one, if not, the best flooring choice for health.
Australia has one of the highest rates of asthma in the world, with Asthma Australia reporting that one in nine Australians have asthma. What's more, nearly one in five Australians suffer from hay fever, according to the Australian Institute of Health and Welfare. The Mayo Clinic suggests that hard flooring may be a good idea to prevent Asthma flare-ups due to the dense tile and impervious surface which prevents dust mites, pollen, pet hair or other irritants or contaminants from finding a home like some other flooring options. Tiles are also highly water-resistant and will not contribute to the build-up of mould or mildew – two factors that affect asthma and allergy sufferers. Tiles are super easy to keep clean, even with natural products.
Pet Friendly
Gentle on paws, resistant to claws and forgiving of little accidents, tiles are the pawfect choice for families with pets.
We love a play and a snuggle with our four-legged family members but it's important to remember that our pets are harder on our household flooring than us humans.
Beaumont Tiles' strategic designer, Christie Wood, says tiles are the best choice when it comes to pets. "In the case of mishaps and failure to reach the litter box or pet flap, floor tiles can be simply mopped off, unlike timber floorboards that can retain a dark spot and a terrible smell. Worse still, carpet can create all sorts of bother if your pet has a mishap! Furthermore, tiles are not only super durable but the smooth surface is kind to our furry friends' paws. Tiles are also super easy to vacuum up any hair and dirt."
Our Hot Tip: Do you have furry family members? Consider adding a pet wash to your laundry reno!
VOC Free
Many man-made products use Volatile Organic Compounds (VOCs) which can over time, produce nasty vapours or gases. These vapours or gases can be of particular concern for households with babies, small children or anyone suffering from an illness.
VOCs are known to present potential health risks, however, this is dependent on the nature of the compound, level of exposure, length of exposure and the individual exposed to it. Beaumont Tiles' strategic designer, Christie Wood, says: "While some flooring choices, like vinyl, include VOCs that have been connected to health issues such as respiratory problems, headaches and skin disease, the good news is they are not used in the production of tiles."
Tiles are VOC free - the safe flooring choice for you and your family.
Hardwearing
The daily grind of high heels, enthusiastic pets, and even wheeling out your laundry are among the harsh difficulties your floor needs to endure.
Porcelain tiles are famous for their durability and practicality; they thrive off the daily hustle and bustle of busy people because they are one of the hardest working floors.
Former The Block contestants and now professional interior designers, Kyal and Kara love the durability of tiles for flooring; "They're really hard-wearing which is great with a young boy who loves riding his bike around the house. They also come in thousands of different styles, including tiles that replicate other flooring options that require more maintenance such as stone, concrete, marble and timber."
Our Hot Tip: If you're still undecided about what tile would best suit your own personal style, why not do our What's My Style Quiz and in 3 fun minutes you'll have your own personalised style booklet to get you started.
High Heel Friendly
Love your heels but worried that your floor won't? Dainty though they may look, high heels can inflict some real damage on the wrong floor material. According to the National Science Foundation, high heels or spiked heels worn by a 45-kilogram woman can strike a floor with more force than an elephant's foot. An actual elephant in heels could wreak unimaginable destruction. So high heels are much like a tiny hammer.
According to Rapid Reno expert, Naomi Findlay, while every girl loves their collection of heels, nobody loves a collection of pit marks throughout their living room or other common area floors. "Tiles are extremely durable and hard-wearing meaning you don't have to ask your dinner party guests to leave their shoes at the door," Naomi says.
Underfloor Heating Compatible
In the depths of winter, we want flooring that keeps our toes warm and warms the house efficiently and effectively. Cosy homes are made possible with underfloor heating. While underfloor heating is readily available for most flooring choices, its effectiveness depends on the thermal conductivity of the flooring material. Good conductivity ensures the floor heats up quicker, gives off more heat and is more efficient to run. This makes tiles the best flooring to use with underfloor heating.
Beaumont Tiles' strategic designer, Christie Wood, said Tiles have high thermal conductivity, meaning the heat transfers to the floor surface quickly. "It also retains heat well, acting as a heat bank, that not only makes the system efficient but ensures toasty toes even in rooms that have high heat loss," Christie says.
Choose Tiles, Choose Toasty Toes too!
Termite And Woodworm Proof
A survey by CSIRO suggests that one in three dwellings may have termites within the property boundary. Any one of those homes could be at risk of serious damage, especially if they include things that termites love to eat - like untreated wood and wood products.
A major benefit of tiles is that they are immune to these highly destructive pests: termites couldn't eat a tile even if they wanted to. The Australian Institute of Architects estimates termites attack 130,000 Australian homes a year and cause up to $1.5 billion in damage. Choosing tiles is a great way to help ensure your home isn't one of those.
Our Hot Tip: Did you know our first-grade tiles come with a lifetime guarantee? You can trust that when you choose Beaumonts, you're choosing a quality product, guaranteed.
Low Maintenance
With life so hectic, we love nothing more than life hacks to reduce cleaning and maintenance of their homes. Tiles require very little upkeep. With nearly 1 in 5 Australians losing family time to housework, the low demands of looking after tiles mean more time doing the things you love and cleaning isn't one of them.
A recent survey for charity RUOK found almost 20 per cent of Australians say they were unable to spend as much time with their loved ones as they would like to because of housework. Thankfully, floor tiles are an easy and low-maintenance flooring option, according to Australia's rapid renovation guru Naomi Findlay. "Basic cleaning requires a sweep or vacuum daily with a mop weekly," she said.
"And while other flooring options need more professional help the older they get, all tiles need is a grout clean and sealing on an annual basis. Not only do tiles save years of back-breaking work, but they are also a more cost-effective option as they don't require professional cleaning."
By simply choosing low-maintenance materials for wall and floor surfaces, you can take back your precious time without shortcuts, hacks, workarounds or settling for less (or mess).
Our Hot Tip: It's important to use the right cleaning and maintenance products, our recommendations are right here.
Long Lasting
With an average lifespan that far exceeds most other flooring options, and even often pushes the 100-year mark, tiles are one of the most durable materials you can choose for your home.
Tiles are so durable that there are hundreds of listings of pre-1800 ceramic and porcelain tiles on sale throughout the world. The same can't be said for other flooring products such as carpet, which needs replacing after as little as five years, or laminate timber flooring, with a lifespan that can be as short as 10 years.
Rapid Renovation expert Naomi Findlay, who helps Australians maximise their property investment, says tiles are "a go-to-choice when you are looking for a long-lasting and good looking flooring option."
And because they have so much staying power, tiles are a fantastic investment for your home.
Odour Free
Flooring takes the brunt of food and liquid spills, muddy footy boots and animal accidents, resulting in uninvited odours despite the best cleaning efforts. Some flooring choices such as wood, high humidity and water can produce a musty smell, particularly when the room receives no ventilation or natural sunlight. Carpet, timber, concrete and vinyl flooring are all like a big sponge - they absorb odours like a sponge absorbs water, even when sealed. Non-porous or impervious flooring such as glazed porcelain tiles will not absorb stains or moisture like other flooring materials, leaving your space smelling sweet, like you.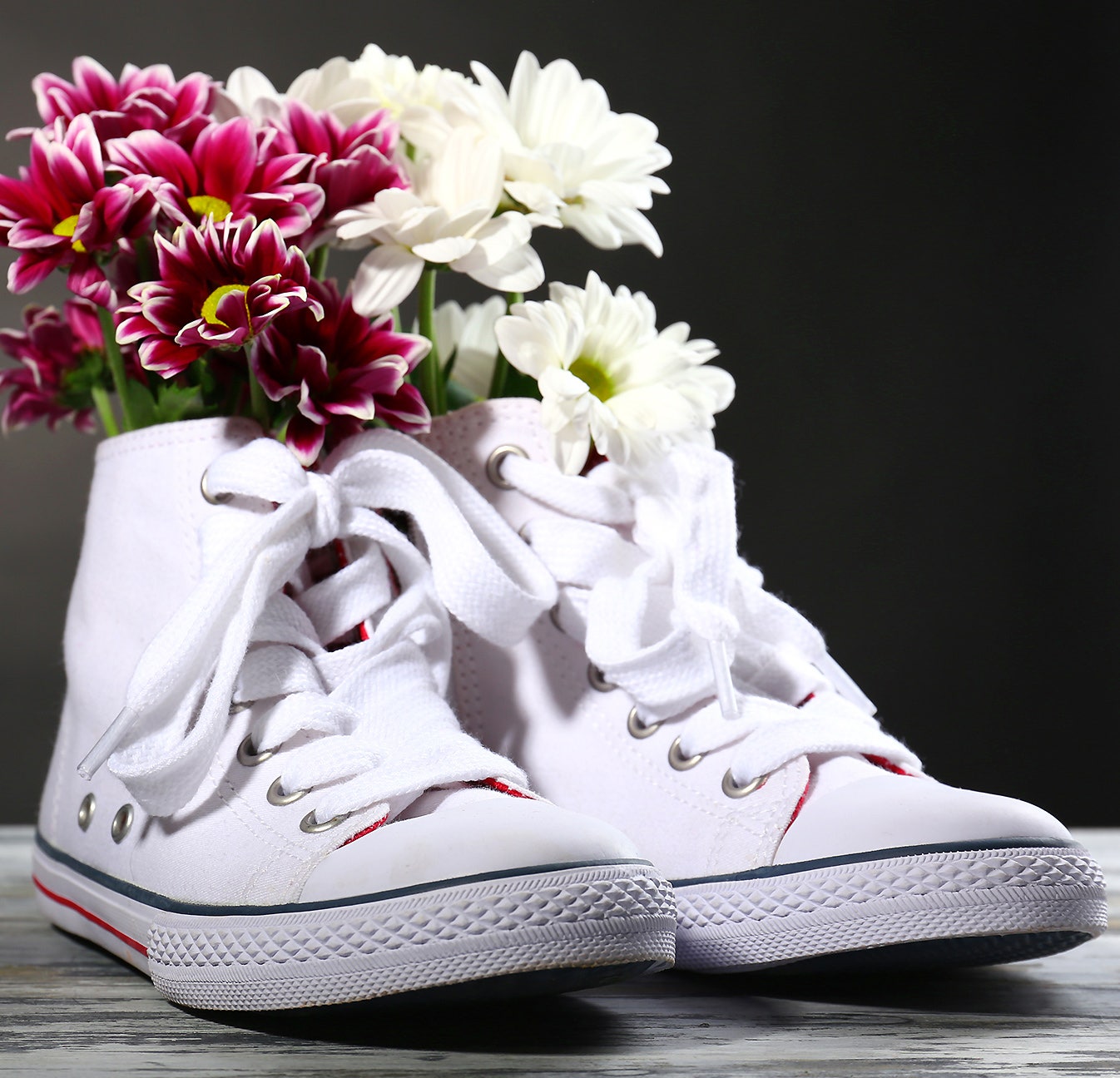 Maximum Water Resistance
It is not just the wet areas of the home, such as bathrooms and kitchens that are likely to get liquid on them.
Kids, pets and parties are among the spill inducing scenarios that can see the lounge room, dining room and bedroom floors become soaked – potentially having a long term effect on the floor. Then there are always wet feet from a swim at the pool or beach, which are unavoidable during the summer months.
Former Block-heads Simon and Shannon Vos, when not running their design and construction business, love getting out in the surf year-round. They say that while most flooring will absorb moisture, tiles are the ideal water-resistant flooring. "The tile's durable glaze on top of the surface does not let moisture seep through," says Simon. Shannon added, "tiles are virtually impenetrable and will not let liquids soak in, allowing for easy maintenance and worry-free cleaning."
Our Hot Tip: If you're still undecided about what tile would best suit your own personal style, why not do our What's My Style Quiz and in 3 fun minutes you'll have your own personalised style booklet to get you started.
Fire & Heat Resistant
Ceramic tiles are non-combustible and completely fireproof. They will not produce any toxic gas, smoke or fumes during a fire. They will not burn or feed a fire in any way and may act as protection for structural surfaces. Ceramic tiles are considered "deemed to satisfy" under the provision of the Building Code of Australia.
In our sunburnt country, it's nice to know your tiles are safe.
Featured Tiles
Fireplace Tile: Marvel Pietra Charcoal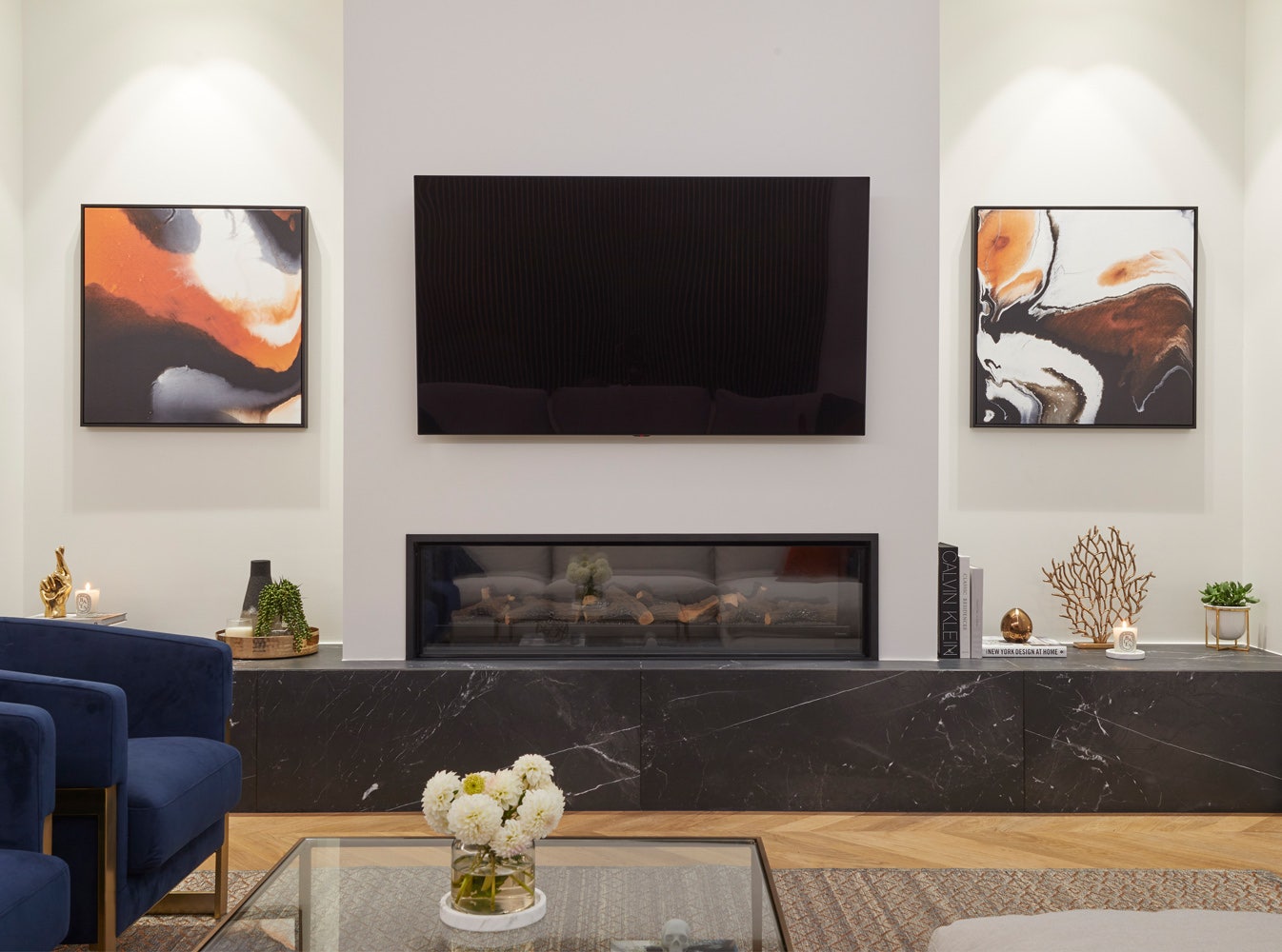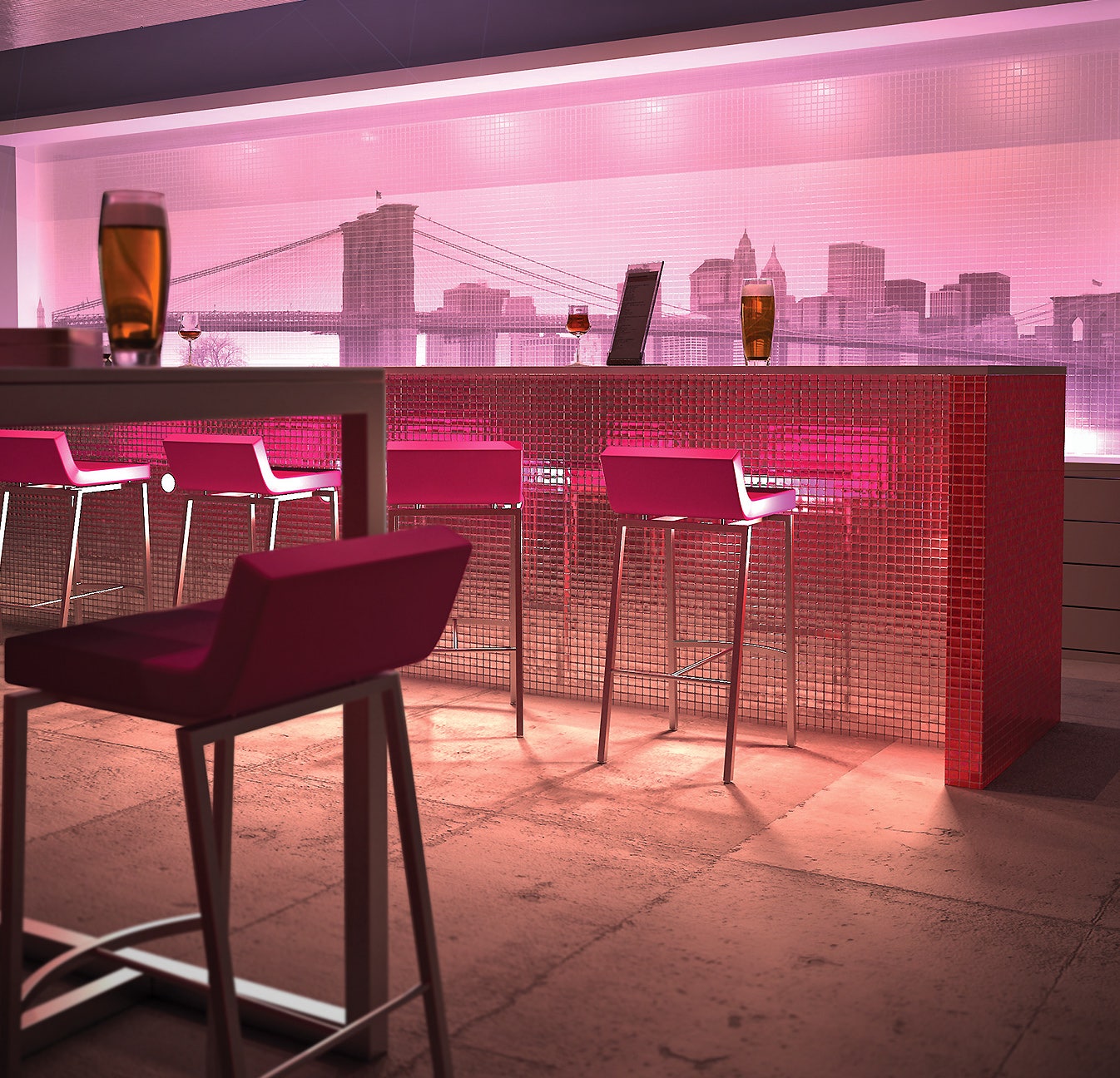 Colour-Fast
We all love a little colour and with tiles, you can trust that the colour will last.
While many natural and man-made materials can fade in areas exposed to high ultraviolet light or direct sunlight, ceramic tiles, both glazed and unglazed, remain unaffected. Ceramic tiles are fired at high temperatures which makes the surface colour permanent and durable.