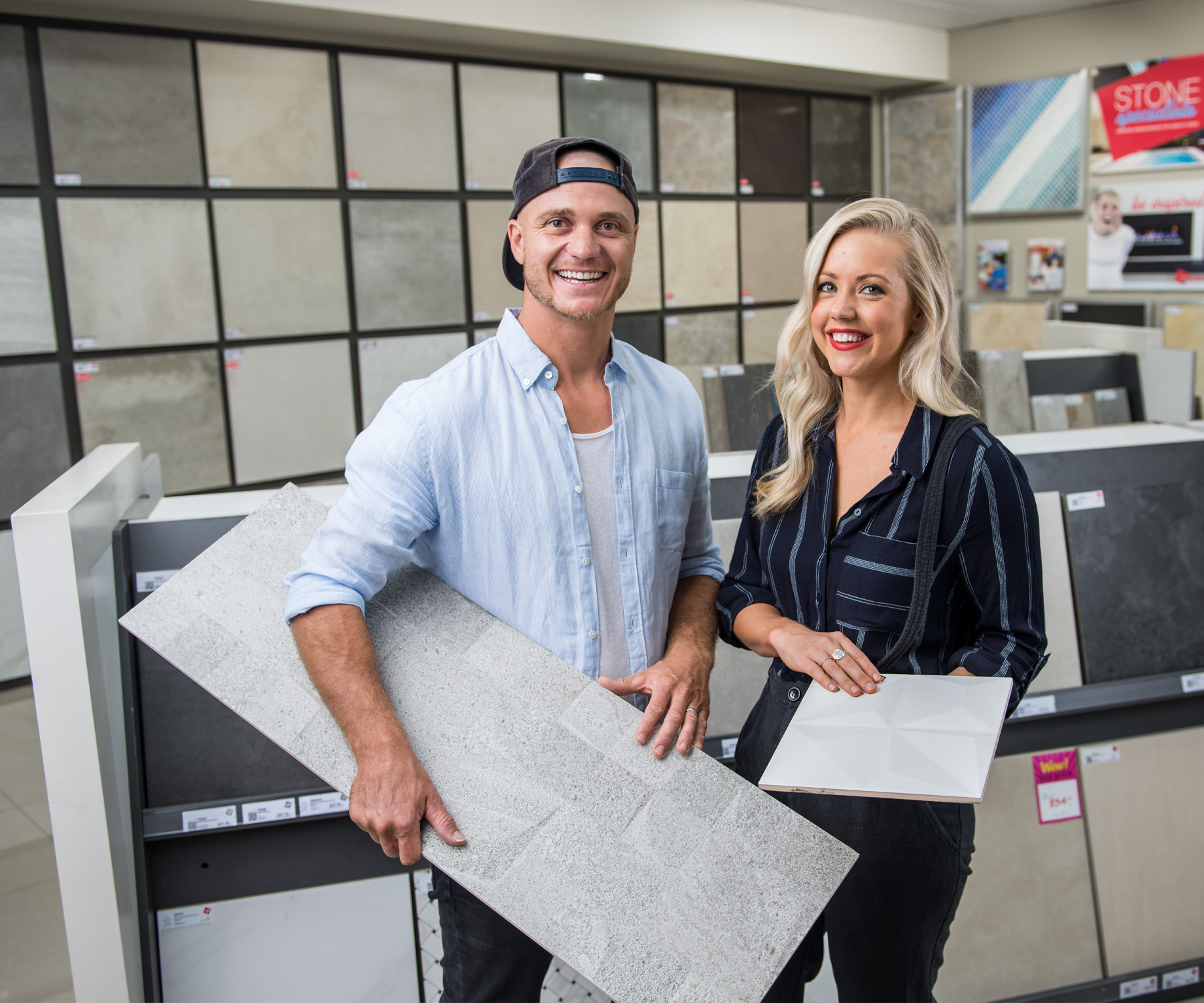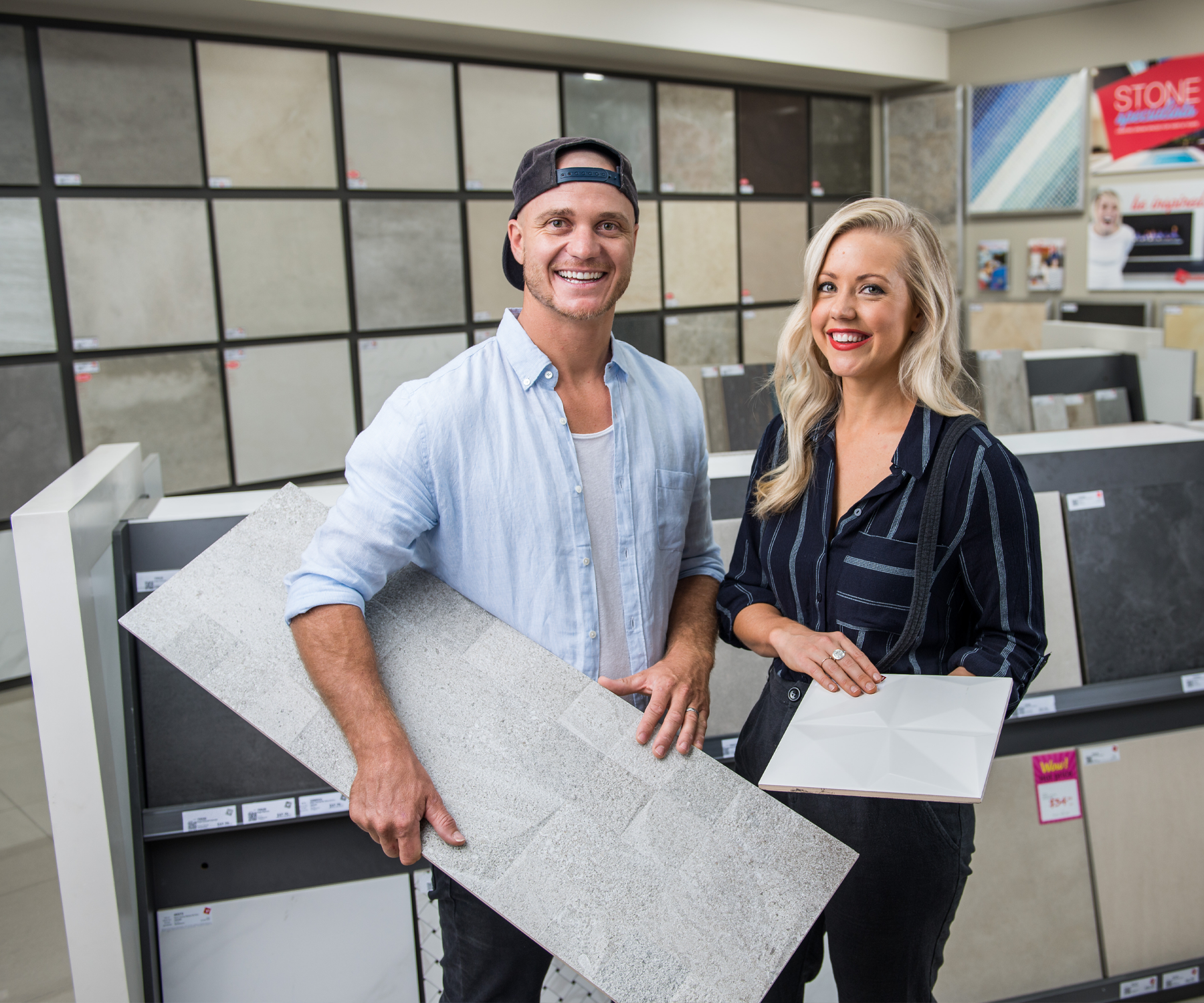 All About Tiles
Tile Sizes & Thickness Explained
Like tile styles, sizes have also evolved over the years and there is now so much choice it can be overwhelming. Our experts will run through all your beautiful options.
When considering the size you also need to understand tile thickness and what that means to your reno.
Tile Sizes
Tiles come in an amazing variety of sizes and shapes to suit every style and purpose, but which is the ideal size for your space? You might be surprised to hear that your room size doesn't necessarily determine your tile size. Smaller spaces can really benefit from larger tiles, where fewer grout lines visually expand the room. Or if you are looking to inject depth and dimension to a space, small size wall tiles create interest through unique laying patterns.
All sizes are noted in millimetres (1000mm = 1 metre)
Our Hot Tip: Can't quite visualise the difference between a 100x300 subway and a 1000x3000 slab? Check out our tile sizes poster, shown in scale, right here!
Subways, Squares, Slabs and everything in between - our range of tile sizes is HUGE!
Knowing how thick tiles are can be very useful when planning a renovation, especially for understanding how high your floor may end up, everything you need to know is right here.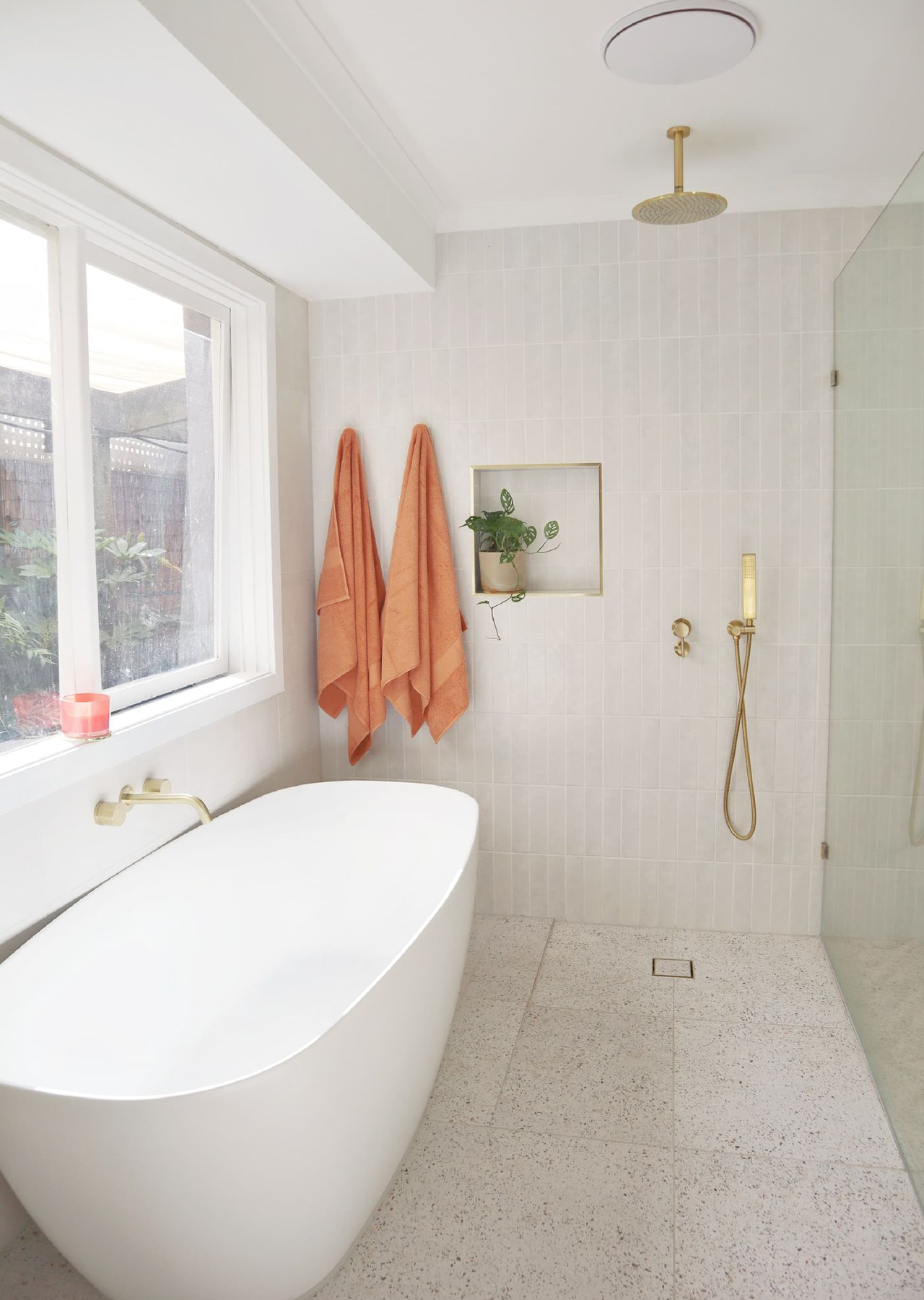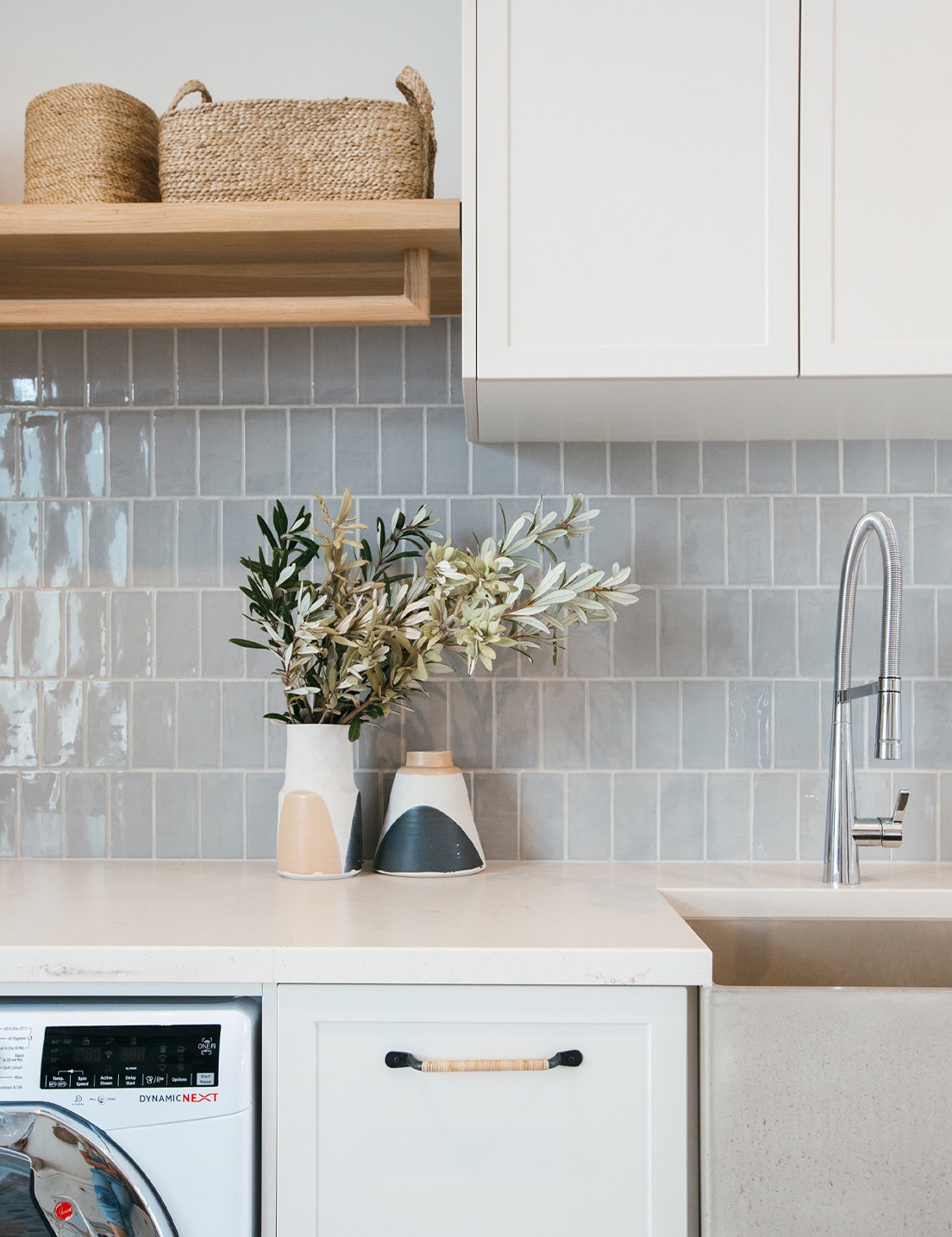 Subway Tiles
Subway tiles get their name from the iconic ceramic tiles used on the walls of the New York City subway stations in the early twentieth century. Today, subway tiles are popularly used for splashbacks and feature walls and with many different styles and looks of tiles created in the subway size, when you choose subway tiles, the possible looks are endless! Here's a summary of our top subway sizes;
75x150
The original subway tile! This small rectangular tile was first seen in a New York subway in 1904. It quickly made its way to the walls of kitchens, bathrooms and laundries across the globe and is still just as popular!
Subway tiles give you great freedom to personalise a space through laying patterns and grout colour.
60x240
Close to the length and height of standard bricks, this subway tile size works wonderfully with brick-look tiles laid with a thicker grout line in brick bond patterns.
75x300
As the subway tile has evolved over the years, this size that's twice the length as the original subway size is popular for fewer grout lines and with its length, this tile size lends itself perfectly to a range of different laying patterns.
100x300
The humble subway has grown up (literally!) with this larger subway size that's a favourite amongst decorators. Most popular as a wall tile size, you may also find suitable floor tiles in this size, such as timber look tiles – perfect for a herringbone laying pattern.
Featured Tiles
Splashback Wall Tile: Devonshire Seamist Gloss
Our Hot Tip: Get your design journey started by finding your unique style. Take our 3-minute What's My Style quiz here.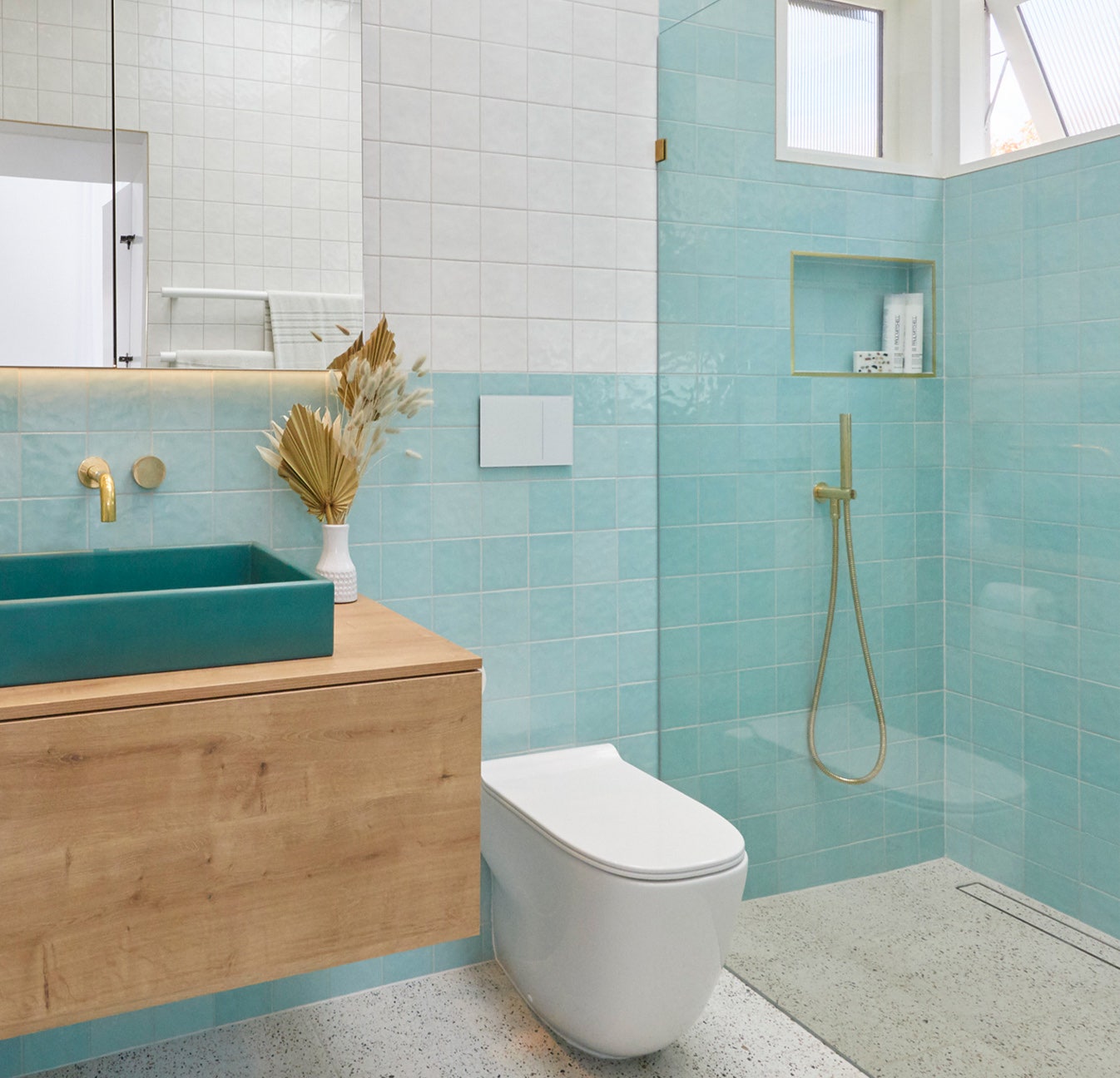 Small But Punchy Tiles.
We know it can be tricky to imagine what size will work best in your space, so it always makes sense to order a full-size sample and get a feeling for the scale in your room. And of course, our friendly online and in-store teams have plenty of expertise to help you make the right choice.
120x120
Simple lines and an understated aesthetic give this square size tile its timeless appeal.
Check out our Atmosphere wall tiles in this trending shape. Stacked straight or third off-set laying patterns work best for squares.
200x200
Patterned decors in 200x200 size are so hot right now! These gorgeous tiles will make a statement and can be used almost anywhere in the home on walls and floors. One of the most popular places you'll see them is on bathroom and laundry floors.
300x300
The 300x300 size is commonly seen in bathrooms where it is ideal for falls to drains. It often comes as part of a family to match other sizes such as 300x600. Keep an eye out for new patterned external tiles coming in this size too!
Featured Tiles
Top Wall Tile: Atmosphere White
Bottom Wall Tile: Atmosphere Mint
Floor Tile: Promenado White
Our Medium Size Tile Range Will Keep You Inspired, It's HUGE.
300x600
300x600 size tiles are great all-rounders. Easy to handle, transport and lay, they are great for walls and floors. Try this size to bathroom walls in a vertical stack laying pattern to draw the eye up and make the ceiling appear higher.
300x700
Beaumont Tiles are the first to market with a new 300x700 white tile wall size! A specially produced tile, this size allows for 700mm clearance on a splashback and a 2100mm height on shower walls. A perfect tile size for DIYers as it means fewer cuts, no wastage, less labour time and less grout needed.
400x400
Builders and DIY renovators love this size for bathroom floors. Bigger than 300x300 and with less grout, but small enough to work with to achieve the falls to a traditional floor waste.
450x450
This tile size is hugely popular in our Beaumont's builders ranges. Great all-purpose size and cost-effective laying combine with the sleek square shape to make it perfect for both bathrooms and main floors. Belga - Australia's Number 1 Selling Tile is everyone's favourite in this size!
450x900
Great for small, medium and large living spaces, this is a distinctive tile size in streamlined rectangular format. Ideal for main floors carries the look right through to the kitchen. Keep lines clean with a stack bond laying pattern.
500x500
Say hello to 500x500! The International tile trend continues to push that bigger format tiles are better, and here at Beaumonts we absolutely agree! In keeping up with that trend, and a growing demand in our market we launched a series of 500x500 ranges such as Density.
600x600
Use this size throughout the entire home and do away with transitions between living, hallway and bathrooms! This size enhances the design with fewer grout lines than smaller size squares. So streamlined and sophisticated, it's a popular size for outdoor tiles too! Check out Rome Graphite Textured for inspiration.
Featured Tiles
Floor Tile: Rocksalt Danish Smoke
Our Hot Tip: Always ensure your tiles are fit for purpose, everything you need to know is here.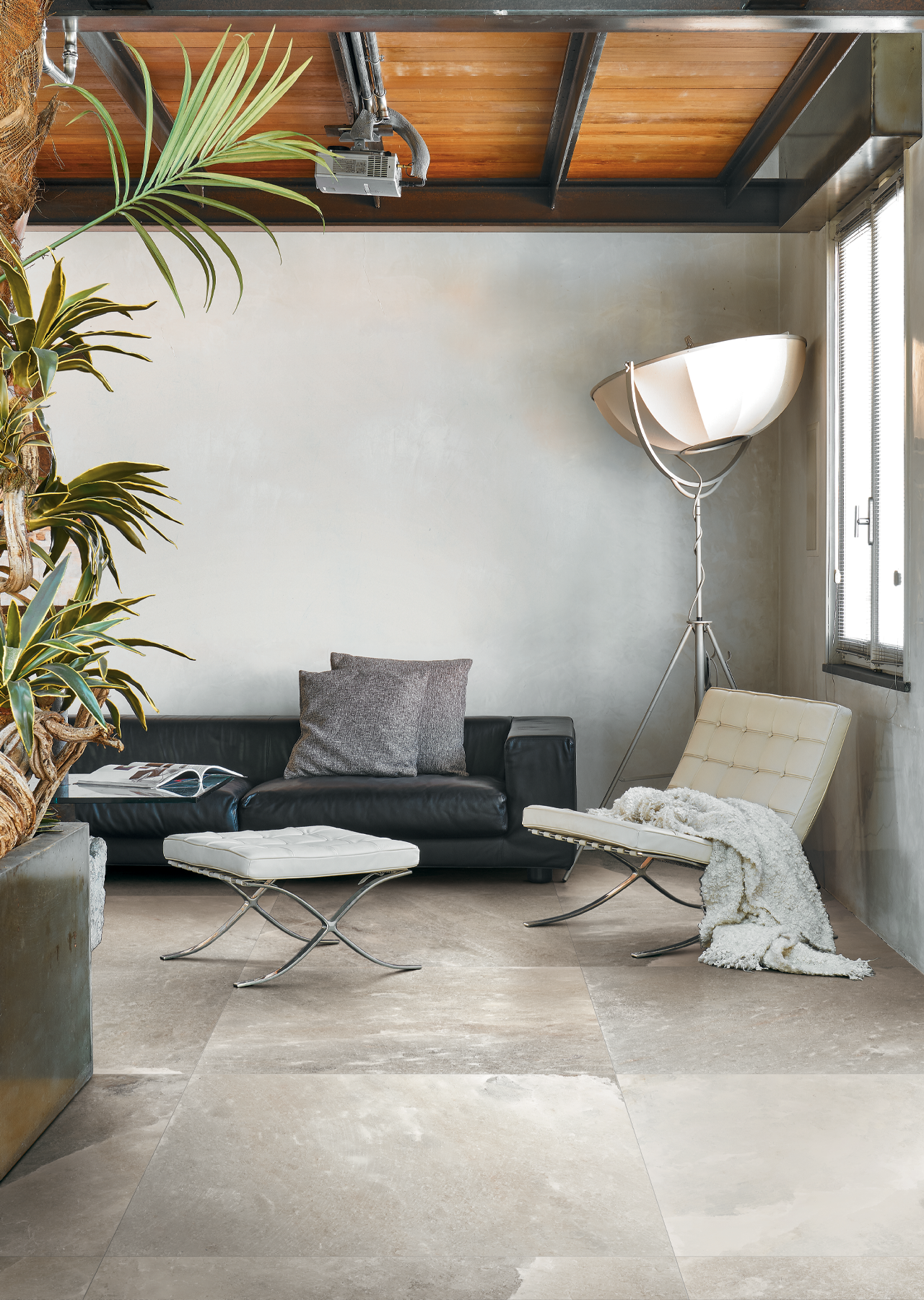 Our Tile of The Year: Rock Salt
Every now and then a tile comes around that completely knocks our socks off, that tile right now is Rock Salt.
It utilises the latest print technology to produce a blissful finish that magnifies design elements to offer added depth to the veins of each tile design and boasts tile-to-tile variation of up to 72 tiles for a truly unique work of art.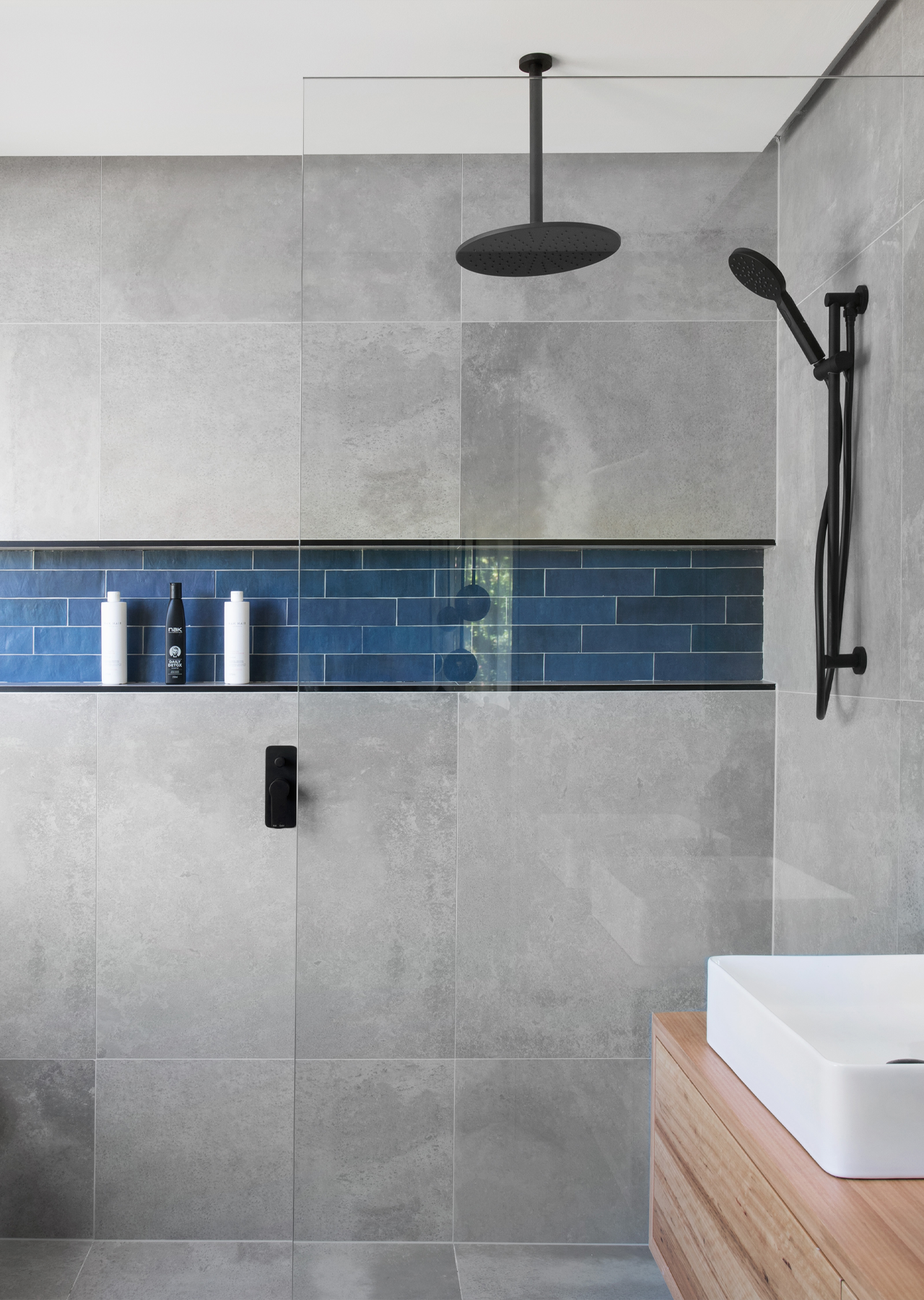 This Is One of Those Times That Size Does Matter - Our Majestic 1000mm x 3000mm Slabs Are Huge!
800x2400
With typical ceiling heights of 2400, this size slab fits perfectly on walls without needing to be cut. This size is also perfect for anyone who's fallen in love with the look of slabs but may not have as much space to work with. We suggest this size slab for bathrooms due to its slimmer size meaning potentially fewer cuts.
1200x2400
Visually expand any space with incredible 1200x2400 slab sizes! Use on benchtops, facades, floors and walls. In fact, your imagination is your only limit! Slabs are ordered by the panel, not m2, so take extra care calculating and include an extra 10% for wastage.
1500x2600
The benefits of slab sizes will become crystal clear when you measure up your bathroom and realise you only need 2-3 tiles across one wall! Cleaning will suddenly become the easiest job of the week with so few grout joints. A slender depth of 6mm means you can think outside the box and use it on multiple surfaces.
1200x2700
With breathtaking beauty and remarkable practicality, these enormous slab size tiles will make a huge impact on your home. Choose slabs for an enduring, beautiful finish that is easy to clean, non-allergenic and low maintenance. Lay vertically to draw the eye up and make the ceilings appear higher.
1000x3000
The height of luxury with incredible practicality and diverse applications. A single 1000x3000 slab size such as Grand Atlantis Gold can be used as a kitchen splashback, meaning no grout lines and the most streamlined look imaginable. Stunning for floor to ceiling bathrooms and as ceramic veneers to countertops and cabinetry.
Featured Tiles
Wall Tile: Grand Atlantis Gold
Naomi Findlay's Hot Tip: Renovation royalty and our great friend talks all things Slabs in this blog post.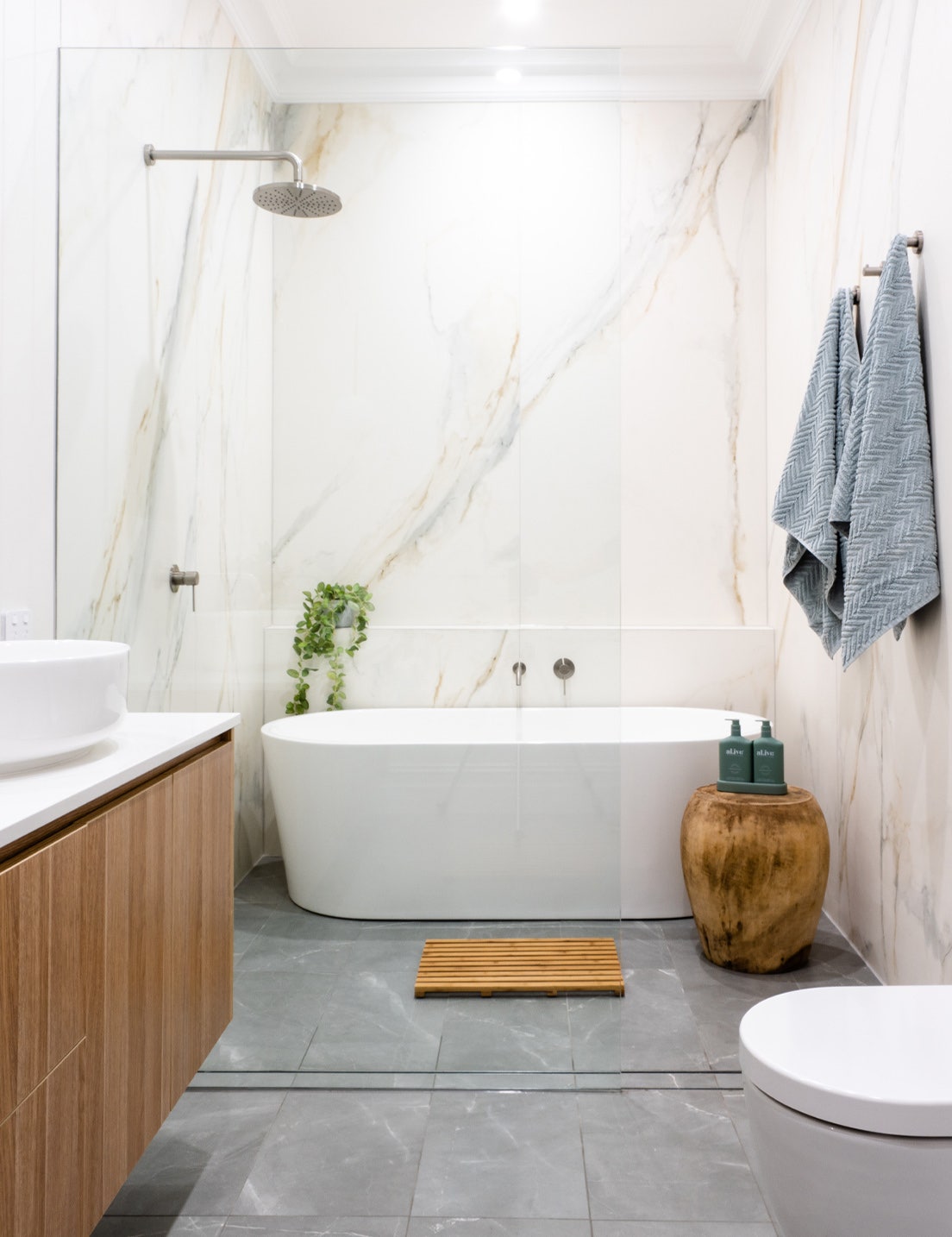 Lucy Cornes from @sheshopped and Marie Kargiotis chat all things slabs!
Find out why slabs are so popular and beneficial to your home.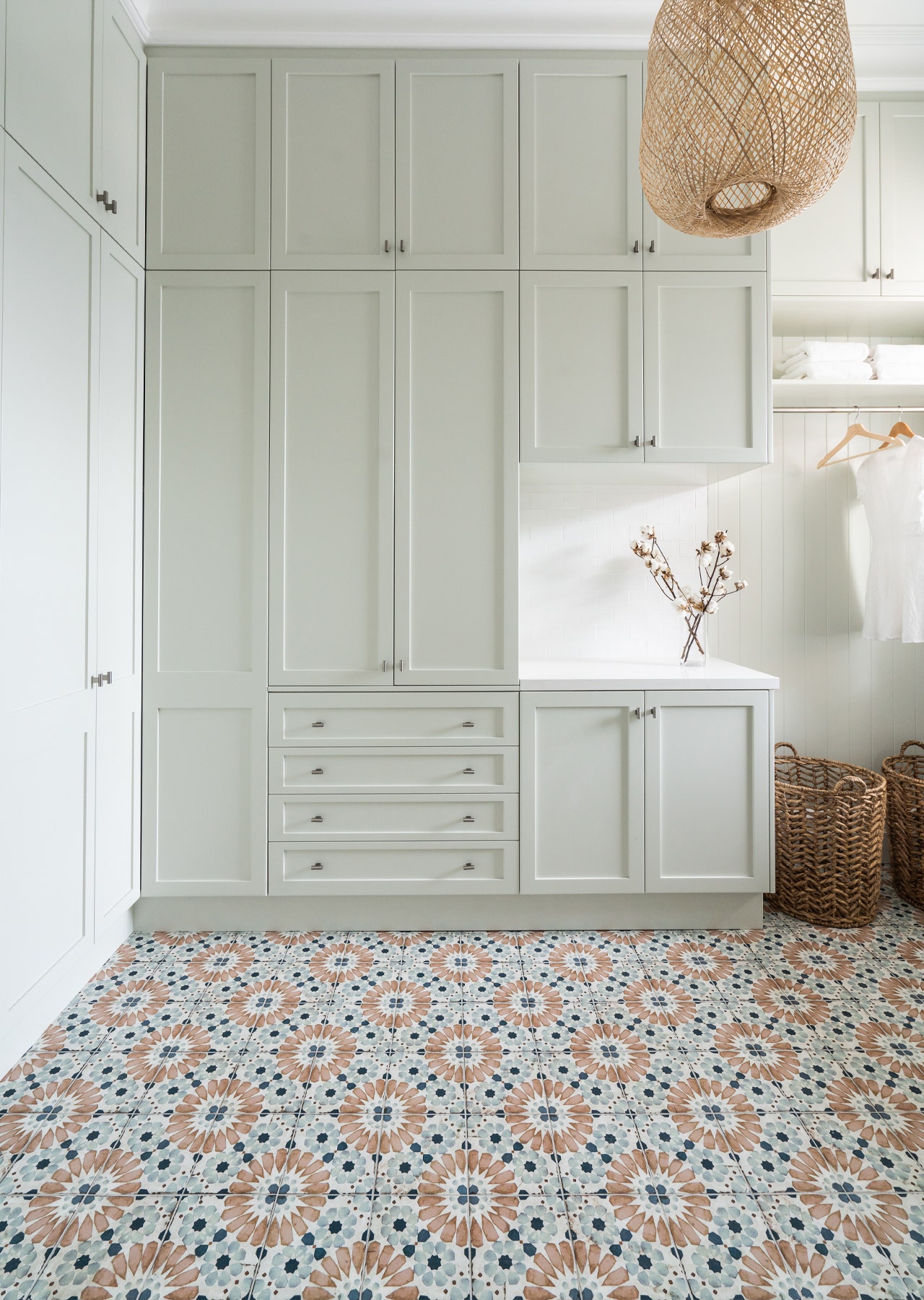 Tile Thickness
When it comes to choosing the size of your tiles, there's a limitless array of options from tiny penny rounds to subway tiles to 600x600mm floor tiles right through to slab tiles as big as three metres long. But there's another dimension to these incredibly diverse floors and wall coverings that often gets overlooked and that's Tile Thickness.
Our porcelain tiles extend from as thin as 6mm like our slim yet ultra-large slab tiles through to a hefty 20mm thick for the toughest porcelain tile pavers. The vast majority of porcelain tiles are 6mm to 10mm thick and a tile in this range will serve most purposes. Wall tiles typically range from 6 to 10mm thick. Mosaics and decorative wall products also range from 6 to 10mm thick to make combining them easier.
Tile thickness may not be something you'd notice in a finished job, but knowing how thick tiles are can be very useful when planning a renovation, especially for understanding how high your floor may end up. Remember to also allow for any underlay, levelling compound and adhesive bed when calculating the finished height.
There's no single standard thickness for wall and floor tiles - different types of tiles for different purposes are likely to be different thicknesses. That said, any tiles that are the same and from the same batch will be the same thickness. The exception is with some naturally quarried stone products. These are split from larger slabs and there is sometimes a range of natural variation in thickness. Any good tiler who is experienced with natural stone products will be able to account for any thickness variations when laying the tiles.
We recommend asking our expert staff about the thicknesses of your tiles before laying. Dry laying before you fix your tiles in place is also a great way to ensure the thickness is even and the tiles will be level.
Featured Tiles
Floor Tile: Serie Loft Tawny Satin
Our Hot Tip: Using a tile levelling system will ensure the top surface of your tiles will be flat and level.
Our Hot Tip: If you're tiling over tiles, it's important to know the tile thickness before you start, as that may impact your doors and where the new floor meets other floors.