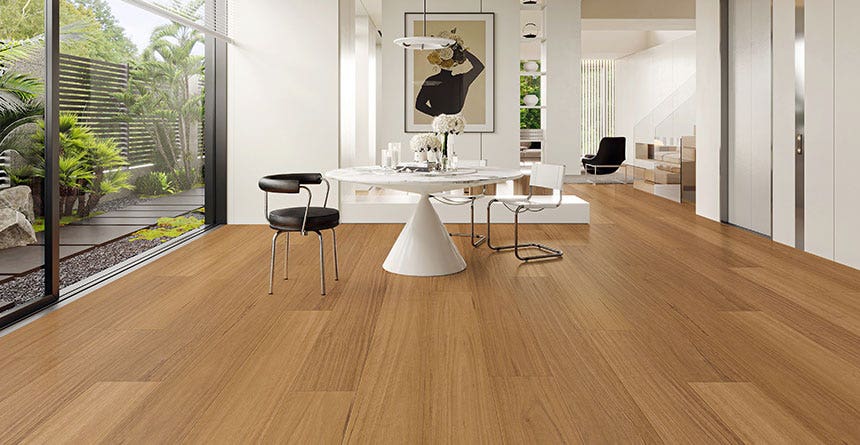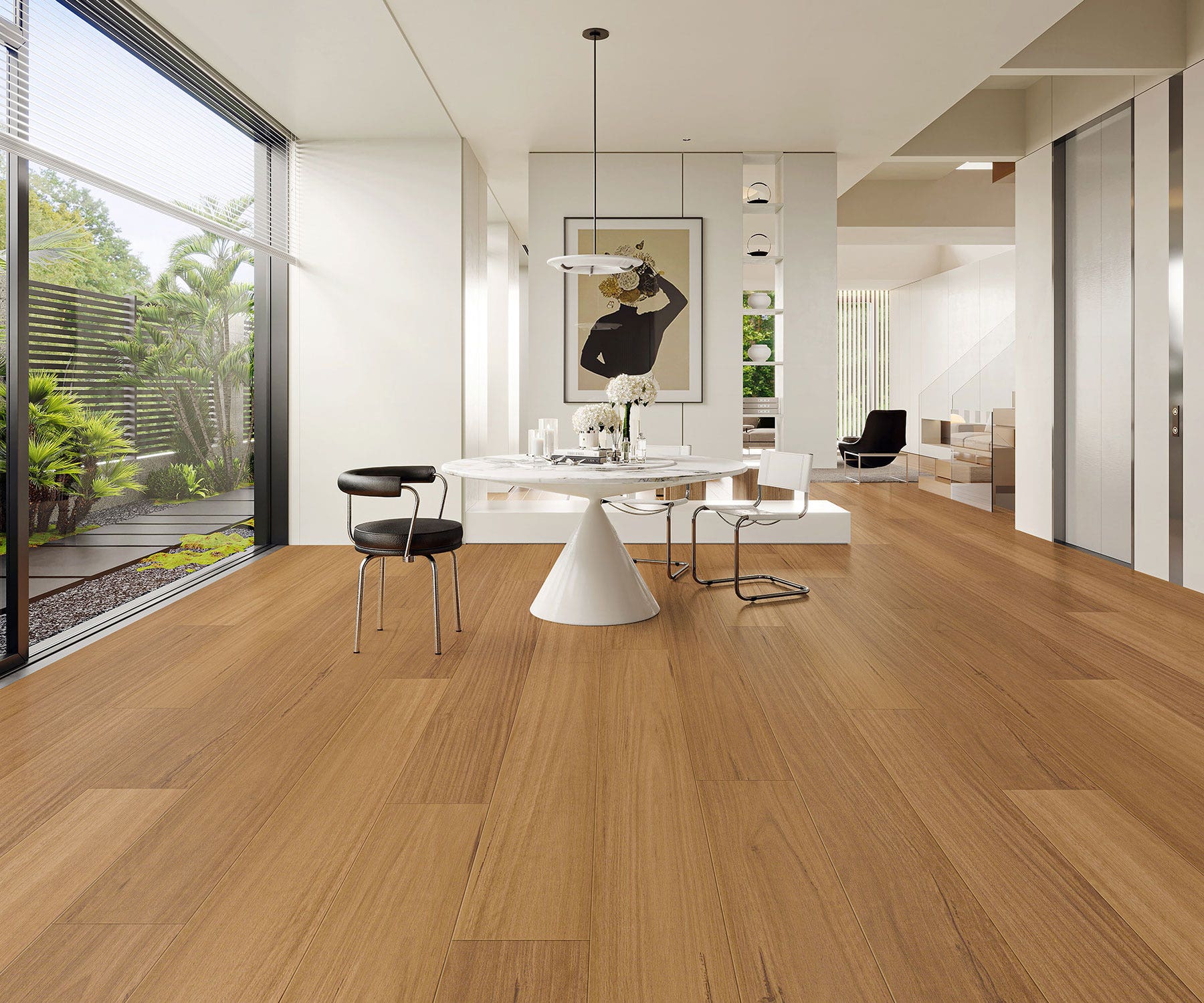 Product Highlights
Why Choose Laminate Flooring
Find out why Laminate is such a popular choice for homeowners and builders across Australia.
What is Laminate Flooring?
Quite simply Laminate flooring is a type of floor covering that features multiple layers of material fused together using a process called Lamination.
Here's what it looks like using our Forest range as an example.
A closer look to discover the Advancements in Our Laminate Flooring Features
1. Durable Wear Layer
The important thing to look for in this layer is the Abrasion Class rating (AC). They range from AC1 to AC5, with AC3 representing the highest rating needed for your home. Our Forest range has a AC3 rating making it perfect for a busy family or keen entertainers.
2. Decorative Layer
This layer is where the design of the laminate comes from, here you want something that is highly defined with a realistic timber look.
3. HDF Core Layer
Medium-Density Fibreboard (MDF) or High-Density Fibreboard (HDF) are the most common types of Laminate core available in the market. Our Forest range features a durable HDF core layer with a click-lock joining system.
4. Balance Layer
A balancing layer (also known as a backing layer) helps to provide stability while resisting moisture. This layer assists with the prevention of warping, buckling or delamination.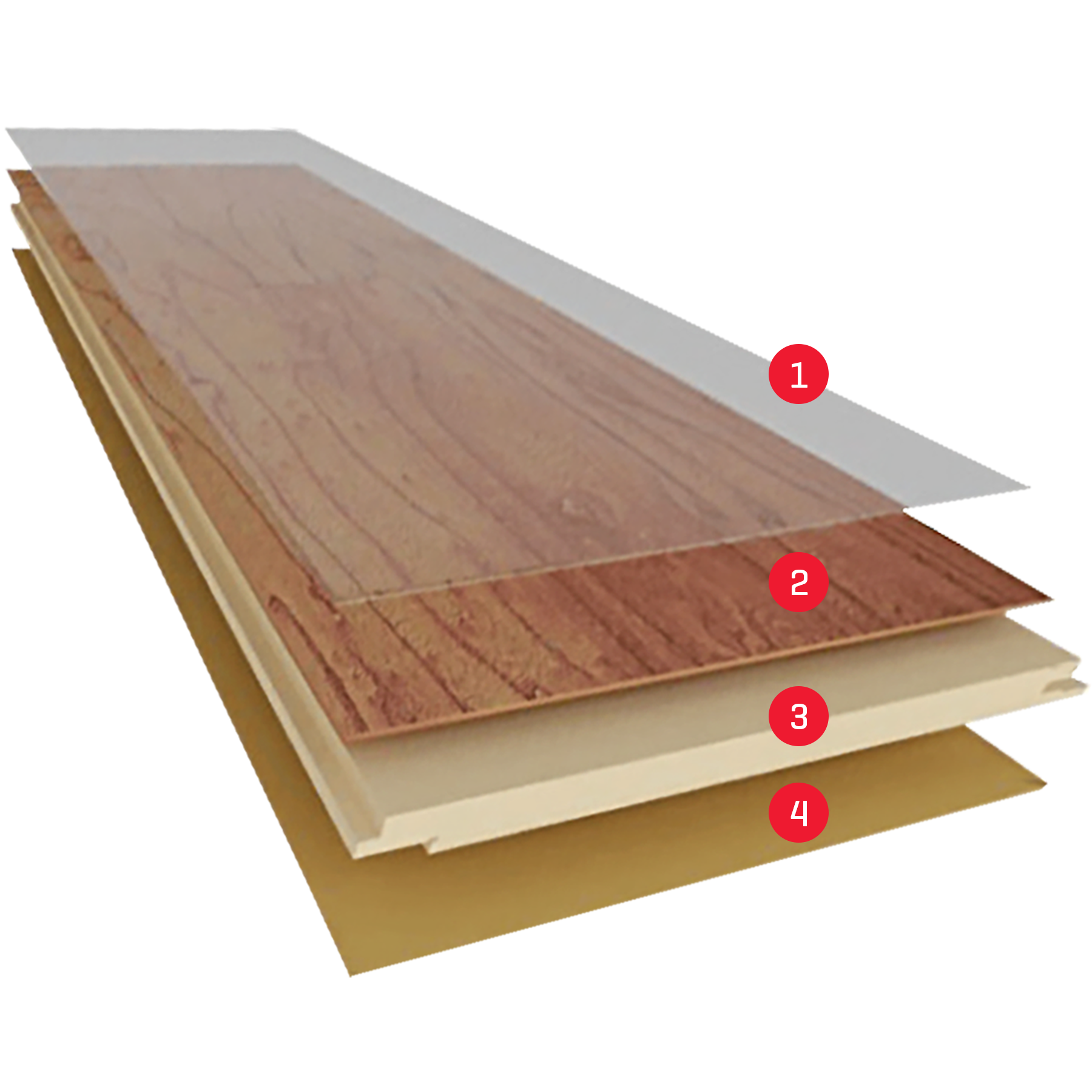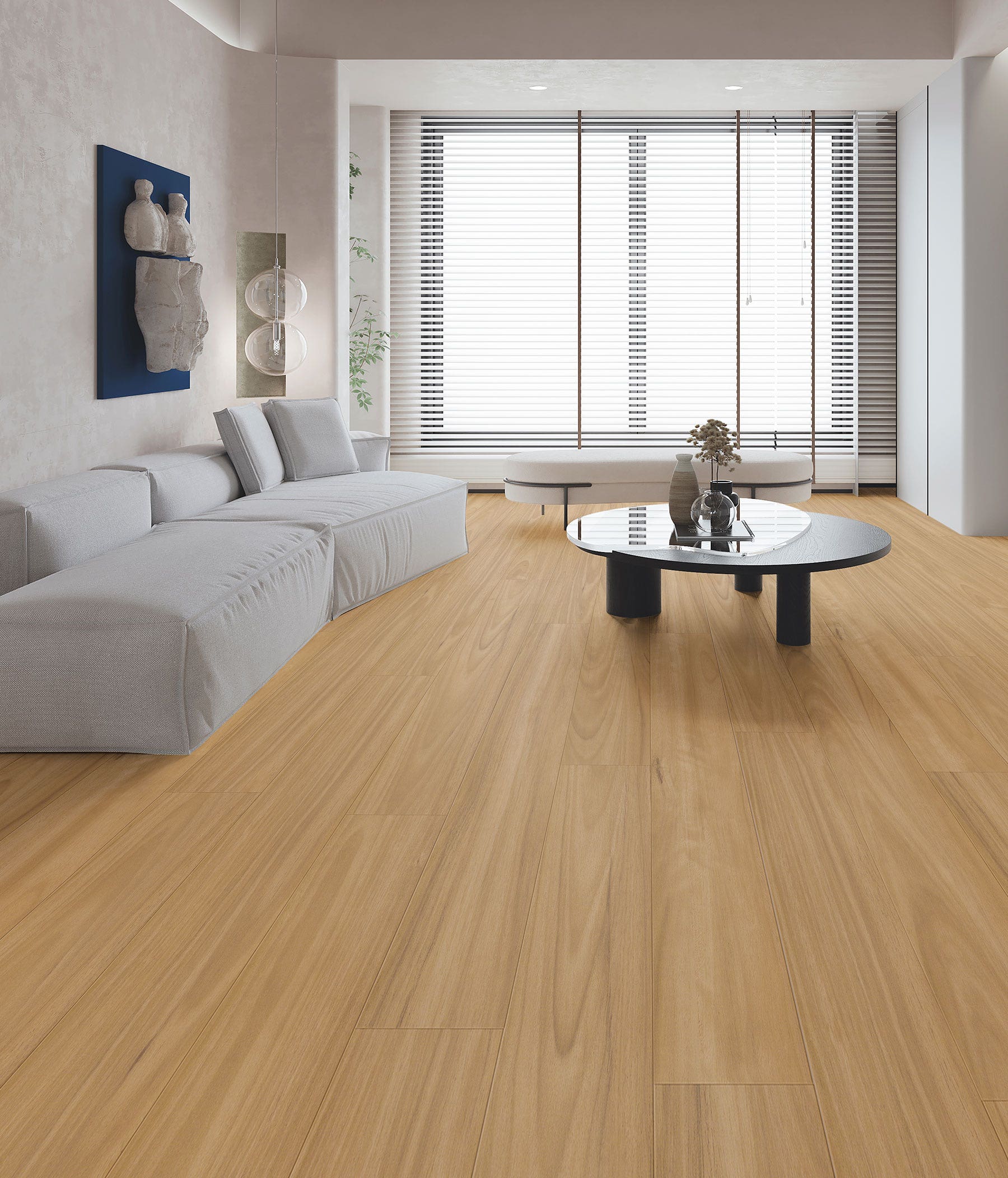 Why do people choose Laminate Flooring?
Here are the top five reasons why people choose Beaumonts Forest Laminate Flooring.
Here's what it looks like using our Forest range as an example:
1. Great for the budget
Most areas of your home will love timber laminate flooring and your pockets will too! Laminate allows you to get the look and feeling of hardwood timber floors at a fraction of the cost.
2. Easy and time effective install
Installation has to be one of the best features of a timber laminate floor. It is quick and easy with just a simple click and lock to join each piece together.
3. Keeps up with a busy home
Our Forest Laminate features an extra strong wear layer giving it the durability to withstand daily life, even in the most walked rooms of your house! With an AC3 wear layer these floors have a long-term wear resistance for running down your hallways, cooking up a storm in the kitchen, and entertaining in your living areas.
4. Dreamy maintenance
Any spills or dirt trekked in are easily cleaned up with a soft bristle broom, speedy vacuum or a damp mop. To keep your floors in the best condition, make sure you mop, sweep or vacuum as soon as possible to prevent damage.
5. Open plan friendly
Available in plank shaped lengths that emulate floating timber floors, open plan layouts gain a seamless and inviting warmth with the use of Laminate flooring from your entryway through to your hallway, living, dining and kitchen.
Unsure if Laminate is right for you? Head here for a helpful reference list on all the different types of flooring and their features.
Laminate Hard Flooring Collection Brochure
Laminate flooring with a realistic timber look and textural feel bringing warmth to interiors. With a click-lock joining system this laminate is easy to use and install.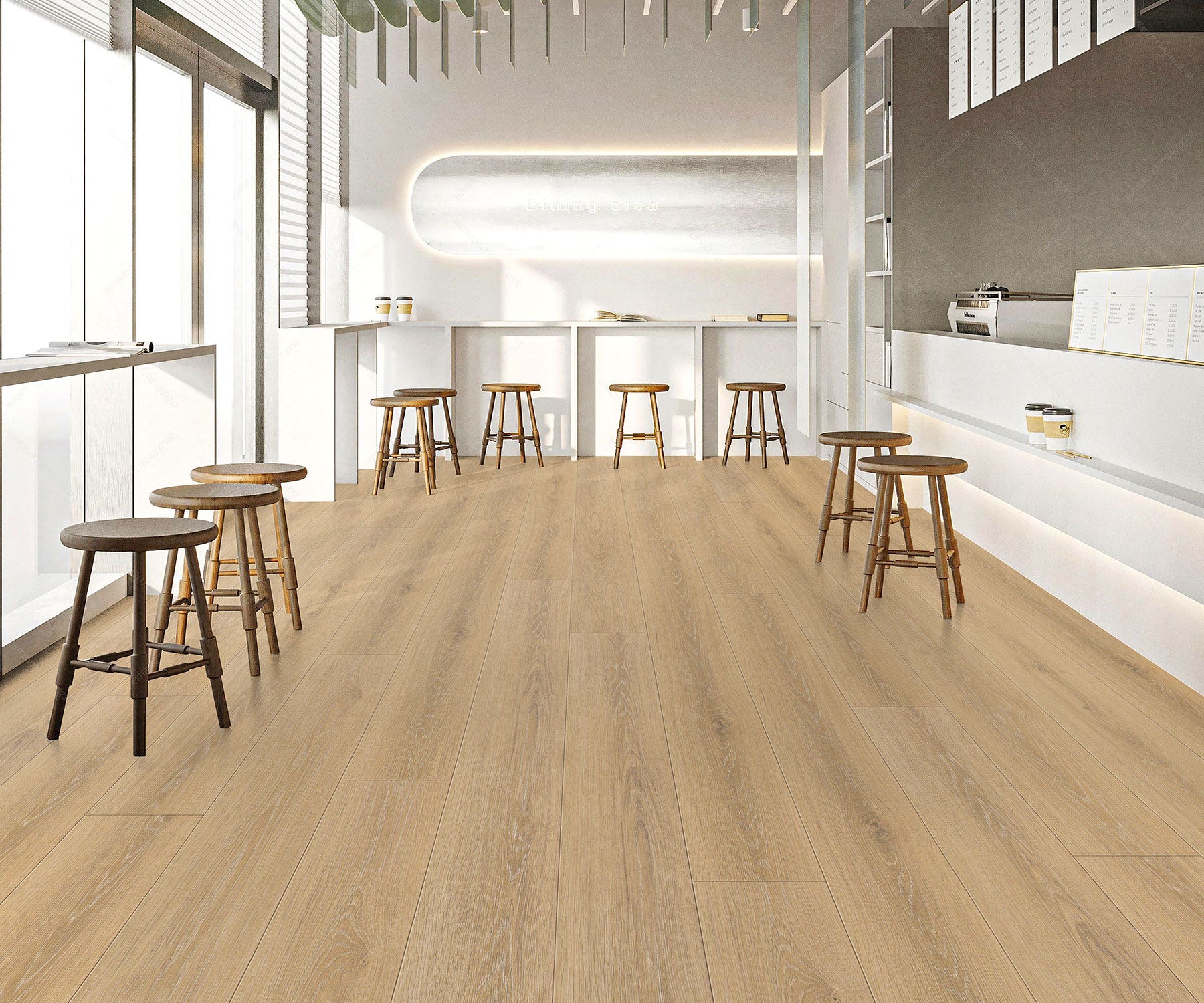 Laminate Flooring FAQs
Whether you're considering installing laminate flooring in your home or just want to learn more about it, this FAQ guide has you covered.
We've compiled a list of some of the most common questions people have about laminate flooring, along with clear and concise answers to help you make informed decisions.
What is laminate flooring?

Laminate flooring is simply a multi-layer flooring fused together using a lamination process. Our laminate floors have a durable wear layer on top and are available in plank-shaped lengths that emulate floating timber floors.

What are the different types of laminate flooring?

Most laminate floors have four layers that make up each plank; a durable wear layer, a decorative layer, MDF or HDF core layer, and a balance layer for stability. So, what is the main difference between laminate floors if they are basically made up of the same layers?

The simple answer is the quality or depth of each layer.

The durable top layer of laminate flooring has an Abrasion Class rating (AC) that ranges from AC1 to AC5, with AC3 representing the highest rating needed for your home. Our Forest range has an AC3 rating, ready for the busy family or keen entertainers.

Is laminate flooring waterproof?

Our Forest laminate range may not be waterproof but it can still handle a little splash. You can be confident that your laminate will stand up to the test of the occasional accidental puddle, simply just wipe clean within 30mins of the spill.

How to clean and maintain laminate flooring?

Cleaning laminate is super easy! Here are some hot tips on how to maintain your laminate flooring:

Sweep or vacuum when it's looking dirty, this is not just about a clean house, it's about protecting your floor. Make sure your broom or vacuum head is soft, and suitable for laminate floors.

Your mop needs to be damp, not too wet, not too dry, just right! Excessive moisture isn't so good for your beautiful laminate floor.

Your cleaning products shouldn't have harsh chemicals. Make sure it's mild or use a special laminate cleaner.

The best rule of thumb is to wipe up any spills immediately.

Laminate has a no high heel shoes policy, avoid heavy objects, and it definitely hates having heavy objects dragged over it.

Laminate can't put on sunscreen by itself, so you'll have to help it out with some curtains or blinds where the sun comes directly inside. And it doesn't like a super-hot room, but honestly, either do we.

Can laminate flooring be installed over existing flooring?

Great news! Yes, laminate can be installed over existing flooring, but there are a few rules that come with this.

Installing over carpet or cushioned vinyl is a no-go. Your laminate needs to be structurally sound.

It needs to be squeaky clean.

And also, dead level. It would be worth using a levelling compound if it's not quite 100% flat.
Find Your Laminate Flooring In-Store
Put on your shopping shoes and hit up those stores that have the goods. Laminate Flooring is avialable in selected Beamounts stores, so it's time to get floored and take your home décor game to the next level!
Victoria
Ascot Vale

Ballarat

Blackburn

Dandenong

Ferntree Gully

Frankston

Geelong

Hoppers Crossing

Lilydale

Mentone

Mildura

Mornington

Narre Warren

Oakleigh

Preston

Ringwood

Shepparton

South Morang

Swan Hill

Traralgon

Warragul

Warrnambool

Wodonga

Malvern

Dandenong South
New South Wales
Erina

Gregory Hills

Lewisham

Marsden Park

Mittagong

North Manly

Nowra

Orange

Padstow

Penrith

Prospect

Rutherford

Tamworth

Thornleigh

Tuggerah

Tura Beach

Tweed Heads

Warners Bay

West Ryde

Wetherill Park

Wollongong

Fyshwick

Mitchell
South Australia
Adelaide

Beverley

Edwardstown

Gawler Park

Gepps Cross

Morphett Vale

Mount Barker

Mount Gambier

Murray Bridge

Paradise

Port Lincoln

Port Pirie

Victor Harbor

Marleston

Whyalla

Norwood
Queensland
Airlie Beach

Bokarina

Browns Plains

Bundaberg

Bundall

Cairns Central

Cairns South

Capalaba

Enoggera

Hervey Bay

Ingham

Ipswich

Labrador

Mackay

Rockhampton

Springwood

Strathpine

Sumner Park

Toowoomba

Townsville

Virginia

Woolloongabba

Yeppoon

Manunda Cairns

Mount Isa