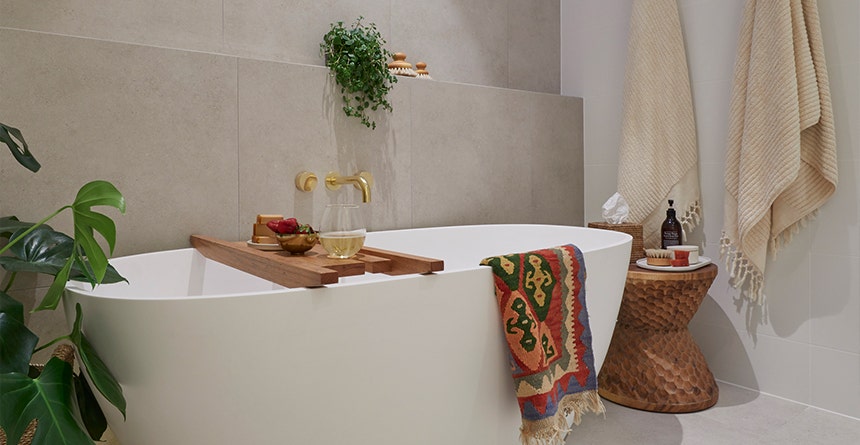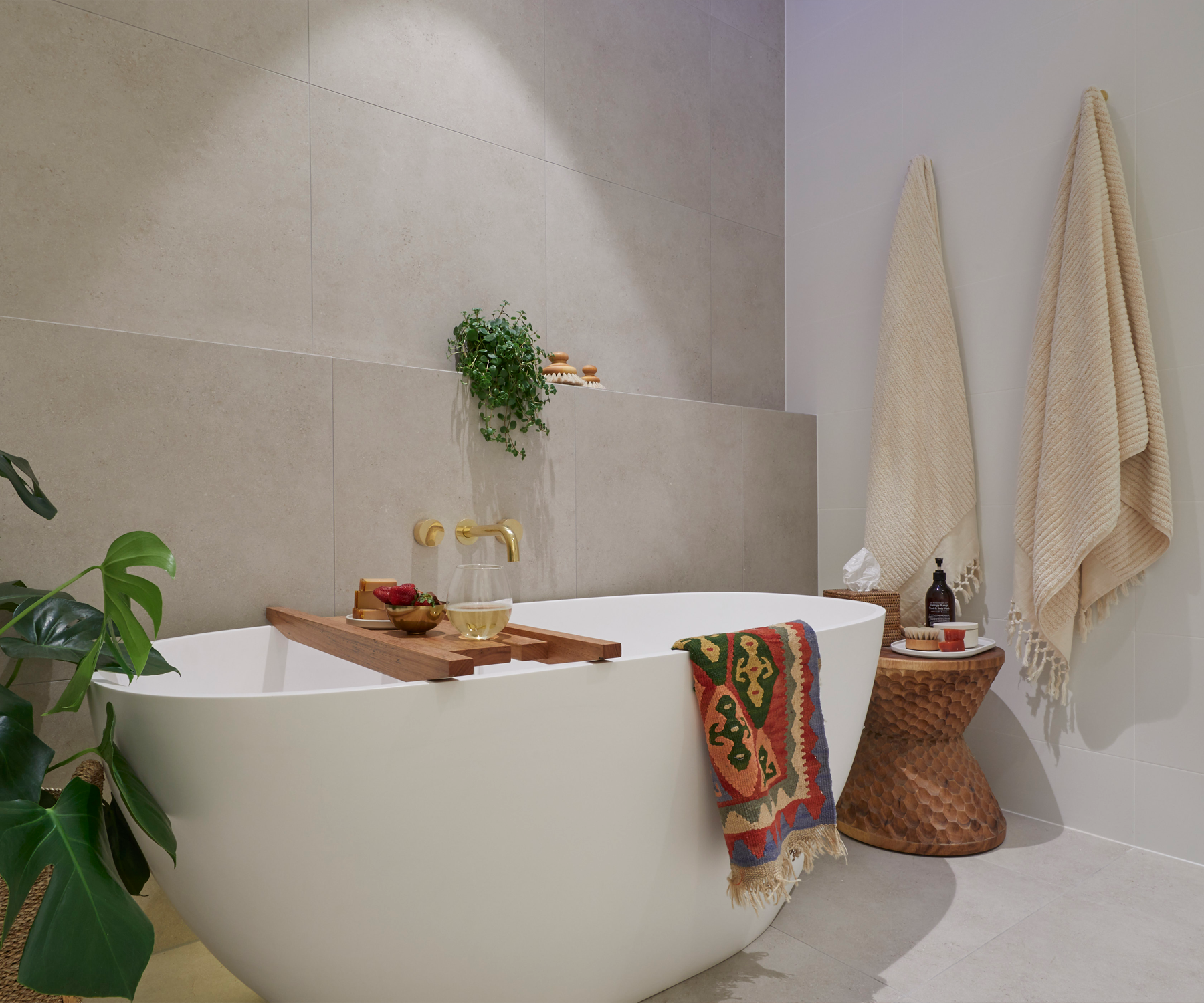 Saving Solutions
4 Secrets To Add Space And Value To A Bathroom Reno
Keep it smart and simple. Simon and Shannon Vos spill the beans on space-saving and value-adding bathroom tips.
Drawing on their extensive experience from both on and off the television, we summon the help of Simon and Shannon Vos, Beaumont Tiles Ambassadors and winners of The Block 2014 to open-up their 'bag of tricks' and share with us their sure-fire ways to add space (and value) to your next bathroom renovation project.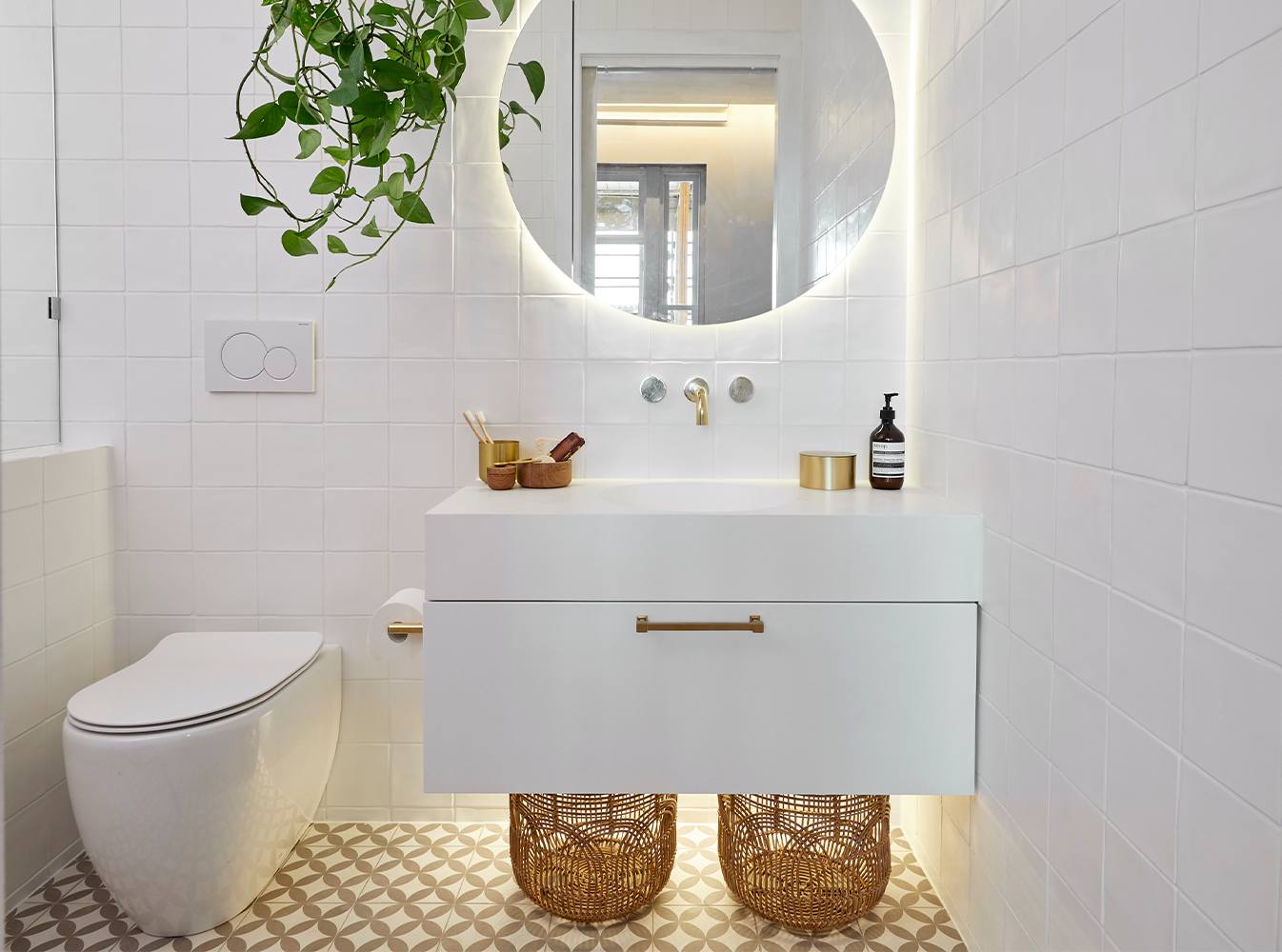 Short on space
If you live in a capital city or apartment, the chances are your bathroom isn't necessarily as spacious as you would like. Yet you still must include the same essentials in a small bathroom as you would in bathrooms two or even four times the size!
"As a starting point I always begin by using a toilet with a wall recessed cistern to remove unnecessary clutter from the walls and give the illusion of space," says Shannon.
"Complement this with a clean straight-lined sink like Beaumonts' Belinda Semi Rec Basin as this will continue to elongate and streamline the overall look of the bathroom. Then pair with a floating vanity to further open the ground-level floorplan.
"Often people put too many features or patterns into their bathroom renovation project. When selecting your wall or floor tile, consider a tile with movement, colour variation and texture in the design as opposed to a solid pattern, less can be so much more," Shannon adds.
You can also add a bit more space by opting for bathroomware pieces that are slightly smaller. A small bath may only be 10-20cm shorter than a larger one, but you'll notice the space you gain in the room more than the space you lose in the bath.
Dollar savings
A plumber by trade, Simon always recommends using the existing plumbing profiles to streamline your choices and importantly save on overall project costs.
Often the basic layout of a bathroom is fine; it's the details in the fixtures, bathroom fittings and coverings that are creating the unnecessary bulk that's dating and weighing down the space explains Simon.
"Not reinventing but merely refreshing the 'wheel' through strategic choices can add the illusion of space more than you realise.
"I like to replace old outdated taps with new refreshed models, and if in doubt opt for a clean thin model, just remember to keep the tap's configuration the same. If it's a mixer tap keep it as is - the same goes for showerheads." Simon added.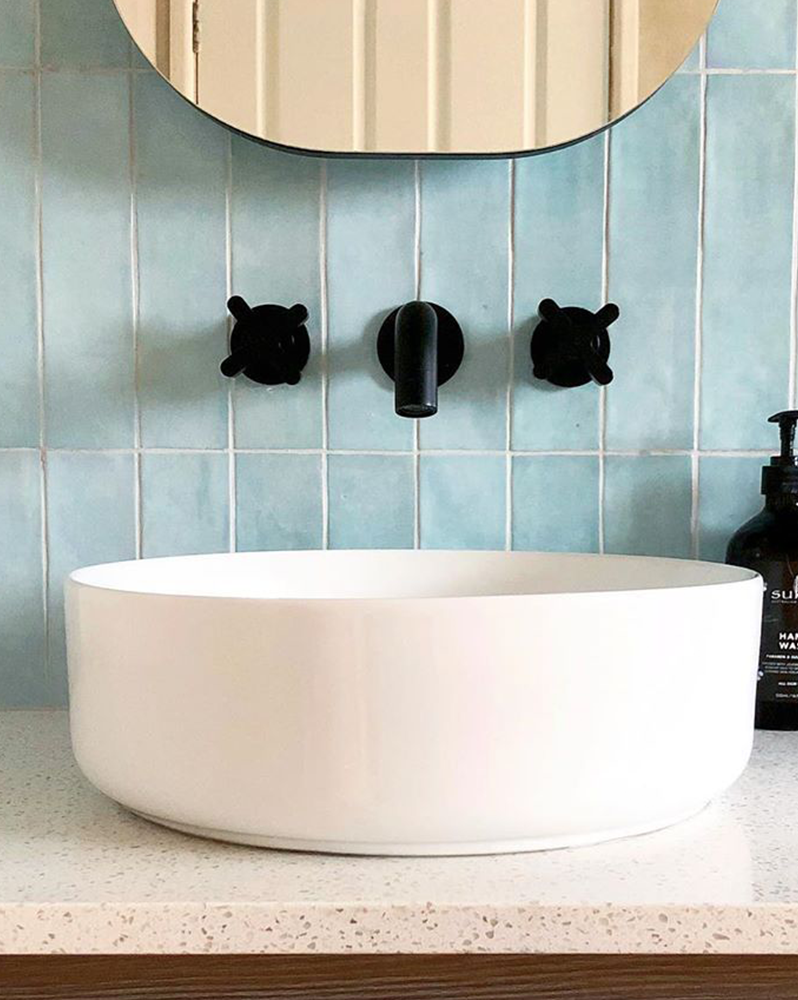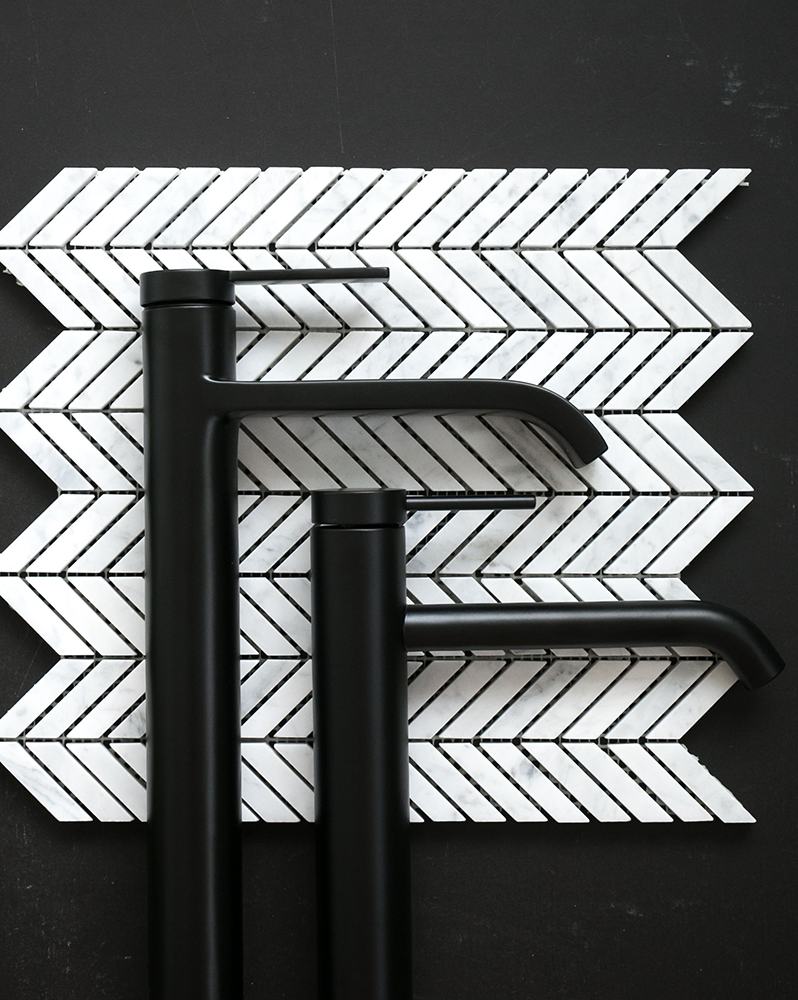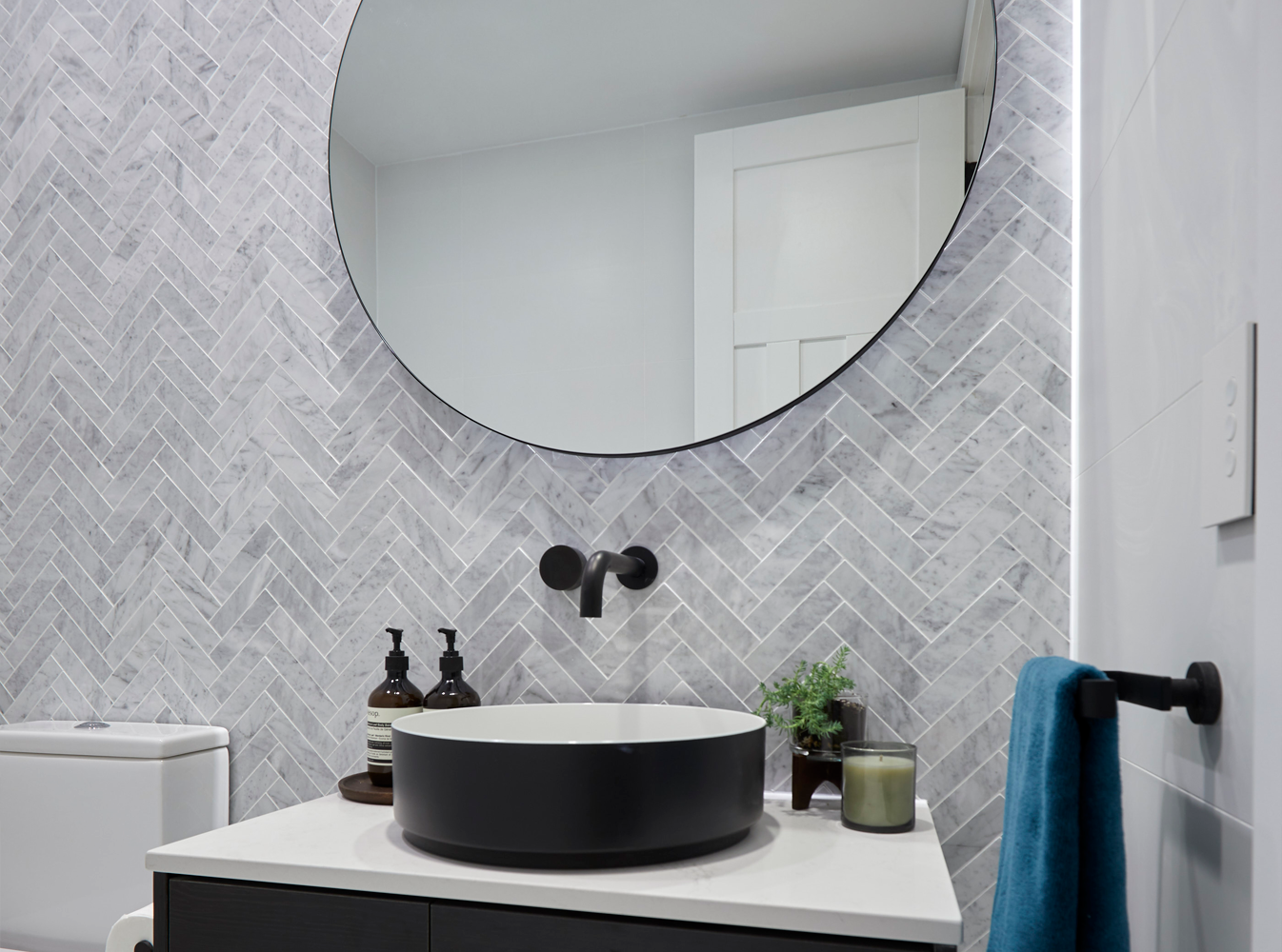 Simon and Shannon's top four space (and value) add tips
Don't change your bathroom layout "We've managed to save people thousands using one simple piece of advice. What we mean by this is trying to keep the shower, vanity and bath in the existing spot."

Use existing tap profile "The general rule is to stick with the same tap profile that's already existing. For example, replace pillar tap with pillar tap. This will save you a lot of money and time"

Plan your storage "Be strategic with all choices from your shelving right through to your vanity and always consider a recessed shaving cabinet for added storage that doesn't add bulk to the overall design."

Magic mirrors "Never underestimate the power of a large and strategically placed bathroom mirror. It can open up space in an instant and also inject a touch of much-needed light."
For more bags of tricks pop into your local Beaumonts, our friendly in-store specialists are always more than happy to help. Alternatively, browse our Complete Bathroom Packages for expert style inspiration!