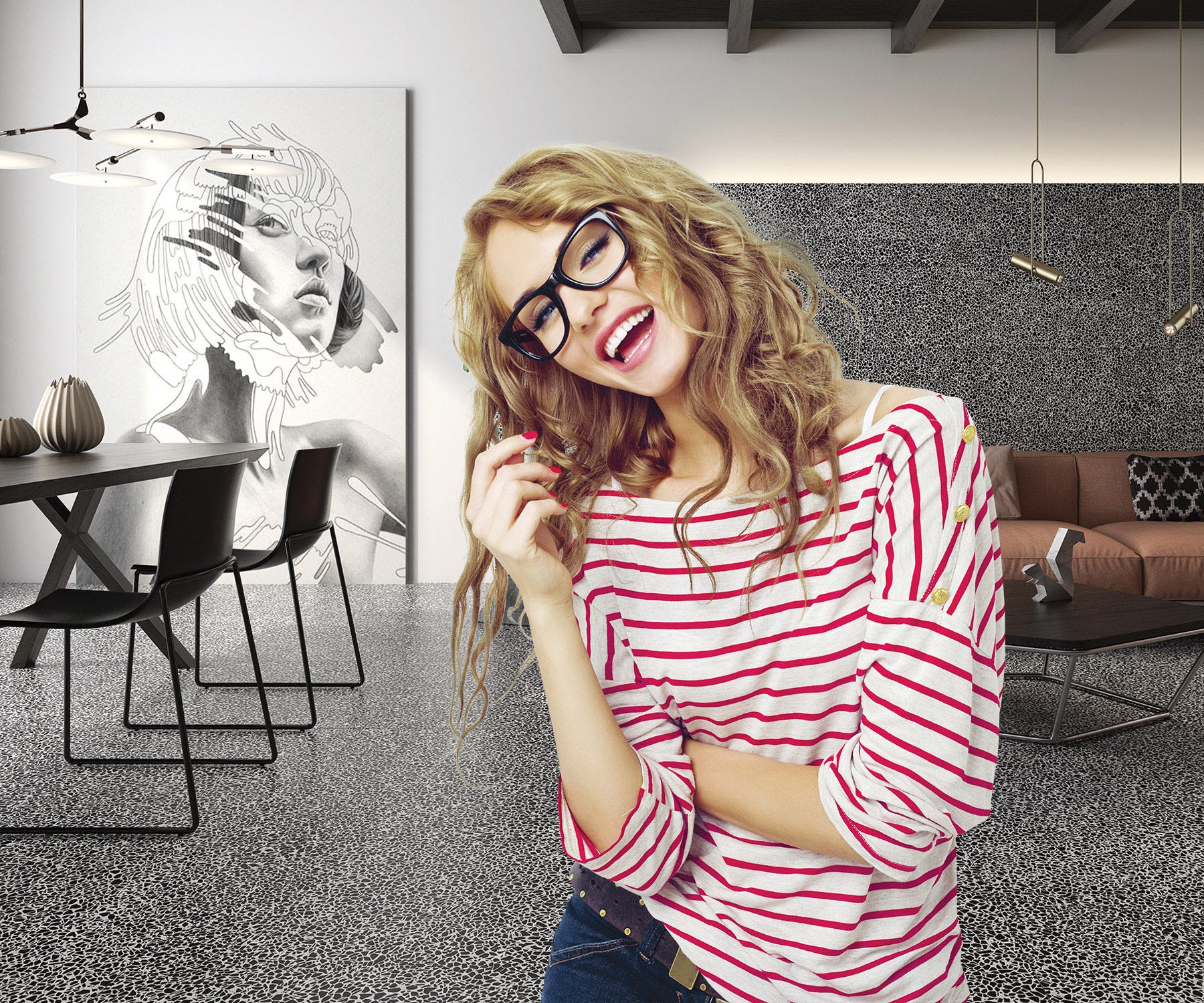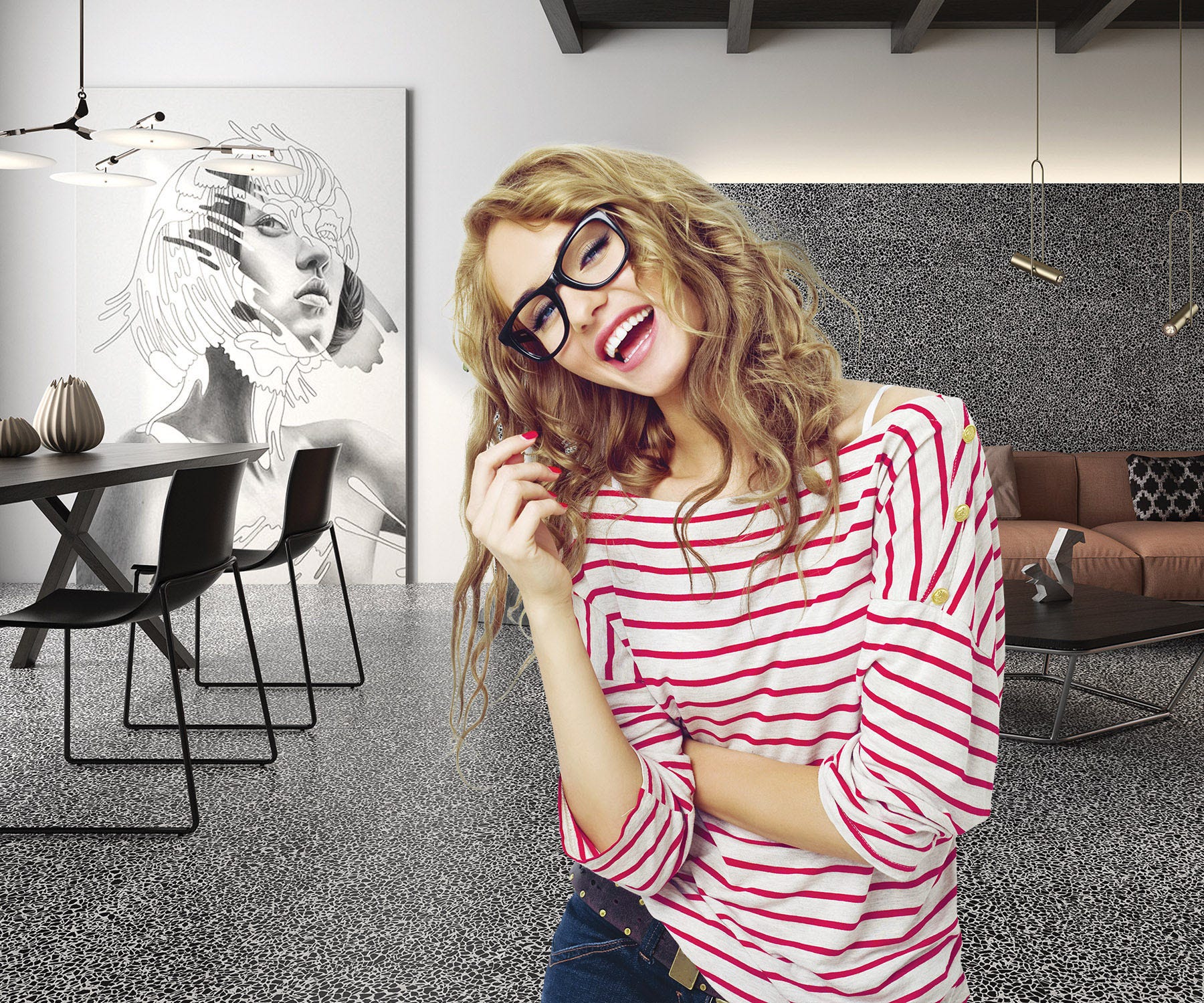 DIY Tiling
Cleaning & Maintenance Of Tiles
We want your tiles to look good for many years to come - read on to learn how to keep your tiles looking as good as new. Our Exclusive Beaumont Cleaning System will help you get it right.
In this section, we run through the best products and care to keep your tiles looking sensational for years.
Click on any topic below and we'll take you directly to our tips. Come back to this index at any time if you need more information.
Choosing a cleaning solution

Beaumonts Complete Cleaning System gives you recommendations, for every stage from just laid to 20 years old and everything in between.


Cleaning ceramic & porcelain tiles

Tiles are low maintenance and with the right TLC, they'll be even lower maintenance.

Protecting indoor floor tiles

Our tiles are guaranteed to last for years and years and years, but like us, so they age gracefully, they need to be cared for.

Cleaning outdoor tiles

These tiles are generally natural stone or emulations of that and they need different products to protect and seal and keep them looking great and ensure you don't damage their slip resistance.

Efflorescence explained & how to clean it

Have you noticed a white powder on the surface of your outdoor tiles? Here's what it is and how to remove it.

Cleaning swimming pool tiles

Pool tiles can become stained with grime or calcium buildup over time if not properly maintained.

Cleaning natural stone

Nature creates stunning stone, but in nature, it ages, cracks, attracts mould and that's not what we want when we use natural stone in our homes, here's how to keep it looking how nature initially intended it.

Cleaning metallic tiles & glazes
Please don't use anything abrasive on these
tile types, our recommendations are below.
Choosing A Cleaning Solution
Most cleaning can be achieved using warm water and a ph neutral cleaner (ph7 is neither acidic nor alkaline). Occasional greasy or stubborn stains may need a stronger organic or ph alkaline cleaner (ph8 to ph10) such as Miracle Porcelain & Ceramic Cleaner. Test the suitability on an inconspicuous area first.

Avoid cleaners that contain acid such as many bathroom and bath cleaners as these can adversely affect the grout over time.

Avoid using cleaning products that contain lemon, citrus, vinegar or other acidic ingredients on natural stone as they may dull or etch the surface of calcareous stone.

Avoid cleaners that contain wax or polish as this can build up over time and attract more dirt and grime.

Due to the different nature of porcelain, ceramic and natural stone surfaces and the range of cleaning products available, check the suitability of any cleaner for the surface to be cleaned. Beaumont Tiles recommend cleaning products developed specifically for ceramic tile or natural stone for the best long-term results. Note that some ceramic tile cleaners are unsuitable for natural stone. Always test any cleaner on an inconspicuous area first.

Never use polishes or gritty, abrasive cleaners on tiles.

Remember to rinse your tiles with clean water to remove and cleaning solution residue.

If you have polished porcelain tiles, steam mops are a popular, chemical-free cleaning alternative that leaves tiles looking fabulous!
Beaumont's suggested Cleaning and Maintenance System
Our Hot Tip: If you notice a dull haze just after your new tiles are laid, don't panic! This may be grout residue and is easily washed off if addressed quickly. Check out our handy info on removing grout haze or contact your local Beaumont Tiles store and we'll supply the correct cleaner and instructions.
Cleaning Ceramic & Porcelain Tiles
Tiles are super strong, stain-resistant, allergy-free and can handle life's little accidents better than any other floor cover. Our expert tips and tricks below will help you to keep your tiles looking like new for years to come:
Wipe up all spills as quickly as possible, especially on any unglazed surface.

Sweep your floor tiles with a soft broom or vacuum as necessary to remove loose dust and grit from the surface.

For a thorough clean try Miracle Porcelain & Ceramic Tile Cleaner, available from Beaumont Tiles, with warm water and a damp microfibre mop or cloth. The microfibre should 'grab' the surface and lift off most daily grime with a little pressure. A damp microfibre mop or cloth is better than wet cotton or sponge for a streak-free clean.

When mopping, work from one side of the room to the other, and avoid walking on the tiles until they are dry.

When cleaning wall tiles, work from the top down.

For a homemade cleaning solution, use hot water and a dash of methylated spirits.

Avoid all soap-based cleaning products as they can leave a thin film on the tiles that will attract more dirt and grime.

Do not mix more than the recommended amount of cleaning solution into the water as this can leave marks or streaks on the tiles.
Regular Weekly Clean

We recommend 553532 Miracle Tile & Stone Cleaner 946ml for a regular weekly clean. It's a pH neutral cleaner designed for regular cleaning of all tile, stone and grout surfaces. Safe for regular use, interior and exteriors.
Our Hot Tip: Follow our recommended Tile Care & Maintenance Guide to ensure you're using the right product for your tiles and to keep your tiles looking as good as new.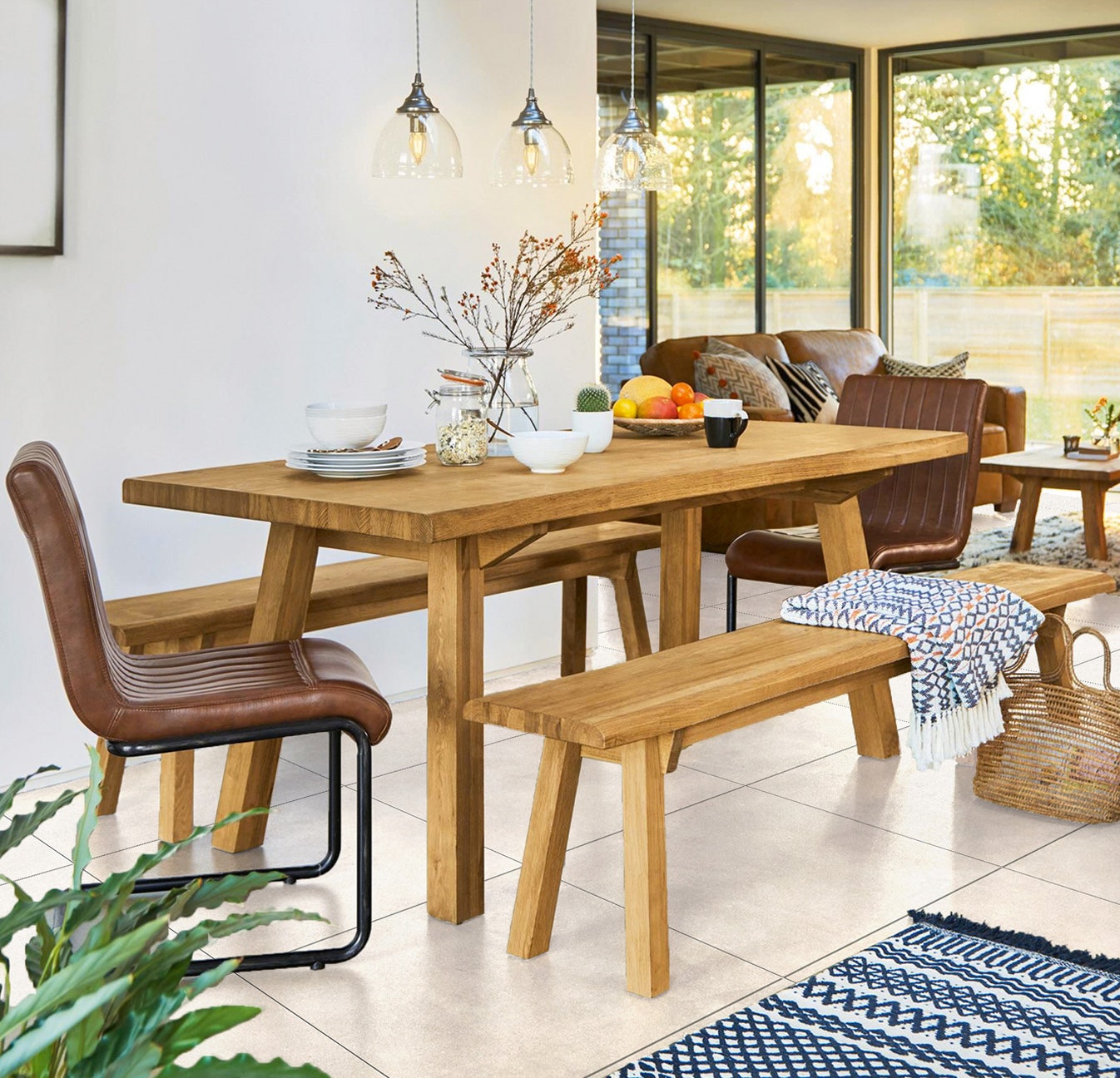 Protecting Indoor Floor Tiles
Tiles are low maintenance products. They are hard-wearing, eco-friendly and do not dent or stain as easily as other flooring materials. They look beautiful once laid and are easy to maintain. Although dirt and grime can accumulate over time, some simple protection measures and regular light cleaning will keep your tiles looking as good as new. Here are our top tips:
Protect your floor tiles

by using felt gliders or protective cups under your furniture to prevent scratching.

Doormats are your friends! Sand and grit can dull the glazed surface of tiles over time. Doormats are a must-have for any entrance to catch dirt and grit before it makes a way into your home. Ensure you also provide a mat by pet entrances.

Although tiles are hard-wearing, clean them regularly to maintain their beautiful appearance.
Our Hot Tip: When you first buy tiles it's important to keep a few spare for repairs, just in case of any unforeseen damage. If you are planning to tile additional areas with the same tiles in the future, order them all at the same time to ensure consistency of shade as tiles vary slightly between batches.
Cleaning Outdoor Tiles
Outdoor tiles mean outdoor fun times, BBQs, friends over, running from the pool to the house, or the dog chasing the cat around.
Follow these simple steps to clean your outdoor tiles and keep them looking brilliant:
Hose the area down to wet the surface.

Scrub or sweep with a strong bristled broom.

Miracle Tile & Stone Cleaner is ideal for removing mild grime from outdoor tiles.

To finish, hose the area and remove excess dirt left behind. For larger areas, work in sections starting closest to the house and work away from the wall.

For cleaning outdoor natural stone, see the section below and refer to our Stone Specialists brochure for more information looking after natural stone.
---
Efflorescence Explained
Efflorescence is a white powder that is sometimes seen on the surface of outdoor tiles and joints. It is due to moisture carrying soluble salts to the surface from the cement in the substrate, adhesive or grout. When the moisture evaporates it leaves a white powdery salt residue on the surface. It usually improves over time unless there is a problem with rising damp. Brush the powder off the surface with a stiff brush and vacuum. Wetting the surface may cause some of the salts to dissolve and reappear later.
Leaching is similar but is due to moisture getting into the area under the tiles and continually dissolving salts in the cement base. The answer is to stop the water from getting in. Check for cracks in the grout or movement joints and repair before removing the white surface deposit by brush and a suitable cleaner. Specialist cleaners are available for efflorescence. Ask your Beaumont Tiles store for more information and consult them if the problem persists.
Efflorescence Removal

We recommend 1207225 Eff-Plus Remover 1 Litre for removing efflorescence, grout haze, cement, rust stains and other contaminants from bricks, stone, tiles, concrete mixing equipment, newly laid floor tiles and a variety of other surfaces.
Our Hot Tip: A great environmentally friendly way to start when cleaning outdoor tiles is to try a pressure cleaner first!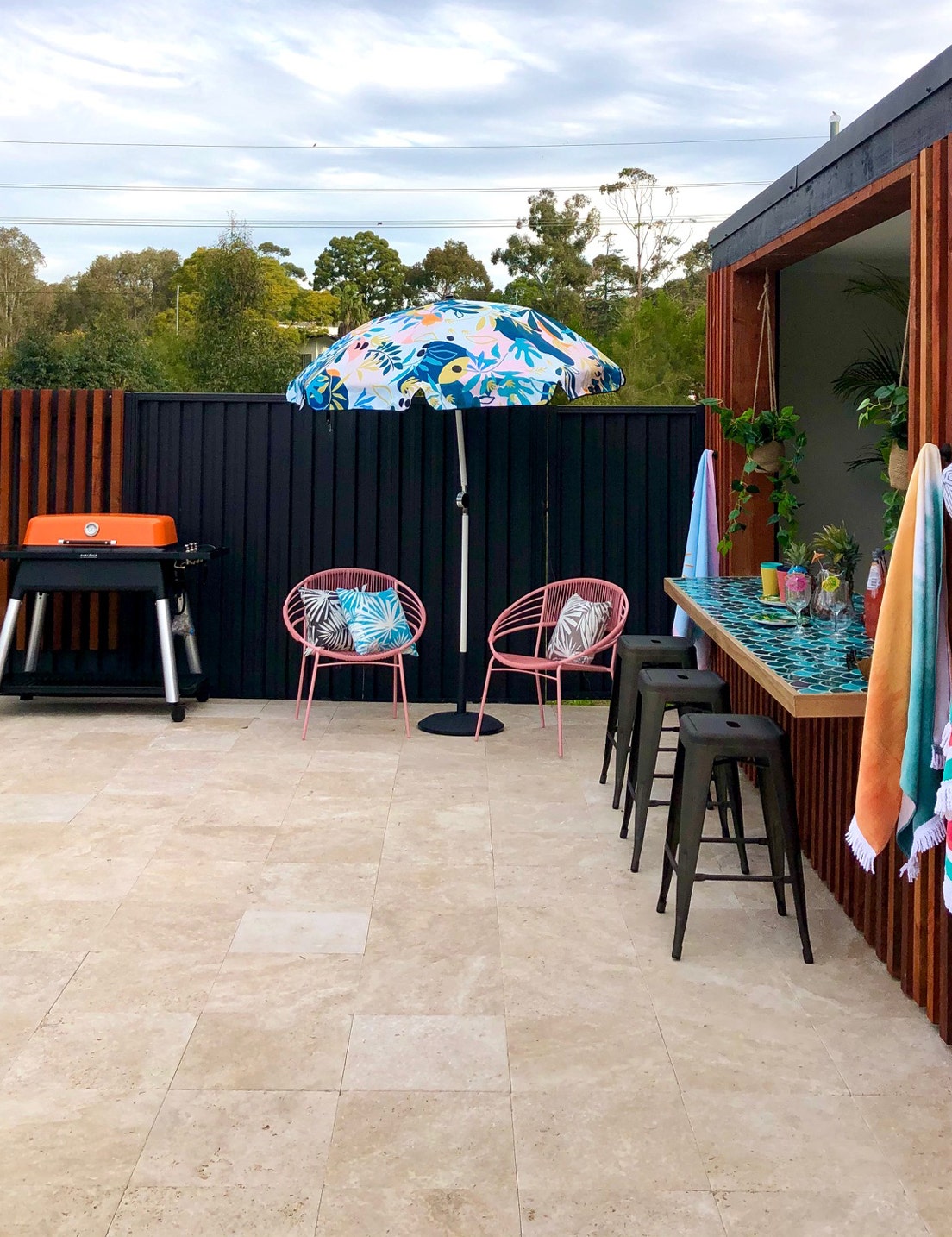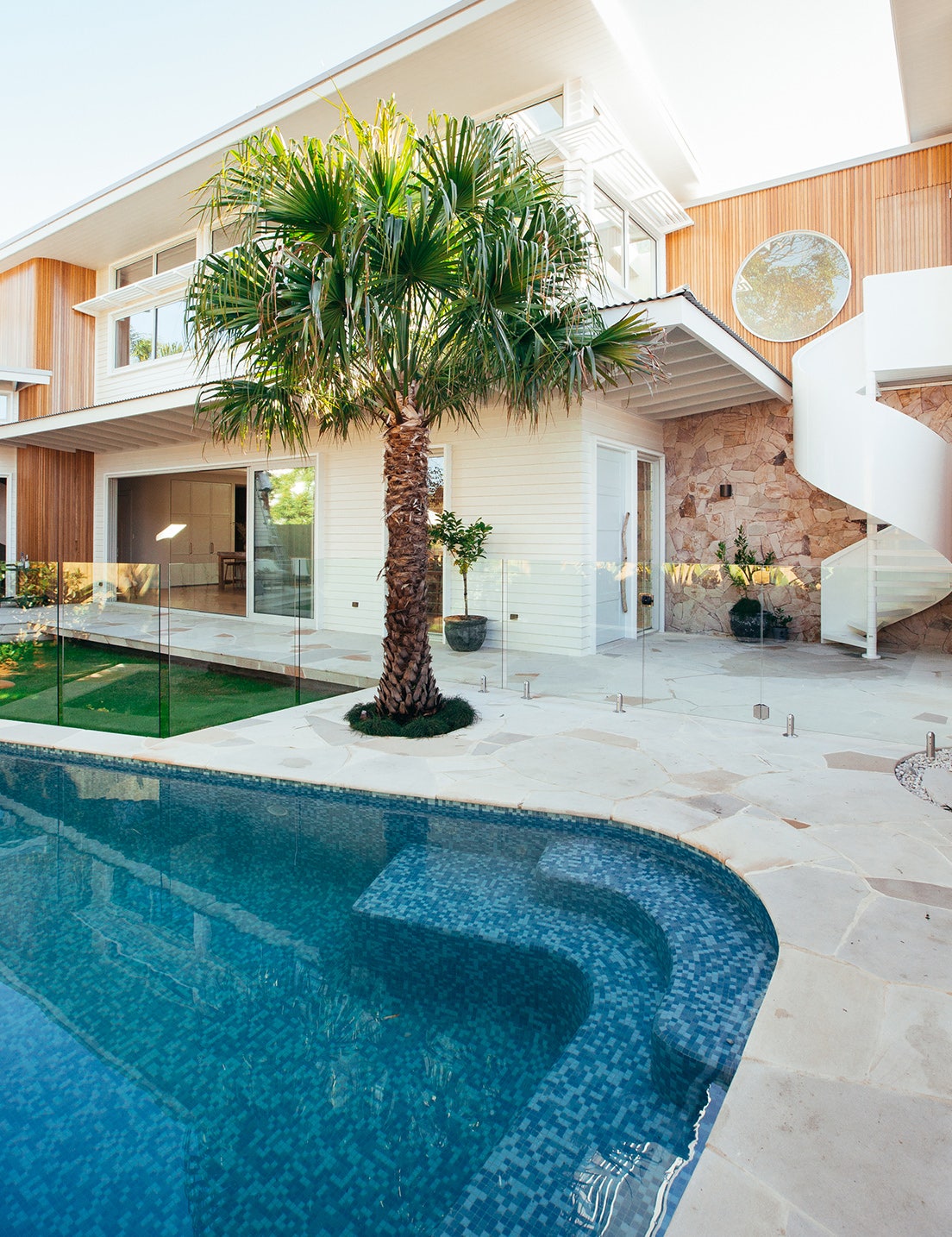 Cleaning Swimming Pool Tiles
Pool tiles can become stained with grime or calcium buildup over time if not properly maintained. There are two types of calcium buildup; Calcium carbonate which is white and flakey and can generally be removed by scrubbing with a stiff bristle brush, and calcium silicate that is more like a light greyscale or scum that builds up on the surface. Calcium silicate is much more stubborn to remove and may need to be rubbed down with a pumice stone.
Maintaining a chemically balanced pool is the most important factor in keeping your pool tiles looking great. Deposits of calcium can appear as a white crust or light greyscale around the waterline when pool water has elevated ph levels or high alkalinity. Rapid evaporation can also contribute to calcium buildup on the waterline.
Follow these steps for cleaning pool tiles:
First, scrub any calcium with a stiff bristle brush and water. You will get the best results if you scrub vigorously in a circular motion, working on small areas at a time.

If any scale or buildup remains, use a pumice stone. The pumice stone should not scratch the tile surface but be careful not to be too rough in rubbing and keep the pumice stone wet to avoid damaging your tiles.

Keep your pool clean and do not allow leaves and other debris to build up around the edge.
If you cannot remove the build-up, you can speak with your Beaumont store about suitable cleaners. Ensure any cleaning chemical is handled carefully and follow the product instructions. Do not allow any acid-based chemicals to contact natural stone paving. If you are unsure or if the stains are too stubborn, it may be best to call a professional pool cleaning company.
Our Hot Tip: To minimise future calcium buildup on the waterline, regularly check the pH and calcium levels, consult your pool supplies store and consider a pool cover when not in use.
Cleaning Natural Stone
Natural stones such as marble, travertine or limestone all contain different forms of calcium carbonate which is adversely affected by acid. When cleaning natural stone, care must be taken when selecting the cleaning solution.
When it comes to natural cleaners, lemon juice and vinegar are often the main ingredients, however, these "natural ingredients" are actually worse for natural stone than almost every other cleaner. In fact, all acidic cleaners cause natural stone to dull and etch over time.
Avoid using all acidic, alkaline or abrasive cleaners which may permanently scratch or damage the product. DO NOT use the following; Acidic Tub & Tile Cleaners, Acidic toilet cleaners, Ammonia, Powered Abrasive Cleaners, Soft Paste Cleaners, Vinegar, Window Cleaners, Abrasive Cleaning Pads or Citric Cleaners.
Clean stone surfaces with a few drops of a ph neutral cleaner. Use a clean rag mop on floors and a soft cloth for other surfaces for the best result. Too much cleaner or soap may leave a film and cause streaks on the surface. Rinse the surface thoroughly after washing with soap and dry with a cloth. Change the rinse water frequently. DO NOT USE scouring pads or creams as they contain abrasives that may scratch the surface.
Frequently mop interior floors using a clean un-treated dust mop. Most damage to natural stone is caused by sand, dirt and grit. Mats or area rugs inside and outside an entrance will help minimise abrasive grit. Ensure the underside of the mat or rug is a non-slip surface. Do not use vacuum cleaners that are worn where metal or plastic attachments or wheels may scratch the surface.
Our Hot Tip: DO NOT USE products that contain lemon, vinegar or other acids on marble or limestone!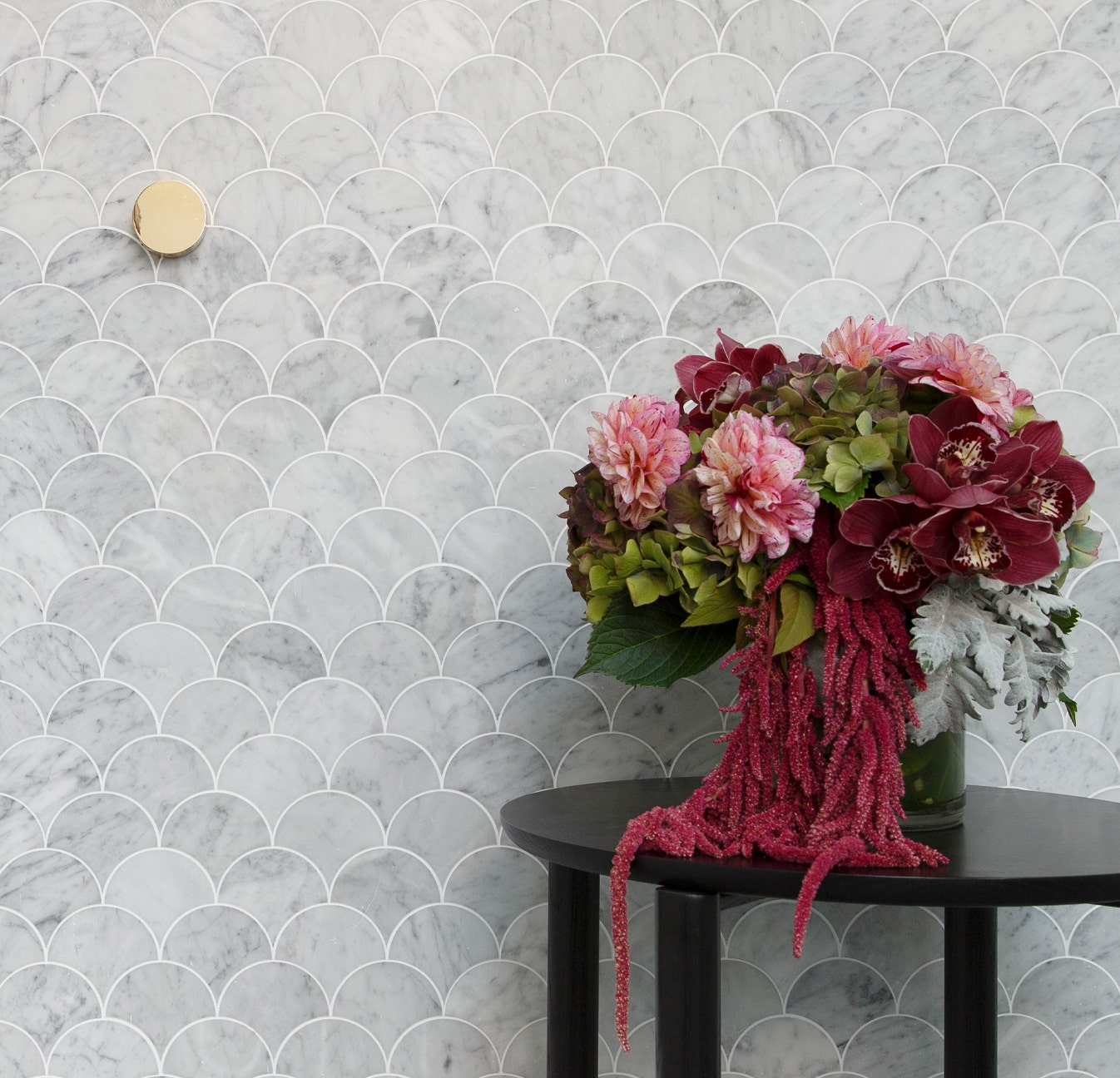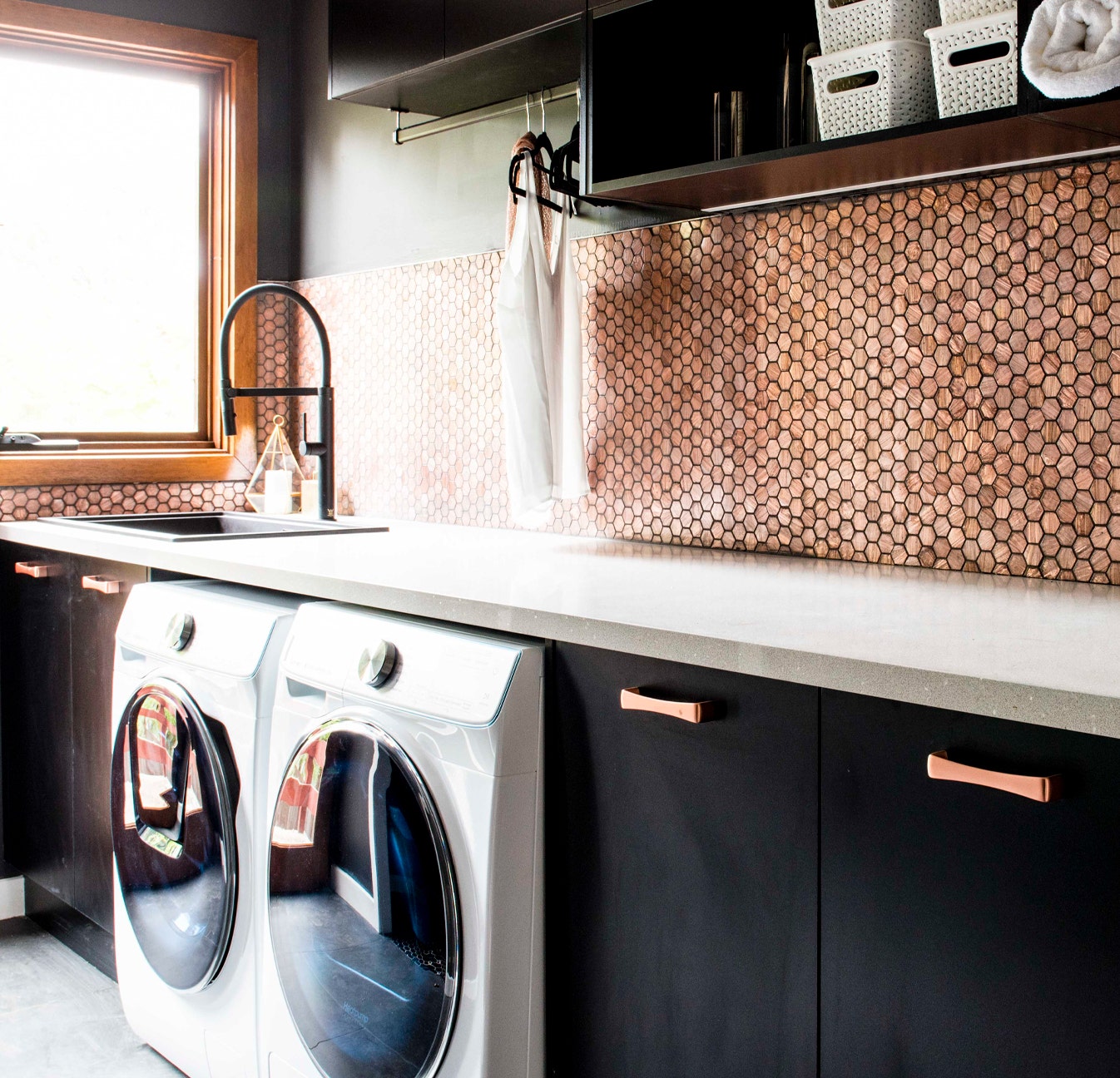 Cleaning Metallic Tiles & Glazes
While it is generally accepted that tiles are a very durable and long-lasting surface, metallic finishes are not protected by another glazed surface and can become damaged.
Harsh scourers, abrasive creams and powders, and strong chemical cleaners can wreak havoc on metallic finishes. Besides this, they are totally unnecessary products for cleaning tiles. Warm water and a drop or two of a ph neutral cleaner are generally all that is needed to clean tiles, and this also applies to these more delicate metallic finish tiles. Then simply wipe over with a soft cloth.
Metallic tiles and metallic glazes will react with acidic liquids and cleaners so avoid contact with citrus juices and any citrus-based or acidic cleaners. Gold, silver, and other metal finishes and highlights were widely used on tiles and they can look really effective, especially in a bathroom but remember they are soft metals and can be easily damaged by abrasives and harsh cleaners.
Many other finishes like lustre glazes are more durable, but still susceptible to damage or wearing off when attacked by harsh cleaners. Treat these tiles correctly, and there will be no problems.
Our Hot Tip: Always use specialised tile and stone cleaning products rather than general-purpose or abrasive cleaners.