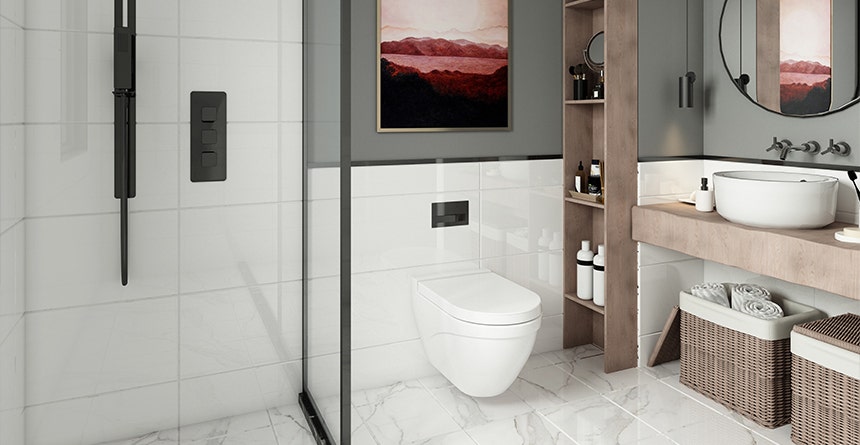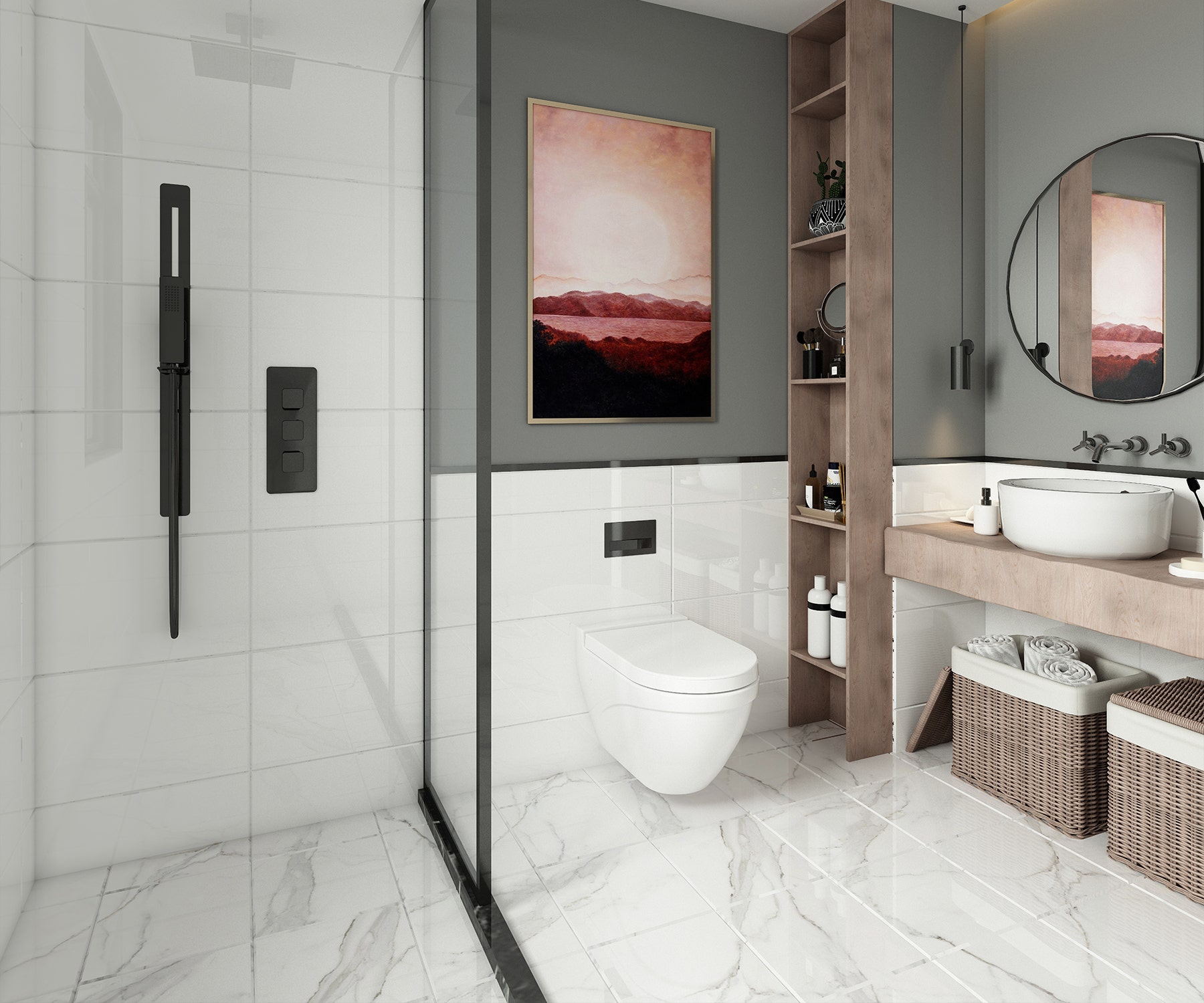 PRO TIPS
The Bathroom Bootcamp With Simon & Shannon Vos
Did you know that where you live may influence the style of your next bathroom renovation?
If you live in NSW or QLD, chances are you want a traditional-looking bathroom with a touch of coastal, or to spice it up a little, a touch of Scandinavian influence. Whereas, if you live in VIC, SA, or TAS, you're probably more interested in the classic Modern-look according to our style finding tool What's My Style.
The great news is that at Beaumonts we're your complete bathroom specialists; stocking everything from tiles, to taps, tubs and toots and everything in between. Making Beaumonts your one-stop-shop when inspiration drives you to DIY! And we're committed to be with you every step of the way.
To celebrate all things bathroomware, we summon the trusty help of Simon and Shannon Vos, Beaumont Tiles Ambassadors and winners of The Block 2014 to talk bathroom ideas and how to nail these looks with ease and precision!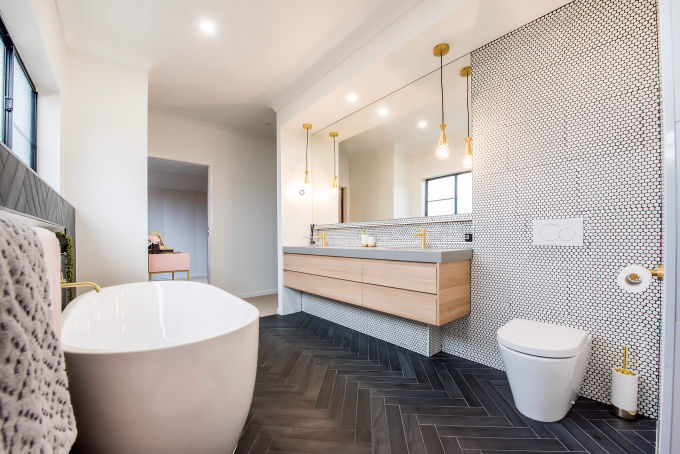 Traditional
Traditional bathrooms are like trusted friends. They're inviting and hospitable spaces that transition from season to season without fuss. "Dark to light colour palettes always work well within this style," says Shannon; who suggests picking a deep-toned timber look tile for the floor, paired with a clean, light-toned Carrara marble mosaic walls to draw the eye upwards while adding a touch of theatre to the overall project. Find out how to lay mosaic tiles here.
Incorporating hints of brushed metallics through tapware and other bathroom accessories is a fantastic way to add complexity to the space. For those who are daring, add a chandelier or oversized pendant light for a serious bathroom statement!
Shannon's Styling Tip: Renovators often choose too many features or patterns in their projects; when selecting your wall or floor tile, consider a tile with movement, colour variation and texture in the design, as opposed to a solid pattern. Less is more! Browse our Traditional Bathroom Packages for more inspiration!
Coastal
A playful medley of natural and aqueous elements is at the core of what makes Coastal so universally appealing. Emulating this look is simple - keep the colour palette neutral and understated. Then use blue hues and metallics to add depth and complexity. Unlock your personal design style here
"Opt for a light grain timber-look tile for the floor, then couple with a monsoon shower for some wow factor that looks and sounds like rain," said Simon. A plumber by trade, Simon suggests clean tapware in either silver or matt and include indoor plants and seascape artworks to bring the outdoors in. "To complete your Coastal bathroom, add textural layers with raw cotton bathmats, fluffy cotton towels and create always needed storage with natural fibre baskets," adds Simon. Get the look
Simon's Plumbing Tip: Replace old, outdated taps with new, refreshed models and if in doubt, opt for a clean thin model - just remember to keep the tap's configuration the same if you're looking to save on trade costs.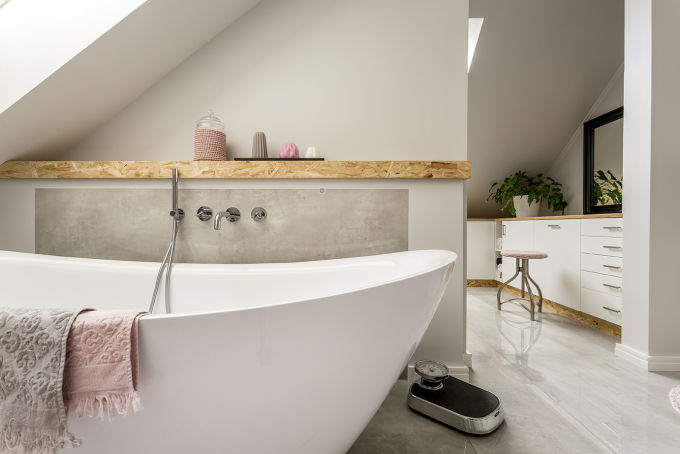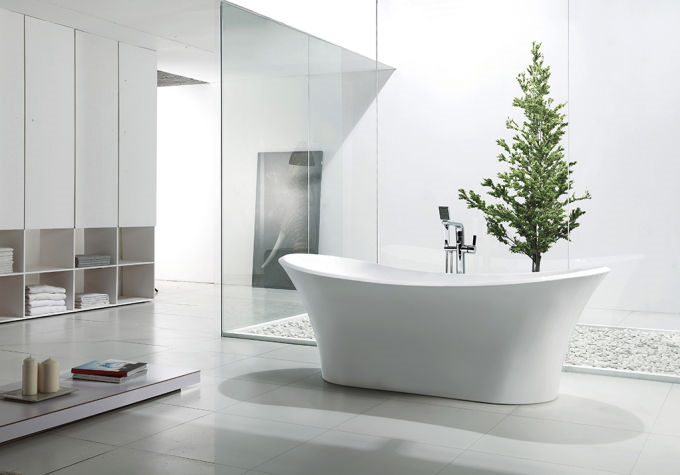 Modern
Clean monochromatic lines with hints of colour, is the best way to nail the Modern-look bathroom. A large format tile with either a lot of movement, or bold vein features are always a strong starting point. To create playful balance, Simon suggests installing a 3D tiled feature wall to draw the eyes upwards and out.
Bowled over with the idea of a bath?
"Always remember to soften a modern bathroom with organic elements styled in a structural way," says Simon. "My go-to for bathrooms drawn to Modern influence is the wide-set spout of the Harmon Bath Outlet as it creates a beautiful structural water display. Pair with the dramatic Bahama Stone Bath; as it keeps site lines straight, while adding to the overall modern look narrative." Get the look
Simon's Styling Tip: Never underestimate the power of a large and strategically placed bathroom mirror. It can open up a space in an instant and also inject a touch of much-needed light.
Scandinavian
The Scandinavian look is all about simplicity and economic use of space that is as beautiful as it is functional. "Keep styling modest by selecting a central feature in your area such as a freestanding tub, then add colour and layers to frame its focal point," says Shannon.
Geometric tiles in either white, black, or made of marble are always a spot-on choice for Scandinavian bathrooms. Though for those who are daring, contrast the geometric tile with a fun coloured grout like blue, or forest green. "Complete your bathroom with a black and white print and round out with the introduction of natural elements such as a timber stool and indoor plant to create a distinction of elements and all-important theatre," Shannon adds. Discover the look in our room ideas gallery.
Looking for more tips on taps, toots, and tiles? Pop into your local Beaumonts, our friendly in-store specialists are always more than happy to help. Find your nearest tile shop.