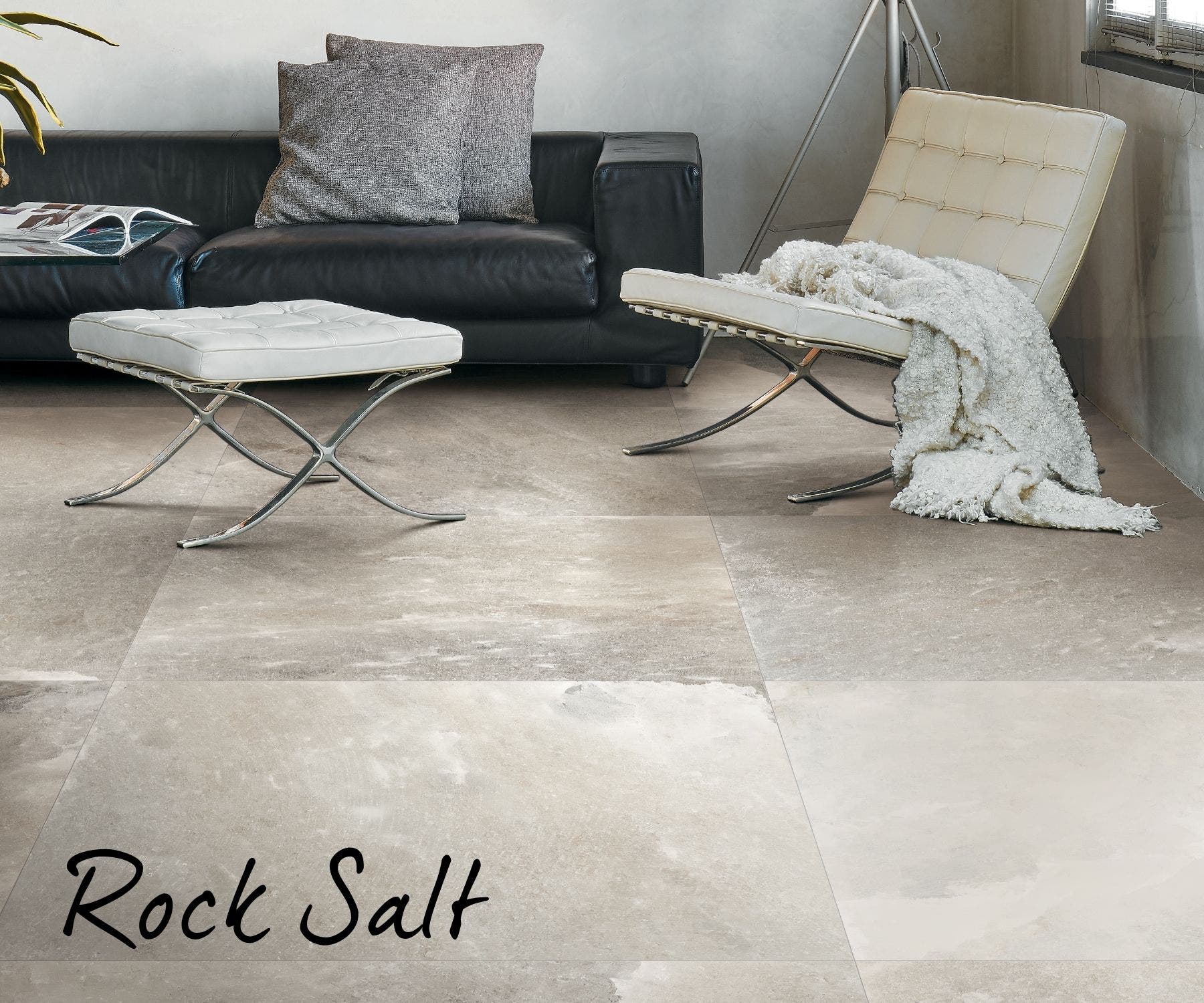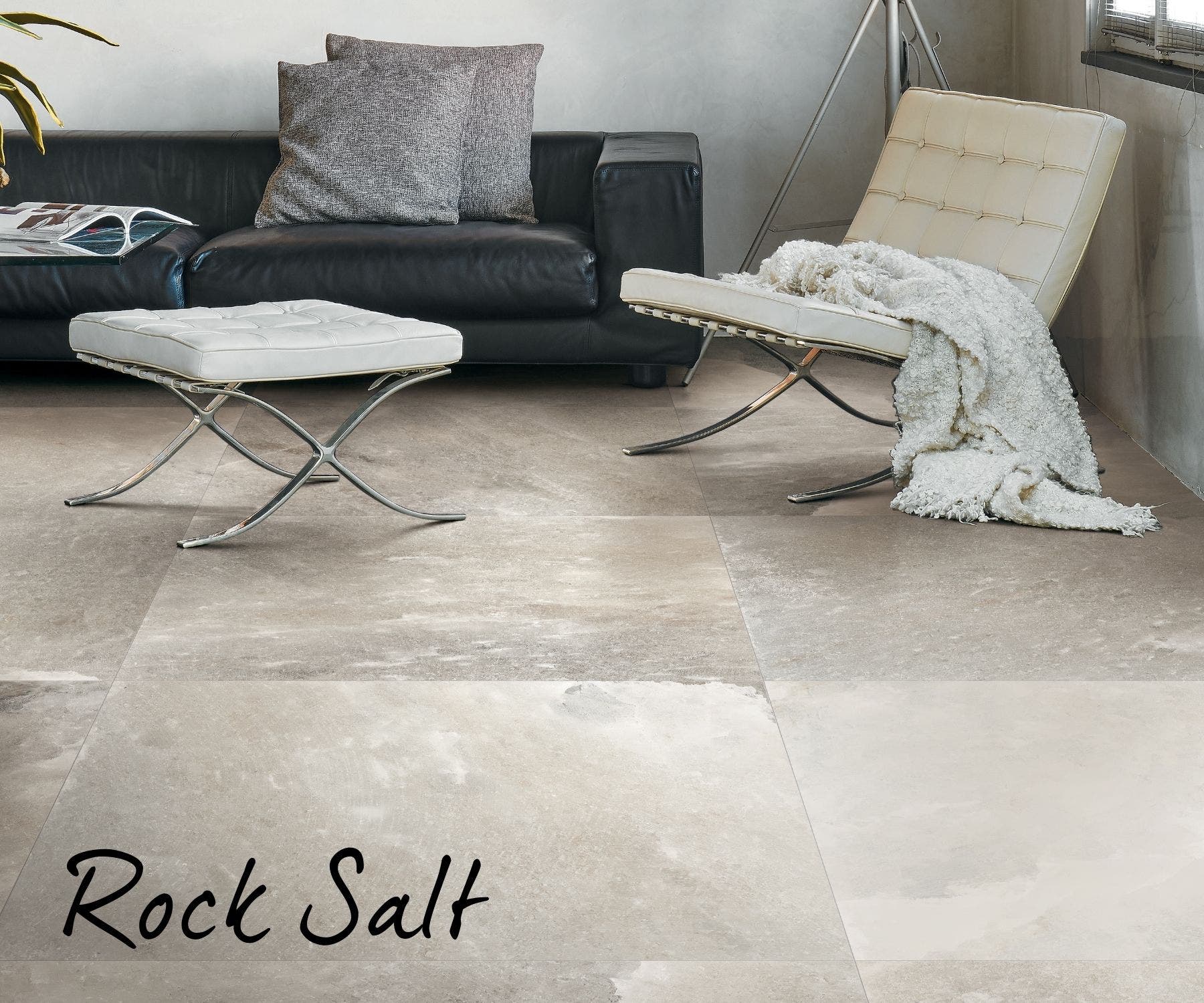 Tile Of The Year 2021
Rock Salt
Rock Salt is an invitation for rejuvenation and wellness. Cosy atmospheres. The positive energy of salt crystals. Peace and tranquillity.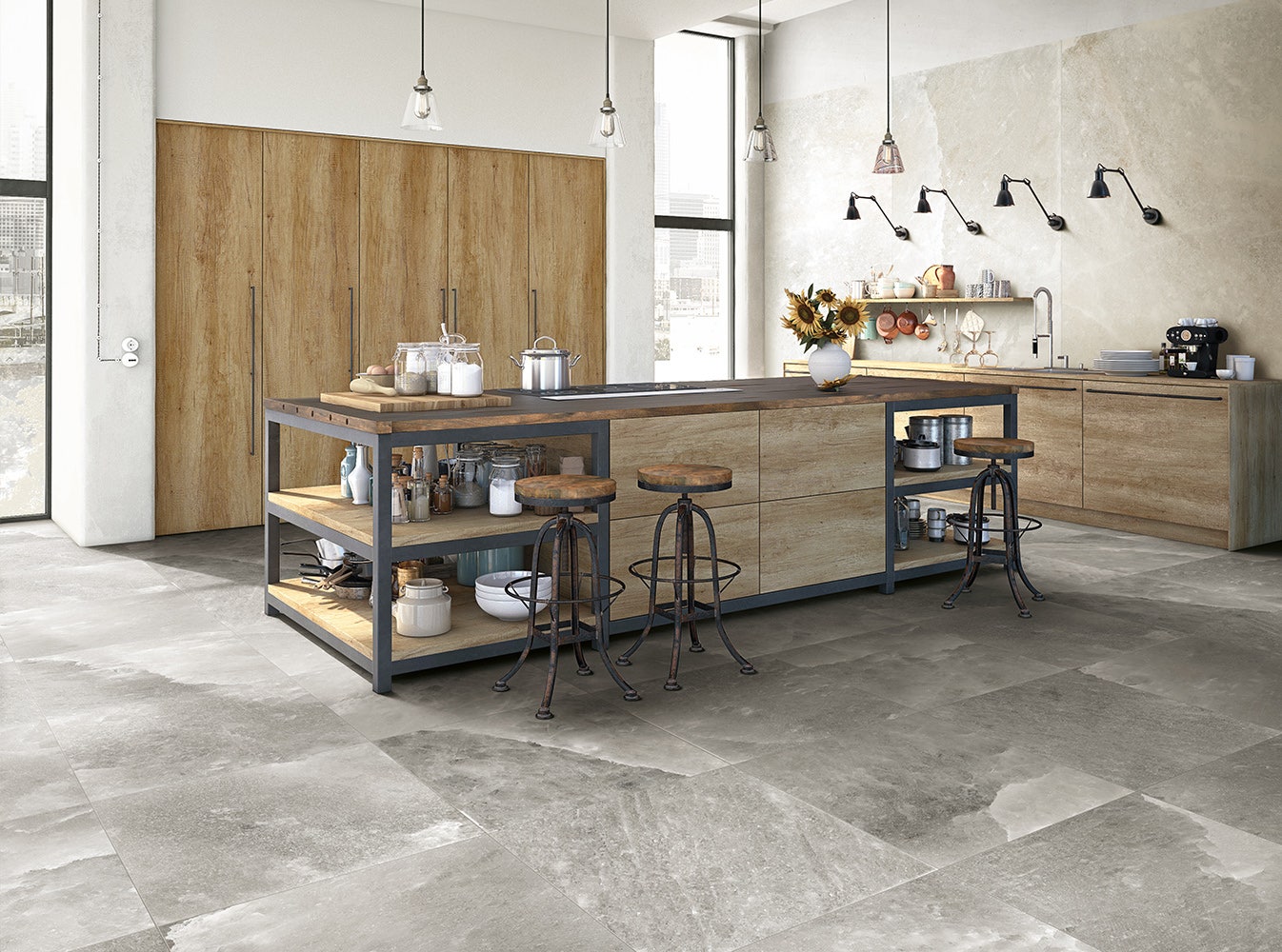 Rock Salt: Enchantingly Distinct In Design - Beaumonts 2021 Tile Of The Year
Every now and then a tile comes around that completely knocks our socks off! We are proud to announce that it's happened and that tile is called Rock Salt. So celebration-worthy, Rock Salt has won the title of Beaumont Tiles' 2021 Tile of the Year.
The spectacular Rock Salt range was the showstopper of the renowned international Cersaie fair in Italy, and it is like nothing we've seen before. The range draws inspiration from the majestic and naturally occurring salt beds of the Himalayas and creates a medley of neutral tones that unites spaces to produce timeless appeal and transcend trends.
Rock Salt utilises the latest print technology to produce a blissful finish that magnifies design elements to offer added depth to the veins of each tiles' design and boasts tile-to-tile variation of up to 72 tiles for a truly unique work of art. It inspires feelings of wellness, rejuvenation and joy throughout your home every day.
Sourced from Italian artisan tile manufacturers and made in Europe with a high-quality glazed porcelain body, our range features three shades and two slab sizes in hard-wearing, soft-touch tile with rectified edges. Available in a range of slip-resistance options to showcase through the entire home, indoors and outdoors on both the wall and floor, it's also a great alternative to marble and other organic-look flooring options.
Exclusive to Beaumonts, this unique range is a spectacular showstopper that's sure to add WOW to any space you choose to display it.
Rock Salt's uniqueness lends itself wonderfully to many different styles, only limited by your imagination. We truly believe this tile should be celebrated so go bold and start your design with this tile and see where it takes you. Styling from Industrial to Farmhouse, this tile can do it all.
Available Sizes:
Rock Salt 297x597mm | 10mm thick

Rock Salt 597x597mm | 10mm thick

Rock Salt 597x597mm | 20mm thick

Rock Salt 1197x1197mm | 6mm thick
Slip Rating:
Colours:
Rock Salt White Gold

Rock Salt Celtic Grey

Rock Salt Danish Smoke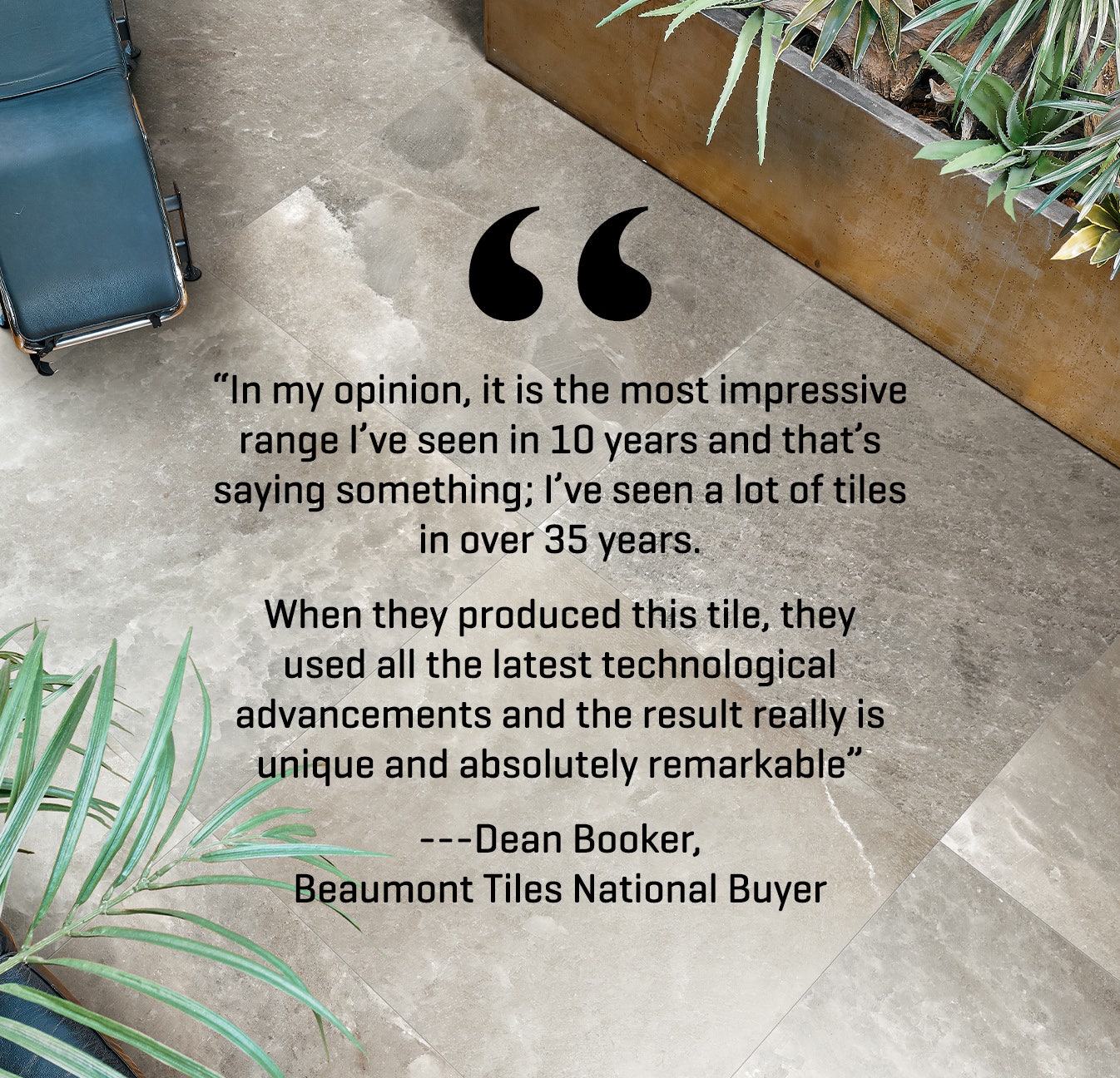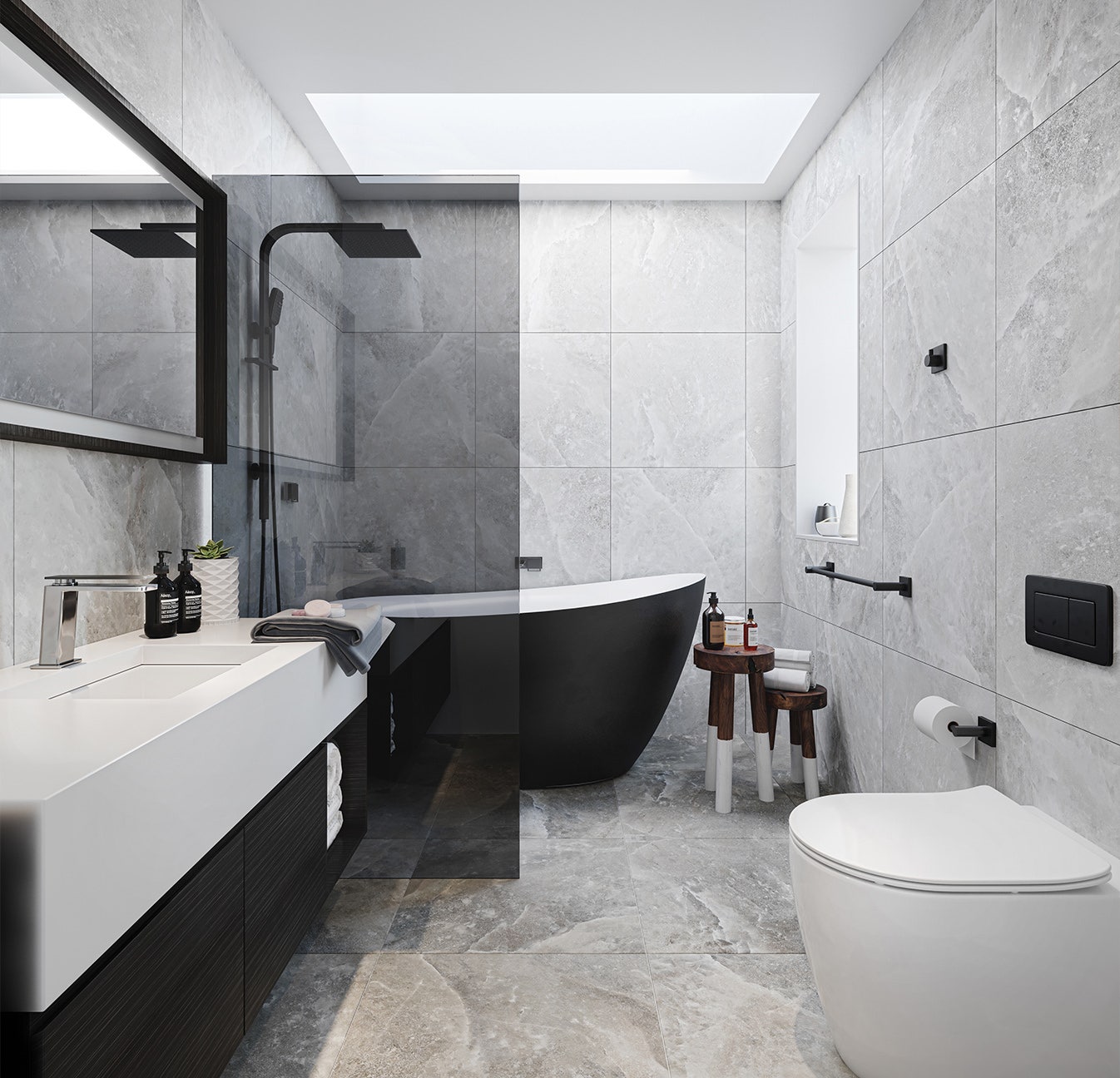 Rock Salt Bathroom Package: Modern Luxury Featuring our Tile of the Year
Our Complete Bathroom Packages are designed to make it simple for you to get a WOW-worthy bathroom every time! Expertly curated by style specialists, you can choose the Rock Salt package for complete confidence in your selections.
Featuring our exclusive Tile of The Year, our modern Rock Salt package is the perfect choice for trendsetters. The striking contrast between the deep-veined tiles and black tapware brings a modern, urban-industrial vibe.
Mesmerising in its beauty, the Rock Salt tile is the cornerstone of this complete bathroom package and celebrates the raw beauty of rock bed salt from ancient sea deposits. The unique package features two shade variations of Rock Salt tile Danish Smoke and White Gold. The lighter coloured wall in White Gold visually expands the space, while the darker Danish Smoke coloured floor will anchor the room.
PLUS... with more colours to choose from in the Rock Salt range, the package can even be tailored individually to you!
The package boasts delicate elegance and features high-quality Zimi matte black tapware and oversized black freestanding tub and shaded black glass. The Rock Salt complete bathroom package is also customisable with many luxury items available to include such as underfloor heating and a Wi-Fi compatible thermostat.
Products Included in the Rock Salt Package:
Tiles
Rock Salt White Gold 600x600mm

Rock Salt Danish Smoke 600x600mm
Accessories
Tweed 1200 Vanity 1TH WH RO Bk/LW F/Pull Rect

Suttor Fixed Shower Panel

Rubicon 1500 Free Standing Bath Black

Halifax Mirror

Cai Pedestal Pan TECE Inwall Cistern + Button Matte Black

Sando Twin Shower Square Matte Black

Radii Square Towel Rail 600mm

Radii Square Toilet Roll Holder

Zimi Basin Mixer (no handle) Chrome

Zimi Shower/Wall Mixer (no handle) Chrome

Zimi Wall Bas/Bath Mix Set 200 (no handle) Chrome

Zimi Wall Mixer Handle Only Matte Black

Zimi Basin/Vessel Mixer Handle Only Matte Black

Radii Square Robe Hook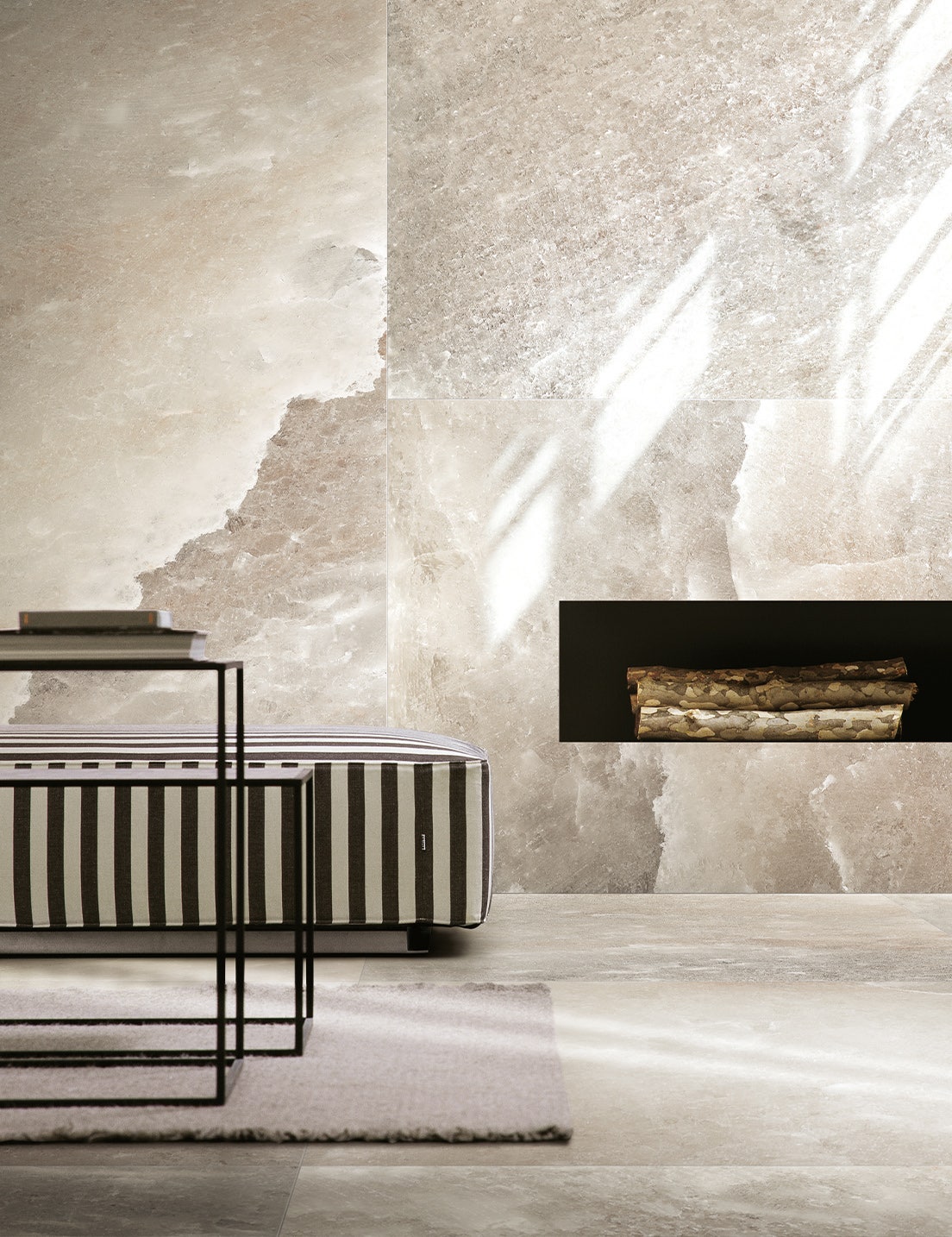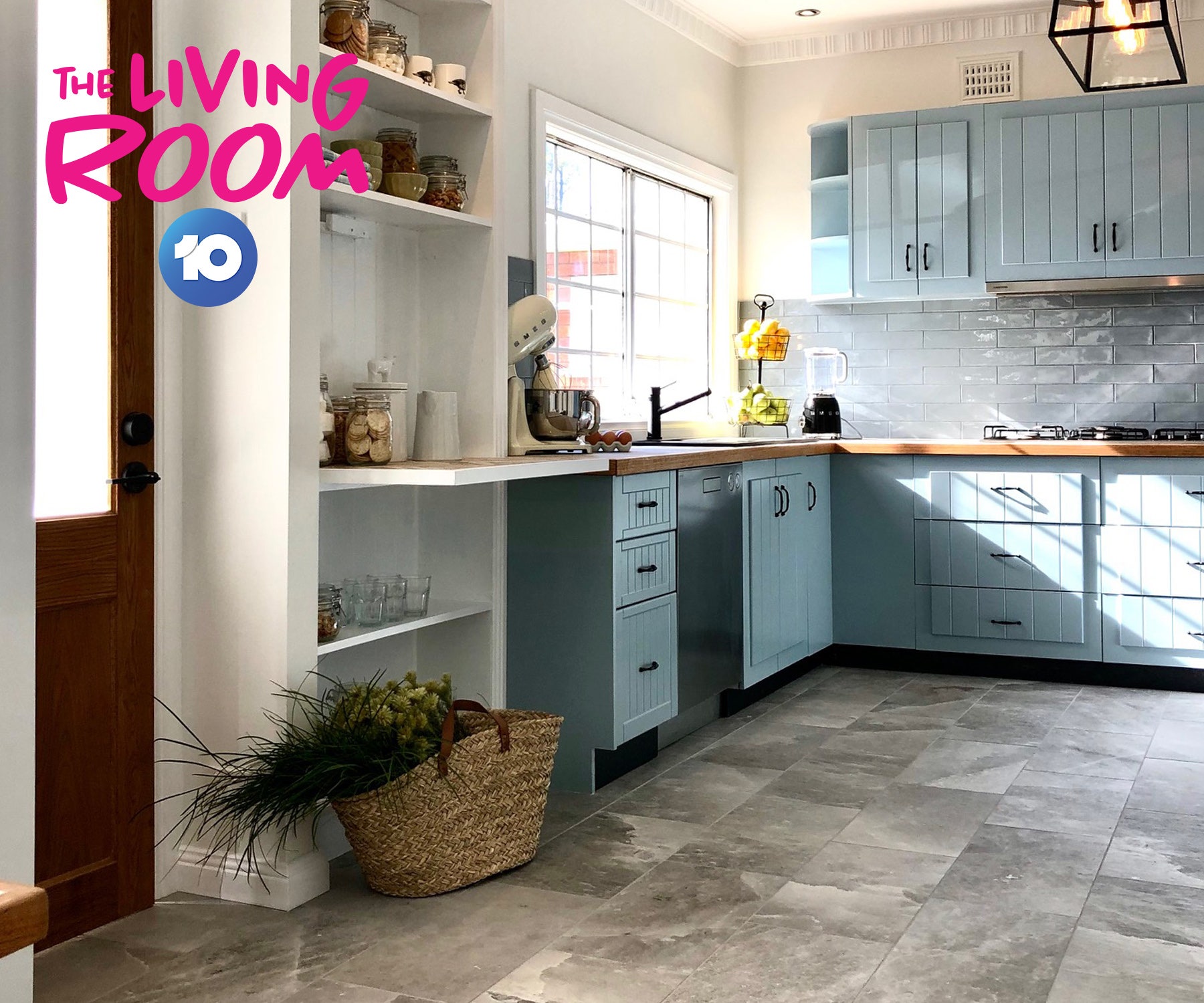 Barry Du Bois & The Living Room Chose Rock Salt!
What happens when life really knocks you off your feet, and how do you pick yourself back up? The fab four of The Living Room helped Amy and her six-year-old son start a new chapter in their life after suddenly losing their partner and dad.
Barry Du Bois chose Beaumonts Rock Salt Celtic Grey to transform Amy's kitchen and dining areas and bring life back into the very heart of the home, the kitchen.
Barry chose our Rock Salt tile for the calming and soothing vibe to help this house feel like a home once again. Paired beautifully with blue cabinetry and timber accents for a Farmhouse style kitchen, Barry has perfectly demonstrated how our Rock Salt range can be worked as the foundation for any style.
Barry was also drawn to the calming colour of our Agrestic Blue Gloss tiles for the kitchen's splashback and decided to add some functional beauty in the name of tiled worktops and tables with our Oakwoods Light Herringbone Mosaic.
Our Hot Tip: Watch Baz and The Living Room team create an inviting space for Amy and Will right here.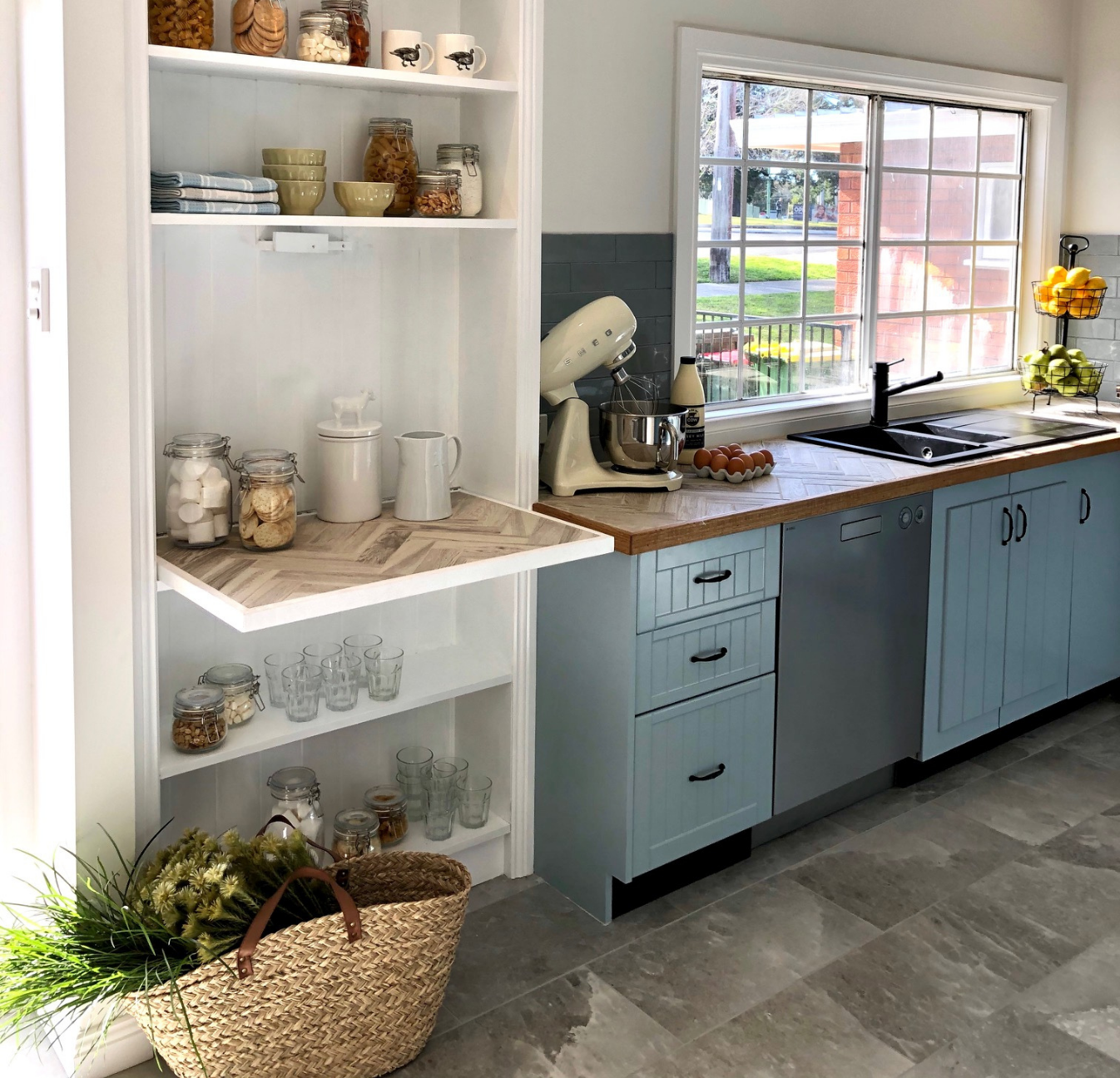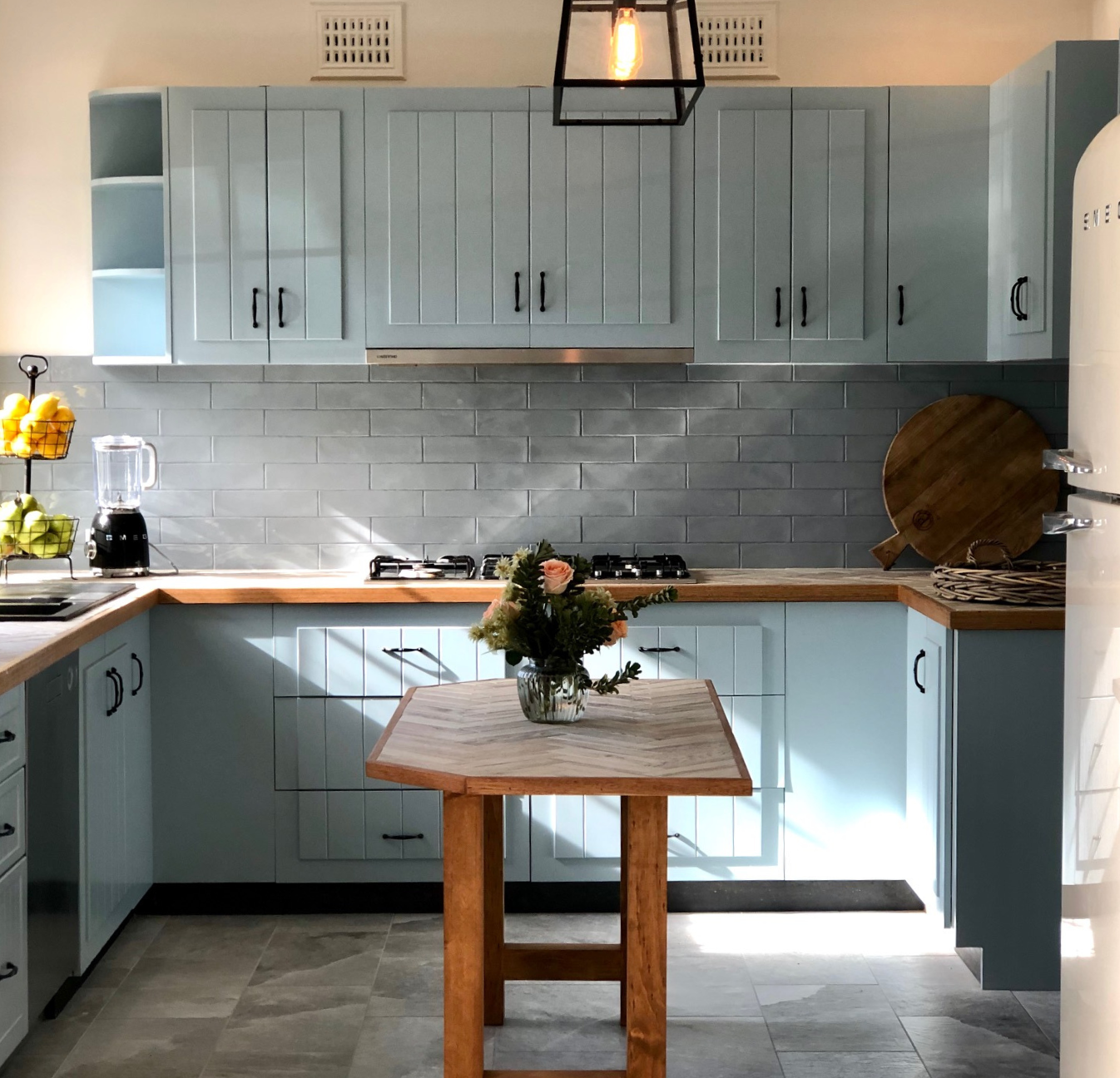 Explore the complete Rock Salt range in our brochure