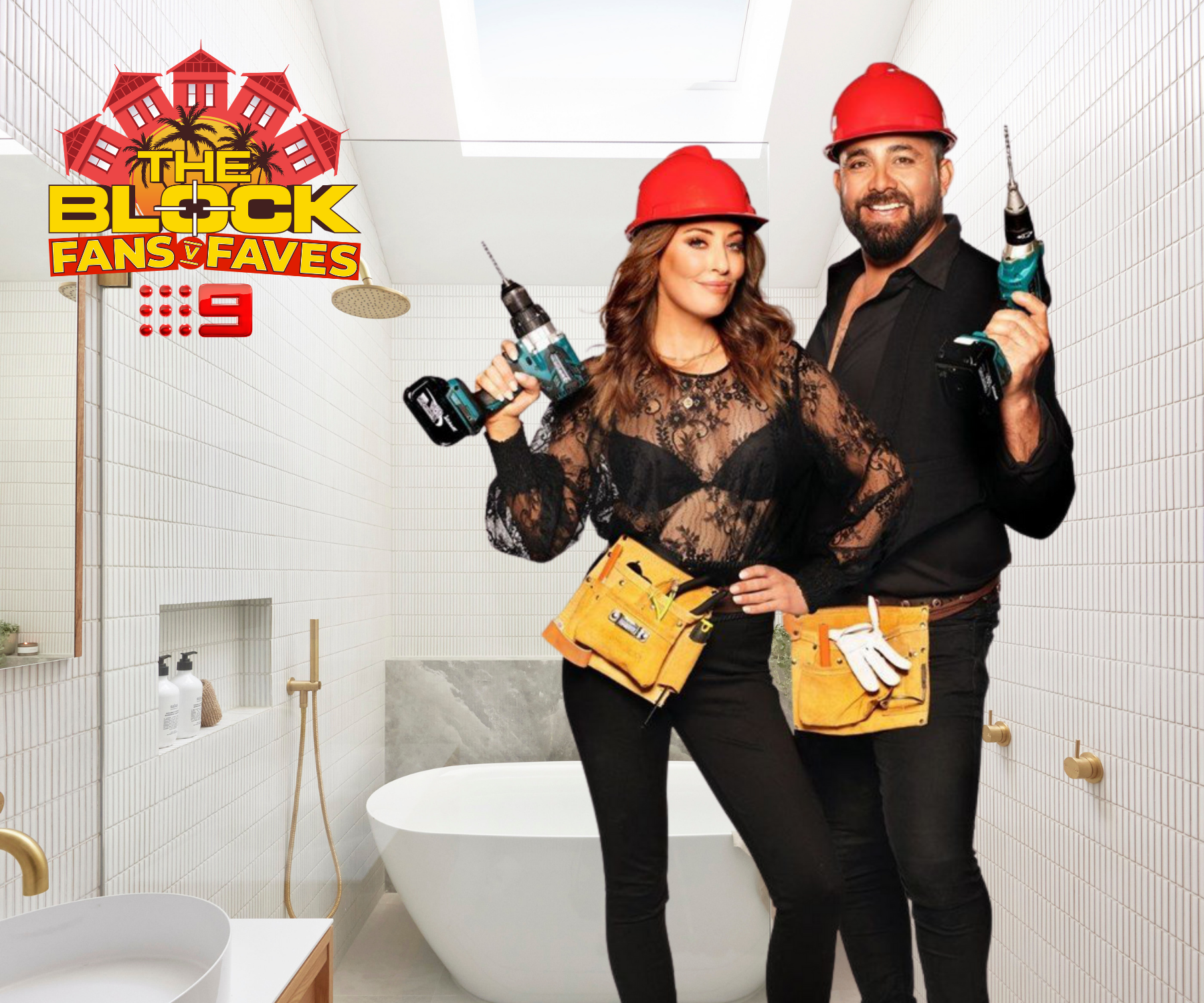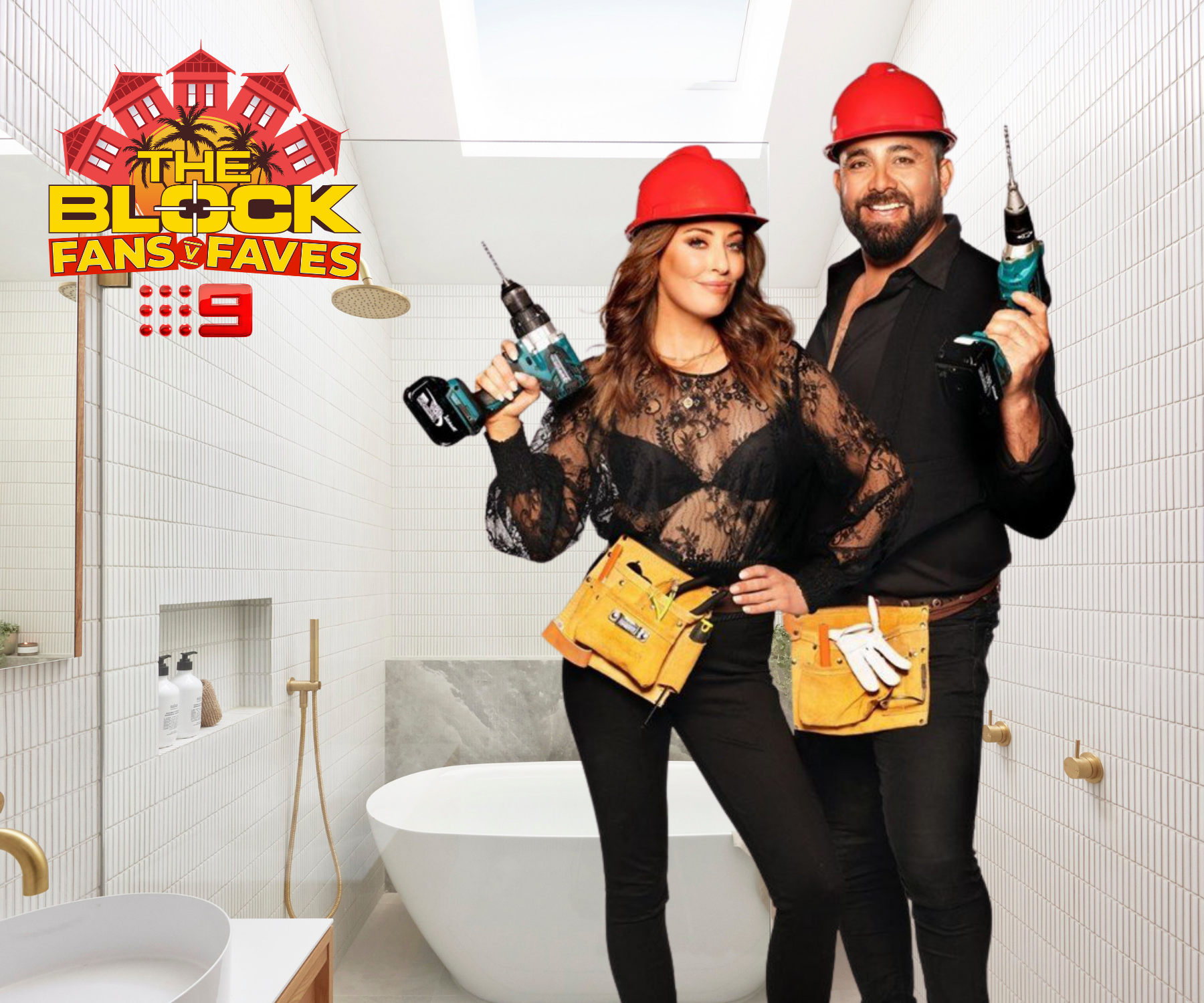 The Block 2021
WA Couple
Ronnie & Georgia
Ronnie, professional renovator, 45 / Georgia, professional renovator, 37 are back for another time as Faves! With their first appearance on The Block in 2017 in the Melbourne suburb of Elsternwick, Ronnie and Georgia became fan favourites. The couple is competitive and outspoken and there's never a dull moment for these two. The goal this year is the ultimate prize with the couple aiming to win The Block this year.
Ronnie and Georgia renovate and flip houses for a living, so the pressure is on! They know that this means their build on The Block has to be faultless. Georgia said, "I want to do a really good job, and returning as all-stars brings even more expectation and pressure". They hope their previous experience on the show will work in their favour. "We will be a little bit smarter and a little bit wiser this season," Georgia said.
Click on a week below to jump to a room reveal!
---
Week 10: Back Garden
Floor Tile: Riverstone Mist Gloss Textured
Pool Tile: Mosaic White Gloss

The judges loved how Ronnie and Georgia created their outdoor space as an extension of their indoors; "What I love about judging these spaces is the idea of the outdoor room has become so much more important and so much more sophisticated. I mean, this is just like the perfect extension of inside" Neale said.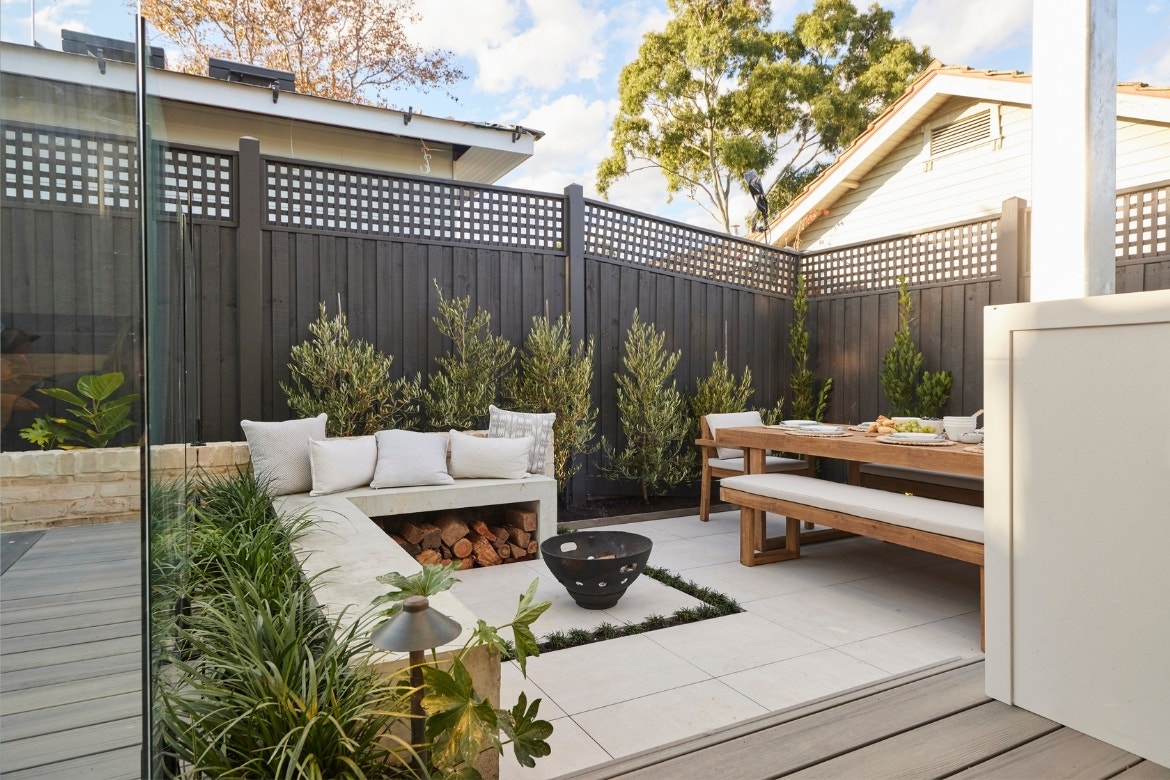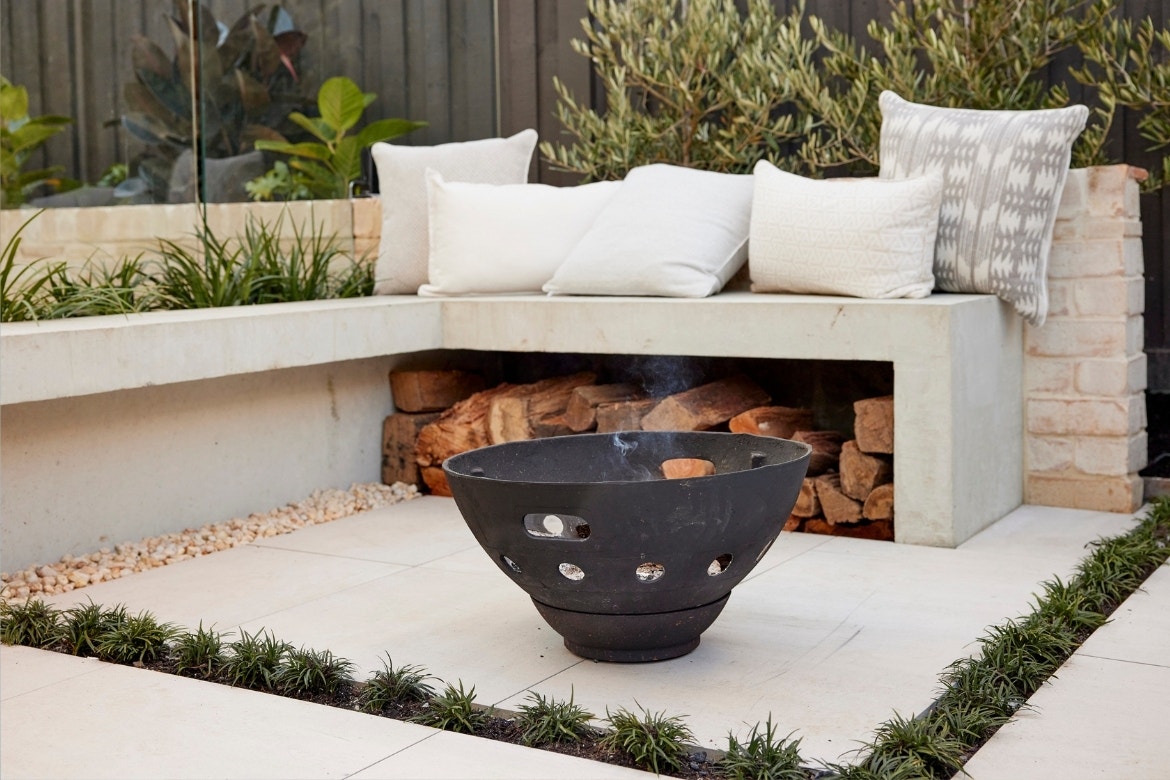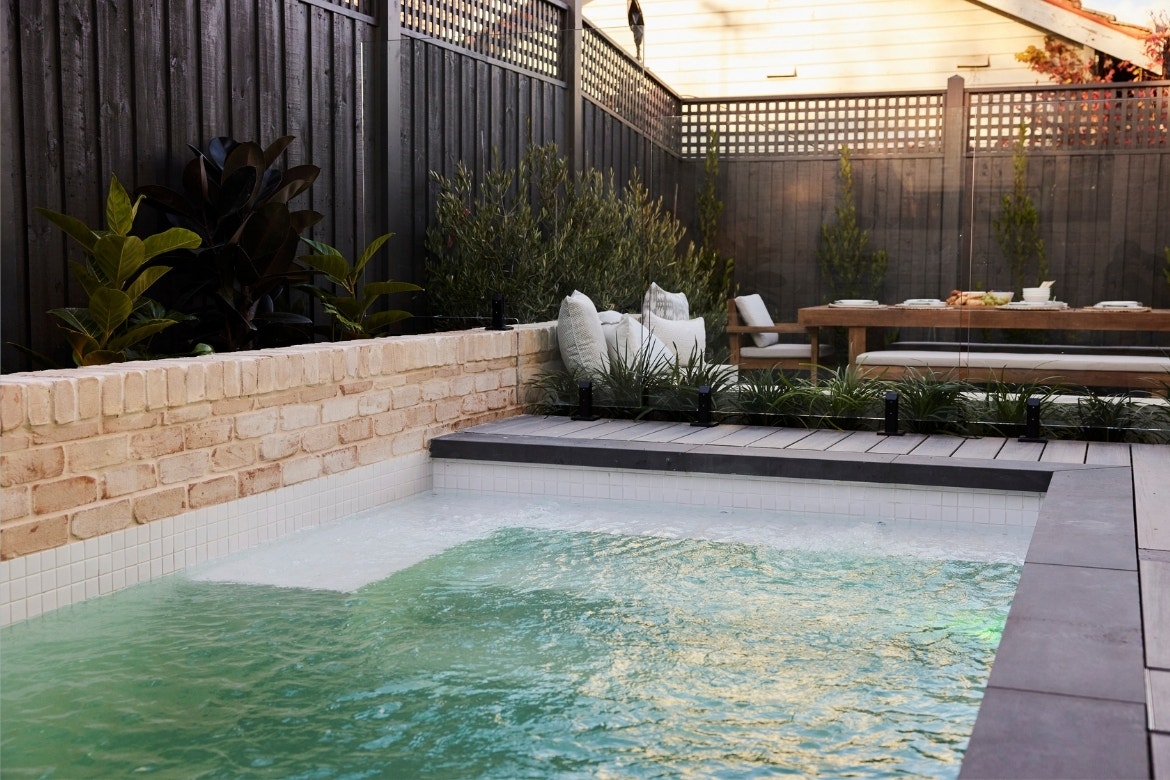 ---
Week 9: Laundry
Floor Tile: Rock Salt White Gold
"What a beautiful finished space, it's just sleek. Simple and sleek." - Shaynna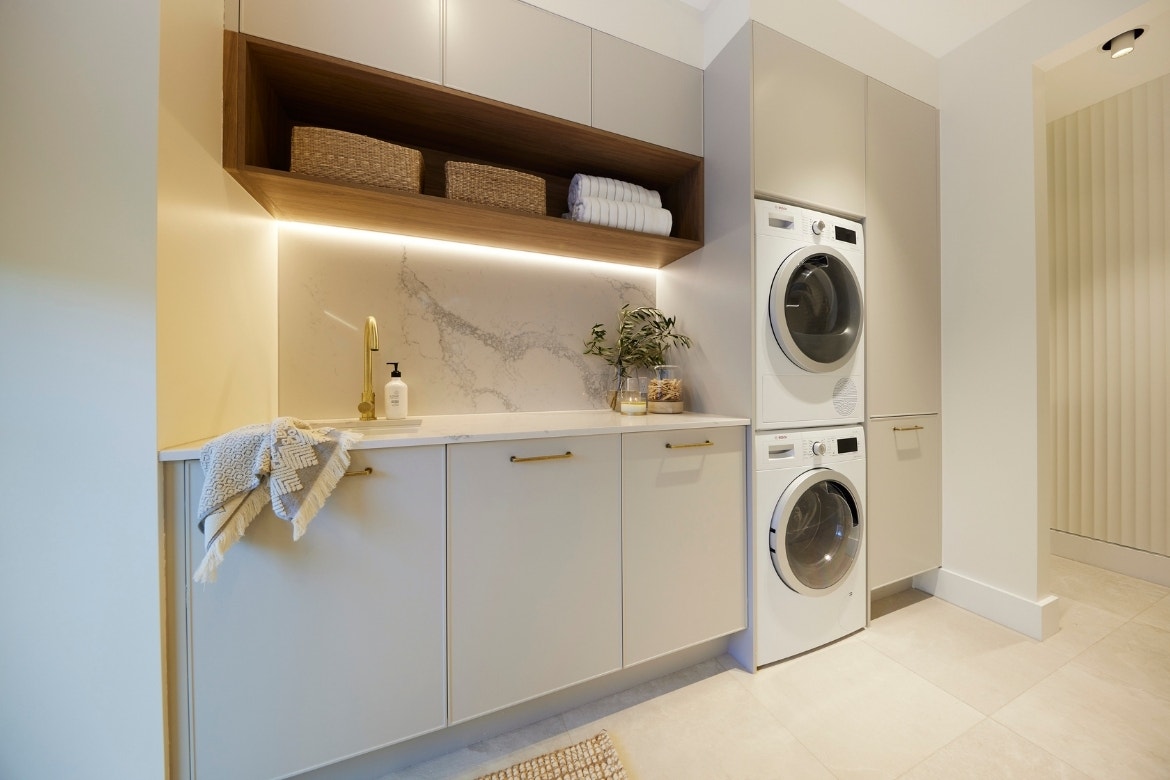 ---
Week 5: Master Ensuite
Ronnie & Georgia took out the win with a score of 29!
Floor & Wall Tile: Rock Salt White Gold
Feature Wall Tile: Finger Fingers Mist Gloss
"They just do 'neutral calm' so beautifully, like the colour palette. We've got the bold green that's on the feature wall [in the bedroom] but they've just carried a little bit of it in here, and just a very soft green on that tile," Shaynna noticed.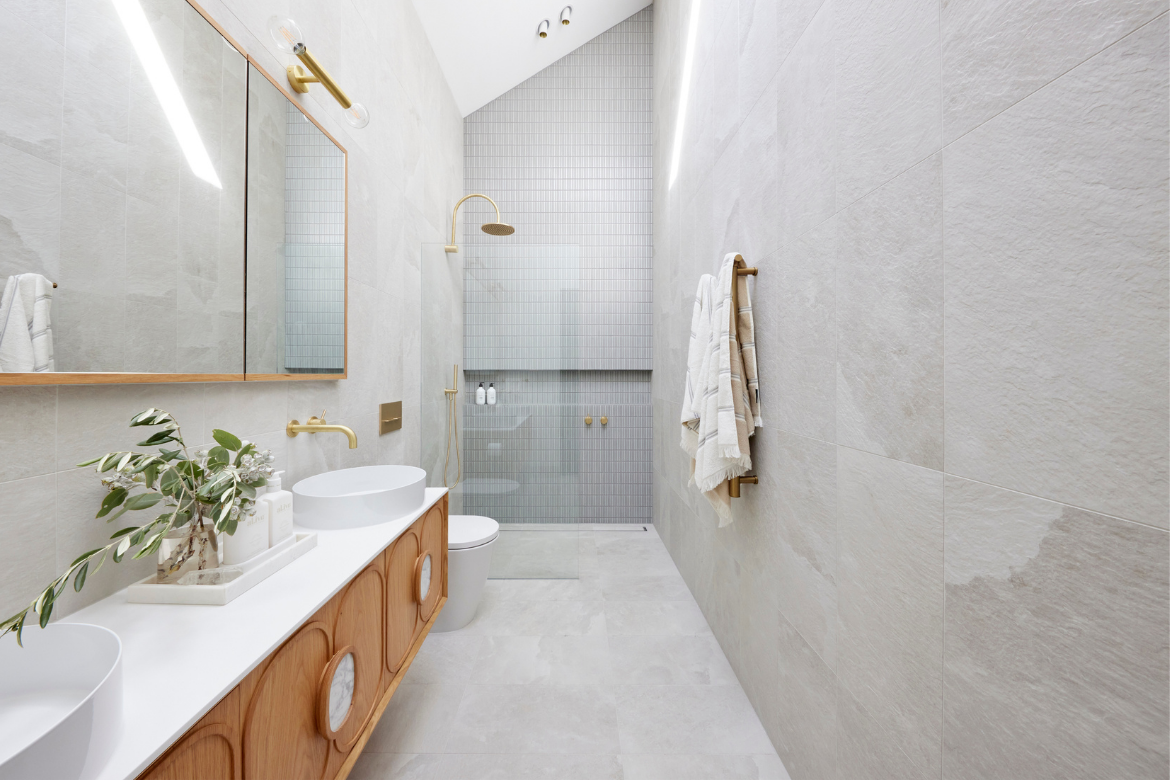 Get the look with our exclusive Complete Bathroom Package!
We've taken the guesswork out of designing a bathroom with our Complete Bathroom Packages! Inspired by Ronnie & Georgia's stunning bathroom from this week, our package includes everything from the tiles, bathroomware, vanity and toilet!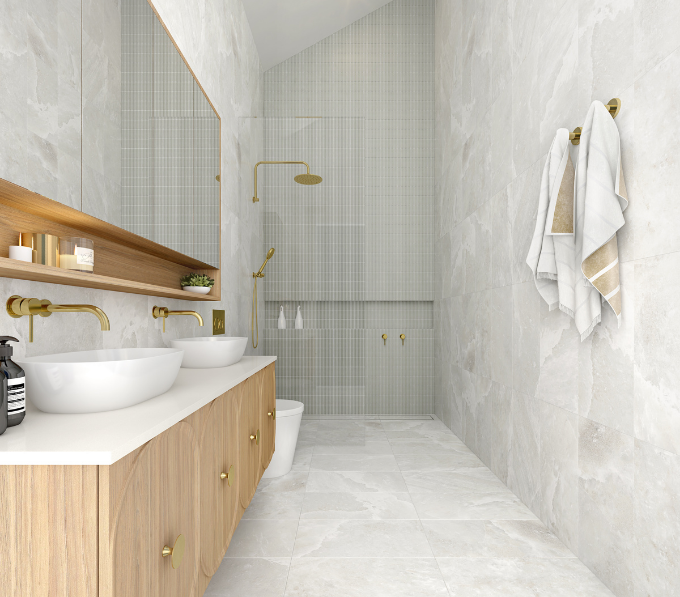 ---
Week 2: Bathroom
Georgia visits Beaumonts to select her tiles and falls in love with our Rock Salt Celtic Grey Slab. "I love this, I love tiles. I love when they've got what I want. I picture it in my head and get here and it's here…it's so good!". Georgia runs through her WOW factors in the room that will set the room apart from the rest of the houses, including; "heigh ceilings with architectural detail on the ceilings, beautiful linear finger tiles which are laid vertically to exaggerate the ceiling height and we have this amazing big slab that's going to be the frame of our bath".
Georgia shared the WOW factors of their bathroom this week including their Rock Salt Slab and Mosaic FInger Tiles.
Reveal
Room Score: 26.5/30
Floor Tile: Sicily Stone White
Wall Tile: Fire Fingers White Gloss
Feature Slab Behind Bath: Rock Salt Celtic Grey
The judges loved Ronnie & Georgia's tile choices in their beautiful bathroom with Neale describing our exclusive Rock Salt Slab as a "very beautiful cloud-like formation". Darren agreed that "the soft colour of the finger tiles combined with the colour of the slab gives it warmth. It all works well together." We couldn't agree more!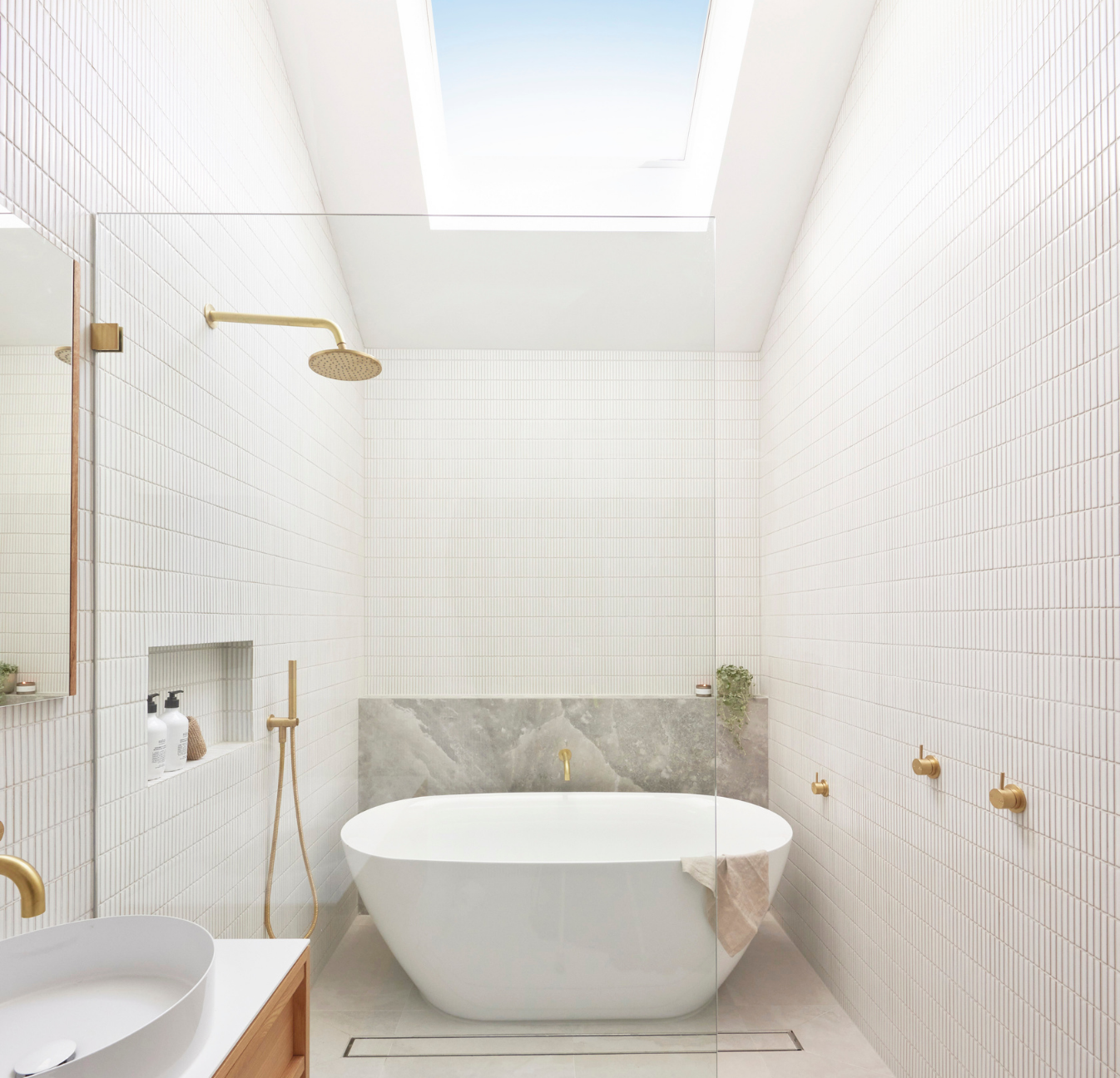 Watch Ronnie & Georgia's Room Tour!
Ronnie & Georgia shared BTS and more images of their bathroom on Instagram!