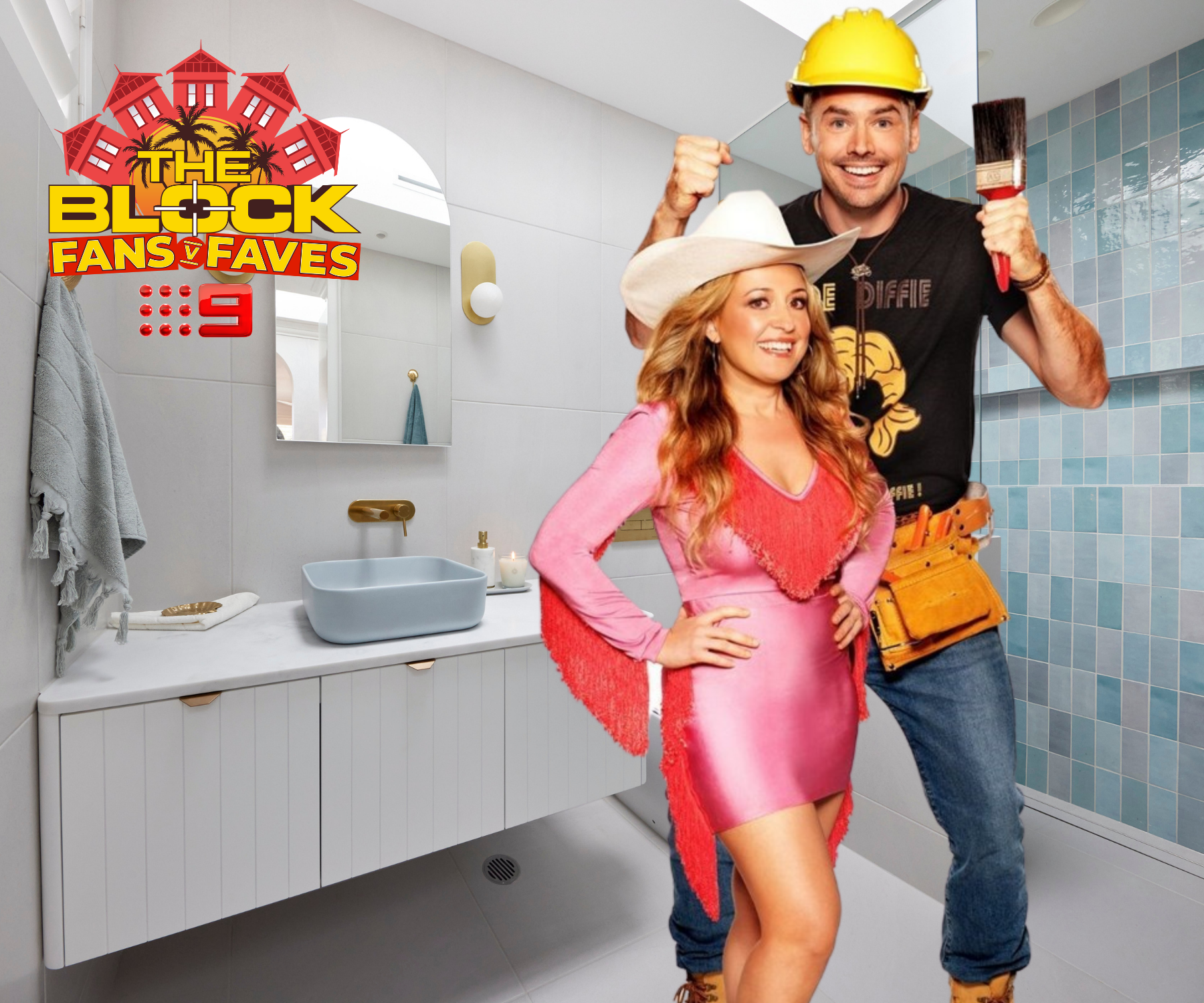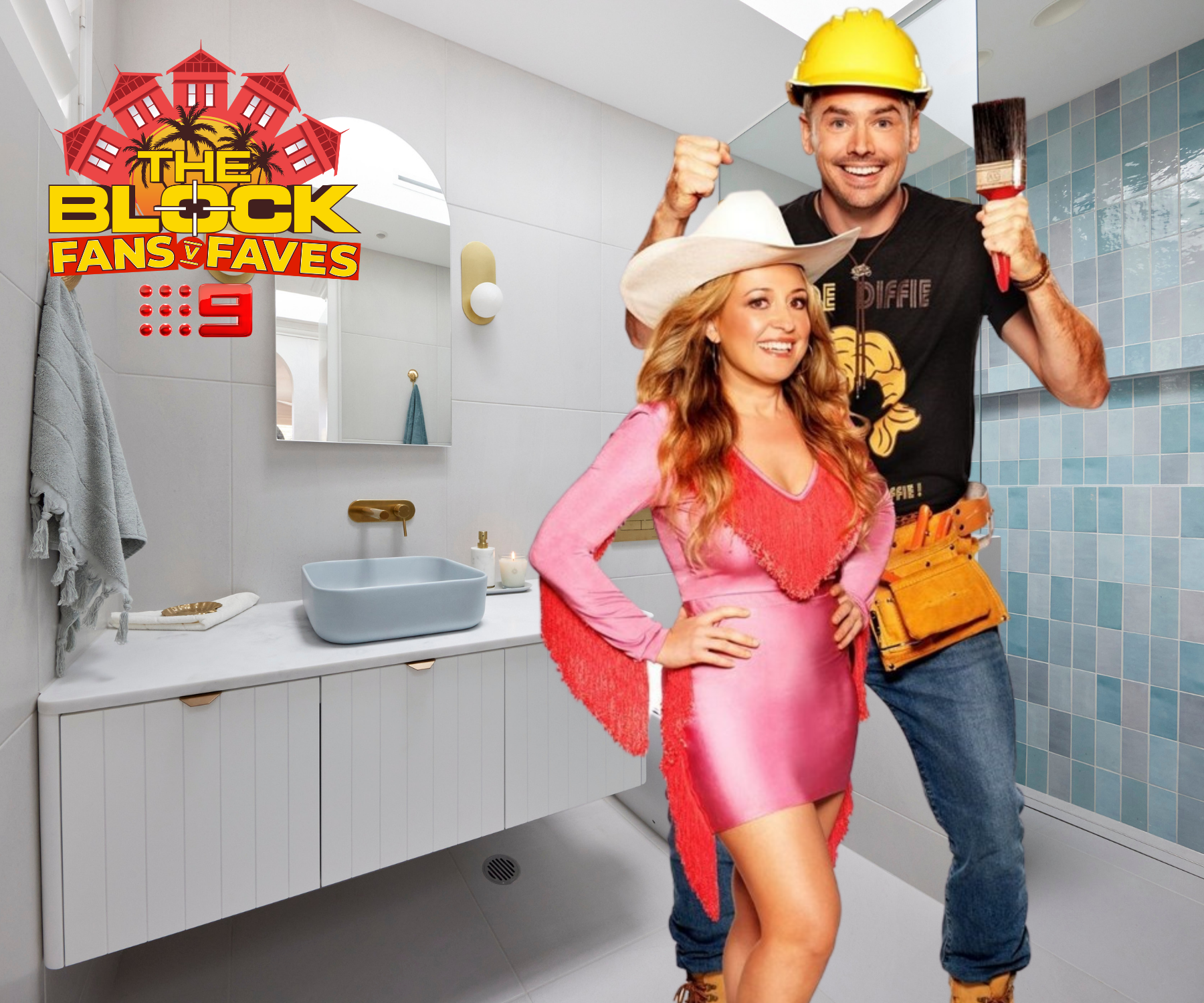 The Block 2021
NSW Couple
Kirsty & Jesse
Together since they were 16 and married now for seven years, Kirsty and Jesse are a rock-solid couple. Whatever they do they give 100 per cent and going on The Block will be no different. Coming from humble beginnings, they see this as a huge opportunity to get ahead in life coming on the show as one of the three 'Fans' couples.
Kirsty and Jesse bought their first house together when they were 18. "I think I blew my first pay, but after that, I saved half my pay until I was 18, so we could buy a house for $165,000," he said. They did up that house and sold it, making $60,000 and catching the renovation bug. Since then they have bought and flipped six houses. "Hamptons beach vibe" is their preferred style.
Click on a week below to jump to a room reveal!
---
Week 10: Back Garden
Pool Tile: Light Blue Gloss Mosaic
Outdoor Tile:Basalt Blue Moon Sawn

The judges were all speechless as they took in everything Kirsty and Jesse had created.
"Ugh, I love this space," Darren said. "It's the ultimate reveal. This is lifestyle on a platter."
"My mind is well and truly blown," Neale agreed.
"I think Kirsty and Jesse are on course to have delivered one of the most beautiful homes we've ever seen on The Block," Neale praised.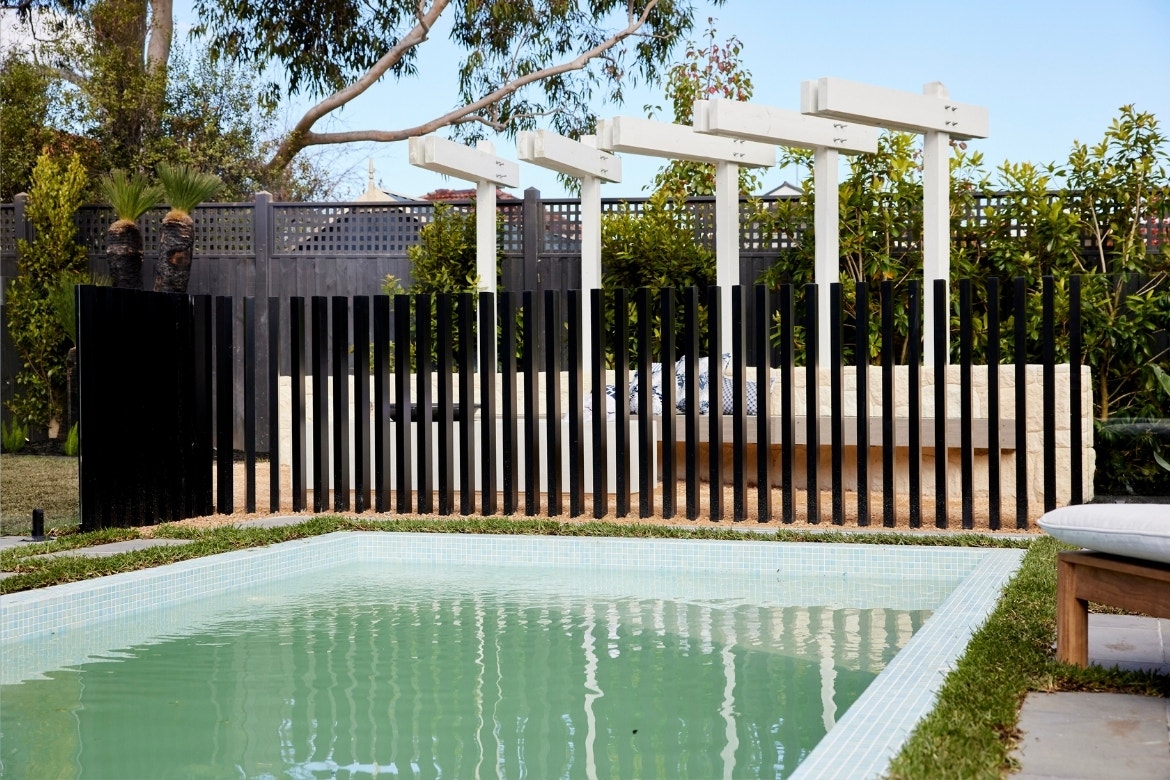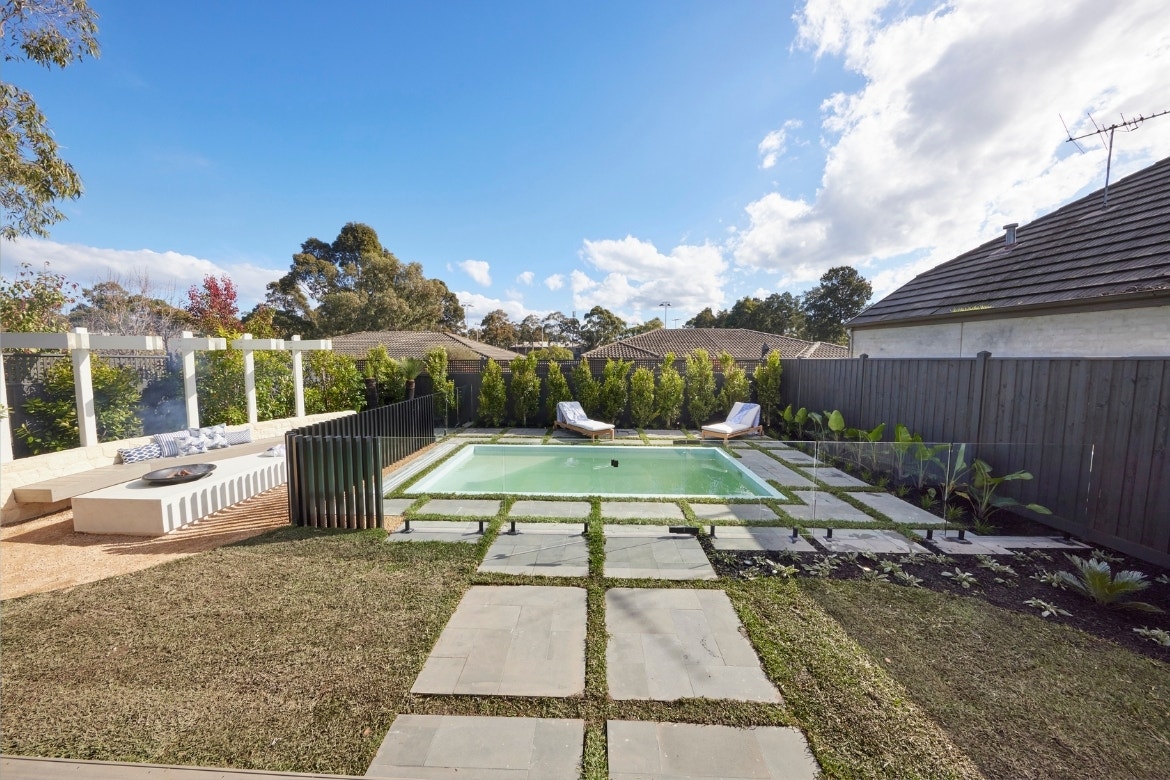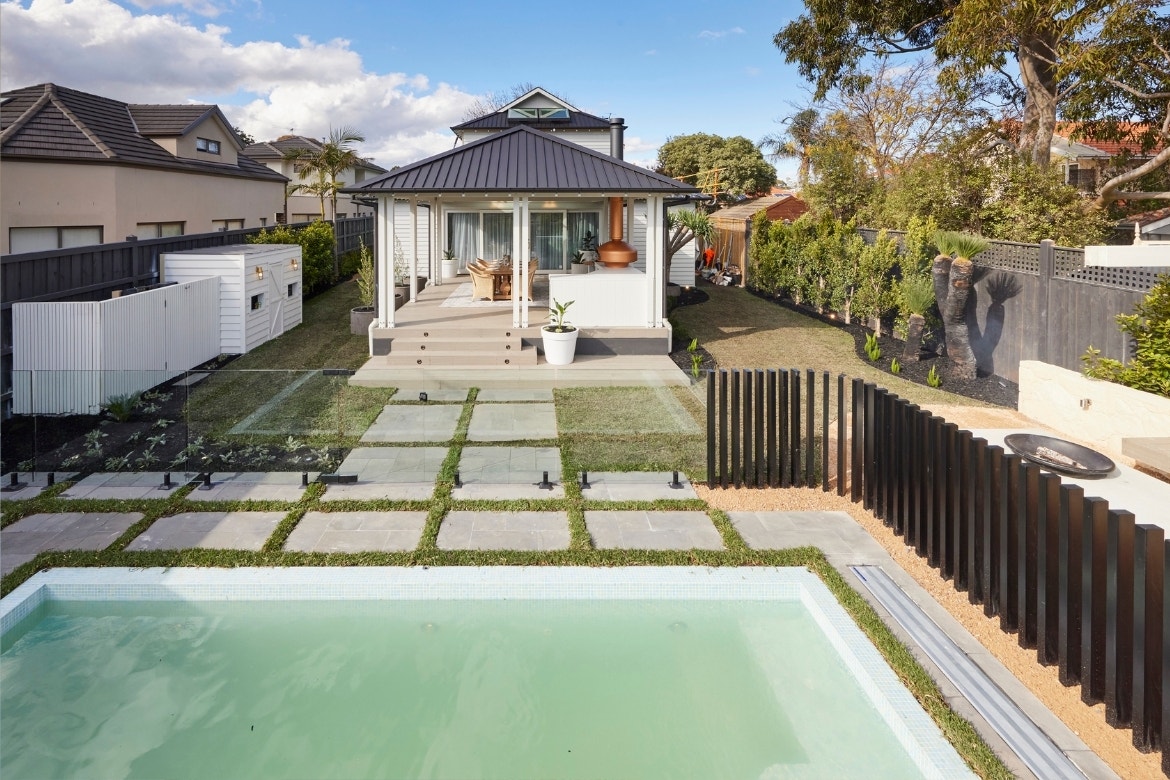 ---
Week 9: Laundry & Powder Room
Floor Tile: Rock Salt Danish Smoke
Wall Tile: Rock Salt Danish Smoke

The Block, the judges were completely shocked upon entering Kirsty & Jesse's 'powder room' to see a complete bathroom! Kirsty & Jesse chose our Rock Salt Danish Smoke as their feature floor and wall tile which had Darren saying '"The tiles are like clouds!"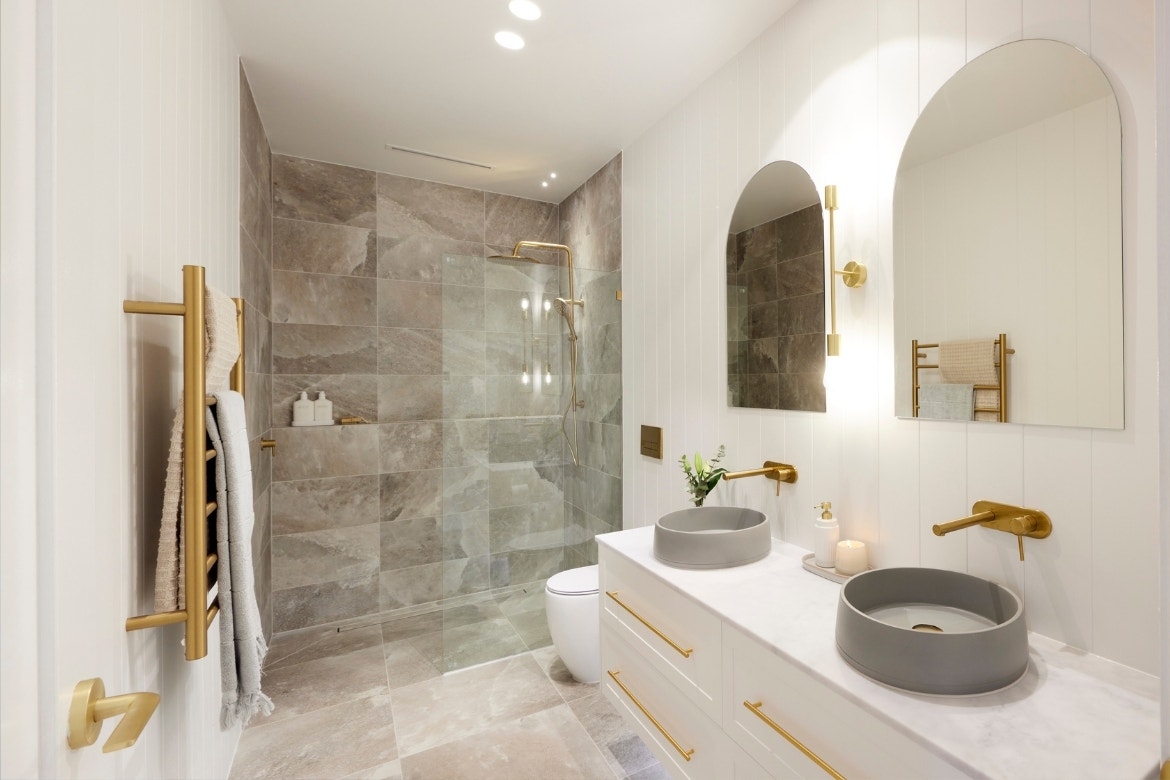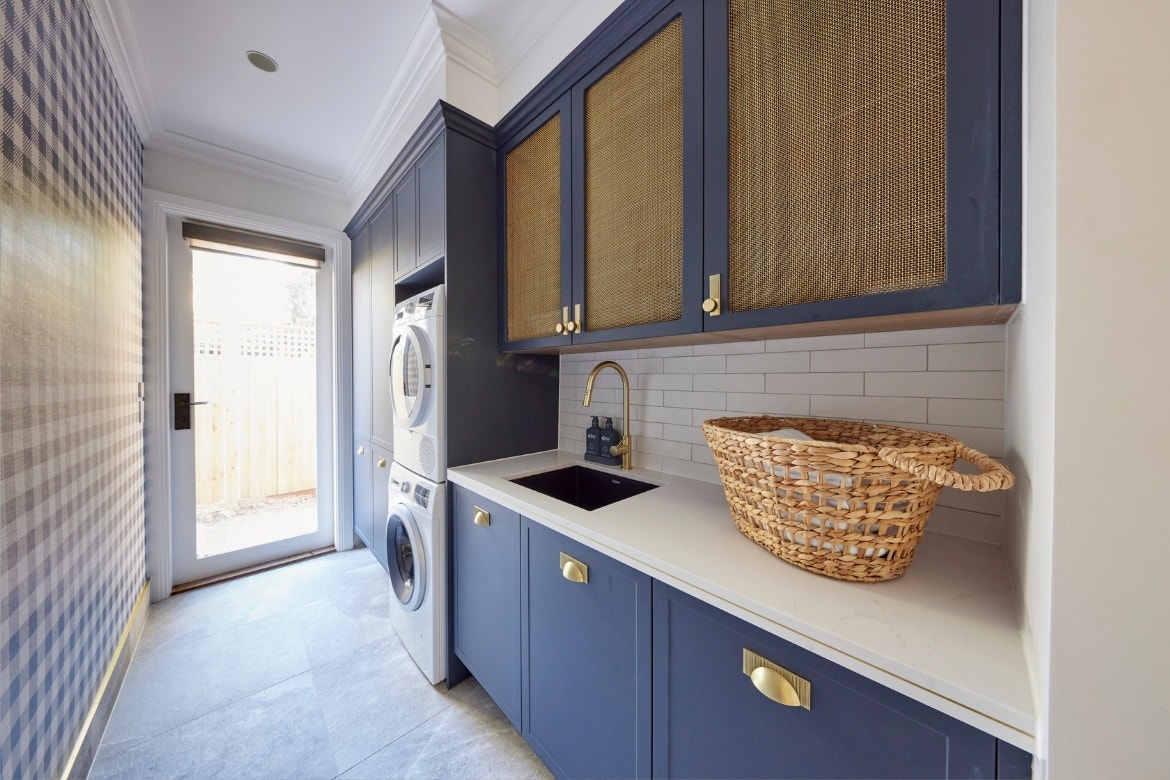 ---
Week 7: Kitchen
Main Splashback Tile: Clay Chalk Structured Matt 62x250mm
Bar Tile: Clay Chalk Structured Satin 125x125mm

Kirsty & Jesse were the only couple who chose tiles in their kitchen and...they won with a huge score of 29.5/30!!
Kirsty & Jesse chose our Clay Chalk Structured 62x250 as their splashback and our Clay Chalk Structured 125x125 in their arched bar - both laid in a brick bond pattern with Misty Grey grout.
All three judges were blown away when they entered the winning kitchen... "Every detail in here, it's just so beautifully resolved," - Darren "I am home!" - Neale "Oh my goodness! They are classy Hamptons," - Shaynna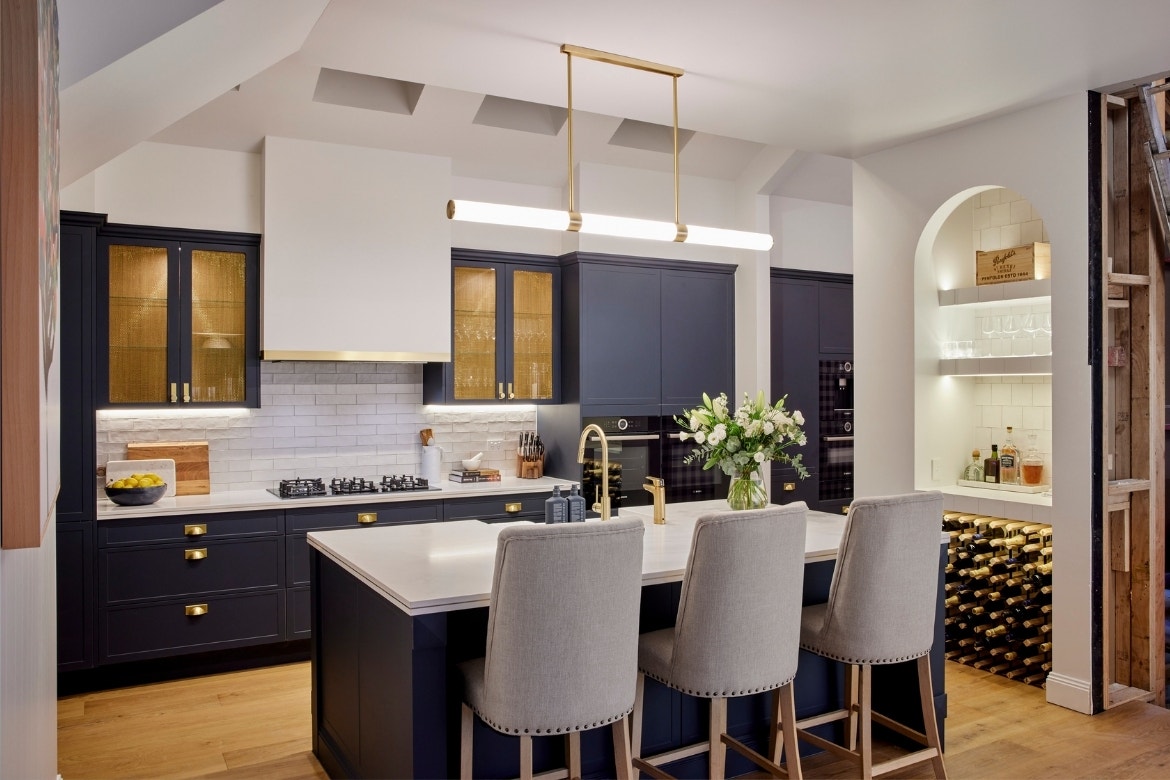 ---
Week 5: Master Ensuite
Kirsty & Jesse shared their vision for the bathroom on Instagram hoping that their feature wall tiles give them the winning advantage.
Reveal
The judges praised Jesse & Kirsty's grown up and luxurious style this week in their master ensuite.
Room Score: 26/30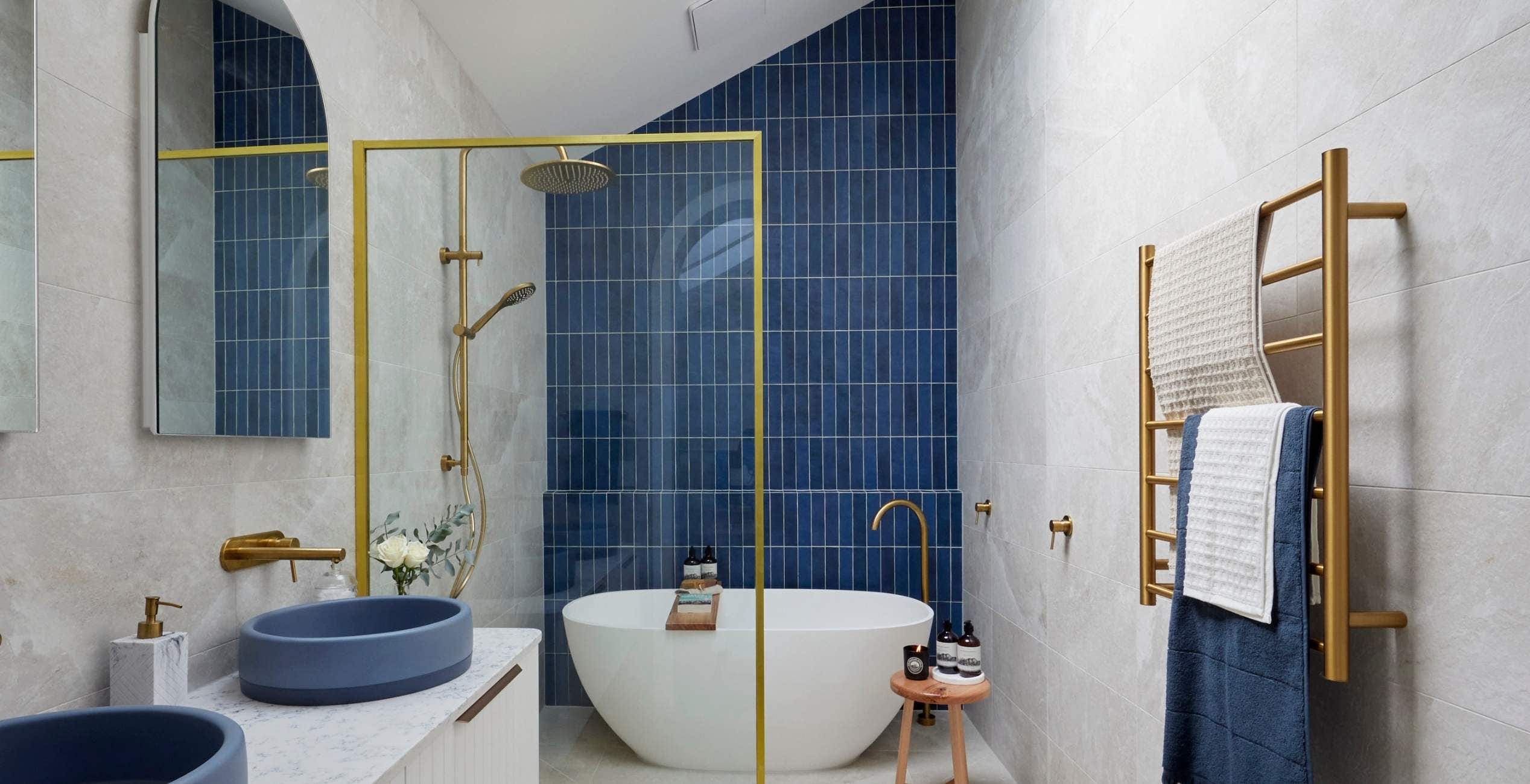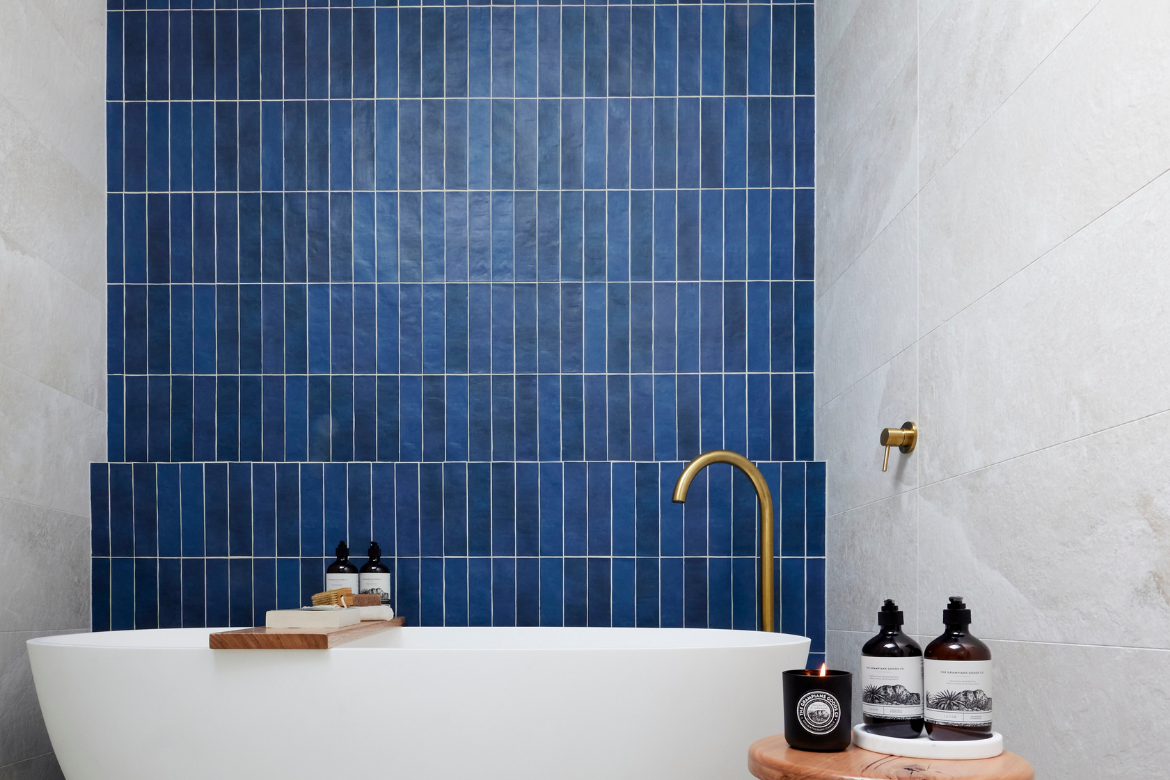 Watch Kirsty & Jesse's Room Tour!
---
Week 2: Bathroom
Kirsty & Jesse shared their vision for the bathroom on Instagram
Reveal
Room Score: 24/30
Floor & Wall Tile: Santorini White
Feature Wall Tile: Safi Aqua Structured Gloss
Shaynna commented on Kirsty & Jesse's feature wall tile choice saying she loved the tiles and the shades of blues.
Kirsty & Jesse have carried on their blue coastal theme into their ensuite this week with touches of blue and our calming Santorini White tile.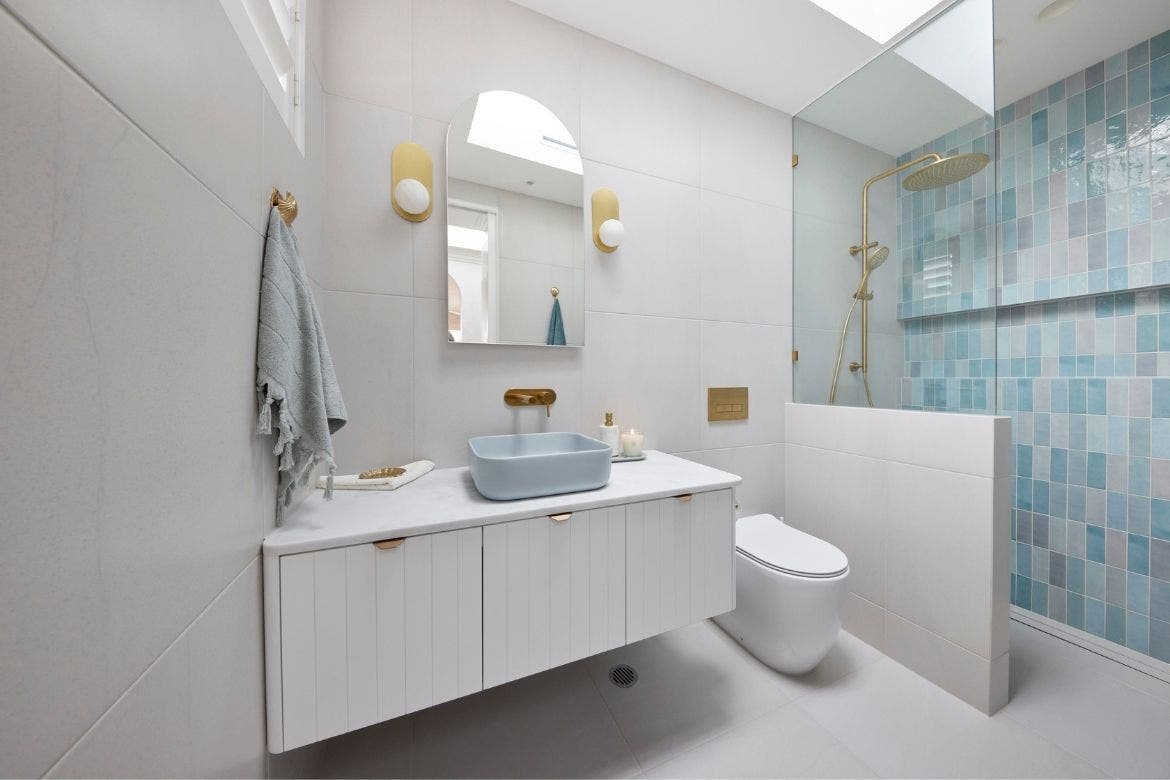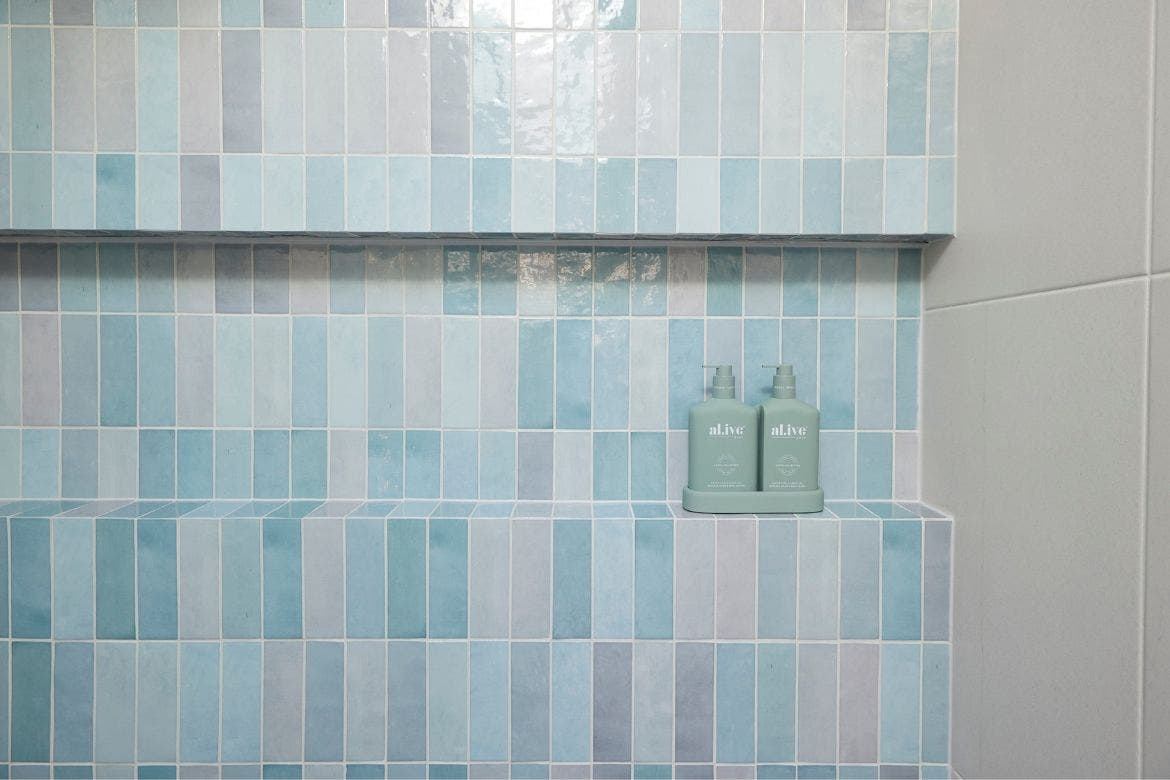 Watch Kirsty & Jesse's Room Tour!