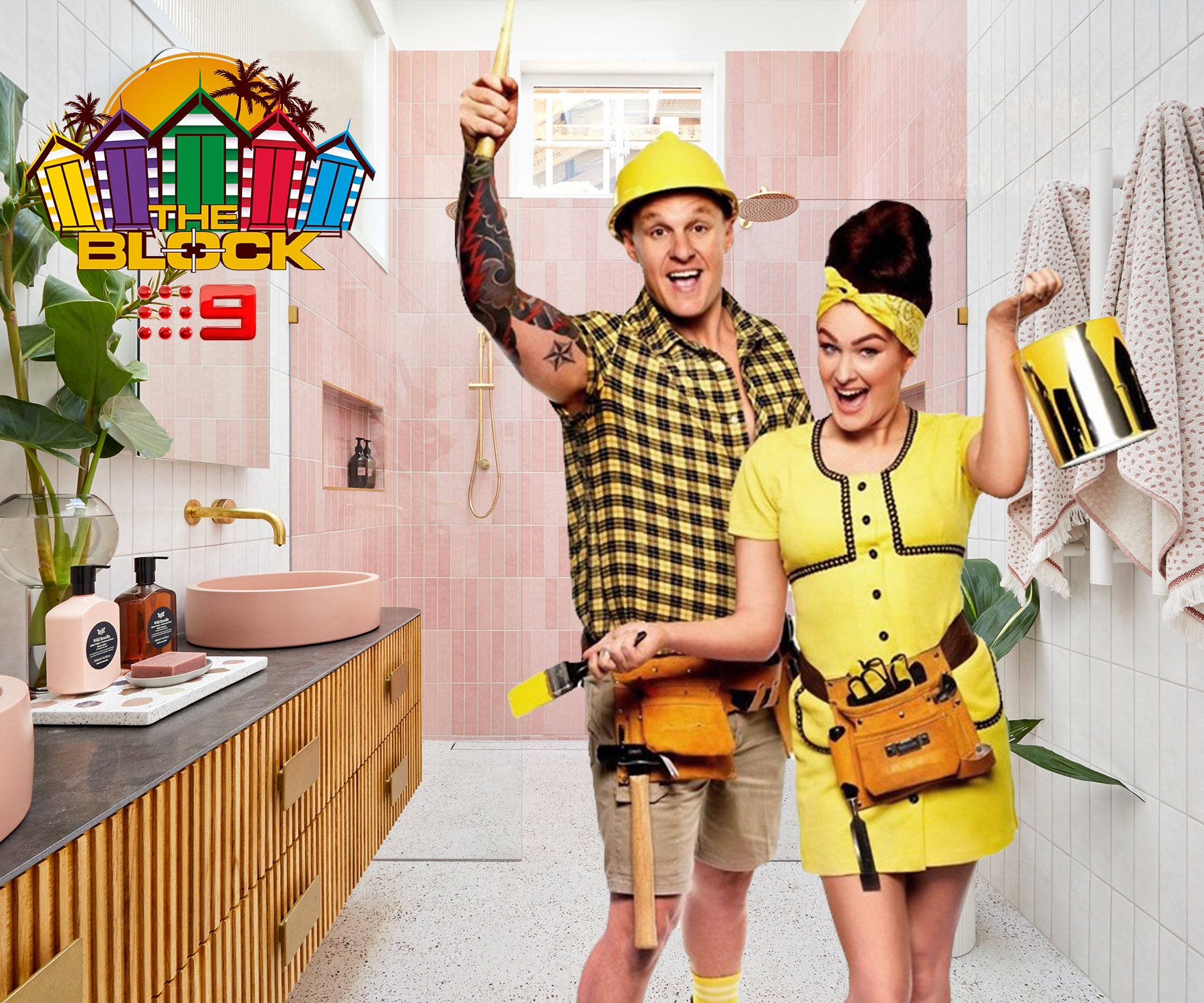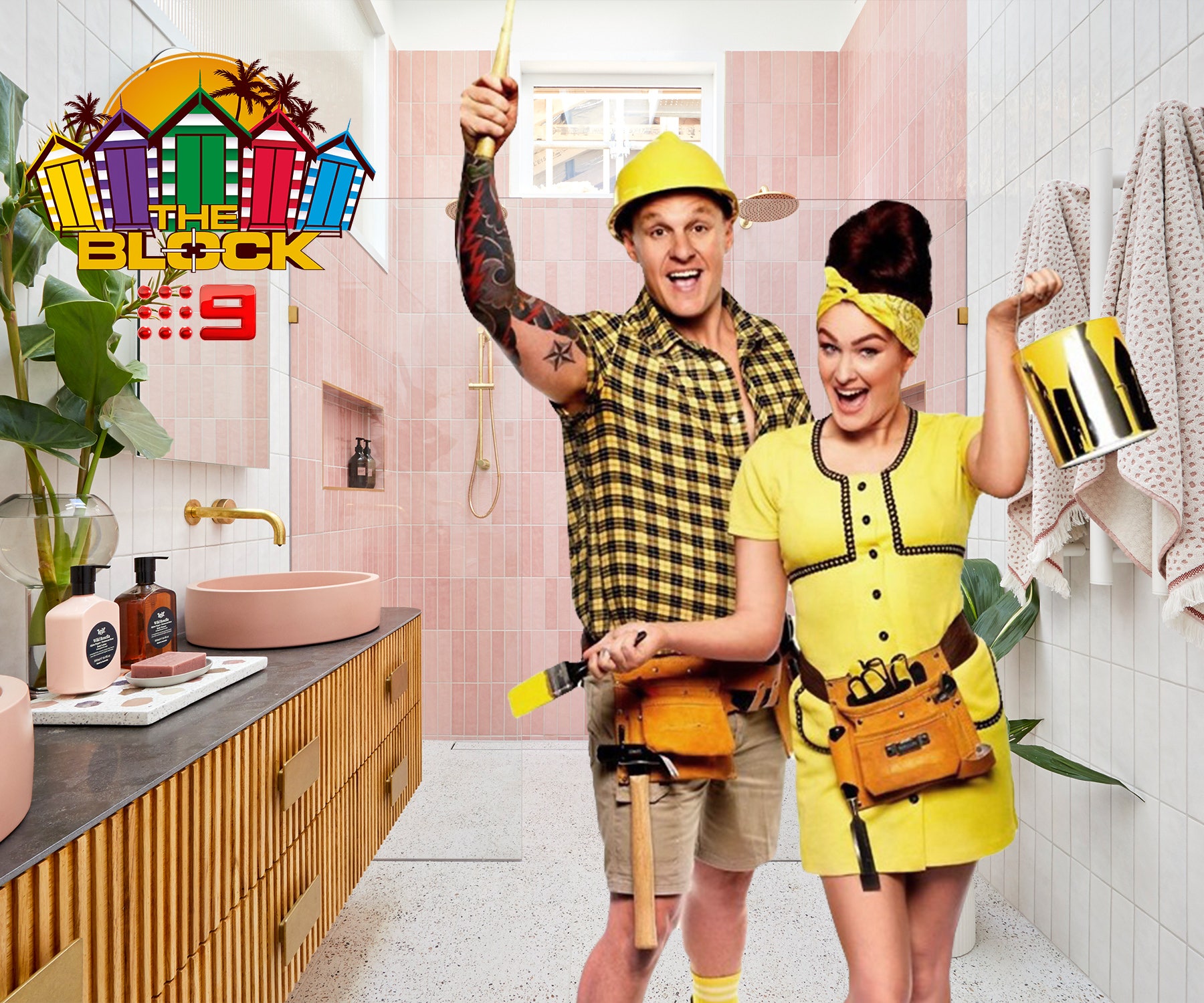 The Block 2020
QLD Couple
Jimmy & Tam
Married Queensland battlers Jimmy and Tam hope their experience will help create a better life for their young daughter.
"We are doing this for Frankie. We want to try and win to set our family up," Jimmy said, with the couple hoping to use the money (if they win) to enter the property market back in Queensland and buy their family home.
Jimmy, a former cross-fit coach and experienced plumber who's had experience with full-scale renovations, said he has a "fair idea about what I'm getting into".
Tam, meanwhile, is the bar manager at her local bowls club and hopes to bring her unique sense of style to The Block.
Click on a week below to jump to a room reveal!
---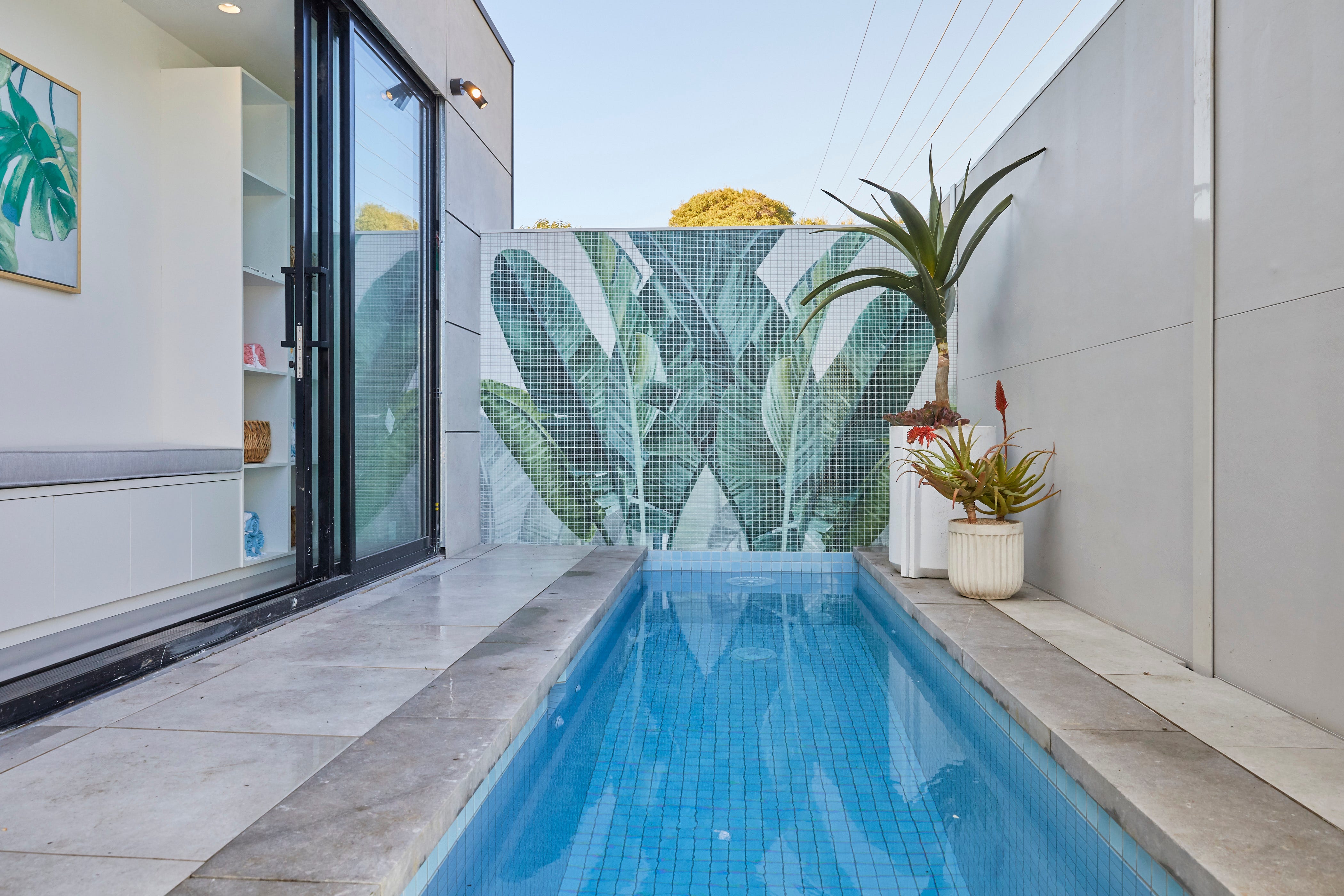 Week 12: Backyard
Pool Tile: Ice Blue Gloss Mosaic
Throughout the week, Jimmy and Tam have both been declaring how "beautiful" their backyard and pool area was going to be, and it appears as though they achieved exactly what they set out to do, even amongst the excitement of having their family visit from their hometown of Queensland. "Look at this! Oh, and down there, that looks sensational," Shaynna said excitedly as they walked towards the '50s-inspired pool to the side of their extension.

---
Week 11: Studio Bathroom
Floor Tile: Promenado White
Wall Tile: United Wavy White Gloss

The judges liked the fact the studio bathroom was in neutral colour tones which is a step in a different direction from the previous bathrooms the couple designed but was necessary in the studio due to space constraints. As explained by Jimmy, the couple also chose to keep the bathroom neutral as the studio was designed for a workspace more than a bedroom.
"It does feel like it's got a large volume of space in here," said Darren, who also thought it was a "calm" and "serene" room.
"It feels very luxurious, it feels very beautiful," Shaynna said.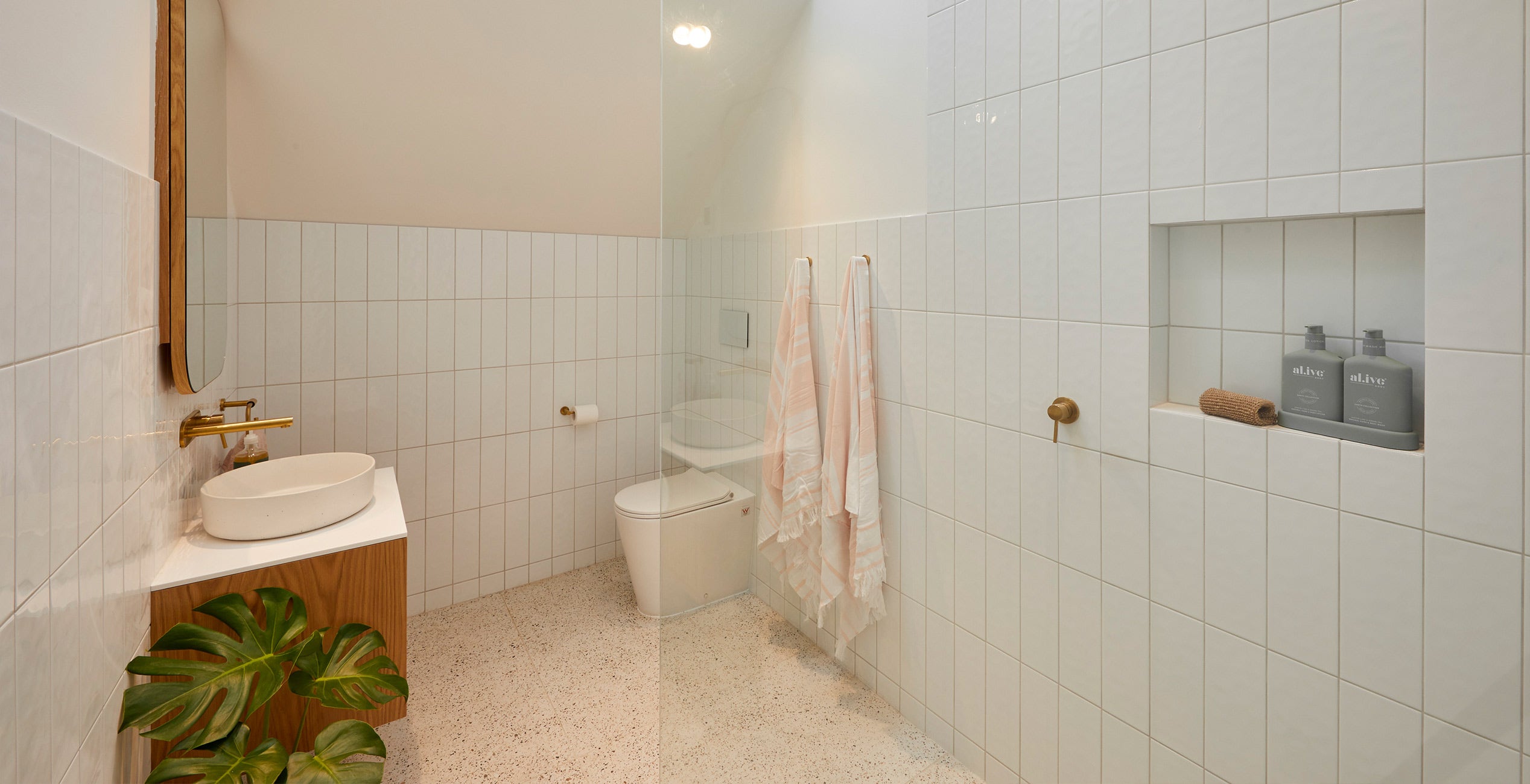 Studio Kitchenette
Splashback Tile: United Wavy White Gloss
The couple were commended for the smart layout of their kitchen with the integrated desk area.
"Not just a galley style kitchen, but an integrated desk and the fact that it all sits against this wall, this isn't imposing on you as you're trying to walk past it, but you have a functional space blending perfectly in with this kitchen," Darren said.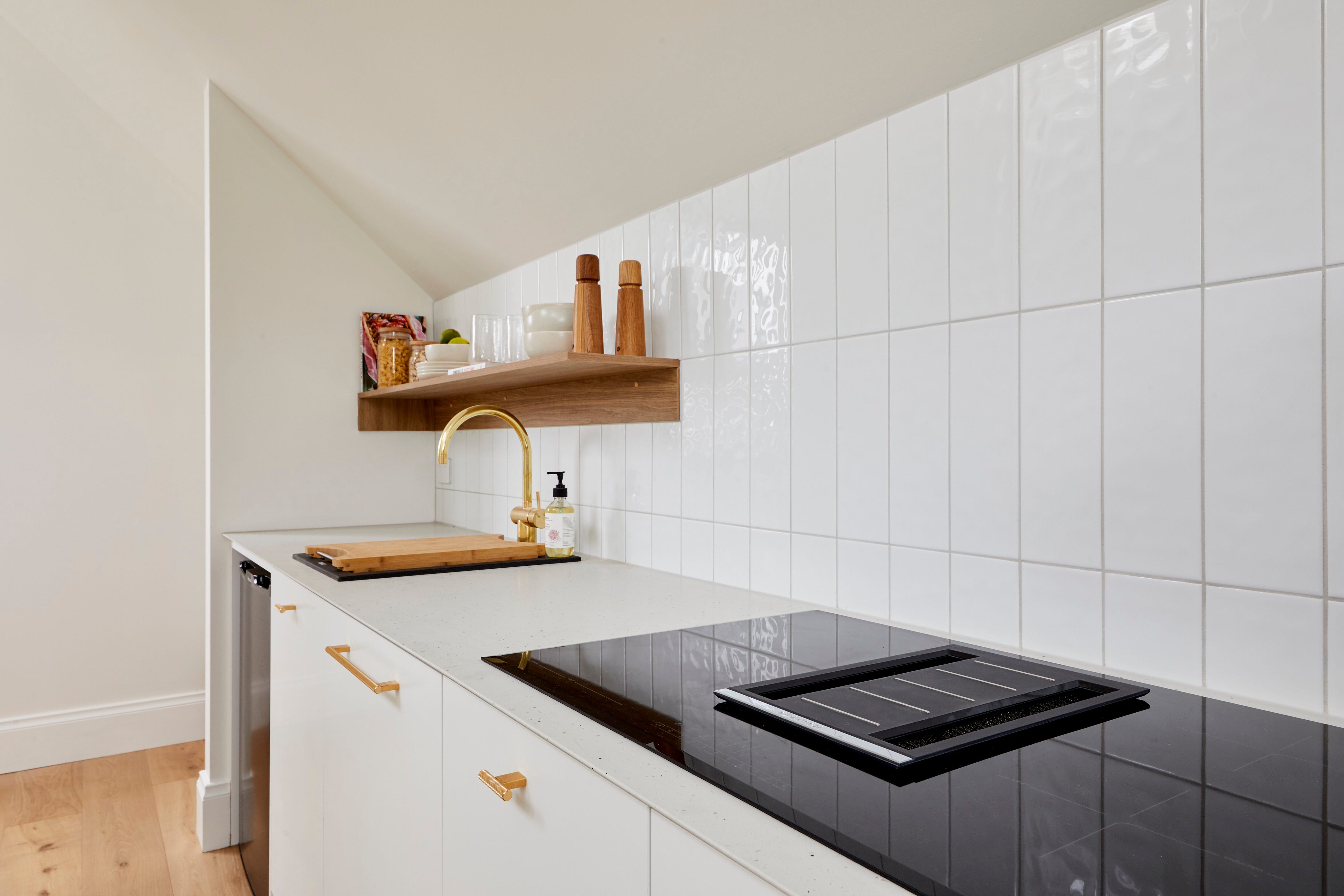 Jimmy & Tam took to Instagram to reflect on the huge week, sharing this video of their completed spaces.
---
Week 9: Hallway
Jimmy & Tam took out the win this week with a score of 29/30 for the four zones!
Floor Tile: Pietra Black Textured
Jimmy & Tam sure made a grand statement with their entrance and hallway with Neale exclaiming "There is so much to love in here, and you walk through the door and it's a visual feast."
Week 9: Powder Room
Floor Tile: Pietra Black Textured
Wall Tile: Mos Haifu White Gloss
Jimmy & Tam chose to use the space underneath the stairs as a hidden powder room. As the judges opened the door Darren asked, "What's not to love?".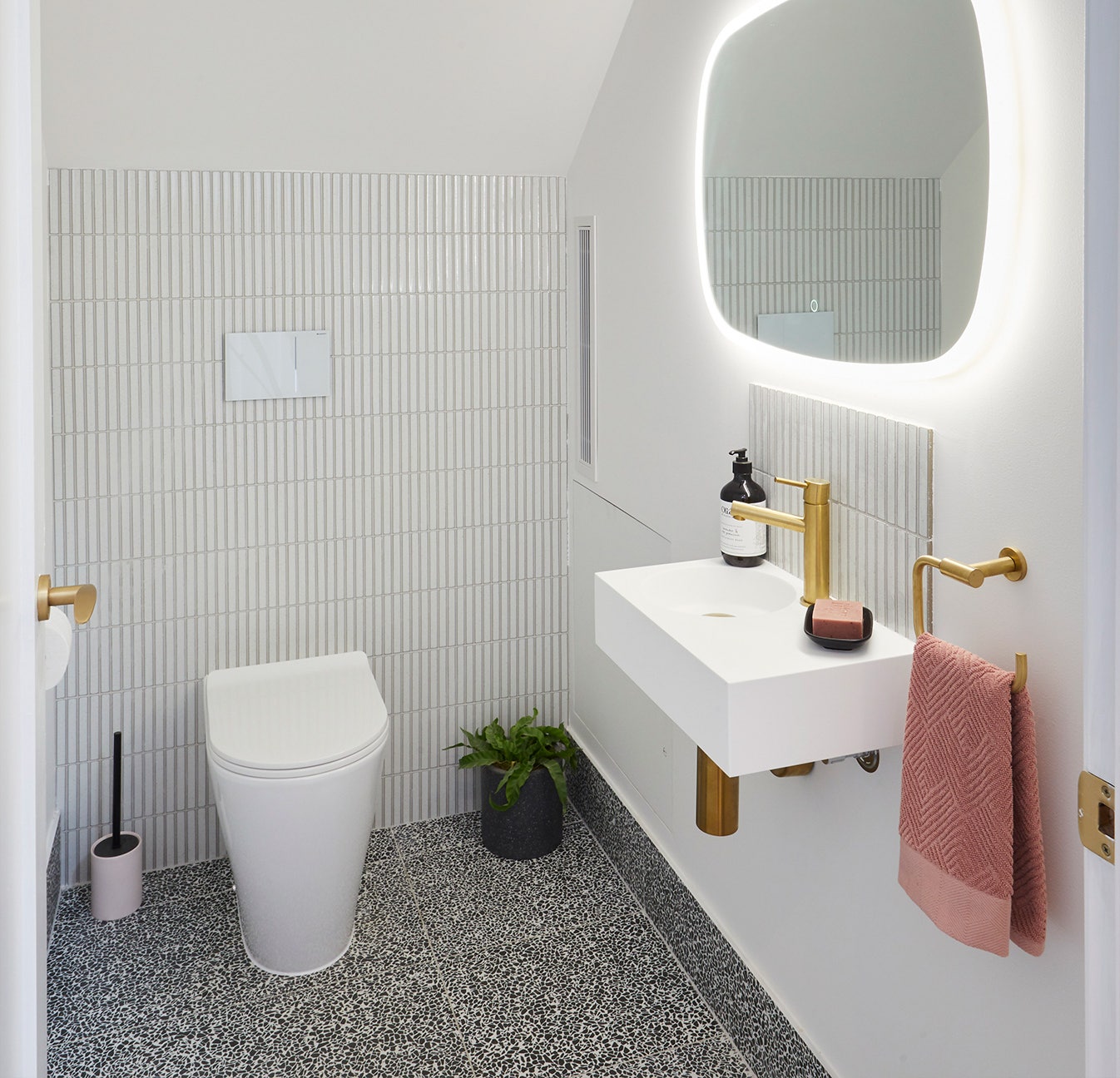 Week 9: Laundry
Floor Tile: Pietra Black Textured
Judges loved the use of colour in Jimmy & Tam's laundry and the continuity of the same floor tiles throughout the spaces.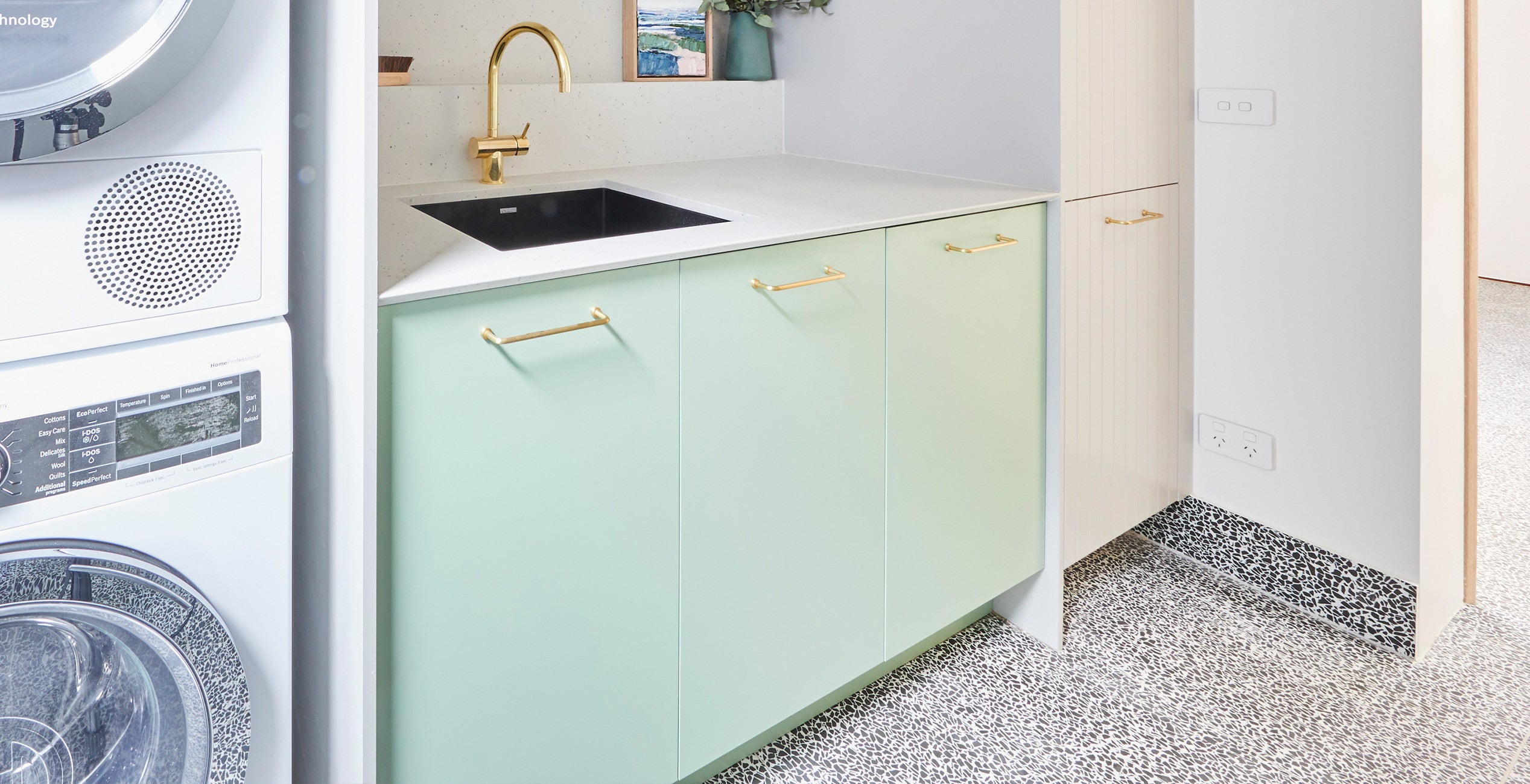 ---
Week 5: Guest Bathroom
Floor & Wall Tile: Promenado White
"It is so light and spacious, the colour palette is stunning. I love the tile choice. The terrazzo used with the subway will tile is perfect." - Neale Whitaker
As parents themselves, Luke and Jasmin decided to create a family bathroom, acting as an ensuite to the kids' bedroom with a functional bath and easy access shower. As the judges entered the bathroom, Shaynna was first to exclaim "oh my god!" "The brass edging all the way around is so beautiful. The handles, the under tile heating that we have seen in every house," "I'm jealous of the kids who would use this bathroom," said Shaynna.
Room Score: 29/30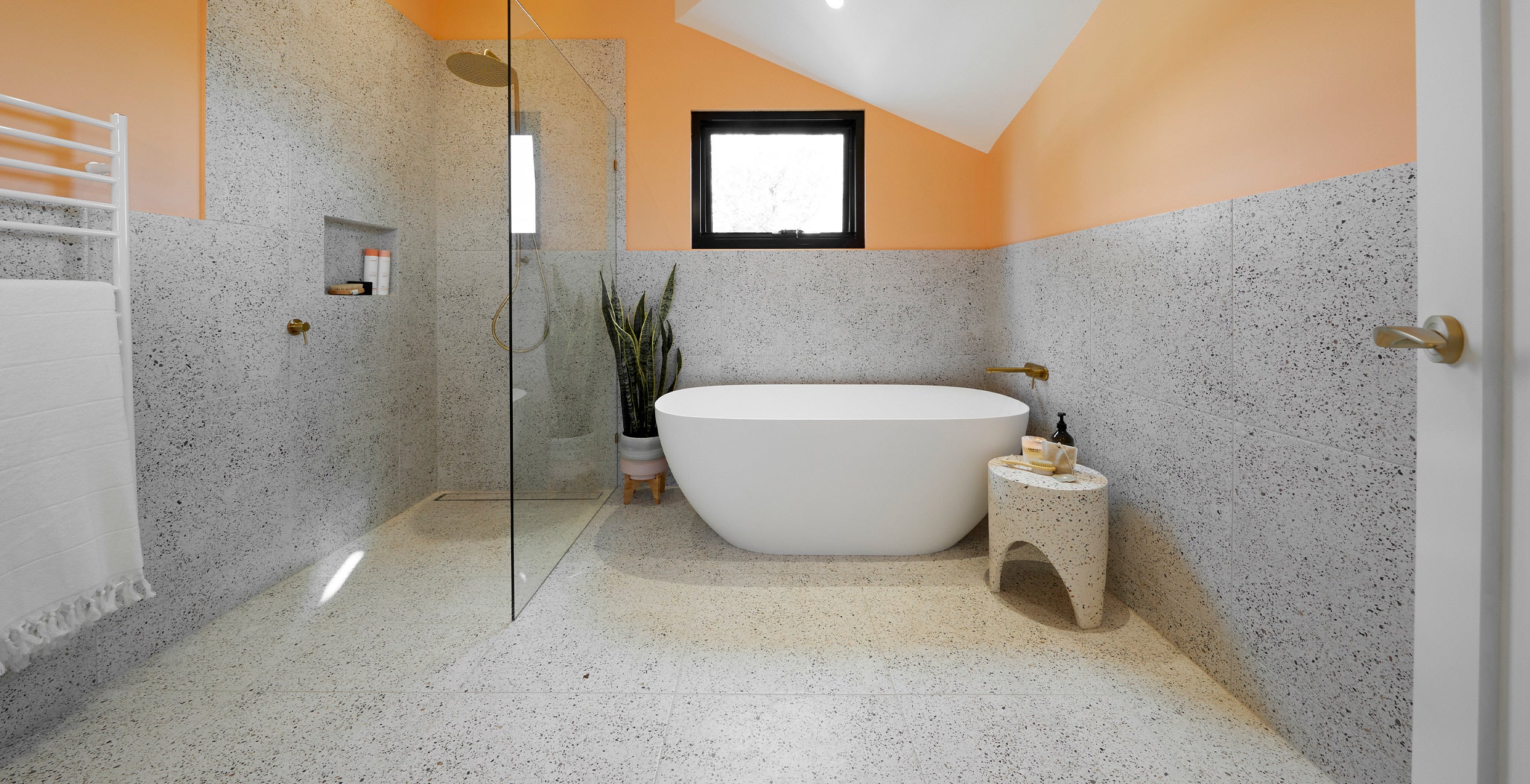 Jimmy & Tam had a bit of fun in their Guest Bathroom for their Domain promo video!
---
Week 4: Master Ensuite
Jimmy & Tam took out the win this week drawing with Luke & Jasmin with both couples scoring a huge 29/30!
Floor Tile: Promenado White Textured
Wall Tile: Atmosphere White Gloss Structured
Feature Wall Tile: Atmosphere Pink Gloss Structured
The judges liked Jimmy & Tam's ensuite and although it's smaller than the other houses, Shaynna felt the bathroom still ticked all the boxes despite its size.
The choice to feature pink in their tile choices and styling touches was well-received. "I've got to say the colour palette, which they are using all the way through, is divine," Shaynna said.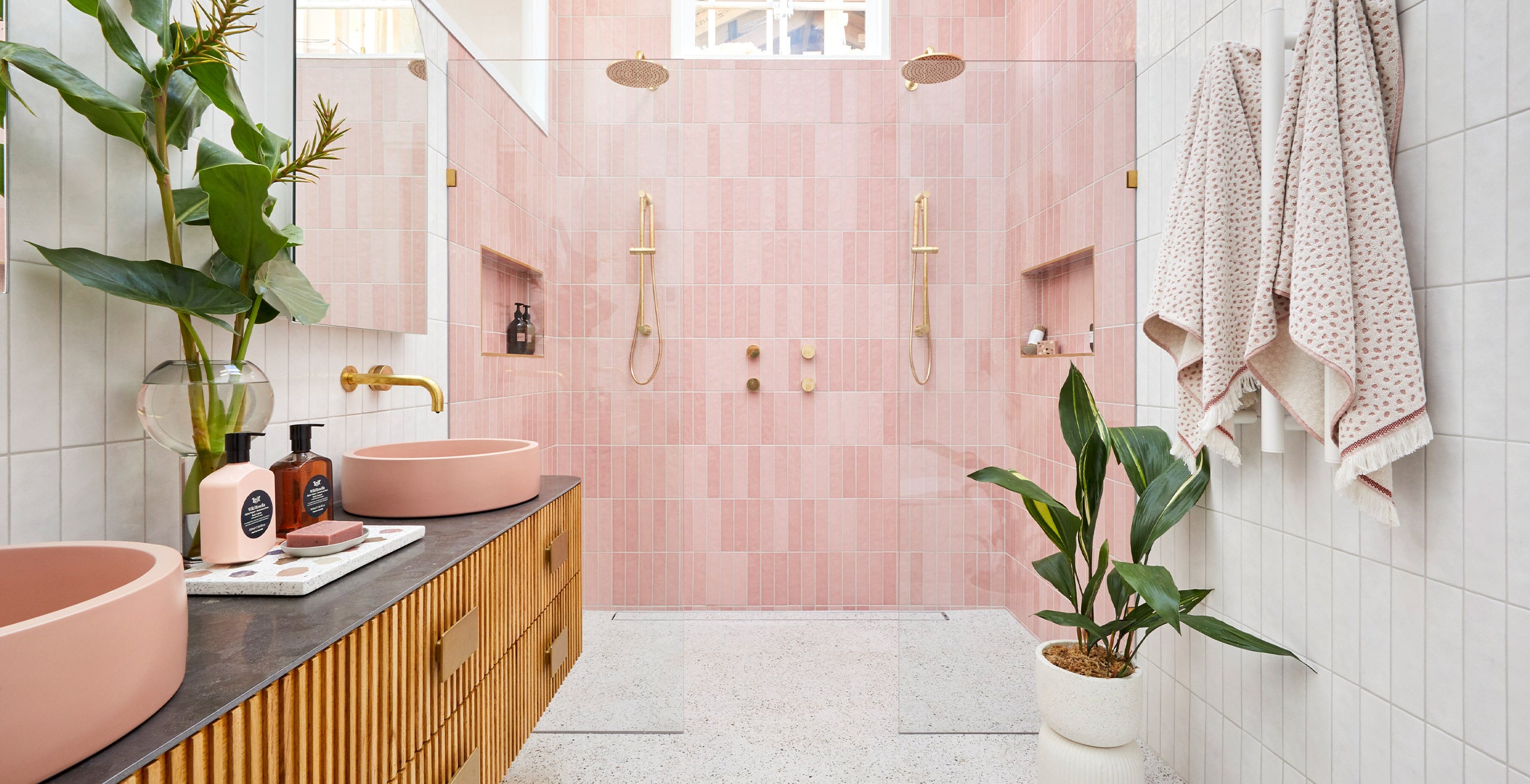 Get the look with our exclusive, Complete Bathroom Package!
We've taken the guesswork out of designing a bathroom with our Complete Bathroom Packages! Inspired by Jimmy & Tam's stunning bathroom from this week, our package includes everything from the tiles, bathroomware, even the vanity!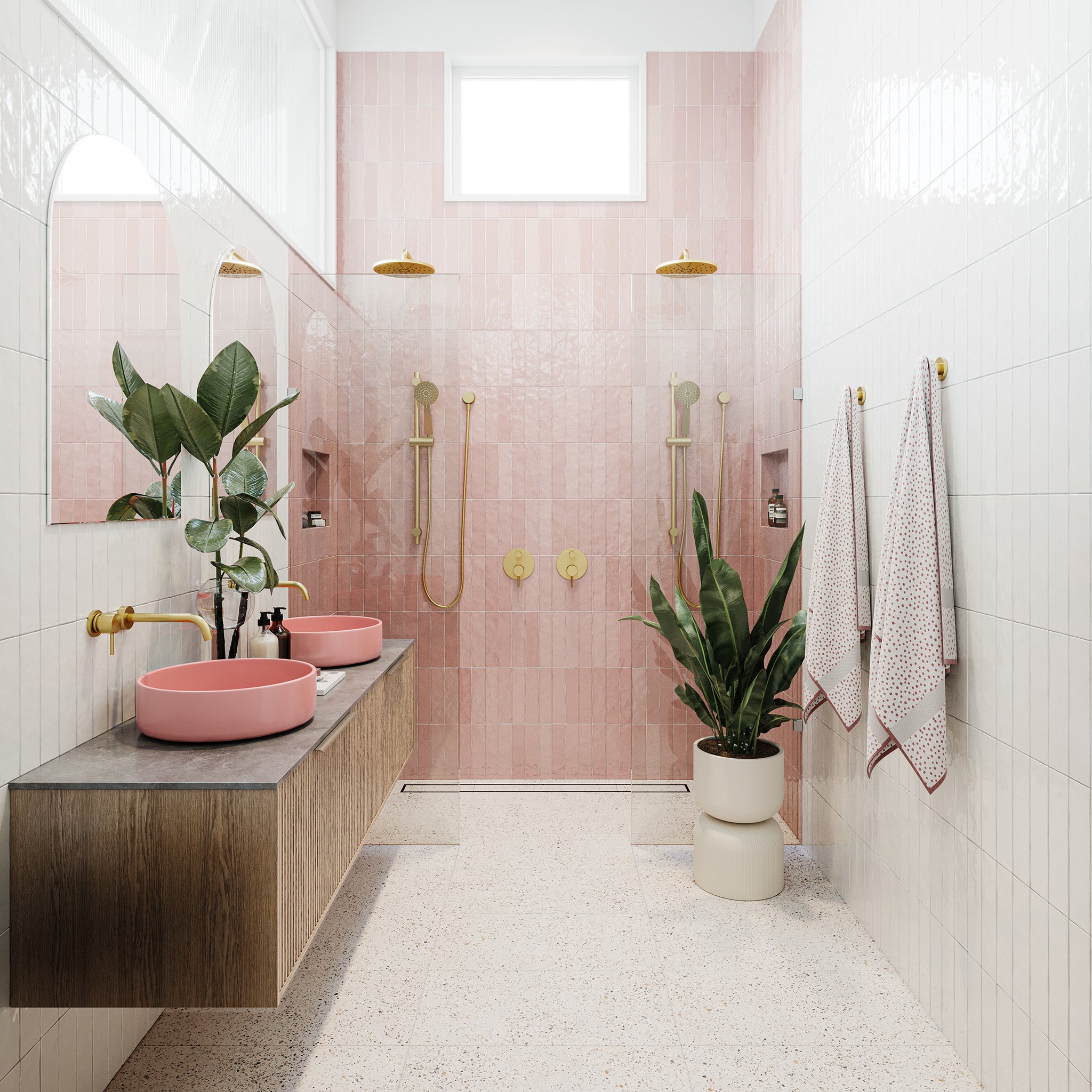 All smiles for Jimmy & Tam this week for their room coming tied first with Luke & Jasmin!
---
Week 2: Guest Ensuite
Jimmy & Tam took out the win this week, scoring 28.5/30!
Jimmy and Tam were praised for both their tile choice and layout with the glossy teal tiles evoking "water in a swimming pool".
For Shaynna, the ensuite nailed the 1950s brief, "The '50s details are the colour of the tiles".
"This bathroom has to me, a more generally '50s vibe and I think it is in the use of the terrazzo actually and the combination of that with the tile," Neale said, before adding that the room was a perfect combination of '50s and now.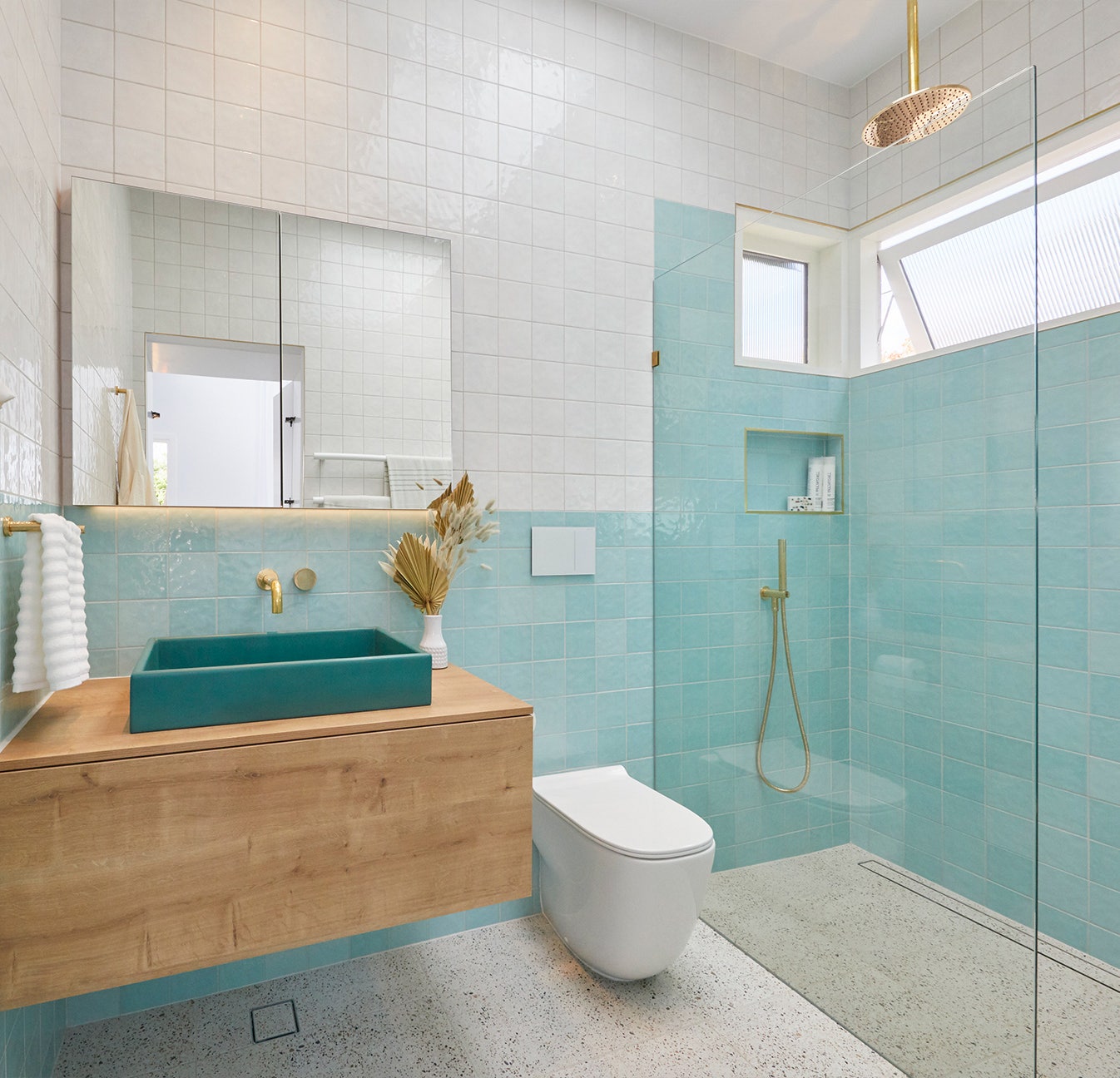 ---