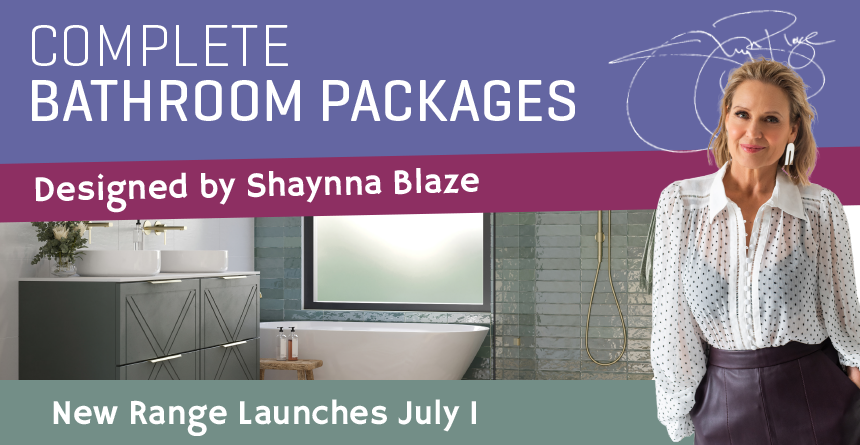 Introducing Shaynna Blaze Complete Bathroom Packages
Beaumont Tiles and Shaynna Blaze have partnered up to design new complete bathroom packages to help you narrow down options from our huge range.
We invite you to take a look at Shaynna's Complete Bathroom Packages, our great options on bathroomware, vanities, new value bathroom packages & more! Get your reno started with Beaumonts.
Get your dream bathroom reno started now with Beaumonts.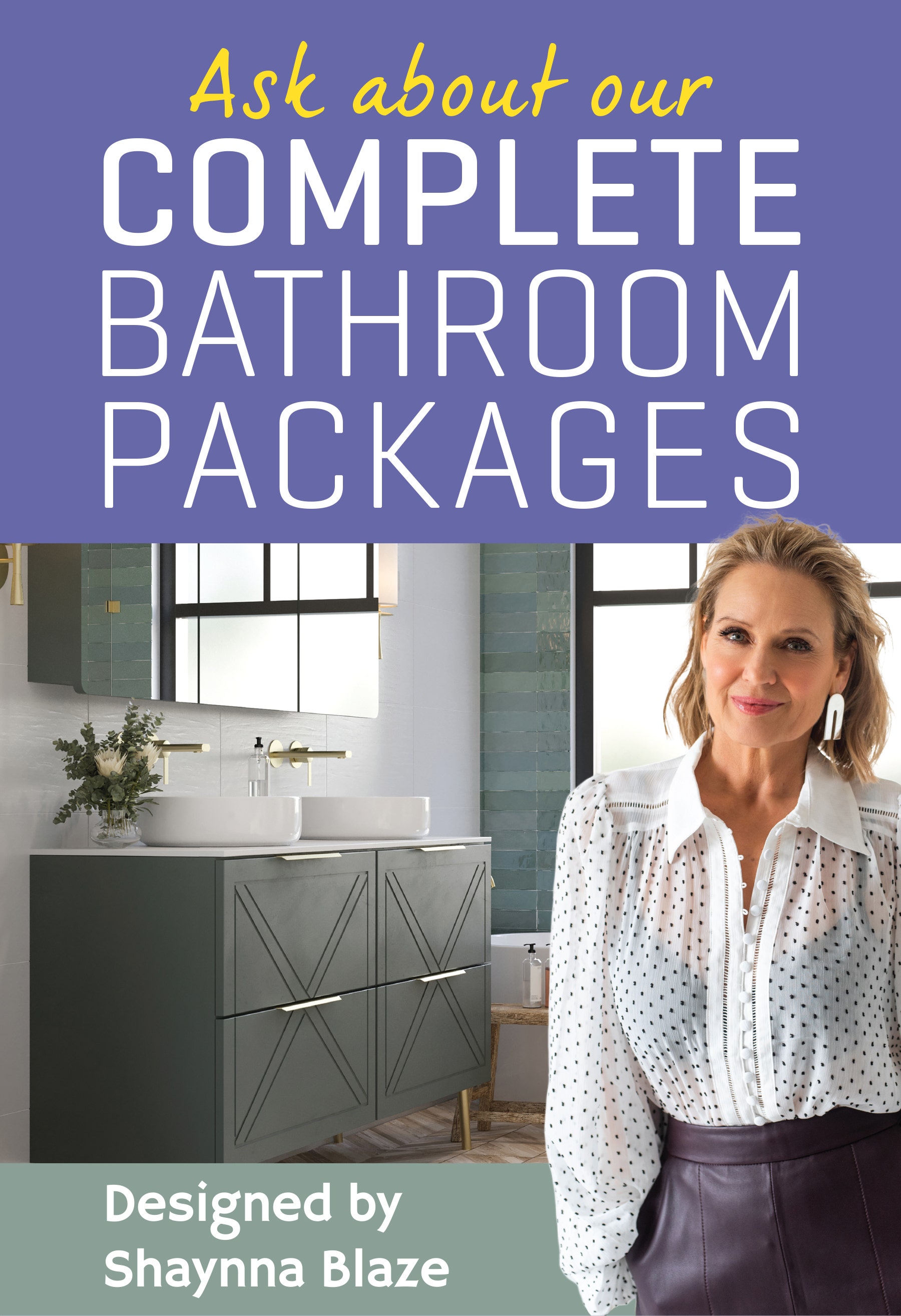 We're proudly Australia's best one-stop-shop for expertly designed Complete Bathroom Packages and we are proud to announce our partnership with Shaynna Blaze.
Shaynna Blaze popped into Beaumonts and designed 3 stunning Complete Bathroom Packages at each budget level so you can get a designer bathroom in your own home.
These Complete Bathroom Packages have been designed as a starting point for your renovation and are fully customisable to suit your personal taste, style, room dimensions & layout. Have fun exploring these three Packages by Shaynna Blaze and our many more Complete Bathroom Packages.
Choosing Beaumonts for Complete Bathroom Packages is easy!
Use the quick links below to jump to sections
---
Proudly Partnered with Shaynna Blaze
Shaynna Blaze is an award-winning interior designer, known to many for her television roles on Selling Houses Australia, The Block, Shaynna's World of Design, Deadline Design and Buying Blind.
Her unerring eye for style has seen her establish her Interior Design business Blank Canvas Interiors, design beautiful products for brands including Molmic, Urban Road, Harris Scarfe and One World Lighting, has authored two books on interior design, and has penned regular columns on design, style and interiors for the likes of Stellar Magazine, The Herald Sun, and Grand Designs Magazine.
Shaynna is a passionate advocate for women and a social justice campaigner who has lent her voice to a number of organisations tackling domestic violence in Australia including Kids Under Cover and Safe Steps.
Shaynna has MCd candlelight vigils for women and children lost to family violence and presented keynotes at International Women's Day events. And, she is the executive producer of The Fort, a feature film written and co-directed by her children Carly and Jess about one woman's battle to escape her abusive marriage while attempting to shelter her son from the realities of domestic violence.
We are proud to have partnered with Shaynna Blaze for this exciting new range of Complete bathroom Packages.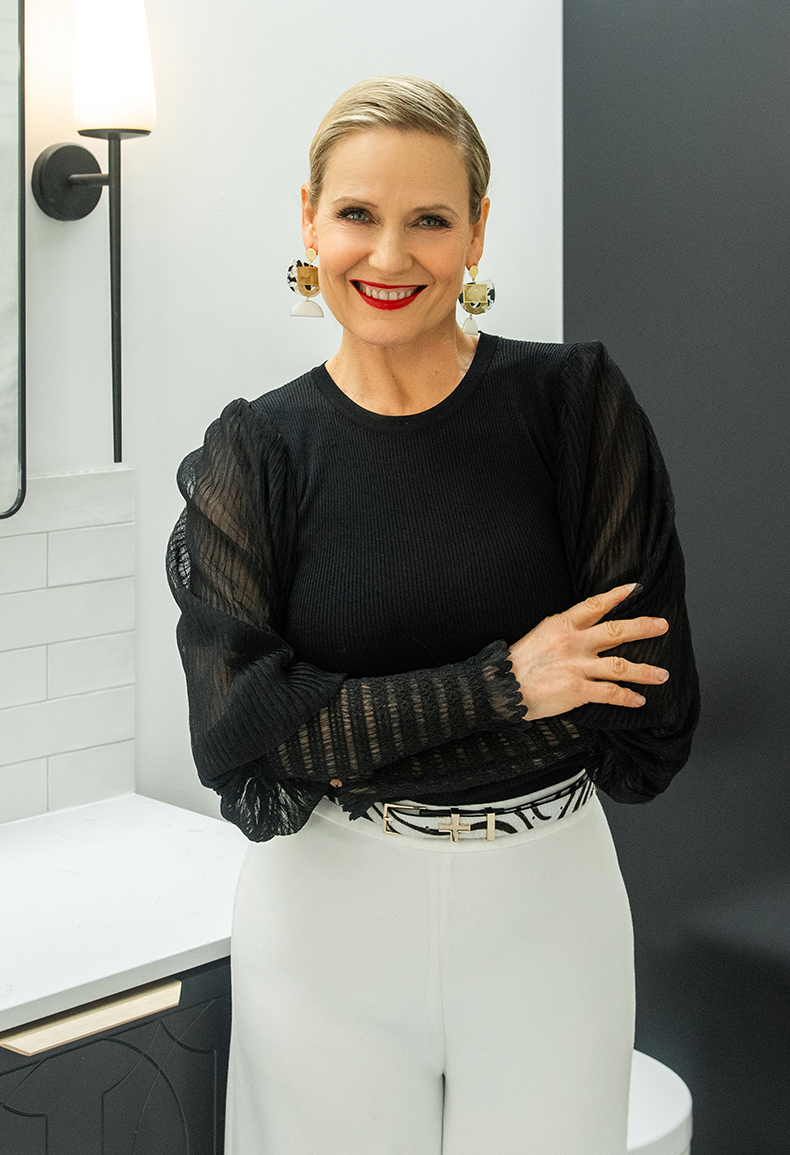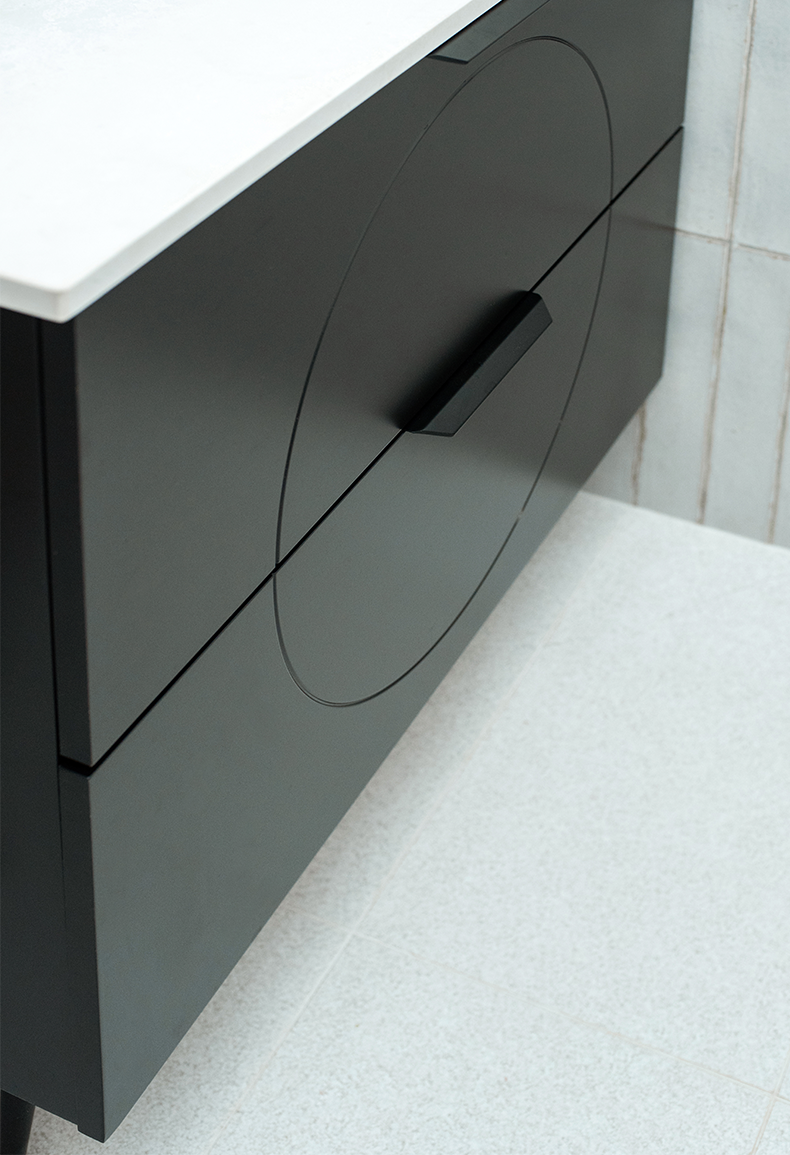 ---
Shaynna Blaze's exclusive Complete Bathroom Packages
Introducing our three new & exclusive Complete Bathroom Packages designed exclusively by Shaynna Blaze. Accommodating three different budget levels to ensure a Shaynna Blaze designer bathroom is achievable for all.
Use these packages as your starting inspiration – feel free to get creative and have fun swapping out the tile or bathroomware colours, experimenting with layout and curating your own masterpiece to suit your personal style, room dimensions, and budget.
Pared Back Parisian Vintage Value Complete Bathroom Package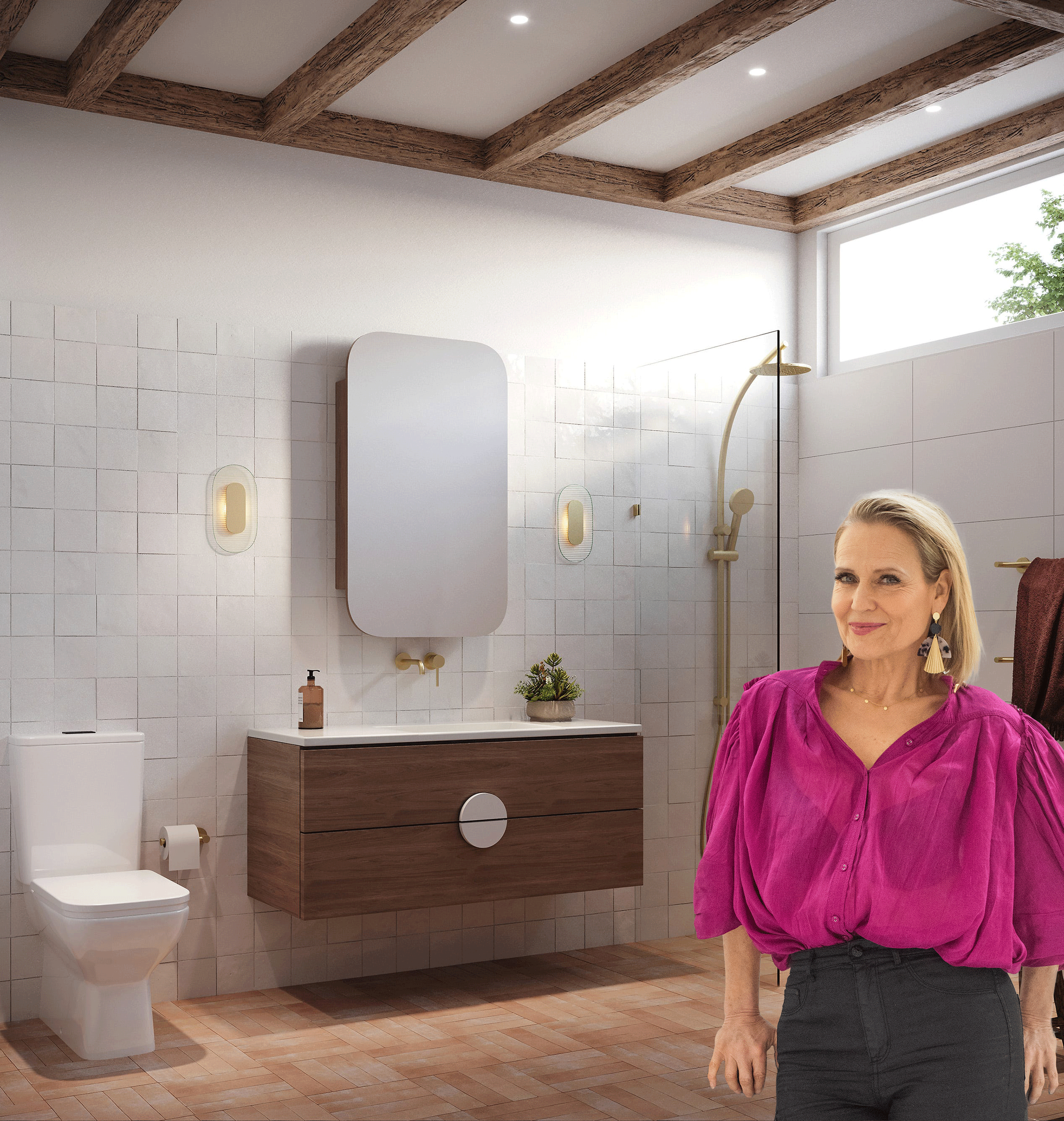 Shaynna's vision for this bathroom was Paired Back Parisian - a Vintage style that oozes the Parisian lifestyle with rounded shapes and natural finishes. Our Granada terracotta emulated floor tile together with the Haus25 Misha brushed gold tapware creates a warm and inviting feeling.
Contemporary Live-A-Little Complete Bathroom Package Shaynna has done an exceptional job with this package balancing warmth with minimalism, making it dramatic, liveable, and very of-the-moment. Our exclusive Barcelona Stud tiles in grey share the spotlight with Shaynna's own Sutherland Collection Retro vanity, and we cannot forget our Haus25 Platz tapware in gun metal finish.
Farmhouse Lux Complete Bathroom Package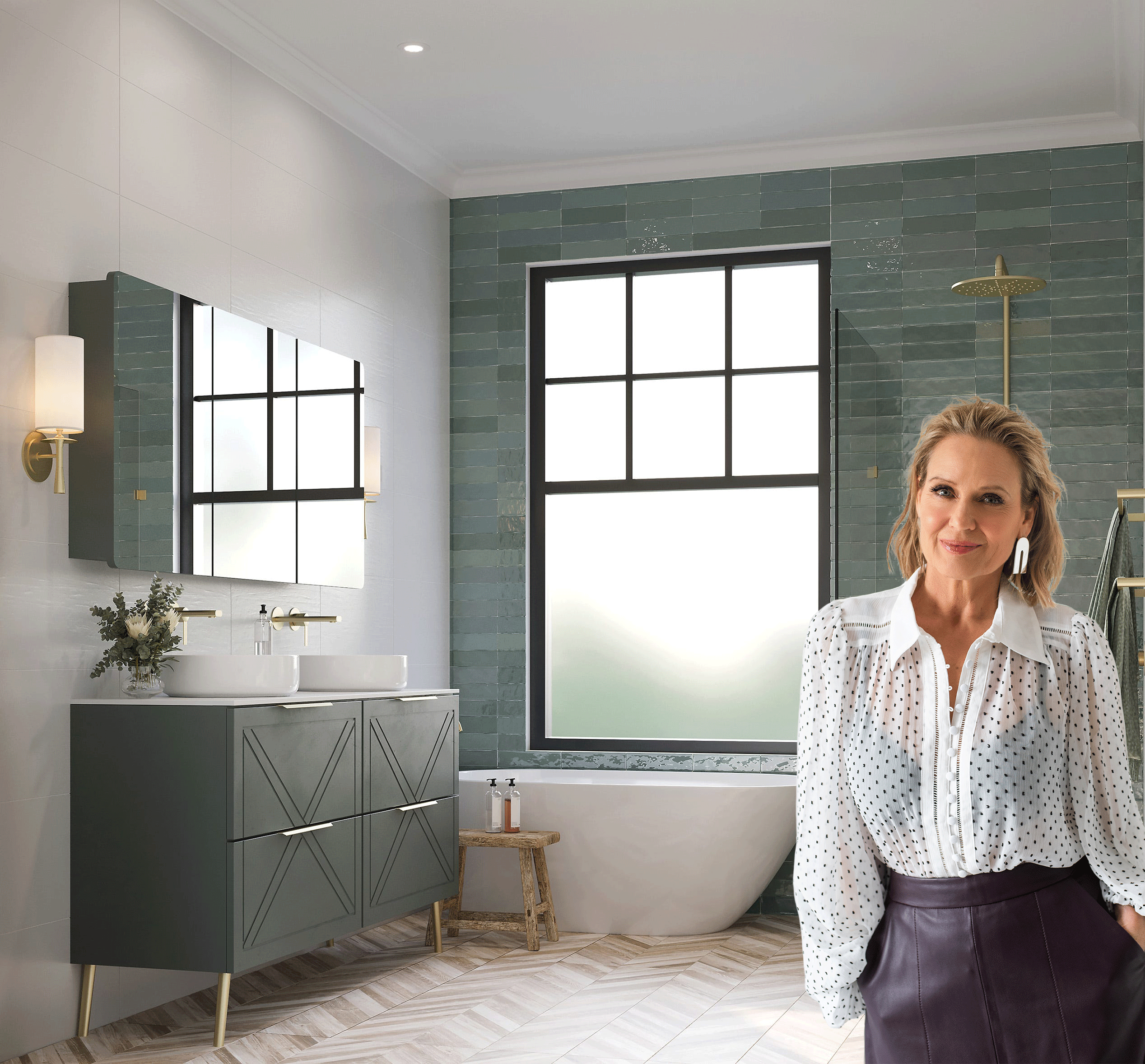 Shaynna's reaction to this package was "WOW" when she saw her design come to life for the first time. It features her own Sutherland Collection vanity with the Farmhouse profile - our Artwood Chevron tiles complement the angled lines to perfection! She loves our Haus25 Lina range so much, she put them in her Lux package!
---
Home Style with Shaynna Blaze
What's My Style?
Listen to this podcast on current design trends, what's hot and what's not, and how to decide what style direction you're heading in.
The "What's My Style Quiz" can help define your overall style based on some simple style decisions and what project you're undertaking; from building a new home, building an investment property, renovating a home to live in or renovating a home to flip! And finally, hear some tips for incorporating your style choices into your project and how to factor in budget decisions.

---
Find Your Local Store
For Shaynna Blaze, renovating your space is all about making it personal. She says that, "it's important to find styles and colours that you find exciting and engaging as it's you and your family that has to live with them". You are welcome to discover beautiful products and receive helpful advice from our experts at your closest store.
Take control of your renovation project and explore our stunning ranges with the experts in tiles, bathrooms and renovations at your local Beaumonts.
You can choose to chat with our experts either over the phone, instore or online. We are here to help you every step of the way no matter how you decide to choose Beaumonts.