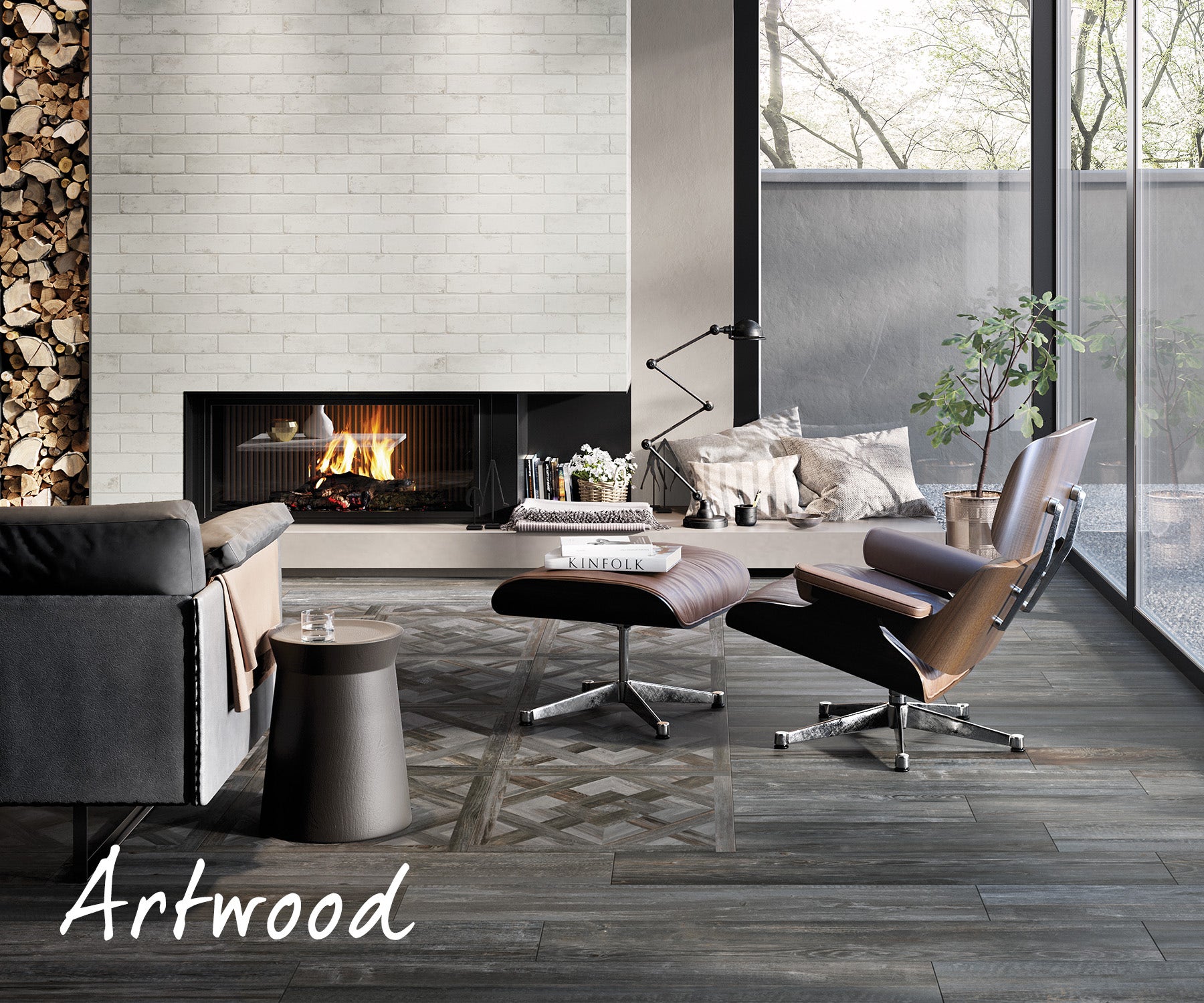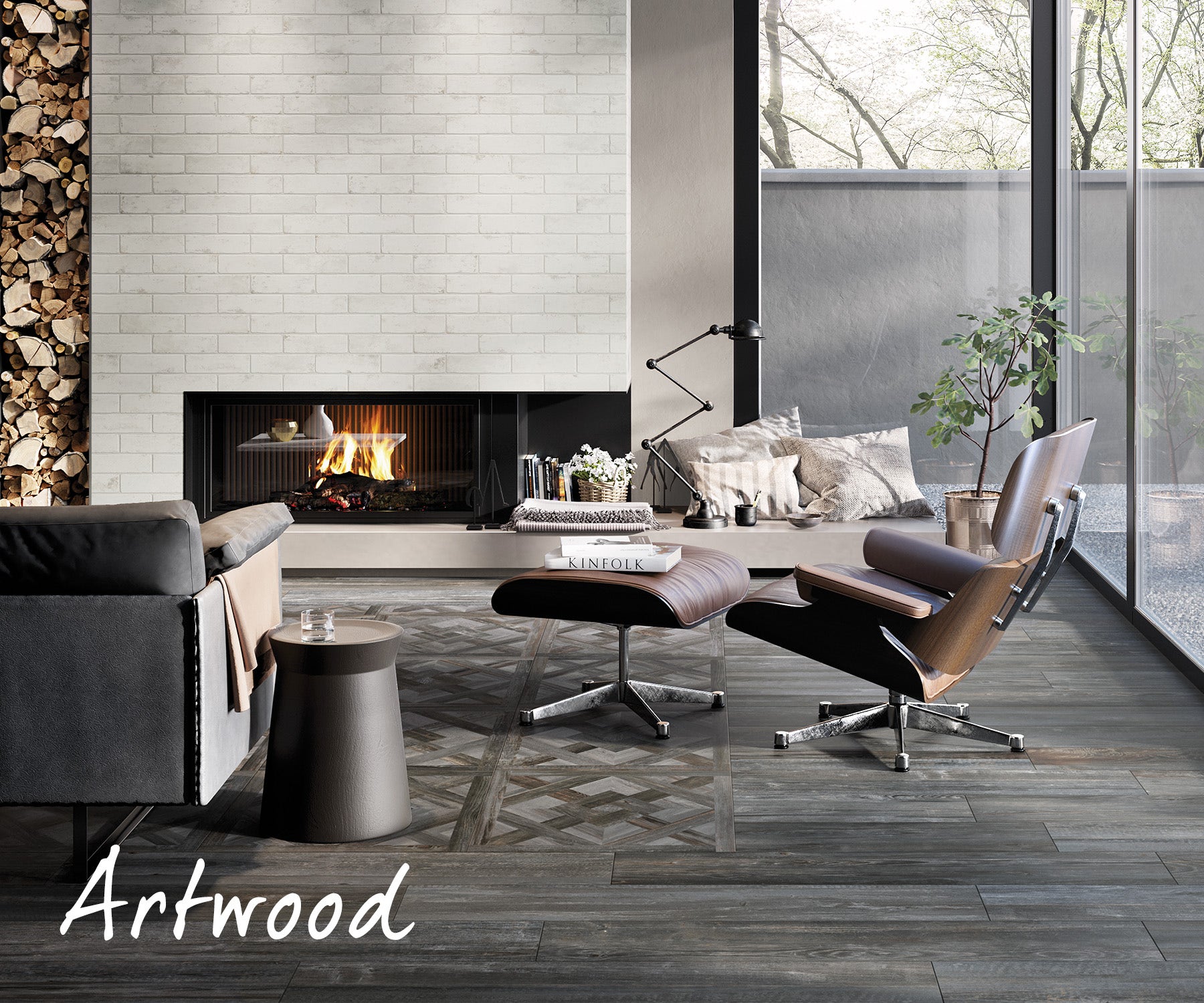 Tile Of The Year 2022
Artwood
An innovative masterpiece that draws inspiration from the natural world - it's Beaumonts 2022 Tile Of The Year!
Artwood is a celebration of warmth and character.

Crafted in Italy, the beautiful aged timber design is a modern masterpiece that has won our hearts and the title of Beaumonts 2022 Tile of the Year.
Emanating powerful elegance while working across both minimalistic and playful spaces, Artwood utilises the latest in tile technology and brings an expression of timber with the technical properties of porcelain.
A true work of art, Artwood derives its inspiration from the oldest material in design history. This timber-look tile comes with a matching chevron panel and decorative parquetry inlay.
Rectified edges accentuate the timber design while a colour-bodied porcelain gives durability for use throughout kitchens, living rooms and bathrooms.
Artwood will floor you with its charm.
A timber-look plank tile is perfectly offset with a left & right-handed chevron panel and a square parquetry inlay.
Graceful high contrast adds depth and variation between the pieces. Mix and match the Artwood range to create a masterpiece of your very own.
Featuring a V4 variation this quality Italian-made colour-bodied porcelain is available in the following sizes and colours.
Available Sizes:
Timber Look Plank 198x1198 | 54 Faces

Chevron Panel, Left & Right Side198x1198 | 27 Faces

Square Parquetry Inlay 598x598 | 9 Faces
Technical Info:
P2, R10 Slip Rating

Rectified Edge

Colour Bodied Porcelain

Wear Rating 3 or 4

Matt or Textured
Colours:
Artwood Beige

Artwood Black-Blue

Artwood Chocolate Brown
Our Hot Tip: Explore our complete Artwood range here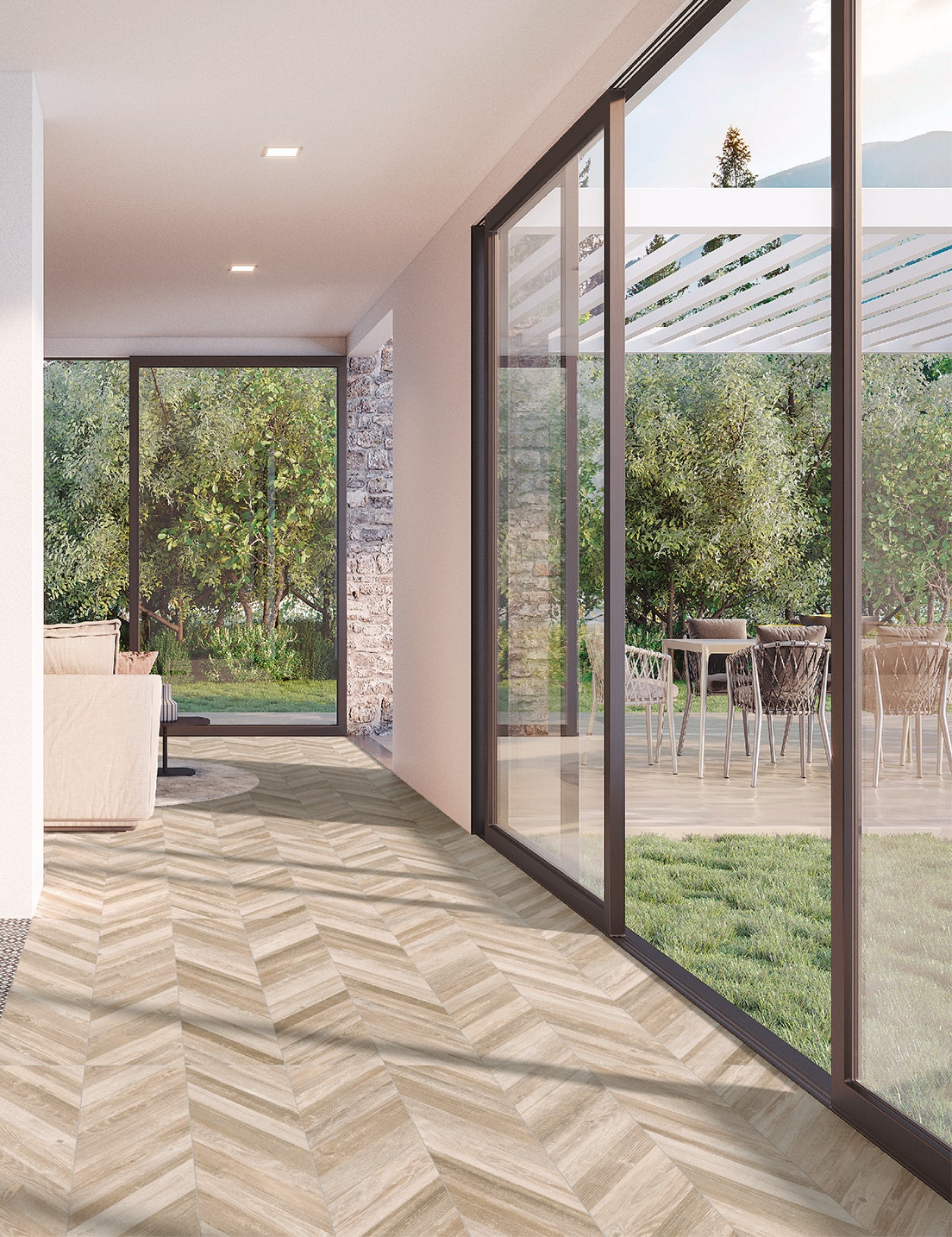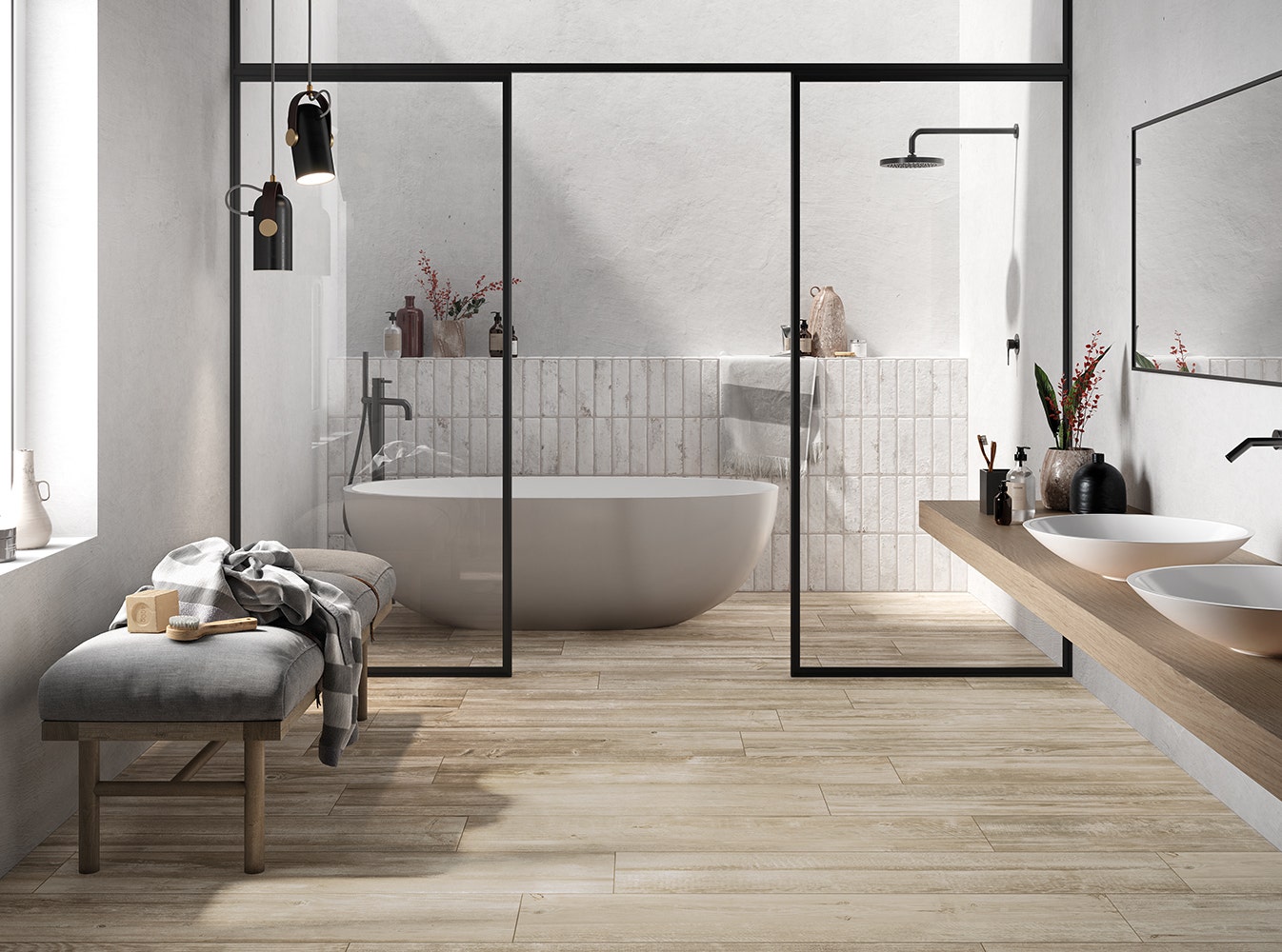 Artwood Beige
For an effortless and natural aesthetic, Artwood Beige is a perfect choice and will match almost any style. Its refined light honey and soft cream undertones create a soothing and calm environment perfect for your own personal sanctuary. Artwood Beige is the perfect neutral backdrop and a harmonious fusion of nature meeting tile technology.
Have fun and be unique with a Wanderlust-themed look. Style Artwood Beige Chevron left and right side with Rock Salt White Gold and Champagne fixtures for playful bohemian luxe. Complete the look with additions of printed patterns, exotic handcrafted pieces and indoor plants.
Atwood Chocolate Brown
Artwood Chocolate Brown embodies the luxury of aged timber with its enriched grain and warm mid to dark brown tones. A modern play on traditional aged wood this colour embodies elegance and class, instantly creating ambience and luxury. The rich warming of Artwood Chocolate Brown will compliment a range of spaces from kitchen through to bathroom.
Warm and welcoming use Artwood Chocolate Brown for a timeless Traditional themed look that will have you feeling five stars. Teaming it with Calacatta Hexagon Mosaic and Gold tapware is sure to help ignite luxe elegance for hotel luxury at home. Complete the scheme with elements like sheer curtains and soft textiles along with contemporary furniture that features subtle classic details.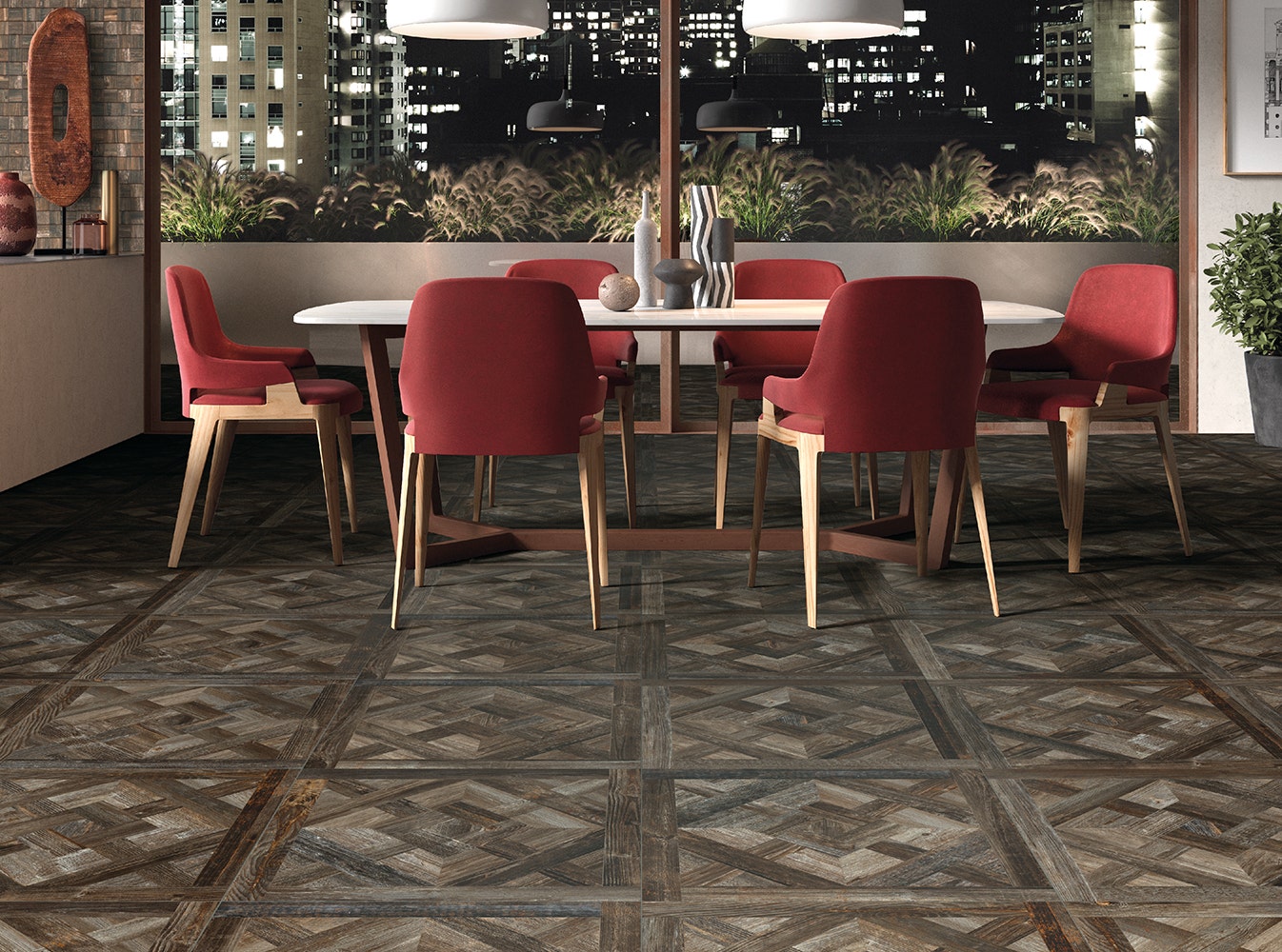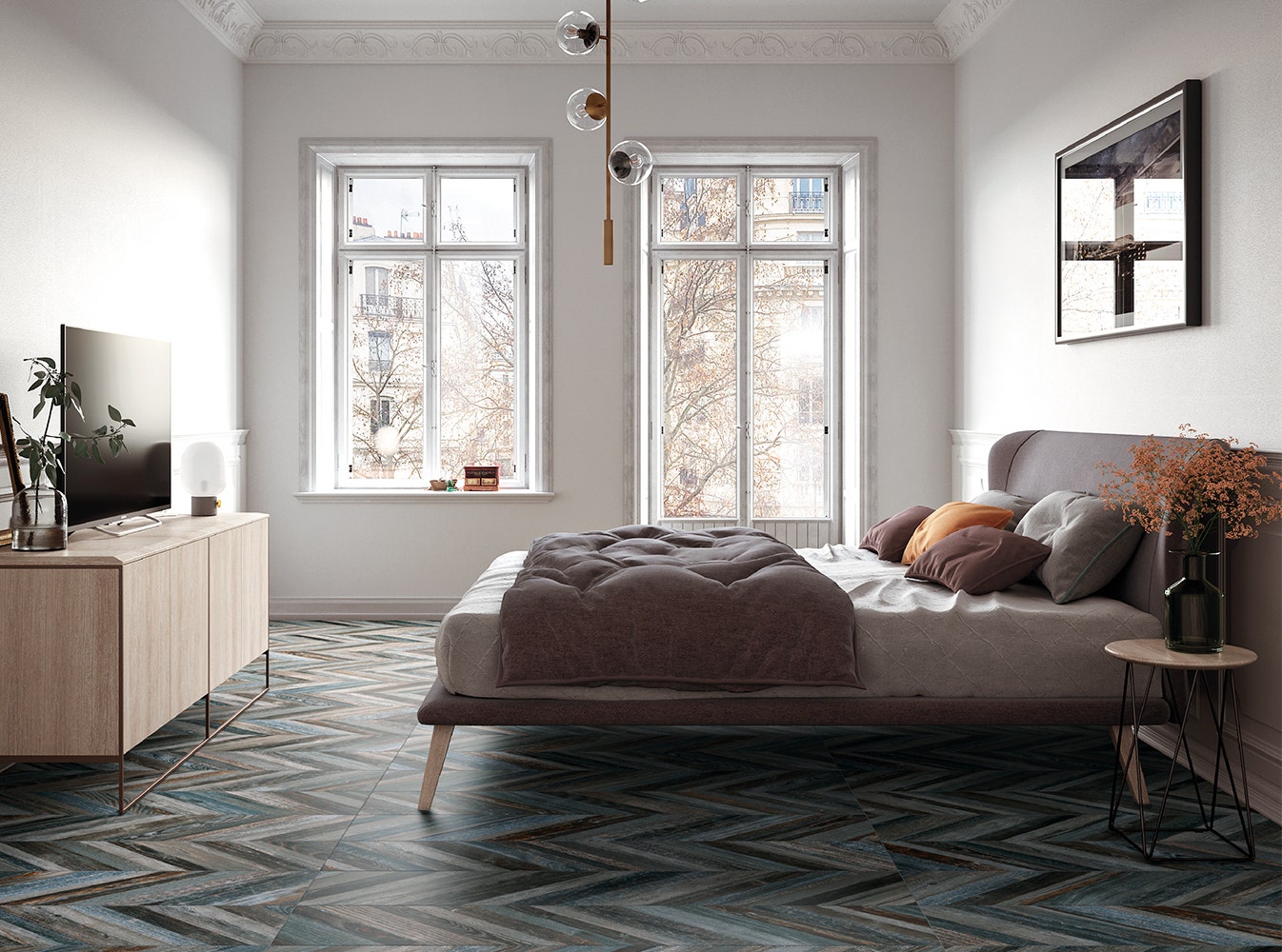 Artwood Black-Blue
A unique colour that works in both modern and traditional applications, Artwood Black-Blue is a harmonious blend of dark pewter tones and brown undertones that create grandeur and opulence. The easy to clean and maintain aged timber design gives a sense of craftsmanship and sophistication helping to create a bold statement with refined sophistication. The highly crafted Artwood Black-Blue is timeless, yet modern and the perfect fusion of old luxury meets contemporary charm.
For an edgy and raw aesthetic team Artwood Black-Blue Parquetry inlay with the exposed brick-look of our Tribeca Multicolour. Giving nods to heritage, this industrial themed palette will bring a personal touch to your open plan kitchen-living- dining area.
In the kitchen use a matte black sink with brushed nickel tapware to really bring the space together. Complete the raw and refined look with a leather couch, exposed shelving and textured cushions.
Explore the complete Artwood range in our brochure