Back to stores
Beaumont Tiles - Norwood | Beaumont Tiles Studio
Store
Our state-of-the-art Beaumont Tiles Studio in Norwood welcomes you with a café featuring our own special coffee blend - Bob's Blend, please enjoy a complimentary coffee upon arrival. Beaumonts have been servicing your design and style needs for over 60 years, and the Norwood Studio is amongst our most beautiful spaces to create magic. You'll find our showroom at 40 Fullarton Road, Norwood. The Beaumont Tiles Studio also incorporates a fully stocked Trade Central that provides the extended products required for commercial and trade-related projects.
Our Contact Info & Standard Trading Hours
40 Fullarton Road, Norwood SA 5067, Australia
Wednesday
9:00am - 5:00pm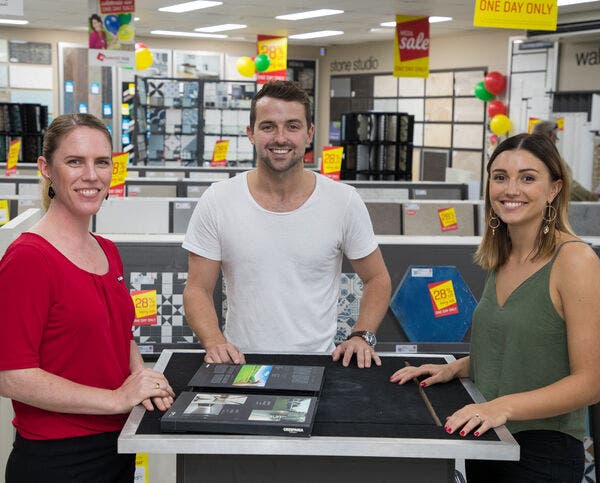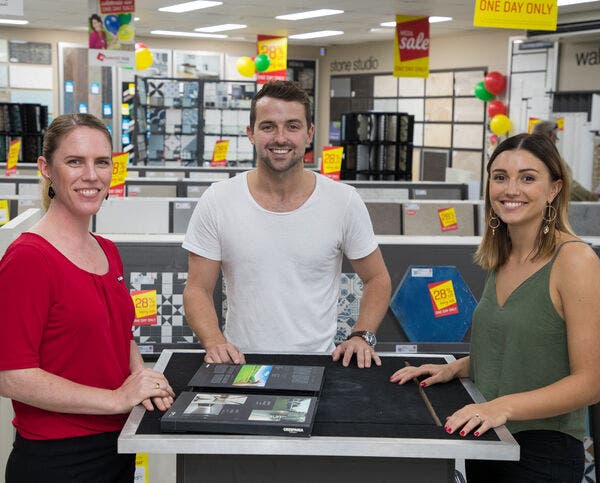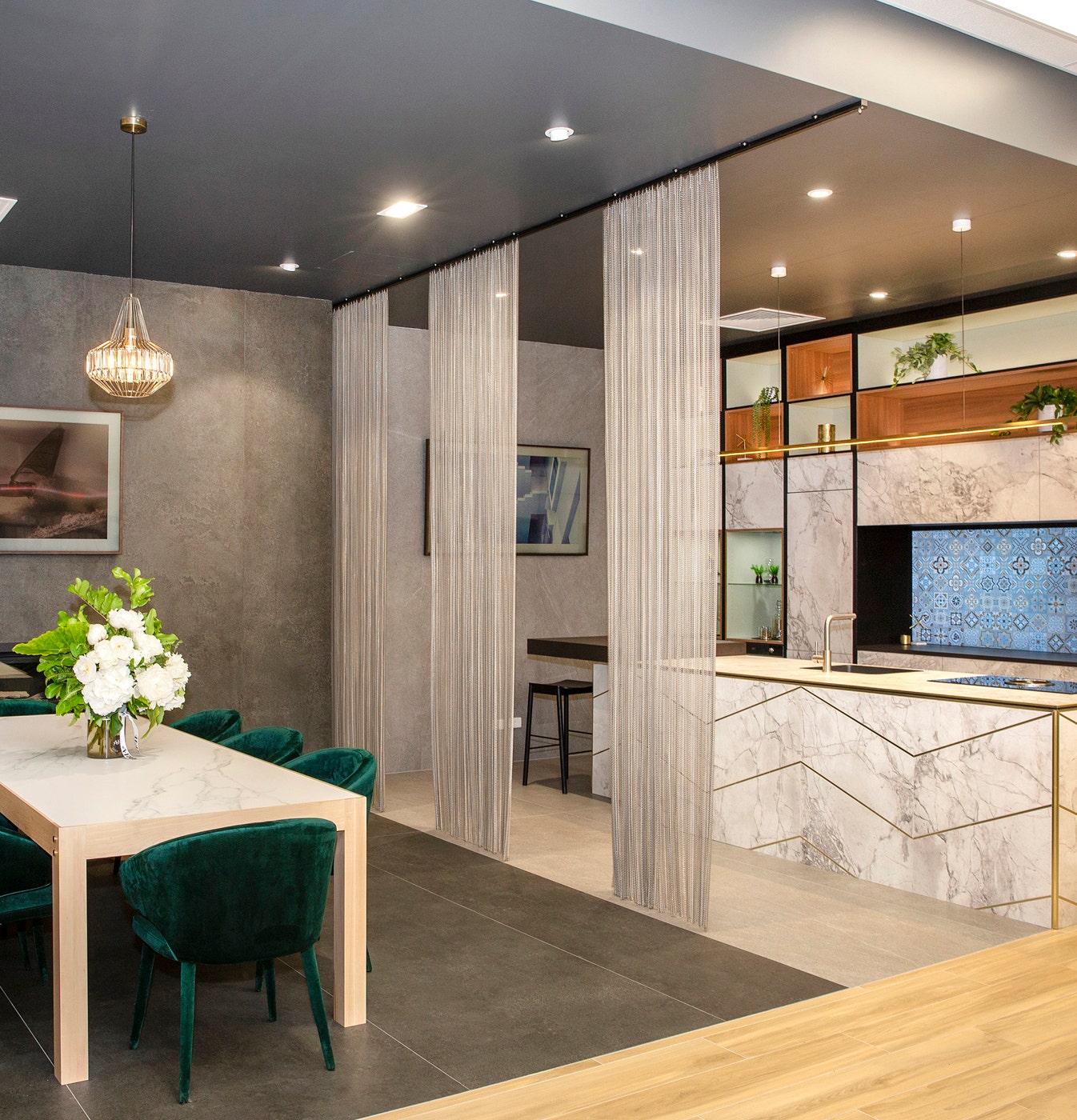 When you choose Team Norwood you'll get the best expert advice in town!
Enter the Studio space through the feature arch designed by renowned designer Naomi Findlay to discover the world's best tiles, stone and bathroom accessories all in one amazing showroom.
The Studio also features private break-out zones where customers can work closely with the Studio's in-house experts to focus on selecting the very best products for their projects.
The one thousand square metres commercial showroom is a revolution in the tile retail experience.
Your experience is enhanced with a bespoke in showroom floor visualiser and also another room visualiser to help you make great decisions.
Come to the Beaumont Tiles Studio for a unique collaborative selections experience where you can find the inspiration to create Adelaide's very best spaces to work, live, and play.
Bob Beaumont describes the Beaumont Tiles Studio in Norwood as "a reflection of everything we care about at Beaumonts - the best tiles and bathroom accessories, great advice and tremendous customer service."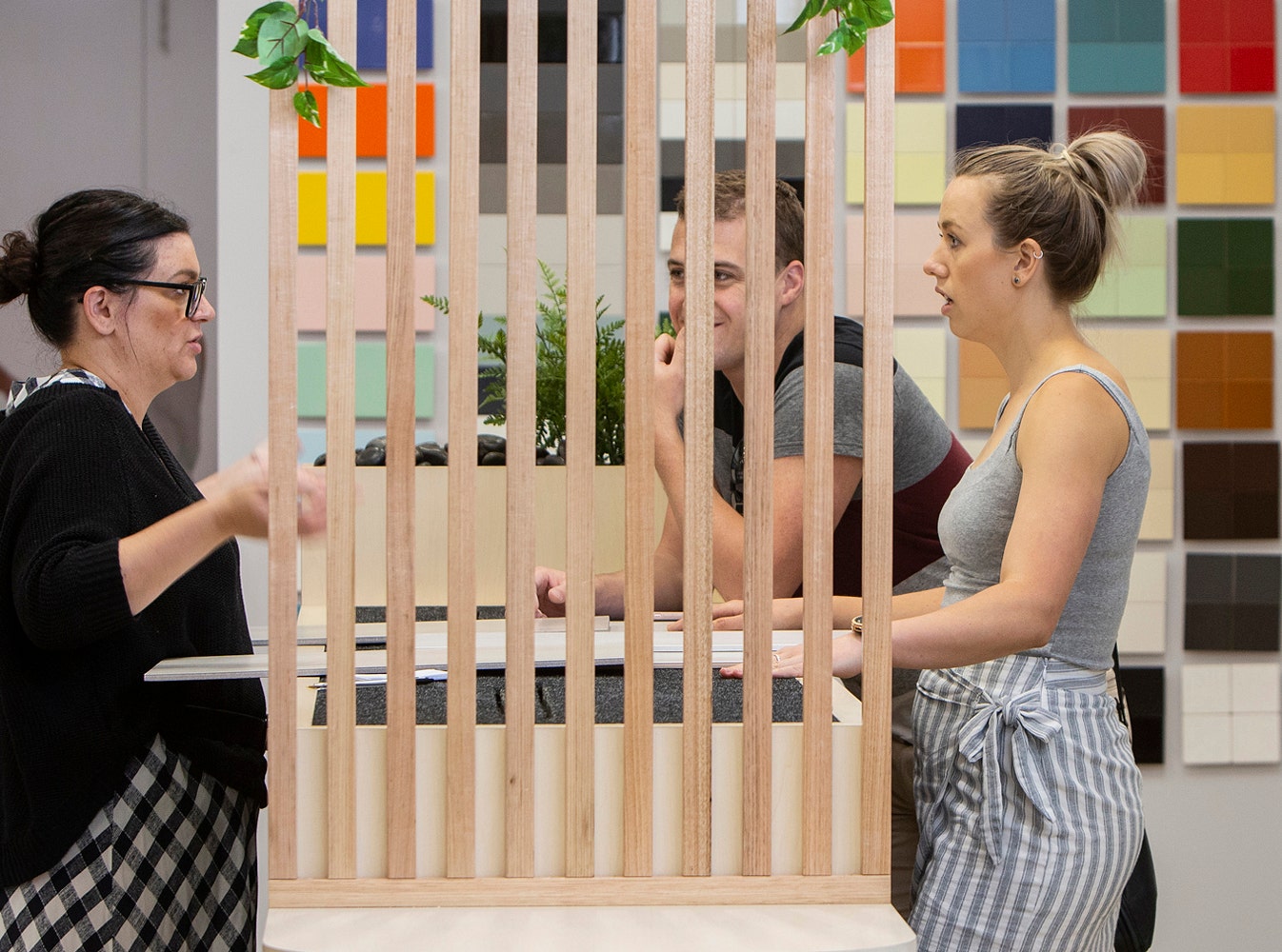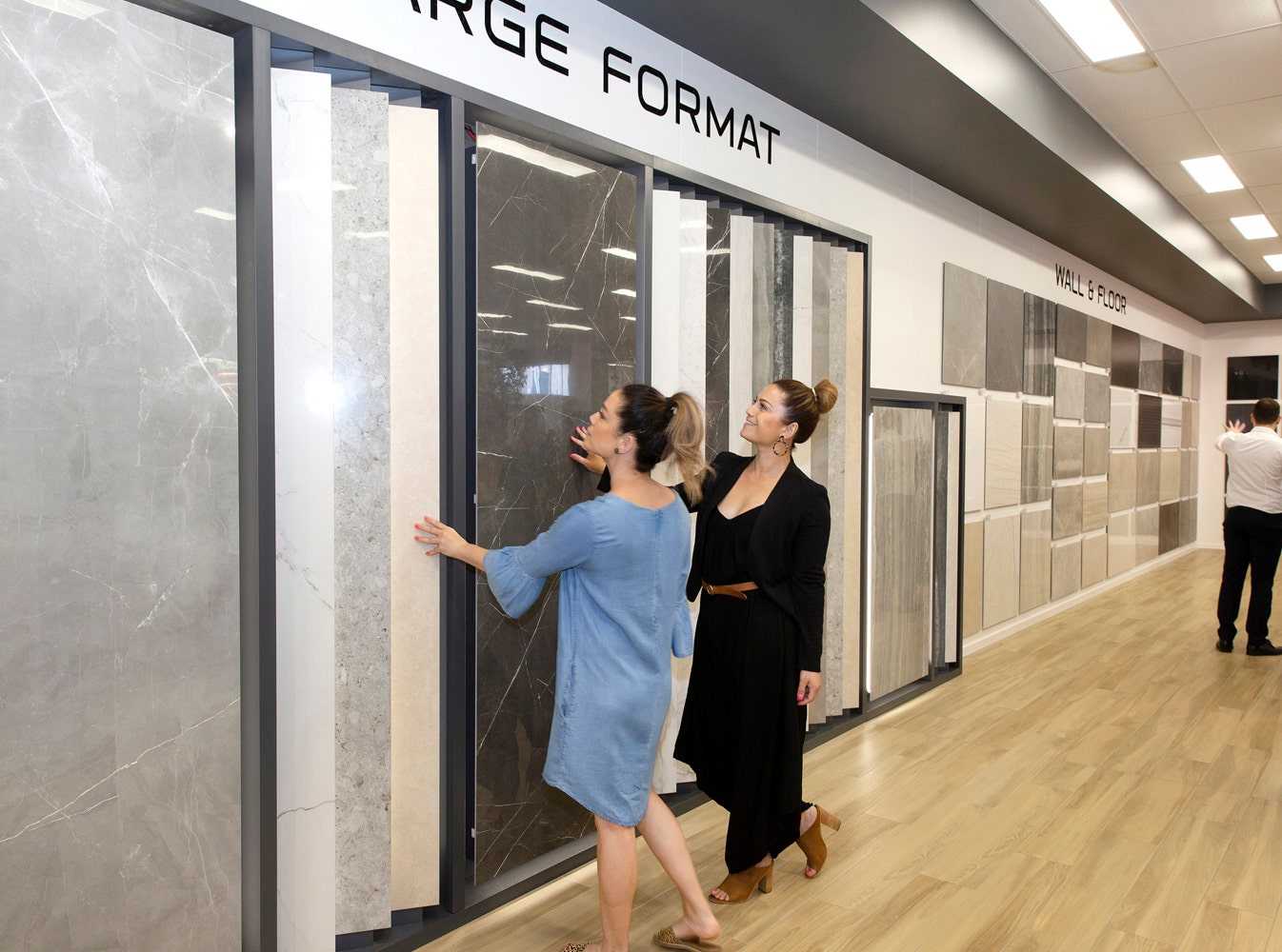 Australia's largest slab collection
The Studio is also home to Australia's largest collection of slabs, in sizes of up to three metres long, which are proving popular in new-build and renovation projects.
Slabs add an undeniable sense of luxury to any space. Our showroom also features slabs used for a dramatic kitchen splashback and a stunning dining room.
We'd love to share a coffee with you and think about all of your fantastic options with these beauties.
BeVisual Live
We are here to bring your dream project to life, in fact, we love doing that!
If you are planning on tiling a main floor space, like a family or living area, hallway or kitchen or dining space, you'll love another one of our great tools, BEVISUAL LIVE. With BEVISUAL LIVE, you can take a photo of your main floors and see the space transformed with your favourite tiles in just a matter of seconds!
BEVISUAL LIVE takes the guesswork out of selections so we suggest playing around at home then coming in-store with your narrowed down favourites and we will help you choose a winner.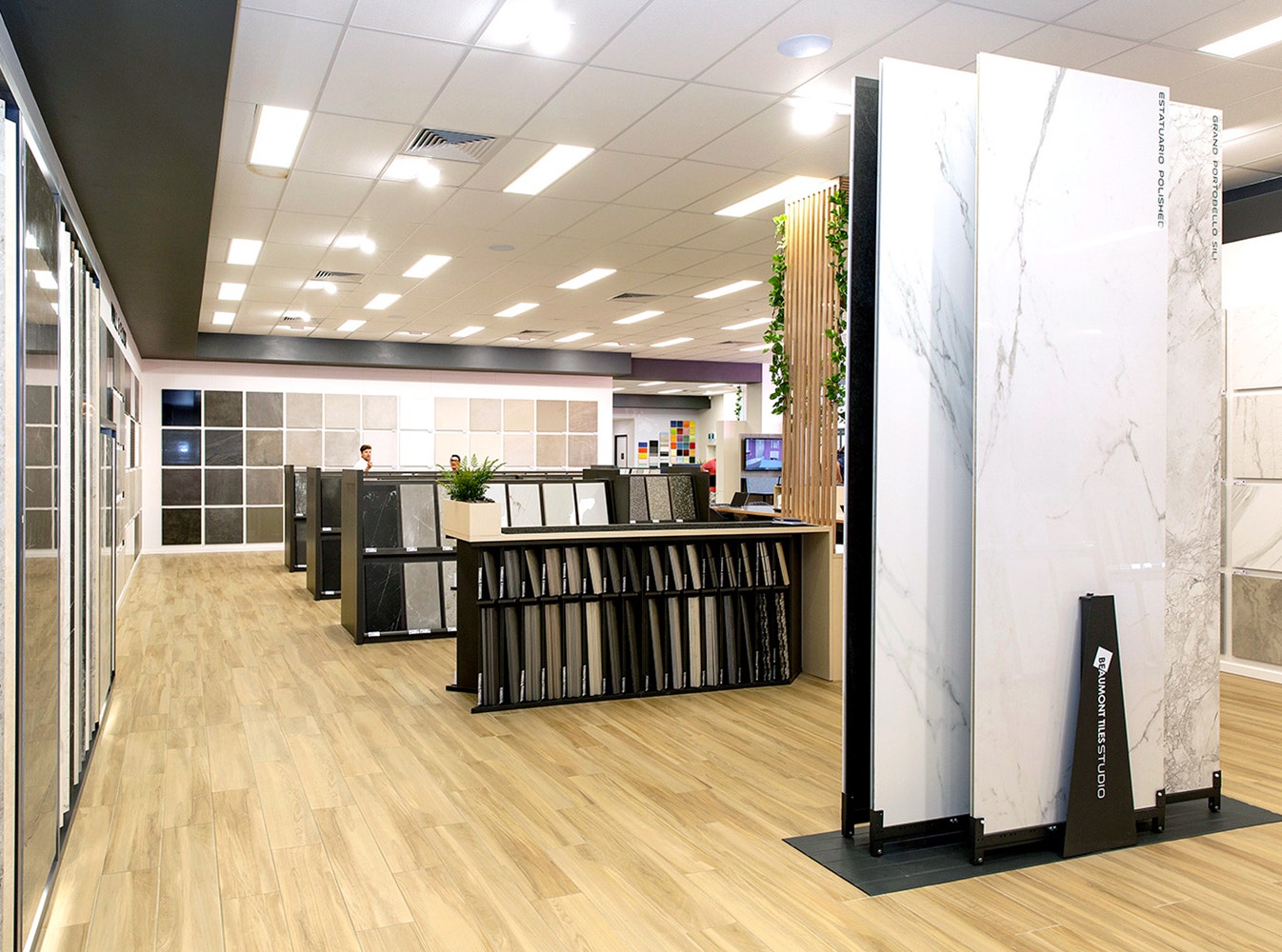 Book your free phone, in-store or online consultation with our design experts.
Take control of your next project by booking a free consultation with the experts in tiles and renovations at your local Beaumont Tiles store.
You can choose to chat with our experts either over the phone, in-store, or online. We are here to help you every step of the way no matter how you decide to choose Beaumonts.
Why our customers choose Beaumonts
Here are a few of our latest Google Reviews:
Ida-Marie Bevan
★★★★★

I am writing to you to let you know how much I appreciated the outstanding customer service that your 2IC, Matthew van den Munckhof (Norwood, SA store) provided to me and my husband Peter during our recent Bathroom, WC, and Laundry renovation. From the very beginning and throughout the selection and sales process, Matthew was attentive and very helpful. It was very clear that he was very knowledgeable about your company's product line and was genuinely interested in helping me find items that met my needs.
Because of his efforts, I was able to find exactly what I needed and I am very happy with my selections (and subsequently, the new finished renovations!). Therefore, I will continue to visit Beaumont's, as well as recommend it to others. Please let Matthew know that his efforts and exceptional customer service did not go unnoticed. I look forward to working with your company again in the future.
Emma Powell
★★★★★

Excellent experience at Beaumont Studio Norwood today. Service was wonderful and Dana who was helping us choose our bathroom and wet area tiles was amazing. She was very informative regarding grout colours, tile choices and listened to what our vision was to help it come to fruition. Highly recommend to anyone renovating.


---
Safety is Our Number 1 Priority
During these uncertain and difficult times, the safety of everyone is our biggest priority. Our continued mission is to ensure that no matter how you choose Beaumonts, you can do so safely.
To ensure the safety of our customers and our people, we have implemented COVID operating policies in our stores and warehouses under the guidelines from the Australian Government and World Health Organisation.
Beaumont Tiles are adhering to all COVID safe requirements and as an essential service, can continue to open for trades if restrictions are in place.
Rest assured you'll get your tiles and accessories on time and as you need them. Our Warehouses have solid stock levels that are ready to go.