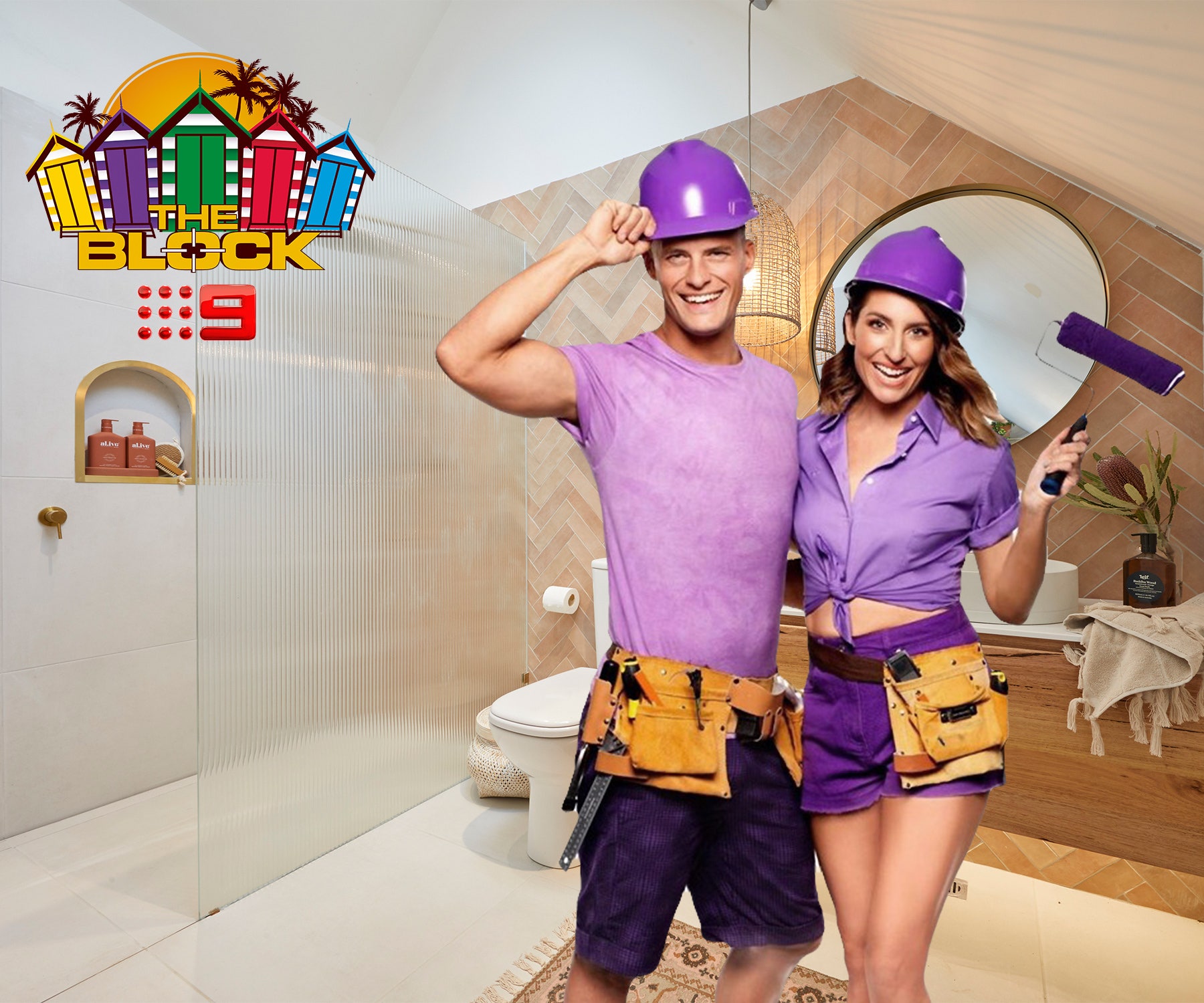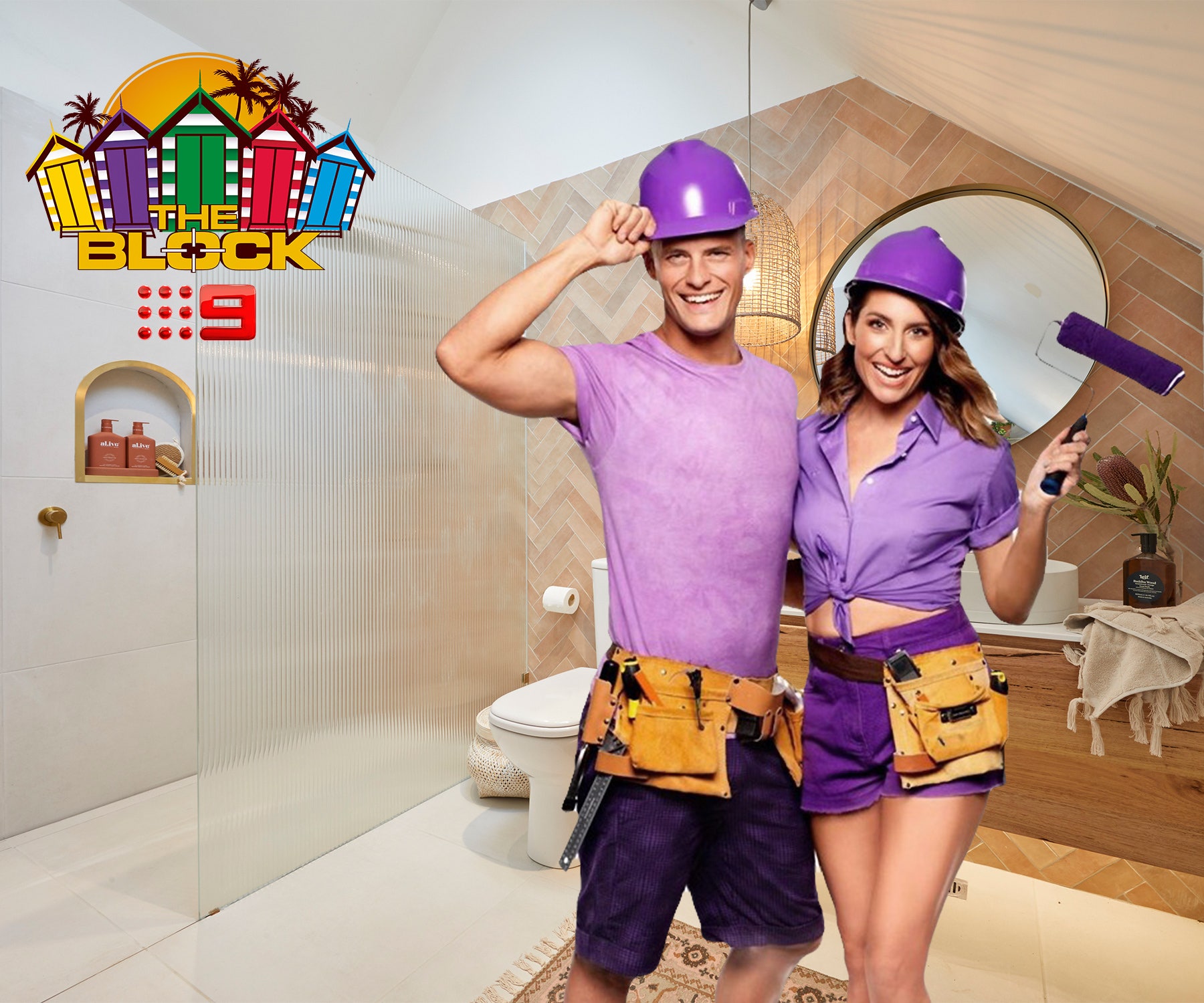 The Block 2020
WA Couple
Luke & Jasmin
Perth couple Luke and Jasmin believe their secret weapon as Luke's work as a carpenter will be a "secret weapon" when it comes to getting ahead in the competition.
The 35-year-old model started his own carpentry business nine years ago, and does everything from renovations to timber flooring. Jasmin, a part-time kindergarten teacher, runs a tight ship in the classroom and has a very clear idea about what sort of house she wants to build on The Block.
The pair, who met 17 years ago, are currently renovating their own home while raising their two kids, and plan to savour every moment of the competition.
Click on a week below to jump to a room reveal!
---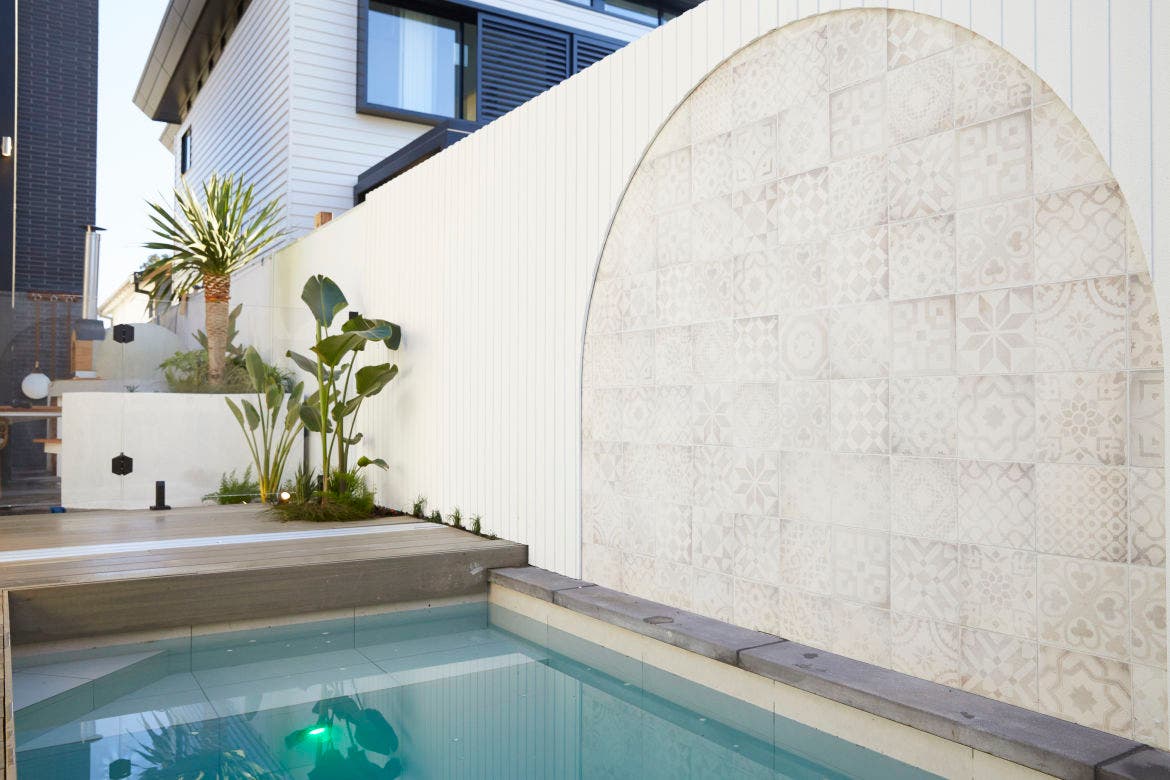 Week 12: Backyard
Feature Wall Tile: Icon Era Bone Mix
Pool Tile: Maximo White Textured
A Mediterranean oasis was the couple's objective when designing their light bright and relaxing backyard. With limited space, clever design and layout were key to keep the space as functional as possible without compromising on design. Luke & Jasmin chose Beaumonts to bring a design element to their pool area with our Icon Era Bone Mix decorative tiles.
Luke & Jasmin took to Instagram to share their thoughts and inspiration behind their design.
---
Week 11: Studio Bathroom
Floor & Wall Tile: Belga White GL-Porc
Feature Wall Tile: Clay Tawny Structured

Upon entry into Luke & Jasmin's bathroom, the judges were blown away. Neale's first reaction was "Oh, this is pretty" and Shaynna said "Stunning! And so spacious". The couple were commended for their consistent styling and design throughout their house with Darren saying "I feel like Luke and Jasmin have the most consistent house from front to back across the board and that's something that's going to set it apart from the rest of the market."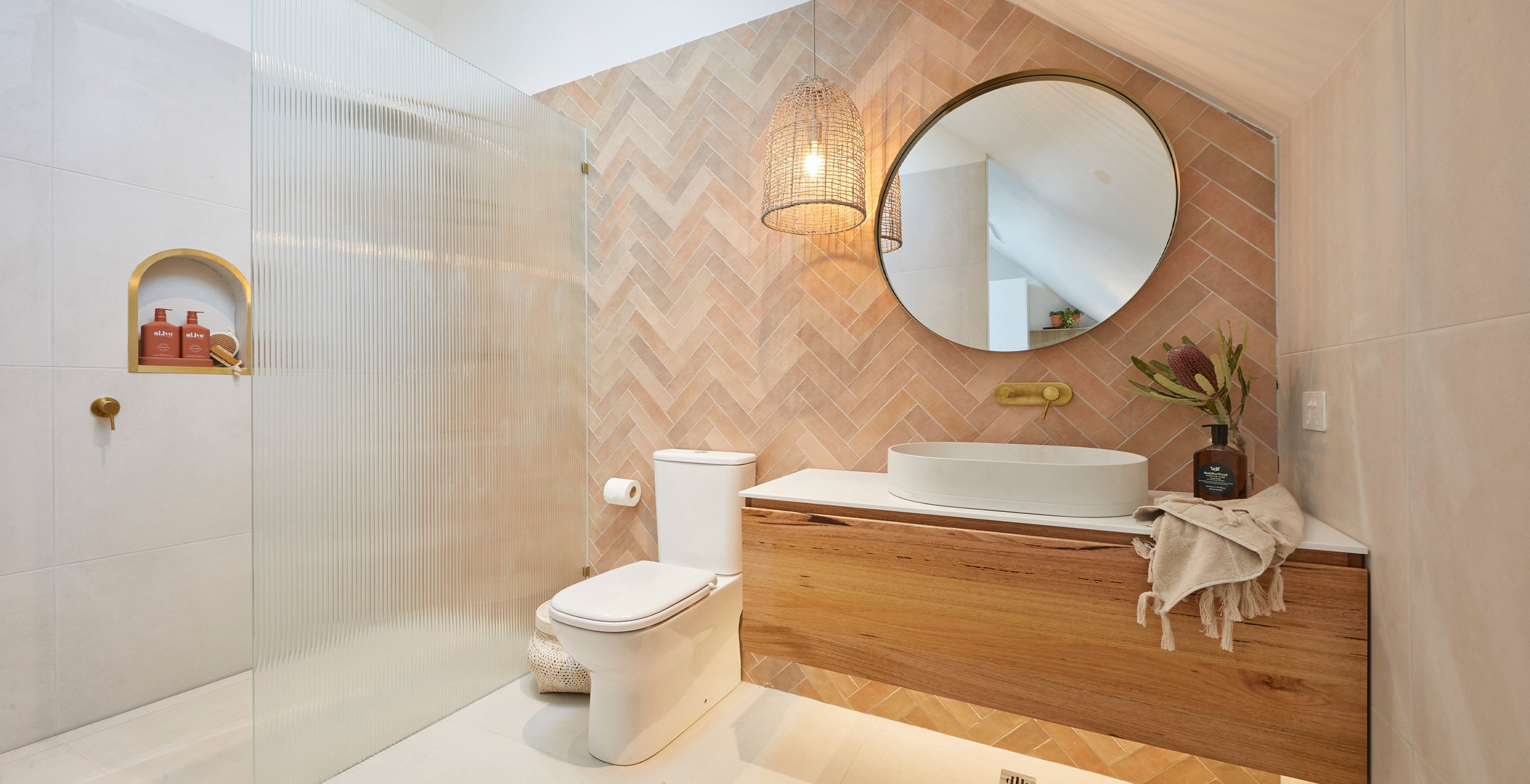 Studio Kitchenette
Splashback Tile: Clay Chalk Structured
The judges couldn't fault the couple's simple yet functional kitchenette with Shaynna commenting "Again, we've got the simple cooktop with the range hood and great tiles - visually, very stunning".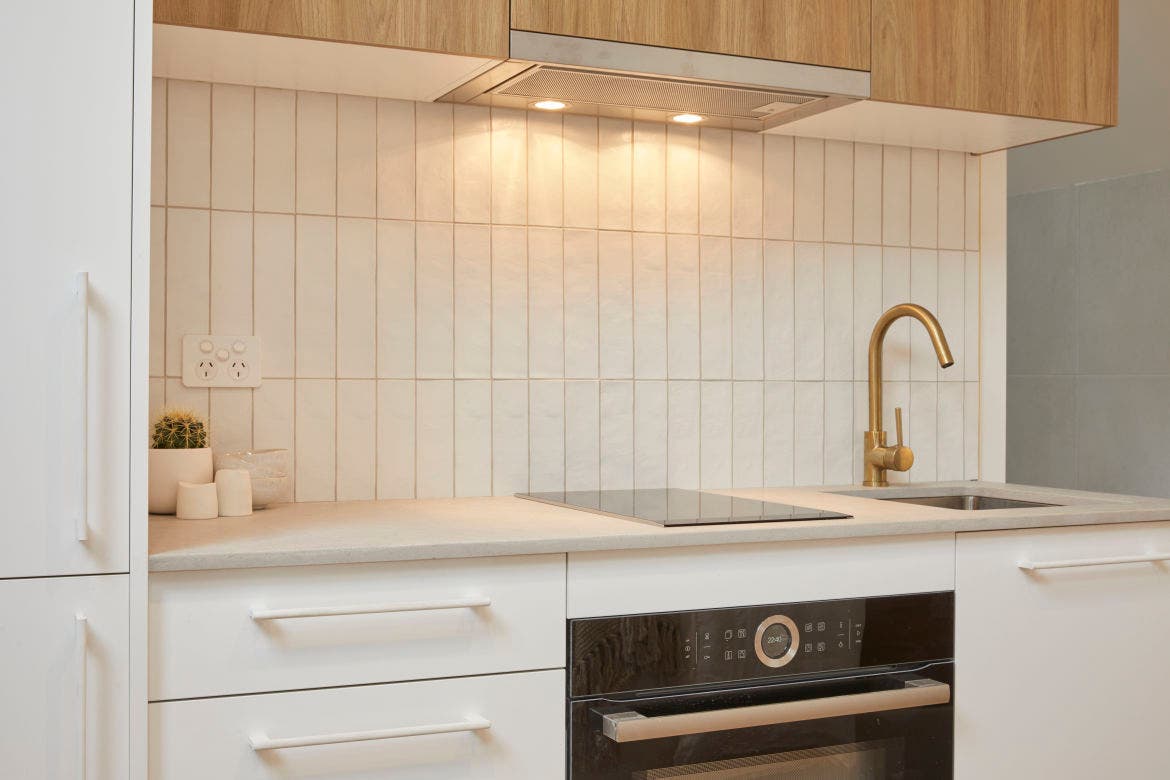 Luke & Jasmin chose to lay their feature wall tiles in a herringbone pattern to complement the other design elements.
Luke & Jasmin reflected on the crazy week, sharing this beautiful photo of their three tile choices together in one shot.
---
Week 9: Laundry
Floor Tile: Seamless Petals Grey
Luke & Jasmin used gold features with their choice of tapware and cabinetry handles to create subtle connections between the laundry and powder room and continued their classic coastal styling.
The judges were all huge fans of Luke & Jasmin's laundry, Shaynna especially commenting on the size of the room and Darren complimenting the couple saying "I don't think they could have done anything better,"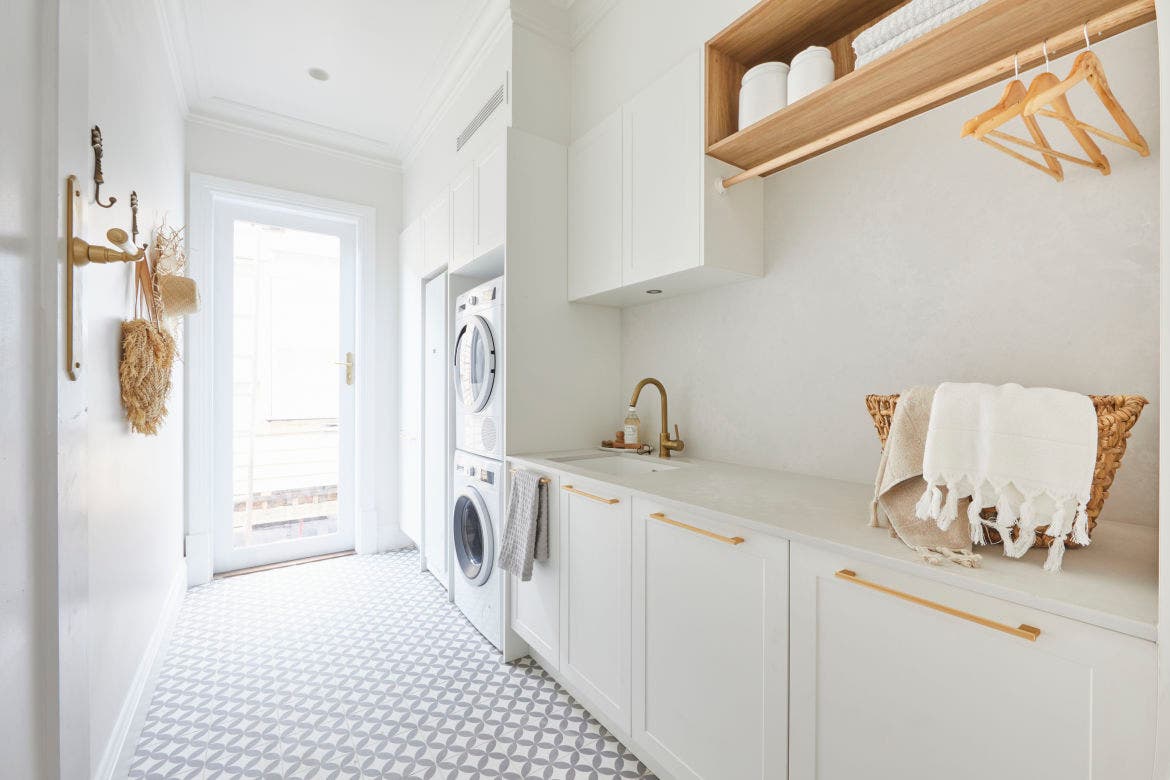 Luke & Jasmin chose Beaumonts to create their dream laundry and couldn't help but share it!
Week 9: Powder Room
Floor Tile: Belga White GL-Porc
Darren was impressed with the colour palette. "You've got all these little gold elements, the gold tap. It's just a room that feels like it belongs to the old part of the house, but has a nice contemporary feeling too," he said.
Laundry & Powder Room Score: 28.5/30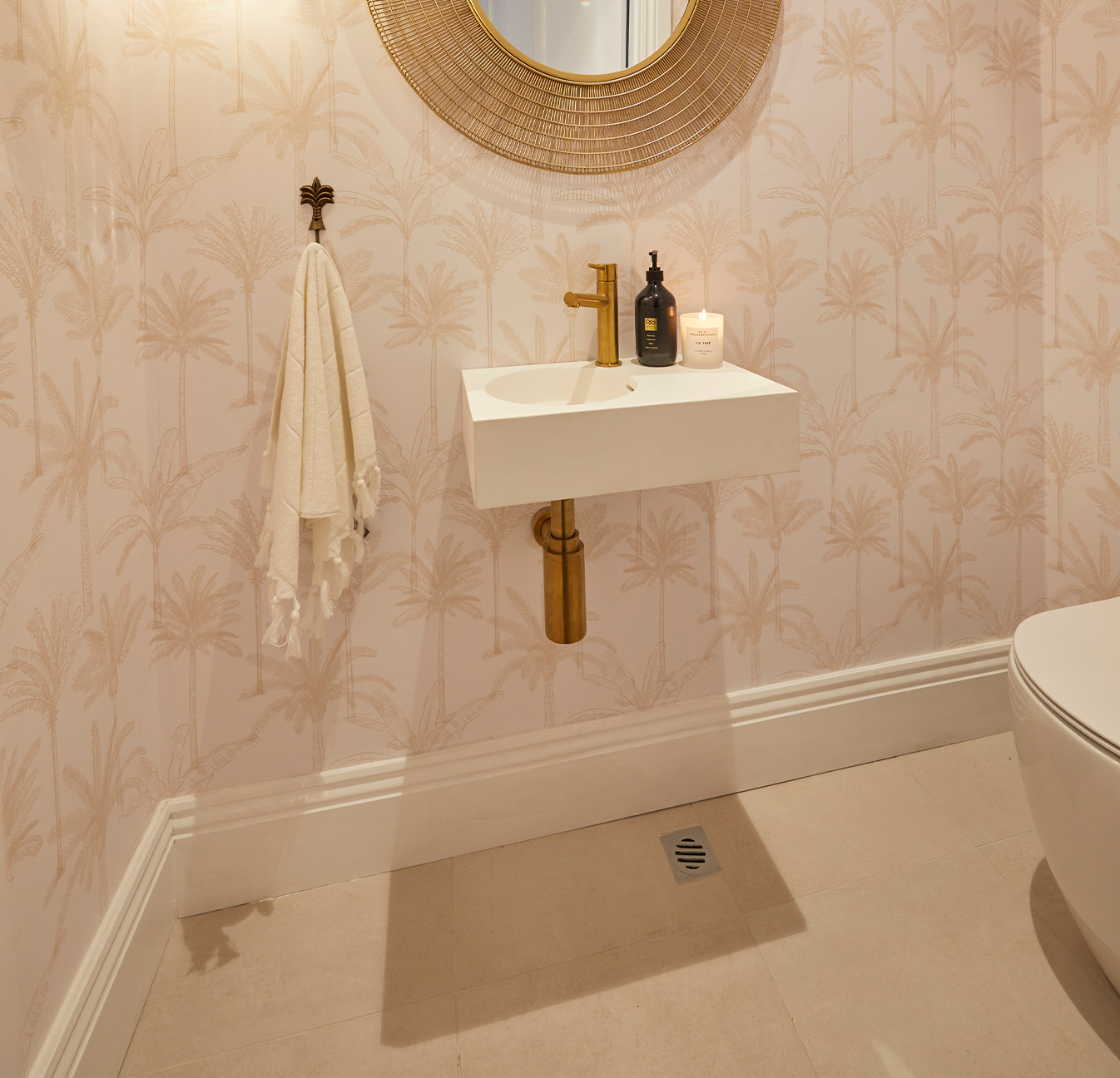 ---
Week 5: Guest Bathroom
Luke & Jasmin took out the win again this week with a perfect judges score of 30/30!!
Floor & Wall Tile: Marmette Bianco
Feature Wall Tile: Clay Chalk Structured
"It is so light and spacious, the colour palette is stunning. I love the tile choice. The terrazzo used with the subway will tile is perfect." - Neale Whitaker
As parents themselves, Luke and Jasmin decided to create a family bathroom, acting as an ensuite to the kids' bedroom with a functional bath and easy access shower. As the judges entered the bathroom, Shaynna was first to exclaim "oh my god!" "The brass edging all the way around is so beautiful. The handles, the under tile heating that we have seen in every house," "I'm jealous of the kids who would use this bathroom," said Shaynna.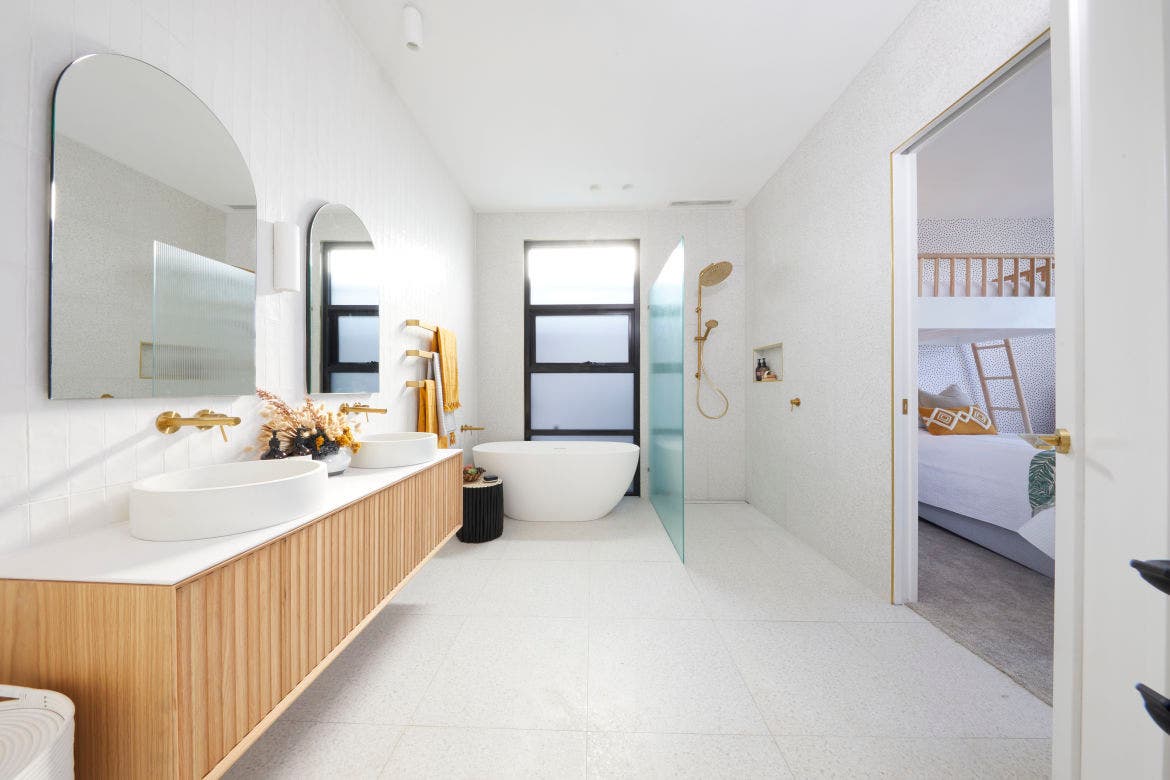 Get the look with our exclusive, Complete Bathroom Package!
We've taken the guesswork out of designing a bathroom with our Complete Bathroom Packages! Inspired by Luke & Jasmin's stunning bathroom from this week, our package includes everything from the tiles, bathroomware, vanity and toilet!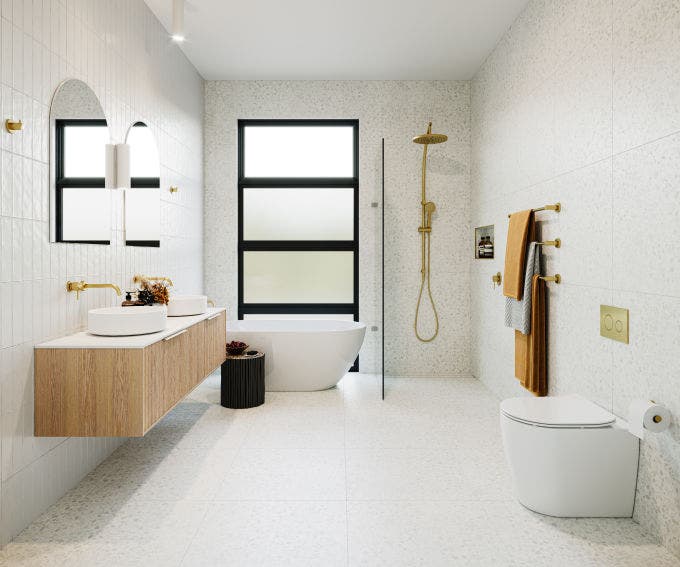 Luke & Jasmin shared their love for their tile combo with their brass and timber accents.
---
Week 4: Master Ensuite
Luke & Jasmin took out the win this week drawing with Jimmy & Tam both couples scoring a huge 29/30!
Floor Tile: Elegance Timber White Textured
Wall Tile: Belga White
Feature Wall Tile: Mod FIngers White Mosaic
"This exceeds every expectation, I can't remember standing in a bathroom as beautiful as this in week four of The Block." - Neale
Luke and Jasmin hoped to pull off a Block first in their master ensuite, with a curved wall and circle skylight. As the judges entered the master ensuite, they were all impressed. Darren had only positive things to say about the quality of work in the ensuite."We look at this ceiling and the way it relates to that wall, the complexity of cutting those tiles to get them right, the complexity of cutting that piece of plaster to get it into the ceiling so perfectly. There is a lot of craftsmanship, a lot of attention to detail, a lot of effort, and there's a lot of courage to even take that on — especially in a week."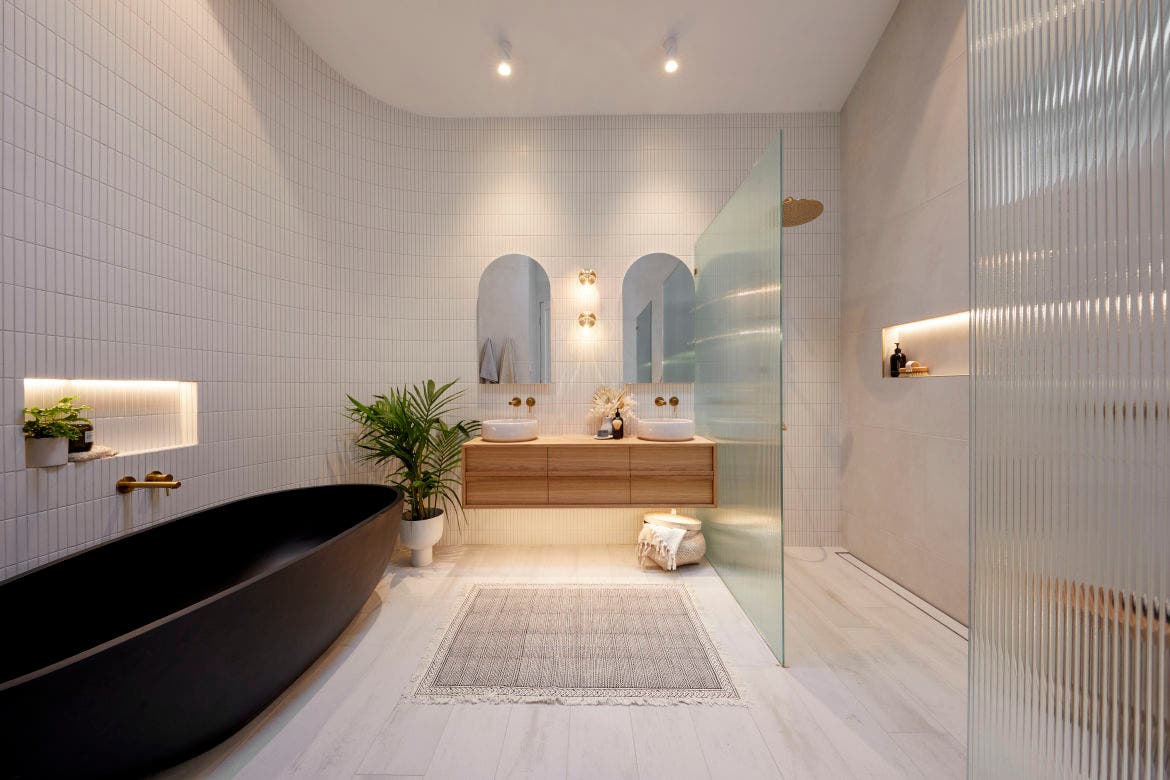 All smiles for Luke & Jasmin this week for their room coming tied first with Jimmy & Tam!
---
Week 2: Guest Ensuite
"Oh la-la," gushed Shaynna Blaze as the judges entered the room. "The way they've done the tiles to mirror that length is gorgeous." Shaynna loved that the space was elegant, refined and delicate. "And these tiles, even though they're brand new, it has that aged look with a delicate soft print," she added.
Neale, happy to see the couple have grasped the 1910 brief commented "I think the combination between VJ panelling, with this beautiful decorative tile and then what I call reeded glass on the shower screen there, just gives it that period feel."
Room Score: 25.5/30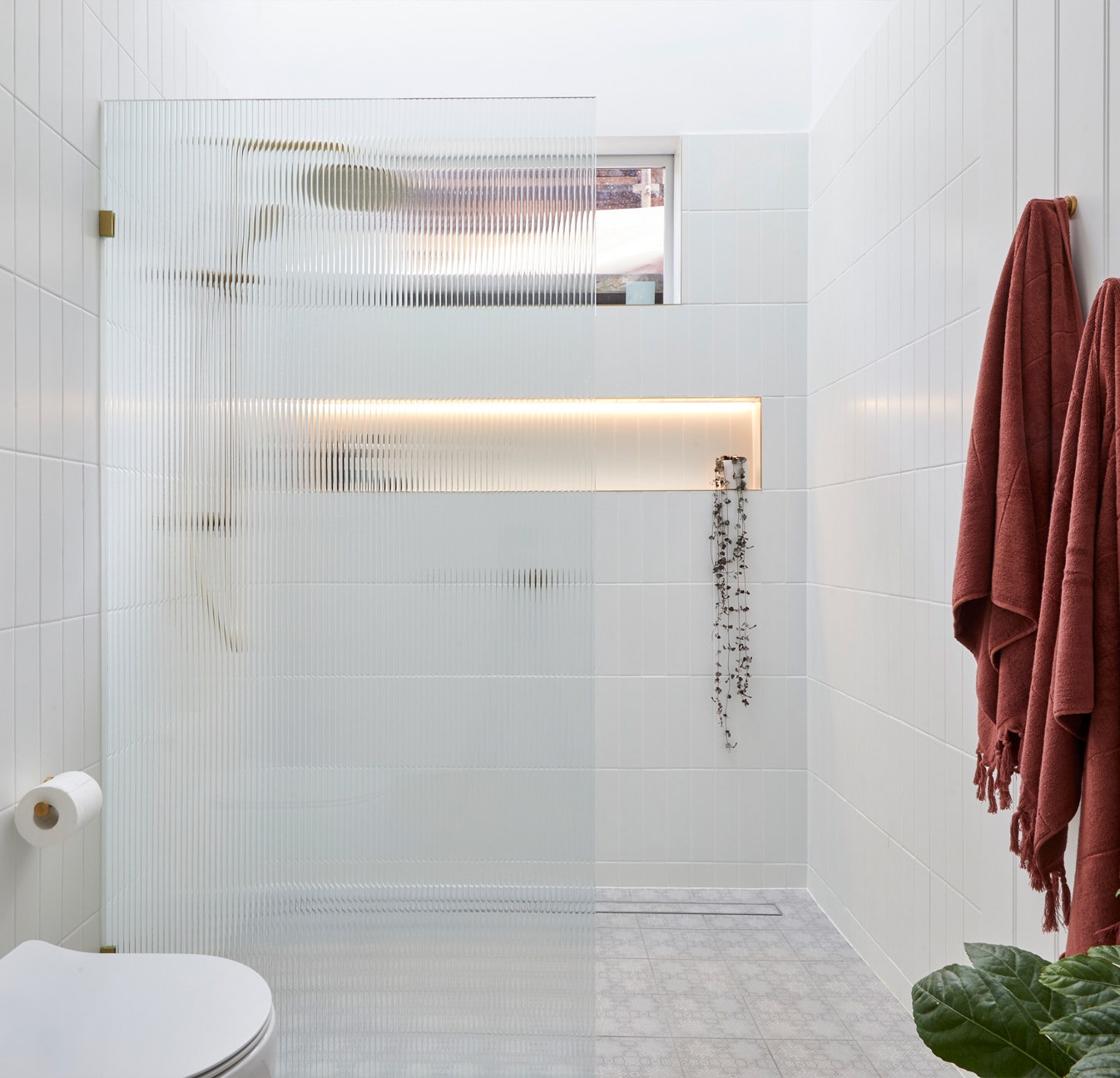 *Please note, this tile is a special order item. Please contact your local store or our friendly web chat team for further information