---
Bathroom Renovations - A Comprehensive DIY Guide
---
Bring your bathroom renovation dreams
to life and find inspiration for your perfect look with Beaumont.
You'll spend a lot of time in your dream bathroom. First thing each morning, last at night. Every day of most weeks, you'll see the choices you made. We want all those choices to become good memories.
Bring your bathroom renovation dreams
to life and find inspiration for your perfect look with Beaumont.
Planning Your Bathroom Renovation
Good planning is the key to getting it right. As everyone who's done it will tell you: a bathroom renovation from start to finish takes time and money. That's a given. But without good planning, there can be a lot of unexpected costs and disruptions along the way.
Bathroom Lighting
You want to create a place that works seven days a week. Where the light is right for the morning hair, makeup routine. The daily shave or the weekend's serious manscaping.
Which is why we say: talk to our experts. Talking is free. Our tile experts know all about tiles. Tiles that feel good underfoot. How light plays off the surface of some tiles, accentuating key features.
Look & Feel Of Your Bathroom
The right tile for the job is technically well understood. But when it comes to the look and feel: that's personal, that's up to you. With so many to choose from, it can be challenging not to end up with a mish-mash of styles. Or play it safe and get dullsville. Or blow the budget in one area and scrimp in another. That's not good planning.
Talk to our design team. They're great listeners. Talking and listening are free. These people care about aesthetics. How it looks and feels. They share your passion to create a unique space. To suit your likes, your home. To suit you. They can explain why some shapes and colours might feel unsettling in some spaces. Why other choices can add value, as well as comfort—even delight!
You'll want to relax in the warmth and beauty of the space you've made, to think about important things: that story you're trying to finish. What the kids said that made you laugh … and cry a little, too. All the big and little things we think and dream about in this special space when we have time to just be ourselves. To wash away stress, sometimes tears.
From start to finish: you want to get it right. Contact our people who are here to help you get it right. And create good memories along the way.
Explore Shannon & Simon's Top Tips For DIY Bathroom Renovations
---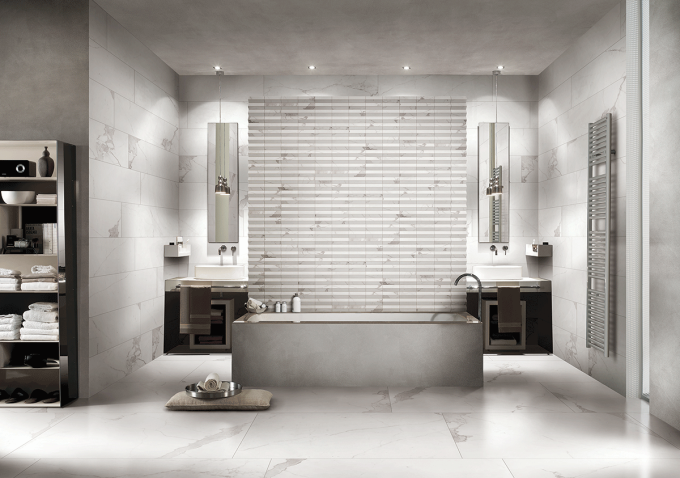 Things to consider before renovating your bathroom
What is your bathroom style?
Your bathroom renovation really starts to come together when a picture of how it's going to look and feel begins to form in your head.
Knowing where to start is always the hardest part. That's why we've put together our What's My Style quiz to help you discover your personal style and discover the inspiration to bring it to life.
We've also assembled a star-studded line-up of Australia's favourite stylists and renovators to help you get started as well as an envy-worthy gallery of inspirational bathroom ideas.
---
What's your bathroom renovation budget?
Knowing how much you want to spend is probably one of the least exciting decisions when it comes to planning your bathroom renovation, but it's one of the most important. When you know what your budget is, you can plan and choose your tiles and bathroom fittings with confidence – and work out where you can splurge on stand-out features.
At Beaumont, we also offer complete bathroom packages for bathrooms on a budget.
Bathroom Layout
Is there anything you'd change about how your bathroom is organised?
You don't have to be locked into your existing bathroom layout! A bathroom renovation is the perfect opportunity to sketch out how you want your bathroom to be. Of course, you don't have to reinvent the wheel either. If you're happy with your bathroom layout, keeping it as-is can be a great way to save money and work as you don't need to change any plumbing.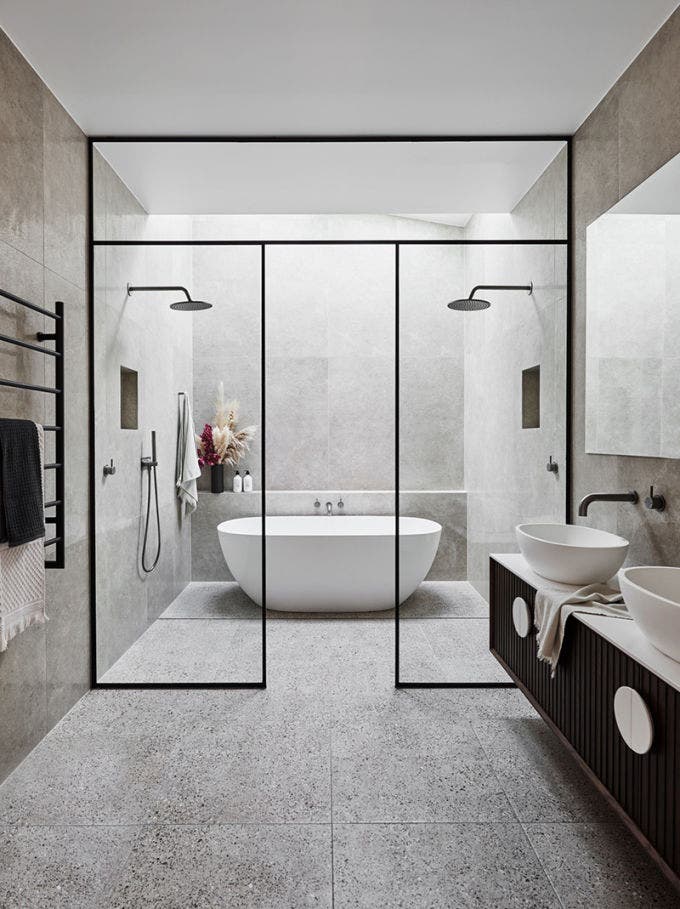 ---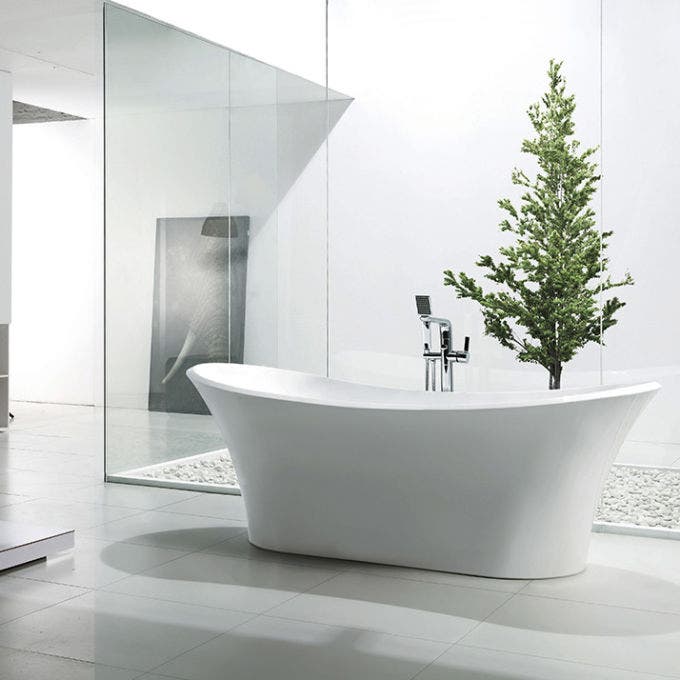 What Bathroom Tiles Will You Choose?
The real fun begins when you start choosing the tiles for your bathroom renovation. Whatever your style, you can play around with wall tiles and feature tiles to bring it to life. Your floor tiles will help tie your new bathroom together and keep your style well-grounded – figuratively and literally.
Feature tiles bring the dazzle and the wow-factor to your bathroom renovation. From a subtle, textured feature strip behind your tapware to a full, eye-popping feature wall, these tiles give your bathroom the chance to shine.
Your choice of wall tiles is a good opportunity to complement or contrast your other choices and help you control the mood of your bathroom.
Looking for more bathroom tile inspiration? Jump in and start exploring our range!
---
What tapware and bathroom accessories will you choose?
Like a lounge room needs a lounge, your bathroom needs a bath tub – or a shower. Deciding how to fit and furnish your bathroom is just as important as choosing the tiles.
Style truly meets function when you decide what goes into your bathroom. The bathroomware you should think about range from major features like a bath, shower, vanity unit through key details like mirrors and tapware down to towel rails and toilet roll holders.
Or take all the guesswork out of picking a killer set of bathroom fittings accessories that all match each other - as well as your style and budget with a complete bathroom package starting at under $4000.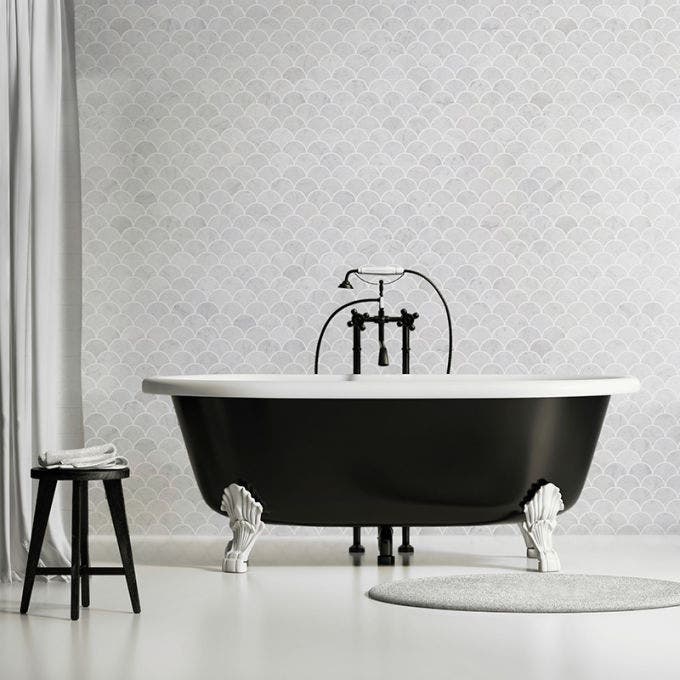 ---
Last but not least: will you DIY your bathroom renovation?
D. I. Y. These are possibly the three scariest letters of the alphabet for many homeowners. But DIY doesn't have to scary – and it definitely doesn't need to be difficult!
With the right advice and a pinch of careful planning you can easily DIY your bathroom renovation and end up with a beautiful, professional result (without the professional price tag). Check out our DIY tiling guides, tips and videos to take the reins on your bathroom reno.
---